Best known as Cato in the 2012 film "The Hunger Games," Alexander Ludwig is a well-recognized actor, singer, and model from Canada.
In the series "Vikings," Alexander Ludwig played Bjorn Lothbrok, the son of Ragnar (Travis Fimmel) and Lagertha (Katheryn Winnick).
He is also remembered for his lead performance in The Seeker: The Dark Is Rising.
He also starred alongside Teen Wolf actress Shelley Hennig in The Band Perry's music video named Gentle on My Mind.
Quick Facts
If you want to know more about Ludwig's personal life, here are a few facts that could help you further.
Name
Alexander Richard Ludwig
Nickname
Zander, Xander
Date of birth
May 7th, 1992
Age
30 Years Old
Star sign
Taurus
Place of birth
Vancouver, Canada
Current residence
Los Angeles, United States of America
Sex
Male
Father's name
Harald Horst Ludwig
Mother's name
Sharlene Ludwig
Siblings
Nicholas Ludwig (younger brother), Natalie Ludwig (younger sister), Sophia Ludwig (younger Sister)
Profession
Actor, Singer, and Model
Height
6 feet 2 inches (188 cm)
Weight
88 kgs (194 lbs)
Chest
47 inches
Waist
35 inches
Biceps
16 inches
Shoe size
12-13 US
Religion
Christianity
Nationality
Canadian
Ethnicity
N/A
Hair color
Blonde
Eye color
Blue
Tattoo
Yes
Marital status
Married
Wife
Lauren Dear
Children
Not yet
Educational qualification
University graduate (BA, Major in Theater)
College/University
University of Southern California
Net worth
$3 million
Award
MTV Movie Award (Best Fight)
Teen Choice Award (Villan)
Social Media
Instagram, Twitter, Facebook
Last Update
March, 2023
Family, Early Life, and Education
Alexander Ludwig was born on May 7th, 1992, in Vancouver, Canada. His mother, Sharlene, worked as an actress.
And his father, Harald, is a businessman and a former Lionsgate Entertainment board member.
Ludwig also has three siblings. His younger brother (Nicholas) and younger sister (Natalie) are twins.
And he has another younger sister named Sophia.
When it comes to Ludwig's education, he went to Collingwood School.
The actor enrolled at the University of Southern California to major in Theater.
He had been interested in acting since he was a kid and had to persuade his parents to support his wish to pursue a career as a child actor.
His parents considered that child actors would get sucked into an unreal life and may forget the reality.
You might be interested in reading about Sonya C Miller.
Tattoos and Body Measurements
The actor has six unique tattoos on his body. In addition, he has a butterfly tattoo on his right hand.
Another tattoo on his forearm reads braþʀ, which means brother.
He also has a tattoo of his grandmother's painting. Besides, Ludwig has tattoos of a bird and a triangle mountain.
Ludwig stands 6 ft 2 inches (188 cm) tall and weighs around 88 kgs (194 pounds).
In addition, his chest is 47 inches, his waist measures 35 inches, and his biceps are 16 inches. He also wears shoe sizes 12 to 13 (US).
Alexander Ludwig: Career
Alexander Ludwig has starred in several box office hit movies. He has also appeared in television shows.
When he was nine years old, Ludwig made his acting debut in a Harry Potter toy commercial.
Moreover, he received his first main role after six years of hard work in the film industry.
In 2007, he starred in the film The Seeker: The Dark Is Rising.
Grown Ups 2, Race to Witch Mountain, The Hunger Games, and many others are among Ludwig's other prominent cinematic roles.
In 2013, he co-starred in the film Lone Survivor.
Since 2013, Alexander has been a part of the global blockbuster television series Vikings.
Ludwig is also a well-known singer in the country music genre. In 2020, he released his track Let Me Be Your Whiskey.
Rise to Fame
After taking part in the Harry Potter commercial campaign for five years, Alexander gained expertise in television productions from 2002 to 2007.
He also appeared in films such as Air Bud: World Pup, MXP: Most Xtreme Primate, The Sandlot: Heading Home, and Scary Godmother: The Revenge of Jimmy.
In 2006, he starred in the TV project, A Little Thing Called Murder and the science fiction drama television series The Dead Zone, based on Stephen King's novel.
Alexander was cast as the protagonist in the 20th Century Fox's full-length picture, The Seeker: The Dark Is Rising.
Alexander Ludwig made a comeback in 2009 as a little child named Seth in a remake of Race to Witch Mountain.
And, once again, the picture was a mash-up of action, science fiction, and thriller.
In The Hunger Games, Ludwig played Cato, a cold-blooded yet handsome killer, and the audience fell in love with him.
Even though he did not obtain the part he wanted, Alexander Ludwig became famous due to this film.
Latest Projects
In 2012, when he was 20, he had a successful career of more than ten years.
He released his first single, "Live It Up."
He received his first award at the Fox television network's Teen Choice Award.
Fortunately, the actor's participation in the television series Vikings in 2014 prospered his career.
Alexander Ludwig was cast in the role of Björn Ironside, a legendary character.
The popularity of this series was aided by Alexander's portrayal of a harsh, determined, compelling, and fascinating character.
In 2015, the actor was nominated for the Golden Maple Awards for Best Actor in a Television Series Broadcast.
In 2020, he also acted in the Bad Boys for Life alongside Will Smith and Martin Lawrence.
The actor is starring in the American picture Peace, based on true World War II events. The film's primary character is Alexandar Ludwig.
As of May 4th, 2021, Ludwig has been signed to BBR Music Group/BMG.
Learn more about singer Perry Farrell.
Alexander Ludwig: Net Worth
Irrespective of Ludwig's young age, the actor has already made a name for himself in the entertainment sector.
Without a doubt, he earns a decent sum of money. Alexander's net worth is around $3 million.
Relationship Status
The charismatic actor has a long list of ex-girlfriends.
It is rumored that he had relationships with nearly all of the female leads in the films he appeared in.
He has dated Anna Sophia Robb, Nina Dobrev, Isabelle Fuhrman, and Leven Rambin.
The actor has also dated Katheryn Winnick, a Canadian actress of Ukrainian descent who played Björn Ironside's mother in the Vikings.
He had dated Kristy Dawn Dinsmore a few years ago. She was, in fact, a cast in Vikings.
After all that, the actor was dating Lauren Dear. The couple confirmed their engagement and got married in 2020.
Recently, the couple tied the knot by eloping on January 3rd, 2020.
They seemingly had a small wedding with their dog Yam as the witness at The Lodge at Blue Sky in Park City, Utah.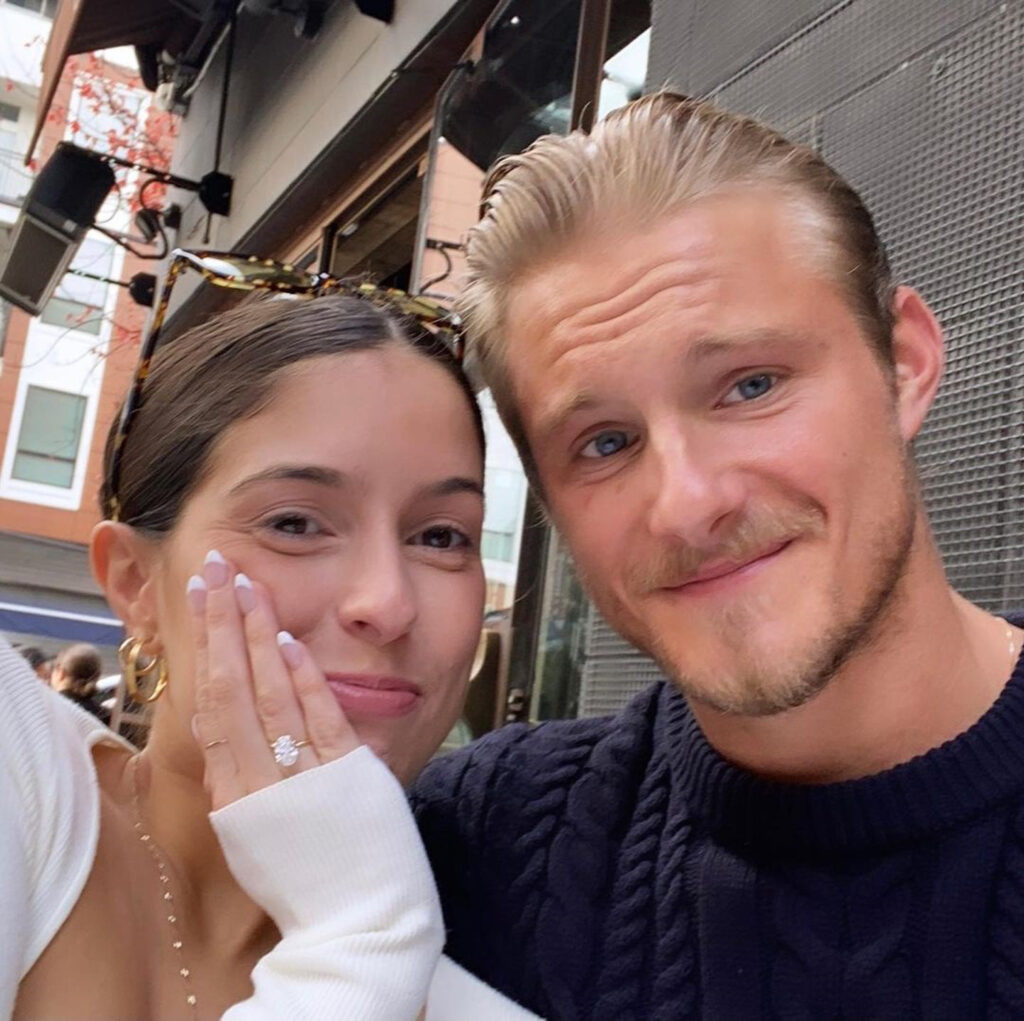 Lauren's LinkedIn profile shows that she works as a Marketing Campaign Manager at VRAI, a Luxury Goods and Jewellery Company in Los Angeles.
Alexander Ludwig: Social Media
The charming actor is very active on social media platforms.
His Instagram account has 3.5 million followers.
His official Facebook page also has a fan base of over 2.4 million people.
Alexander Ludwig is also on Twitter. His official Twitter account has over 471.7K followers.
Know about a similar figure that debuted as a child artist Sari Arambulo.
Alexander Ludwig: Favorite
| | |
| --- | --- |
| Favorite Actor | Brad Pitt and Johnny Depp. |
| Favorite Actress | Tina Fey |
| Favorite Movie | The Notebook (2004) |
| Favorite TV Show | Jersey Shore (2009-2012) |
| Favorite website | Facebook |
| Favorite restaurant | In-N-Out |
| Favorite sports | Tennis, golf, surfing, skiing, and skydiving |
Interesting Facts
Ludwig was very passionate about freestyle skiing. During his college years, the actor was a Phi Kappa Psi fraternity member.
He also revealed that he has struggled with several addictions such as depression, anxiety, alcohol, smoking, and substance abuse since he was 14. Hence, also went to rehab.
Due to the addiction, the actor started a campaign called "Bite The Bullet Stories," where people shared their stories dealing with addiction with a picture of them holding a cigarette between their lips.
To get his part in The Seeker: The Dark is Rising, he had to go through seven auditions.
Because of his character in Viking, the actor followed a specialized and customized workout. And had a signature haircut with an undercut with a slicked-back ponytail.
The actor revealed that he is not fazed by any naked scenes during his projects and thinks it is natural.
He has won MTV Movie Award for Best Fight and Teen Choice Award.
FAQs
Is Alexander Ludwig in Game of Thrones?
Yes, Alexander Ludwig was a part of the show portraying the character of Elden, a member of Lucius Dragen's Butcher's Boys.
Is Ludwig still a part of the Vikings?
No, Ludwig exited from the show in the sixth season.
How much did Ludwig earn per episode?
Ludwig earned $400,000 per episode.