Brandon Curry: Career, Family, Injury & Net Worth
If you are into BodyBuilding and heavy gym workouts, you must surely be acquainted with the household name Brandon Curry.
Standing strong as one of the renowned Bodybuilders of today, he is also popularly known as "The Prodigy" and "Beefcake."
American Bodybuilder and personal trainer Curry came into the limelight after winning many prestigious titles, including 2019 Mr. Olympia.
Aside from competing on stage, Curry has opened a gym named Carbon Culture in his home area, Franklin, Tennessee. Furthermore, he plans to open many franchises later on.
His many partnerships and sponsorships include Gorilla Wear, o15 nutrition, Schiek sports inc, Tigerfitness, Oxygen gym, so on.
Tennessee-based bodybuilder Curry developed an interest in weight training at the age of six after receiving dumbbells for his birthday—such a cool thing to set your vision early on.
Even during his childhood, he was a huge fan of muscular action figures like Rambo and Rocky, played by Sylvester Stallone. Furthermore, this highly motivated him to bulk up to his full potential.
Let's explore more about his personal life and journey
Quick Facts
Here are some quick facts about Brandon Curry:
Full Name
Brandon Curry
Nick Name
The Prodigy, Beefcake
Birth Date
October 19, 1982
Birth Place
Nashville, Tennessee, USA.
Age
41 Years Old
Nationality
American
Ethnicity
Afro- American
Food Habit
Non-vegetarian
Education
Hunters Lane Comprehensive High School
Middle Tennessee State University
Zodiac Sign
Libra
Residence

Nashville Tennessee &

Oceanside, California

Sexual Orientation
Straight
Height
5'8 feet
Weight
115 kg
Biceps
21 inches
Eye Color
Dark Brown
Hair Color
Black
Body type
Muscular
Body Measurement
48-34-38
Profession
Bodybuilder, Gym Owner
Individual Awards
2013 IFBB Arnold Classic Brasil, 2017 IFBB New Zealand Pro, 2017 IFBB Ferrigno Legacy, 2019 IFBB Arnold Classic, 2019 Mr. Olympia
Marital Status
Married
Spouse
Brandy Leaver
Active Years

2003-Present
Children
Sons: Maximus Curry, Marvelous Curry & Zion Curry
Daughter: Zoey Curry
Net Worth
$25 million
Social Media
Instagram, Twitter, Youtube
Merch
Poster, Muscular Development Magazine
Last Update
December, 2023
Brandon Curry: Early Life and Education
Curry was born in Nashville, Tennessee, the USA, on the 19th of October, 1982.
He became interested in weight training after receiving dumbbells for his birthday.
He was even a fan of muscular action figures like Rocky and Rambo, which made him interested in fitness. Eventually, he landed in the field of Bodybuilding.
He was a student at Hunters Lane Comprehensive High School based in Nashville. He took part in sports activities like football, track & field, and wrestling.
He enrolled at Middle Tennessee State University situated and graduated with a degree in Exercise Science.
During his time there, he gained more knowledge about nutrition and fitness. Also, he played football for the University's team for some time.
Later on, he decided to focus on weight training & bodybuilding fully. Therefore, he left the football team to start working in the fitness industry.
He worked as a personal trainer before stepping into the professional bodybuilding field.
You may be interested in reading about Dennis Kimetto.
Brandon Curry: Body Measurement
Curry stands tall at 5'8″ feet and weighs around 115 kg. He has a muscular body type with a body measurement of 48-34-38.
With biceps of 21 inches, he surely looks spectacular and well built. Curry has short black hair with dark brown eyes.
Nutrition and Exercise
To maintain his physique, Curry has a diet routine and focuses on nutrition.
Moreover, he consumes seven to eight meals daily.
Curry consumes plenty of supplements to boost up his immune power. He includes Protein, Multivitamin, Fat Burner, Pre-workout in his diet.
As for his exercise routine, he usually does strength boosting & Hypertrophy exercises.
Similarly, he prefers pull-ups, t-bar rows deadlifts the most and trains his hamstrings often.
Curry changes his workout routines from time to time to challenge himself or to test his efficiency. As per his routine, he works out 5 times a week from Monday to Friday.
Brandon Curry: Career
American professional bodybuilder Curry has been in the fitness field for more than 17 long years.
Moreover, he has made a decent career gaining popularity as one of the renowned athletes of today.
He competes in the open division on the stage and, along with it, runs many other nutrition & fitness businesses.
Similarly, Curry is the owner of Tennessee-based gym "Carbon Culture" and plans to open more franchises later on.
You may be interested in reading about Jennifer McDaniel.
Debut
Curry started his career in the bodybuilding field by firstly competing in the light-heavyweight class.
However, he managed to secure his first win in 2003 Supernatural Bodybuilding, followed by many other wins.
His first win motivated him to refine his physique even more.
Similarly, later in 2007, he shifted to the heavyweight division after adding 30 additional pounds of muscle. From, there on he competed in NPC USA Championships.
The following year he ranked no.1 in the overall championship, which made him known as a professional bodybuilder champion.
Competition
After his debut, he took part in several competitions like IFBB Arnold Classic, IFBB Ferrigno Legacy, IFBB Mr. Olympia, etc.
He competed with renowned bodybuilders like Phil Heath, William Bonac, Roelly Winklaar, etc.
Curry began competing in major championships, securing first place in the 2013 IFBB Arnold Classic and 2017 IFBB New Zealand Pro.
In the IFBB Mr. Olympia competitions, he ranked 8th & 5th positions in 2011 & 2018.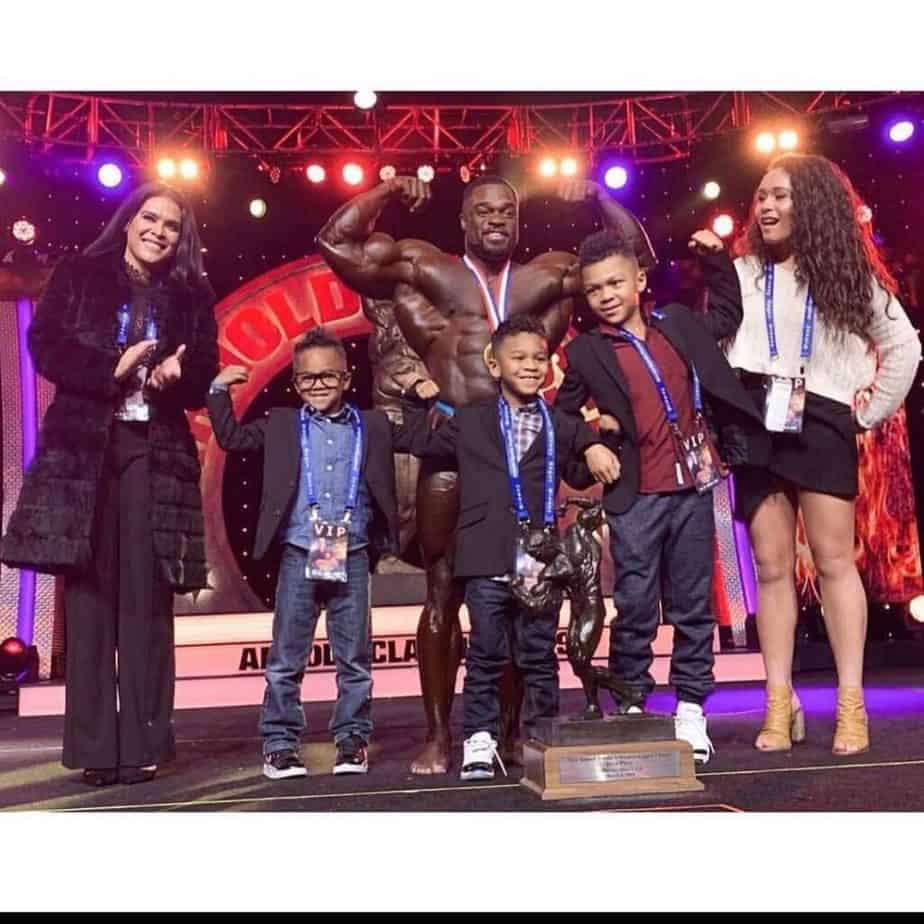 The highlight of his career was when he became the 15th Mr. Olympia in 2019, outshining athletes William Bonac & Hadi Choopan.
Even more, he managed to win the Sandow Trophy and $400,000 prize money.
Moreover, after his massive win, the Olympia boss Dan Solomon decided to let the Mr. Olympia champions appear in public. Therefore he arranged a meet & greet with the fans.
In addition, in the Olympia All-Star Tours 2020 program in the UK and Europe, the fans met their favorite athlete.
Similarly, the athletes communicate through charity events, seminars, public appearances, and such.
Further, Curry and other athletes toured in the UK and Europe to connect with their fans.
In 2020, he competed in Mr. Olympia again but came in second place, losing to Egyptian bodybuilder Mamdouh Elssbiay.
Curry is currently focusing on building his physique and updates his daily life through his social media handles.
Brandon Curry: Accident and Injuries
Professional bodybuilder Curry in 2019 posted a video on Instagram where he got injured while working out in the gym.
Further, while doing his triceps extensions, the machine fell on his back.
But luckily, nothing serious happened, and he just had a small bump on his head & a small scratch on his finger.
Moreover, he was prepping up for the Mr. Olympia competition, which was only a week away.
Thankfully, he escaped this big-time accident and didn't miss his chance to compete.
Brandon Curry: Personal Life, Wife, and Children
Curry is happily married to former pro-athlete Brandy Leaver.
Moreover, she is of Hawaii origin and comes from a family of athletes.
She is the co-founder of 015 nutrition and Carbon culture with her husband. Curry and Leaver dated for a long time before finally tying the nod.
In many interviews, the couple can be seen sharing inspirational thoughts and are constantly motivating each other.
In addition, the couple is blessed with four children, one daughter Zoey Curry and three sons Marvelous Curry, Maximus Curry & Zion Curry.
Being born in an athletic family, his sons Marvelous and Maximus are highly motivated and compete in baseball competitions.
Curry is a proud father who motivates his children by supporting and appreciating their interests.
Moreover, his daughter Zoey Curry works as a football coach.
The family of five is residing in Nashville, Tennessee, and Oceanside, California.
Brandon Curry: Achievement and Titles
Curry has won many prestigious titles during his 17 active years in the professional bodybuilding journey.
After winning his first competition in 2003, Curry later achieved many huge titles in several championships.
Moreover, he ranked first place in 2013 IFBB Arnold Classic Brasil, 2017 IFBB Ferrigno Legacy, and 2019 IFBB Arnold Classic.
Similarly, his best win is undoubtedly his 2019 Mr. Olympia title which earned him immense fame.
You may be interested in reading about Jeramie Rain.
Brandon Curry: Net Worth, and Lifestyle
American professional bodybuilder Brandon Curry has houses in Nashville, Tennessee, and Oceanside, California.
After winning 2019 Mr. Olympia bodybuilder champion, he bagged a whopping $400,000 prize money.
Brandon Curry is estimated to have a net worth of $25 million.
Moreover, Curry owns a gym called Carbon Culture, which is quite popular and earns him good money.
Curry has some successful partnerships with businesses like o15 nutrition, Tigerfitness, and Oxygen gym, adding to his income.
Brandon Curry: Social Media
Curry is active on Instagram with a whopping 1.1 million followers, giving updates about his professional life. Also, he frequently posts about his wife and children.
From his social media, we can tell he is a proud father, always motivating his kids.
Similarly, he is on Twitter and has over 21.3k followers. Moreover, he promotes his business and post about the products.
In addition, Curry also has a YouTube channel with 29k subscribers. In the channel, he actively shares his intense workout routines.
FAQs
Did Brandon Curry ever take steroids?
As an athlete competing on the stage, Curry hasn't taken any steroids.