Eddie Griffin: Movies, Comedy Shows & Net Worth
Eddie Griffin has spent his whole career as a comedian and an actor. True to it, he is one of the talented actors well-versed in all comedy genres.
European Gigolo, Scary Movie 3, and Deuce Bigalow were some of his critically acclaimed movies.
Also, Griffin was ranked among the 100 Greatest Stand-ups of All Time with hard work and success; he secured 62nd position.
However, Griffin's life was far from the glitz and glamour; the comedian was also lumped into numerous troubles and controversies.
Now let's quickly look at some quick facts about him.
Quick Facts
| | |
| --- | --- |
| Full Name | Edward Rubin Griffin |
| Known As | Eddie Griffin |
| Birth Date | 15 July 1968 |
| Age | 55 years old |
| Place of Birth | Kansas City, Missouri |
| Country | United States |
| Profession | Comedian, Actor |
| Horoscope | Cancer |
| Nationality | American |
| Father's Name | Eddie Griffin |
| Mother's Name | Doris Thomas |
| Siblings | Luther Griffin, Wilbert Griffin |
| High School | Compton High School |
| College | Lincoln College Preparator Academy, Kansas State University |
| Height | 5'7″ (1.70 m) |
| Weight | 70 kg (154 lbs) |
| Body Type | None |
| Genres | Improvisational Comedy, Observational Comedy, Blue Comedy, Satire Comedy |
| Draft | 1989 |
| Marital Status | Married |
| Spouse | Ko Lee Griffin |
| Children Name | Elexa Griffin, Eddie Griffin Jr, Edward Griffin, Meko Lee Griffin |
| Net Worth | $4 Million |
| Salary | $500 Thousand |
| Active Years | 1989 – present |
| Social Media | Instagram, Facebook, and Twitter |
| Merch of Eddie Griffin | Eddie Griffin Album CD |
| Last Update | December 2023 |
Eddie Griffin | Early Life, Education & Family
The American comedian Eddie Griffin was born in Kansas City, Missouri, United States. He was born to his mother, Doris Thomas, a phone company operator.
However, his father's name has not been revealed on the internet. He has two siblings named Luther Griffin and Wilbert Griffin.
Moreover, his family was a Jehovah's Witnesses (Christian Devotees).
As for his education, Griffin completed his high school at Compton High School. He then graduated from Kansas State University.
At the age of 16, Griffin and his cousins moved to Compton, California. Before becoming an actor, he enlisted in the U.S Navy.
But sadly, due to the case of marijuana, Griffin was discharged within months of joining. In addition, he was jailed for six months.
Who are the 35 Funniest Stand-Up Comedians of All Time?
Career
Eddie Griffin started his career as a comedian in 1989 at the comedy club open mic night. Griffin received a standing ovation for his brilliant performance.
He then got an opportunity to perform for the tough guy comedian Andrew Dice Clay. He became successful with his hard work and talent.
Later he became legendary at The Comedy Store and performed several open mic night shows. Griffin managed to grab the attention of the people in a short period.
Moreover, he also started to appear in movies. The Meteor Man, Undercover Brother, Deuce Bigalow, and Urban Justice were some of the films he got starred in.
On the other hand, Griffin also got an opportunity to appear on television shows. Malcolm & Eddie was the first television show on Griffin.
In 2001, he started working with Dr. Dre and performed on some tracks named The D.O.C and Helter Skelter. Likewise, Griffin also appeared in Miller Beer's Man Laws commercial.
He got lots of positive responses in the comedy line. Later, he started releasing his shows. In December 2019, the stand-up comedy special named E-Niggma got released on Showtime.
Likewise, some of his notable acting credit includes One Night Stand (1992), Def Comedy Jam (1992), The Walking Dead (1994), Going to America (2014), and more.
Controversies
In March 2007, the famous comedian participated in a charity race to promote the film Redline. The event happened at Irwindale Speedway, owned by Daniel Sadek.
Griffin was riding a Ferrari Enzo owned by Daniel Sadek during the event. While riding, he accidentally hit the gas pedal instead of the brake.
He lost control of the car and crashed hard into a concrete barrier.
Griffin got minor injuries in his body. But the supercar was badly damaged. Later he criticized the reporters that the crash was just a stunt.
Awards
Los Angeles International Flim Festival 2014 (Best Actor)
San Francisco Global Movie Fest 2014 (Best Actor)
Eddie Griffin | Age, Height & Weight
The renowned comedian Griffin was born on 15 July 1968 in Kansas City. Currently, he is 55 years old. Also, his zodiac sign is Cancer.
Griffin stands tall at 5 ft 7 in (approx 1.70 m). His body weighs around 70 kg (approx 154 lbs).
However, accurate information about his diet is not mentioned on the internet.
Net Worth & Salary
Being one of the finest comedians in America, Griffin has gathered all his income from the film lines. Appearing in many tv shows and films has helped him be a millionaire.
Griffin has a net worth of $4 million.
Starting from small comedy club open mic to playing roles in popular movies. Griffin has come a long way.
In addition, Griffin also has a salary of $500 Thousand. Besides that, he earns an additional income from the endorsement and branding on social media.
Daniela Rajic: Paul George, Ethnicity & Net Worth.
Eddie Griffin | Relationships
Eddie Griffin has been into many relationships in his life. He faced many different controversies regarding marriage and divorce. Currently, he is living with his fourth wife.
Griffin first got married when he was 16 years old. His first wife's name was Carla Griffin. The couple got married in 1984 and had one child named Elexa Griffin.
In addition, the couple was together for 13 years before they decided to go separate ways.
After getting divorced from his first wife, Griffin again decided to get married in 2002. Her name was Rochelle Griffin. Griffin also had one son named Eddie Jr. from his previous wife.
The actor couldn't last long with Rochelle. Even after getting divorced, Rochelle helped their child grow up in a happy and healthy home.
More Marriage Controversies
On September 8, 2011, Griffin tied a knot with his third wife, Nia River, in Las Vegas.
However, this relationship also didn't last long. They broke up after being married for six months. The couple also had a two-year child, King Edward Griffin.
Despite that, the couple tried to unite numerous times. But things were not working out for them. At last, the two agreed to share joint custody of their two-year child.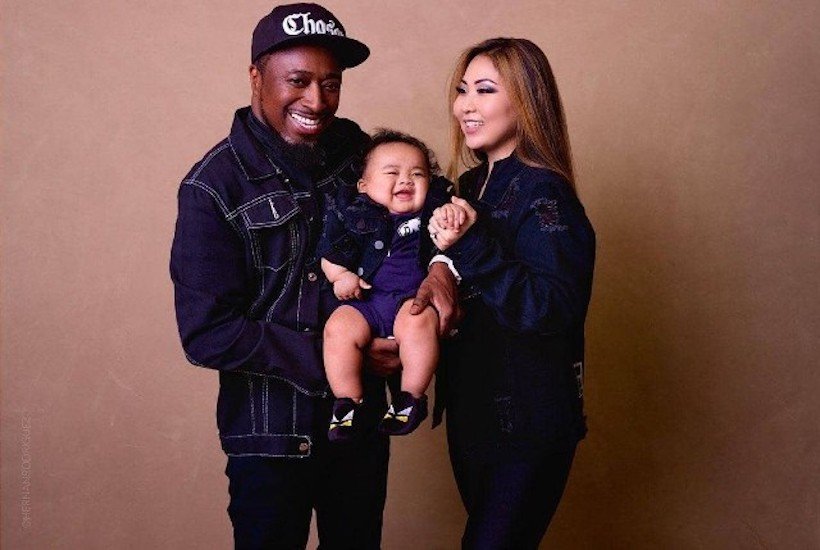 Now, Rivers receives $2500 for the monthly child support. They also agreed not to disclose the reason for their split.
In 2017, Griffin married his fourth wife, Ko Lee Griffin, and had one child together named Meko Lee Griffin.
However, all the names of Griffin kids are not mentioned. But according to the reports, he is the father of ten kids.
In conclusion, we all know that Griffin is a family man who loves to spend time with his loved ones. He is also a caring father who provides emotional and financial support to his kids.
Eddie Griffin | Social Media Presence
Apart from his career, Griffin is also very popular on social handles such as Instagram, Facebook, Twitter, and his personal Website.
On Instagram, he has over 1.3 million followers. Griffin has shared lots of photos regarding his career on his Insta account.
Moreover, on Facebook, he has over 3.4 million followers, where he has shared some personal photos and memes.
On the other hand, his follower count reaches 231k followers on Twitter. He likes to update his fans about everything. Many of the tweets are about his events.
Besides that, he has his website named eddiegriffin.com. Griffin made this website so that his fan could buy tickets to his events.
13 Unforgettable Met Gala Red Carpet Fashion.
FAQs
Was there any argument between Eddie Griffin and his mother?
Eddie Griffin has been very close to his mother since his childhood. But on his 20th, both his mother and Griffin got into an argument when his mother knew he was stealing jewelry from her.
After that, Griffin didn't see his mother for four years.
How did Eddie Griffin get into the comedy line?
Before starting his professional career in comedy, Eddie Griffin was very passionate about dance.
Later his cousin dared him to perform on an amateur open mic night stage. He accepted the challenge, and since then, he has continued his career as a comedy actor.
Has Eddie Griffin ever gotten sick during his shows?
Eddie Griffin was one of the most versatile comedy actors in America. He has appeared in many television shows and movies.
But in 1998, while rehearsing a dance sequence for his television show Malcolm and Eddie, Griffin had a mini heart attack.