Konishiki Yasokichi: Sumo Wrestling, Yokozuna & Net Worth
Sumo wrestling has been present for a very long time. When we talk about sumo wrestling, we have to also talk about Konishiki Yasokichi.
He is a retired American sumo wrestler. He was also the first non-Japanese-born wrestler to attain Zeki.
In addition, he was the heaviest wrestler in sumo history at the time.
Yasokichi is also known by the nicknames "Meat Bomb" and "The Dump Truck."
So, if you want to read about this sumo wrestler, keep on reading this article.
Quick Facts
Here are some unique facts about Konishiki Yasokichi:
| | |
| --- | --- |
| Name | Konishiki Yasokichi |
| Name in Japanese | 小錦八十吉 |
| Birth Name | Salevaa Fuauli Atisanoe |
| Other Names | Meat Bomb and The Dump Truck |
| Date of birth | December 31, 1963 |
| Age | 59 years old |
| Place of Birth | Honolulu, Oahu, Hawaii, U.S.A |
| Nationality | American |
| Ethnicity | Not Available |
| Religion | Not Known |
| Zodiac Sign | Capricorn |
| Gender | Male |
| Father's Name | Lautoa Atisanoe |
| Mother's Name | Talafaaiva Atisanoe |
| Siblings | Anoalo Atisanoe and Six Other Siblings |
| Education | N/A |
| Height | 6 feet 0.5 inches |
| Weight | 287 Kg or 633 lbs |
| Eye Colour | N/A |
| Hair Colour | N/A |
| Body Type | Idle Sumo Wrestling Body |
| Marital Status | Married |
| Wives | Chie Iijima (m. 2004), Sumika Shioda (m. 1992–2000) |
| Children | Not Known |
| Occupation | Sumo Wrestler and Singer |
| Career Debut | July 1982 |
| Record | 733–498–95 |
| Stable | Takasago |
| Retired | November 1997 |
| Elder Name | Sanoyama |
| Net Worth | $1.5 Million |
| Social Media | Twitter, Facebook |
| Merch | Vintage Photo |
| Last Updated | October, 2023 |
Konishiki Yasokichi: Family and Education
Family
Born in Honolulu, Oahu, Hawaii, U.S., Konishiki Yasokichi is an American.
His father's name was Lautoa Atisanoe. He was a regular worker at the U.S. Navy and supported eight children.
Similarly, his mother's name was Talafaaiva Atisanoe.
Besides, he has a brother named Anoalo Atisanoe, a professional wrestler. He died in 2008 and was born in 1957.
Moreover, he has six other siblings whose names and details remain unavailable.
At 18, Konishiki was recruited into sumo by Takamiyama of the Takasago stable, another Hawaiian-born wrestler.
He was a local hero to Atisanoe, and the opportunity to join sumo was too fantastic to pass up.
Konishiki's ancestors are Samoans, and six of his siblings were born there.
He is distantly linked to the rap group Boo-Yaa T.R.I.B.E. from California.
Education
Salevaa wanted to be a lawyer and was awarded a music scholarship to Syracuse University.
He was a promising student at University High School in Honolulu during that time.
Consider reading about, Tad Dennis a slam canoer from the U.S.
Konishiki Yasokichi: Age, Height, and Weight
Born on December 31, 1963, Konishiki Yasokichi is 59 years old, making him a Capricorn man.
Men born under the sign of the Capricorn are known to be ambitious, loyal, practical, and disciplined.
Sumo Wrestlers are known to be tall and massive.
Yasokichi is also a giant man with a height of 1.84 m or 6 feet 0.5 inches. He weighs 287 Kg or 633 lbs.
Konishiki Yasokichi: Career
Early Career
After the 17th Yokozuna, Konishiki Yasokichi I and Konishiki Yasokichi II were named Konishiki.
Atisano'e was the sixth "Konishiki" in history but the third to make it to the top flight.
Konishiki won the jonokuchi yusho with a perfect 7-0 record in his debut tournament.
In the following tournament, he repeated his achievement and won the jonidan yusho with a perfect 7-0 record.
By 1983, this sumo wrestler had three consecutive 6-1 records and was rated at the top of the makushita rankings.
Konishiki had an excellent 6-1 record in September 1983, qualifying for an eight-man playoff.
In the first round, he overcame fellow American and Washington native Suetsugu, but he lost to eventual winner Ohana in the second round.
Despite his makushita six rankings, he was promoted to a jury after only eight events in the unsalaried levels. At the time, it was the fastest rise.
Juryo Career
Konishiki first competed in a sekitori event in November 1983.
This sumo wrestler was only 19 years old at the time and the youngest sekitori in both makuuchi and juryo.
He went 11-4 in his debut event but lost in the playoff to Hoo and thus missed out on the yusho.
In addition, this sump struggled in the following tournament, eventually withdrawing on the ninth day with a 4-5-6 record, his first career losing record.
Finally, he won the juryo yusho in the next two tournaments and was promoted to makuuchi in July 1984.
Makuuchi Career
In July 1984, he made his debut in the top makuuchi division.
And in September, he defeated two yokozuna, Chiyonofuji, and Takanosato, to finish second with a 12–3 record.
In May 1985, he was elevated to komusubi for the first time, and in July 1985, he was advanced to sekiwake.
He broke his coccyx and had to miss the rest of the competition.
He was injured again in competition in May 1986 during a match with Futahaguro.
After this setback, Konishiki bounced back quickly, earning a promotion to ozeki in 1987 after three consecutive double-digit scores.
Ozeki Career
Konishiki was widely expected to push for yokozuna promotion soon.
His stablemaster, the 46th Yokozuna Asashio Taro III, predicted that he would reach the top by 25.
However, his extra weight put a strain on his knee, which was exacerbated by previous high-school football issues, and his performance worsened as a result.
In September 1988, he turned in a catastrophic 3–12 after a decent 8–7 scorestreak.
Further, in 1989, his problems worsened, and a 5–10 grade put him back on the verge of being downgraded from ozeki.
Similarly, in November 1989, he made a stunning return, winning his first tournament with a 14–1 record.
Since Takamiyama in 1972, he was the first foreigner to win a top division title.
In March 1990, he competed in a three-way title playoff but was defeated by Asahifuji, elevated to yokozuna in July.
He won 14 straight bouts in May 1991, but Asahifuji beat him in a playoff on the final day.
Controversy
He'd recovered from his injuries and was now much more consistent.
Asahifuji and Hokutoumi were suffering from illness and injuries, and Yokozuna Chiyonofuji and Onokuni resigned lately.
Konishiki took advantage of the situation and won two titles between November 1991 and March 1992, posting a 38-7 record in the last three events.
However, the Yokozuna Deliberation Committee chairman, Hideo Ueda, said he would not be promoted to yokozuna.
He said, "We wanted to make sure Konishiki was truly deserving of the title of Grand Champion."
This chairman decided to postpone the event until a later date.
According to Noboru Kojima, another committee member, he lacked Shintaku meaning "grace, elegance, and refinement."
A publication used the headline "We Don't Need a Foreign Yokozuna" to describe his views.
"If I were Japanese, I would be yokozuna already," Konishiki said.
The Japan Sumo Association requested apologies.
Instead, he staged a sad press appearance in which he claimed that one of his assistants had impersonated him. But the damage had already been done.
The media storm-affected his preparations for the upcoming event, and he finished with a poor 9–6 record. As a result, Konishiki was never close to being promoted again.
Later Career
Konishiki held the ozeki rating for 39 tournaments during six years, but he lost it in November 1993 after two consecutive losing records.
He did compete as a maegashira in the top category for another four years.
He was vulnerable to belt throws and slap downs against lighter and more nimble opponents now that he weighed over 270 kg.
Despite his lack of success, he grew popular among Japanese fans due to his unwavering battling spirit, unique size, and friendly demeanor.
This wrestler was demoted to the second juryo level in November 1997, and he declared his retirement after 15 years in sumo.
He had been suffering from gout and a stomach ulcer in addition to his persistent knee troubles.
Despite his setbacks, he claimed, "I'm glad I kept doing sumo since I've learned a lot from it, as well as the Japanese language and way of life."
In the end, he had competed in the top category for 81 consecutive tournaments, winning 649 matches.
Konishiki held the ozeki rating for 39 tournaments during six years, but he lost it in November 1993 after two consecutive losing records.
Sadly, this sumo wrestler retired in November 1997.
You might also like reading about Rico Verhoeven, a Glory Heavyweight Champion.
Konishiki Yasokichi: Singer
In 2000, he released the hip-hop album Kms, which featured the songs "Island Girl," "Sumo Stomp," and "Sumo Gangsta."
After sumo, he decided to focus on music, most notably on the song "Livin Like Kings," which he co-wrote with Rimi Natsukawa and L-Burna.
He frequently sings and raps in both English and Japanese. Konishiki is also a ukulele player.
Films and Programs
Yasokichi made a cameo role in the film Check It Out, Yo!
In 2006, as well as a brief appearance in The Fast and the Furious: Tokyo Drift.
Besides, he is the host of Nihongo de Asobo, an N.H.K. children's program.
The program teaches youngsters traditional and conversational Japanese. On the show, he is known as "Koni-chan."
Shinichi Watanabe, the director of Excel Saga and Puni Puni Poemy, developed the anime series Dotto! in 2000.
Also, Koni-chan, in which the protagonist Koni, is a big kid who looks a lot like KONISHIKI.
Konishiki Yasokichi: Fighting Style
Early in his career, Konishiki was primarily an oshi-sumo specialist.
He performed pushing and thrusting tactics like oshidashi and tsukidashi to win the battle as quickly as possible.
His balance weakened due to his knee troubles in 1988 and 1989, and his weight increased.
Then, he adapted his approach, preferring to bide his time by gripping the opponent's mawashi.
This sumo wrestler also depended on his massive weight to wear them out.
By 1992, he was winning nearly all of his matches, and the Yokozuna Deliberation Committee highlighted concerns about his lack of ability to alter tack.
Until Orora in 2017, his top weight of 285 kilograms set in March 1996 was the biggest ever for a sumo wrestler.
Konishiki Yasokichi: Record
Division Results
Total: 730-498-95/1219 (93 basho)
Makuuchi: 649-476-89/1117 (81 basho)
Juryo: 39-15-6/53 (four basho)
Makushita: 16-5/21 (three basho)
Sandanme: 12-2/14 (two basho)
Jonidan: 7-0/7 (One basho)
Jonokuchi: 7-0/7 (One basho)
Championships
Three Makuuchi Championships

1st (November 1989)
2nd (November 1991)
3rd (March 1992)

Two Juryo Championships

1st (March 1984)
2nd (May 1984)

One Jonidan Championship (November 1982)
One Jonokuchi Championship (September 1982)
Konishiki Yasokichi: Achievements
Special Prizes: Fighting Spirit Prize (five), Outstanding Performance Prize (four), Technique Prize (one)
Kinboshi: 2: (one) Chiyonofuji, (one) Takanosato
Record: 2nd heaviest sumo wrestler (287 kg), 6th most tournaments ranked at ozeki (39 tournaments), Tied for 8th fastest progress to top division (12 tournaments), 1st non-Japanese ozeki
Shikona History: Konishiki Yasokichi (1982.07 – 1997.11)
Konishiki Yasokichi: Fund Raising
Yasokichi has been a high-profile fund-raiser for disaster relief in Japan's afflicted regions after the 2011 earthquake.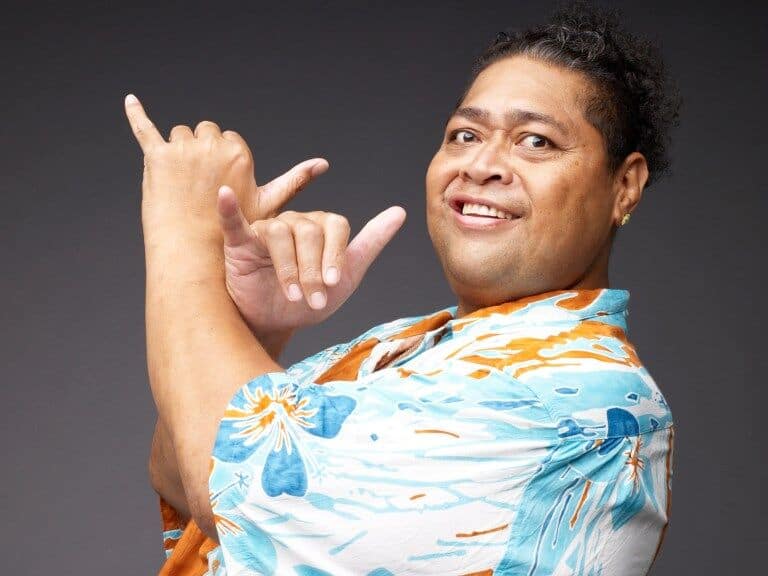 He founded the Konishiki Kids Foundation to provide for poor children in Hawaii.
The foundation also provides opportunities to learn about Japanese culture.
Konishiki Yasokichi: Surgery
In 2007, he took a year off from a celebrity life to prepare for gastric bypass surgery in Hawaii.
Since his retirement, he had not lost much weight. Although he had neither high blood pressure nor heart concerns, this wrester underwent the operation in February 2008.
He stated that the operation went well and had reduced 70 pounds since then. In May 2008, he returned to Japan.
Konishiki Yasokichi: Girlfriend, Wife, and Children
In January 2004, Konishiki married Chie Iijima, a former medical worker he had been dating for two years.
Further, he married former model Sumika Shioda in 1992, but the couple separated in December 2000 amicably.
But, any information about his children is unknown.
Konishiki Yasokichi: Net Worth
Konishiki Yasokichi's estimated net worth is $ 1.5 million. His monthly and annual income, however, is unknown.
Further. he gathered his net worth by working as a sumo wrestler, actor, and singer.
You might also enjoy reading about Georges St-Pierre, a retired Canadian mixed martial artist.
Konishiki Yasokichi: Social Media
Yasokichi is very active on social media. His presence can be summarised as follows:
Facebook: Over 3k Followers
Twitter: Over 3.4k Followers
Instagram: 10k Followers
FAQs
Where is Konishiki Yasokichi now?
Konishiki, a naturalized Japanese citizen, is still based in Japan, where he recently published his tenth album.
However, his work with children is what he is most proud of.
Did Konishiki Yasokichi lose weight?
Konishiki had not lost much weight since his retirement and underwent the operation in February 2008.
Moreover, this sumo wrestler stated that the operation went well and had reduced 70 pounds since then.