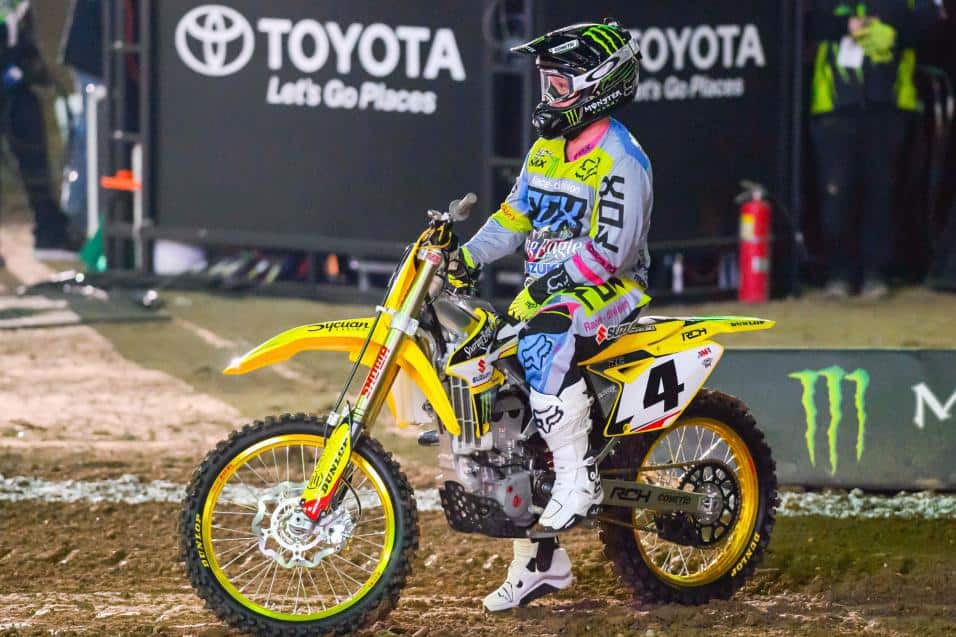 Ricky Carmichael is an American retired professional motocross driver and stock car racing driver.
Ricky is well known in the racing world for winning the title of motocross national championship seven times.
Carmichael has also won the AMA Supercross Championship in the 450cc category five times.
Ricky was known for dominating the race track. As a result, he has been nicknamed GOAT, which stands for greatest of all time.
His name was inducted into the Motocross Hall of Fame in America in 2015. He is a literal legend to anyone in the racing game.
In the article, you will find everything that there is to know about Ricky Carmichael.
Quick Facts
Here are some quick facts just in case you did not know about the talented Ricky Carmichael:
| | |
| --- | --- |
| Full name | Richard "Ricky" Carmichael |
| Date of birth | 27th of November in 1979 |
| Age | 43 Years Old |
| Birthplace | Clearwater, Florida, U.S. |
| Religion | Christian |
| Nationality | American |
| Ethnicity | Caucasian |
| Education | Leon High School |
| Father's name | Rick Carmichael |
| Mother's name | Jeannie Carmichael |
| Siblings | Not Available |
| Zodiac sign | Sagittarius |
| Height | 5 feet and 6 inches |
| Weight | 68 kg |
| Sexual Orientation | Straight |
| Marital Status | Married |
| Spouse | Ursula Holly |
| Children | One son and one daughter |
| Body Measurement | Not Available |
| Hair color | Brown |
| Eye color | Brown |
| Net Worth | $30 million |
| Profession | Professional racer |
| Current team | Retired |
| Nickname | Ricky, GOAT, RC |
| Salary | $4.7 million |
| Social Media | Twitter, Instagram |
| Debut year | 2009 AD |
| Merch | Ricky Carmichael: Motocross Champion, MOTOCROSS ACTION Magazine |
| Last Update | April, 2023 |
Ricky Carmichael: Early Life
Ricky Carmichael was born on 27th November of 1979. He was born in Clearwater, Florida, and raised in Havana, Florida, in the United States of America.
His father's name is Rick Carmichael, and his mother's name is Jeannie Carmichael.
Moreover, his father was an electrician by profession, while his mother was a homemaker.
Ricky is a single child and has no siblings. So growing up, he was showered with all the love and attention from his parents.
When he was just five years old, the racer got his first bike as a present on Valentine's day. The bike was a Yamaha 50-Tri Zinger.
Since then, young Ricky fell in love with his bike, and his passion for racing grew. He even started to take part in competitions where he proved to everyone that he had potential.
Ricky was a shy kid in school and never interacted much. He was short and had freckles all over his face.
The only time Ricky felt powerful and in control was when he was riding on his bike. He had already started feeling like a grown-up.
When Ricky was sixteen years old, he won his first competition. And the adrenaline of crossing the finish line stayed with him throughout his life.
For his high school education, Ricky when to Leon High School in Florida. After graduating from high school, he did not attend college.
He had already dreamt of becoming a racer, and he soon started training for it.
Ricky Carmichael: Personal Life
Ricky is an American citizen. Moreover, he is of Christian faith and is caucasian in ethnicity.
Being born in November, Ricky is a Sagittarius, a fire sign, and they are known to be impulsive.
Sagittarius people have traits such as being loyal, kind, optimistic, loving, and humble.
Ricky is the perfect example of Sagittarius's passionate side as he puts all his heart into something he loves.
Ricky is very fond of nature and is often seen biking along the natural trails. He has traveled to many countries because of his profession.
Even though he has retired from the sport, but he aspires to encourage youth towards bike racing.
Bike racing can often be dangerous, but Ricky thrives on the thrill of the danger.
<<Wilfredo Leon: Career, Struggles & Net Worth>>
Married Life
Ricky Carmichael is married to Ursula Holly. The couple has been together for more than two decades.
Ricky and Holly met when they were in their twenties. The two had an instant connection and started dating.
Holly has stayed with Ricky through the ups and downs of his career. She has been his number one cheerleader through and through.
After that, everything became history. Ricky decided to get down on his knees to pop out the ring, and Holly instantly said yes.
The couple got married in 2002. It was a private ceremony held in the presence of family and friends.
After some years of marriage, they were blessed with children. The couple had twins.
One of them is a boy named Kadin Carmichael, and the other is a girl named Elise Carmichael.
The couple resides in the mansion in Tallahassee of Florida.
The couple seems to be happily married. There have been no rumors of cheating or conflict of any sort.
Ricky wants to be a good dad and spends all of his time with his children. He often takes the children around the world so that they can be more cultured.
<<Maris Strombergs: Olympics, Retirement & Net Worth>>
Ricky Carmichael: Professional Career
Carmichael made his debut in 1997 with the Splitfire Pro Kawasaki Team in the rookie leagues.
Then, after many years of training, he was upgraded to the 250cc category for the Factory Team of Kawasaki.
His first victory came in 2000 when he won the Motocross AMA Championship.
Similarly, in 2001, he won the AMA Supercross Championship and AMA Motocross Championship under Kawasaki. But he had frequent crashes in most of the races.
In 2002, Ricky decided to switch to Honda and won the Supercross AMA Championship.
He has the perfect season in 2002 by winning all the 24 motos to take home the Outdoor Championship title.
Carmichael won both the Supercross and national titles in 2003 after beating Chad Reed.
The next year, Ricky had knee surgery, but he came back for the races despite that. He won 24 out of 24 motos and recorded his second perfect season with Honda.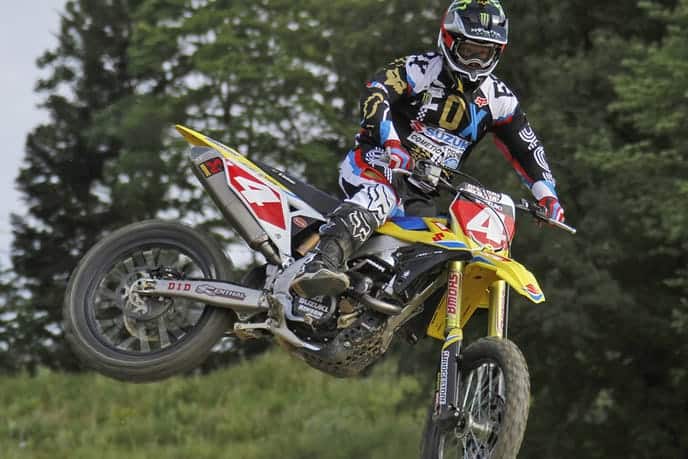 Ricky changed to the Suzuki team in 2005 when he won the AMA Supercross and Motocross Championship. He even led the USA team to its victory at the Motocross des nations.
The next season he still won the AMA Supercross and Motocross championship. But was unable to take part in Motocross des nations due to shoulder injury.
Then in 2007, Ricky took on only a selected number of races and ended his motocross racing career by winning the Motocross des nations for the USA.
Recent Years
After his Motocross racing career, Ricky dived into the world of Stock Car Racing. He signed with Ginn racing in 2007.
He did not have an impressive career in stock car racing compared to his prior success.
However, in 2011, he achieved his career first pole at the Atlanta Motor Speedway.
He currently works on AMA Monster Energy Supercross Broadcast on NBC AND NBCSN with Daniel Blair and Will Christien.
Carmichael has also appeared in the BBC show called Top Gear.
In 2021, Ricky entered into a partnership with Triumph motorcycles to develop prototypes for off-road motorcycles.
Ricky Carmichael: Controversy
Carmichael found himself in a controversy when he left Kawasaki.
Kawasaki brand has been with Ricky since the very beginning, and when Ricky reach the height of Supercross, he left Kawasaki. Naturally, the fans heavily criticized this move.
The fans booed him and even went as far as to call him a traitor. They think he became a sell-out to the highest paying team, much like the other superstars.
Ricky Carmichael: Net Worth
Carmichael has earned quite the fortune after such a long time in the racing tracks.
The racer has been sponsored by brands such as Monster Energy Drink, Yamaha, and Suzuki. The brand endorsement deal over the years has helped the cash flow in.
Ricky carmichael has an estimated net worth of 30 million us dollars as of 2023.
He makes about 4.7 million US dollars in a year from his deal with Suzuki.
Ricky resides in a French Mediterranean-style mansion in Florida. The million-dollar mansion is complete with a natural-looking pool and expensive marbled floors.
It is pretty clear that Ricky has been living a luxurious life with his earnings.
Ricky Carmichael: Physical Appearance
Ricky is five feet and six inches tall and weighs around 68 kgs.
He has not revealed his exact body measurement. But Ricky has a very athletic build.
He often does cycling and exercise to keep himself fit and healthy.
Ricky has brown hair and similar brown eyes. However, his most distinguishing feature is his pointed nose.
Ricky has a fair skin complexion. His shoe size is a Uk size 6.
<<Sofia Pernas: Early Life, Career & Net Worth>>
Ricky Carmichael: Social Media
Ricky is quite active on social media. He uses Instagram and Twitter.
His Instagram is a verified account and has more than 904 thousand followers. Additionally, he shares pictured of his racing days.
His Twitter is also a verified handle. It has more than 256 thousand followers.
FAQS
What brand did Ricky Carmichael ride?
Ricky Carmichael rode the Suzuki brand.
Who is the GOAT of Motocross racing?
Ricky Carmichael is considered to be the GOAT of motocross racing.