Shannon Gunz: Early life, SiriusXM, Husband & Net Worth
Radio-listeners who love to listen to some good music on the radio also love an excellent voice to host the program. Not everyone is blessed with a fantastic voice and hosting-capability like 36-year-old Shannon Gunz.
Popular radio host at SiriusXM Satellite Radio and married to Metal singer Chad Gray, Shannon is a driven and motivated woman loved by many. Shannon started as an intern at a young age while she was still in college.
Moreover, the beautiful woman is academically skilled because she studied Journalism and Mass communication in her college.
Free-spirited and blessed with good genes, Shannon was a party animal since her teens. As seen from her older pictures on her Facebook, she loved going out with her friend's group and having fun. Similarly, she was an avid rock-metal fan, which later helped in her career as well.
Shannon Gunz got married to the love of her life in October 2020. They had been engaged for some time and now are happily married and living together in their beautiful house in Las Vegas.
Quick Facts
Before everything, let's dive into knowing some quick facts about this beautiful and talented 36-year-old.
Birth name

Shannon Turner

Birthdate

July 8, 1984

Birthplace

Prescott, Arizona, United States

Another name

Shannon Gunz

Religion

Not Religious

Nationality

American

Ethnicity

Caucasian

Horoscope

Cancer

Father's name

Lon Turner

Mother's name

Connie Turner

Siblings

None

Current Address

Las Vegas, United States

Age
38 Years Old
Height

5 feet 4 inches

Weight

Not Known

Shoe size

Not Known

Hair color

Light Brown

Hair Type

Wavy

Eye color

Light Brown

Marital status

Married

Husband's name

Chad Gray

Children

None

Education

Mesa Community College

Arizona State University

Profession

Radio Host, Model

Broadcasting Company

SiriusXM Satellite Radio

Years active

2006- present

Net worth

$500-$ 1 million

Social media handles
Instagram, Twitter, Facebook, Twitch
Last Update
June, 2023
Shannon Gunz: Family & Childhood
Born in Prescott, Arizona, Shannon is a true Arizona native as both her father and mother have a long history in the state. Sharron's mother, Connie Lyn, and her maternal side of the family have lived in Arizona for an extended period while her father, Lon Turner, moved to the Chino valley of The Grand Canyon State mid-1970s.
Shannon's birth name was Shannon Turner, which she later changed into Shannon Gunz.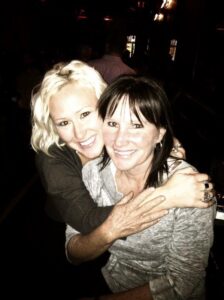 Shannon's father, Lon, owned a motor garage where Shannon spent her childhood watching her father work on vehicles. While she stayed in her father's workshop, Shannon's father inspired her to listen to various music genres like rock and metal.
Besides, Shannon's grandfather was veteran military personnel whom she seems to respect a lot.
Shannon was very close to her father since her childhood, which can be seen in her social media posts as she occasionally posts photos of her family. Moreover, Shannon also seems to adore her mother, Connie, who she says is the inspiration for her looks as she claims that she got her attractive features from her mom.
Hence, Shannon has a loving and supportive family who supposedly encouraged her to pursue her fantastic career as a radio host.
Shannon Gunz: Education
Not much is known about Shannon's elementary and high school education, but we can assume that Shannon was a considerably bright and confident person since her childhood.
Shannon joined Mesa Community College after graduating from High school. She studied there for only a couple of years before transferring to Arizona State University.
In an interview, Shannon revealed that she was initially going to join Walter Cronkite School of Journalism and Mass Communication in Phoenix, Arizona. But the college required her to have an internship. So, that was when Shannon got committed to her internship.
Her father was always approving of whatever Shannon wished to do. So, with an air of decisiveness, Shannon said to her father that she wanted a big internship that would prove to be fruitful for her.
Shannon Gunz: Internship at SiriusXM
Carrying big dreams, Shannon temporarily moved from a small town in Arizona to Manhattan, New York. There, she started doing an internship at SiriusXM in 2006 at the age of 22.
Initially, she had planned to move back to Arizona from New York after completing her internship at Sirius. Still, after working there for a certain period, Shannon decided that she would work there forever. It was indeed her dream company, and she had grown to love working for it.
Likewise, she had interned for two famous radio personalities, Covino and Rich, who loved her personality and work-drive. Eventually, they hired her as a Radio-host in the company.
After getting the job, Shannon again switched school to Seton Hall University in South Orange, New Jersey.
Enthusiastic woman, Shannon was liked and accepted by all in no matter of time. She completely adapted to the city lifestyle while still retaining the charm and charisma of a small-town-girl who drove bikes and rode horses with her father. Her rural traits made everyone who worked with her adore her more.
Know More About American News Reporter And Journalist: Stefani Schaefer.
Shannon Gunz: Career & Professional Life
Shannon admits that she has the coolest job at SiriusXM as a Radio Host, which allows her to listen to music and go to concerts, two things she loves. Moreover, she also gets to promote and personally involve in the new albums and songs from rising and upcoming artists.
Gunz has gained tremendous fans and supporters because of her brilliant performance on-air. She helms Ozzy's Boneyard from 3 to 9 a.m. Monday to Friday, Similarly, she works in Turbo from 9 in the morning to 3 in the afternoon Monday to Friday, and from noon to 6 p.m. Saturday while working at Octane from 3 to 9 p.m. on weekends.
Moreover, the workaholic 36-year-old is often recognized by people on the streets. It is no surprise that the radio-lovers have come across her hosting at least once a day.
Gunz: Life As A Radio Host
In an interview with The Entertainer Magazine, Shannon opened, "I can walk through the crowd, and people recognize me from online… They know me, and they love me. They listen. Getting to hear that what I do gets people through their day is awesome. Getting to help bands promote their music and saving lives through music is great. It literally does save lives."
Moreover, Shannon also claims that SiriusXM has the best and most relaxed listeners. She takes immense pride in the kind of job she does.
Furthermore, Shannon was also featured as an FHM magazine model in her twenties and as the SiriusXM website's face.
Hence, she has proven herself to be a spectacular host who provides an intimate connection between the radio station and the listening audience. She is also recognized for her on-air work, such as interviewing guests, entertaining discussions, and setting up music and advertisements.
Because of her job, she frequently gets to meet famous Hollywood celebrities. She had met American singer Miley Cyrus in 2017, Aerosmith among others.
You Might Be Interested In Knowing More About This Amazing Model: Stefanie Knight.
Shannon Gunz: Previous Relationship, Husband & Wedding
Brilliant Radio Host Shannon was previously married to American record producer, songwriter, mixer and engineer, Kato Khandwala until 2018.
Unfortunately, Kato died in a motorcycle accident on April 14, 2018. It was an ominous tragedy in young Shannon's life, but she could move on and find someone else because of her emotional maturity.
Shannon Gunz is currently married to 49-year-old Chad Gray. Chad is an American singer, songwriter, and musician.
Chad is also the lead vocalist and co-founder of the heavy metal band "Hellyeah" and the lead vocalist for another heavy metal band, "Mudvayne."
Shannon Gunz: Marriage With Chad Gray
The couple got married on October 31, 2020, by the river in Colorado. It was a beautiful wedding, but it was long overdue as they had planned to get married seven months ago on April 4. However, because of the Covid-19 Pandemic situation, it was next to impossible for a safe wedding. Hence, the wedding got postponed.
https://www.instagram.com/p/CIbQGFOs_yV/
Moreover, in an interview, Shannon said," We decided- no matter where the pandemic is at the point-we want everybody to be safe. We don't want to postpone the wedding again, though. We're going to get married at our place on October 31, but we may postpone the party."
The couple makes a great team and currently live together happily in Las Vegas, within a few hours' drive from the Colorado River. Shannon seems to love the Colorado River and a few other places like the lakes present between Arizona, Nevada, and California.
Shannon chose to live in a location that isn't very far from her parent's house. Their house is only three hours away from her parent's house.
Gunz: Lifestyle, Looks & Interests
Gunz lives a pretty amusing lifestyle. Her husband is a Heavy-metal singer, which means she gets to go to many concerts to see him perform.
Shannon is also very keen on tattoos. She has an assorted number of tattoos, which have now become her defining features. Among her several cool tattoos, the one that stands out the most is the one with her mom, Connie, 's face on her back. It is a beautiful and large tattoo.
Furthermore, Gunz also has a great sense of style and occasionally changes her appearance, which gives her a unique look. Throughout the years, she has changed her hair into several different colors. She has had red hair, black hair, blue highlights, and completely blond hair too. Currently, she has blond hair with black roots.
Moreover, Shannon appears to be an extreme animal enthusiast. She takes her French bulldog, Milly Alexandra AKA Milly the metal dog, with her everywhere she goes, even to her work. Shannon even has created an Instagram solely featuring Milly, the metal dog. It is adorable and entertaining to see her love for her dog.
https://www.instagram.com/p/CIJZY6DsJD_/
Besides, Shannon is very close to her parents. She seems to have so much love and appreciation for both her parents, which she occasionally shares on social media.
Shannon Gunz: Net Worth
Shannon has been working as a radio host for more than 14 years now. She is a very respected person in the company.
Likewise, her net worth is somewhere between $500 and $1 million according to the internet sources.
Shannon Gunz: Social Media
https://www.instagram.com/p/B0EXfbqBK_S/
Gunz has a stunning personality and can socialize easily. She is pretty active on all of her social media. As she works for the media outlets, she continually keeps track of Hollywood and the music industry's actions.
As of January 2021, Shannon has 109k followers and is following 561 people on Instagram.
Likewise, on Twitter, she has 63.6k followers and is following 324 people. On Facebook, she has 74,248 followers.
Moreover, she also has a Twitch account where she streams along with her husband, Chad. On Twitch, she has 12.2k followers.
F.A.Qs
Does Shannon Gunz have a child?
Shannon Gunz, the wife of Chad Gray, is a popular radio host. The couple doesn't have a child yet.
Where did Shannon Gunz get her wedding dress from?
Shannon got her wedding dress from "The Bridal Collection" in Centennial, Colorado.
Who is Shannon Gunz's best friend?
Shannon's best friend for more than 30 years is Kayla Stazenski.