Stephanie Ready – Family, Net Worth, Career & Husband
If you are a basketball enthusiast and watch the NBA broadcasts, you are probably familiar with Stephanie Ready's name.
Stephanie, a broadcaster and a former coach, is currently working for the National Basketball Association (NBA) as a broadcaster on TNT. With her passion and dedication to her work, she has achieved great milestones in her career.
Formerly, she was a broadcaster for Charlotte Hornets, an NBA professional basketball team from North Carolina. There, she spent almost fifteen years of her broadcasting career with outstanding recognition. Not only that, her influence in sports is quite more than just broadcasting.
However, before making an entrance into a broadcasting career, she also coached the men's basketball team, Greenville Grove, in 2001.
Being a coach in a men's team is considered one of the highlights of her coaching career as she gained the title of the first-ever female basketball coach for professional men's basketball team.
With this, she opened the gate of possibilities for other females who dream of coaching women's and men's professional teams.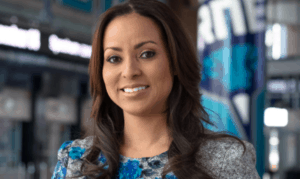 Stephanie, speaking in an interview about being the first female professional men's basketball coach.
Besides that, she also played basketball and volleyball while at Coppin State University in Baltimore. Certainly, she has always been a true sportsperson, which shaped her career into a success today.
As a result of her incredible talent and passion towards her work, Ebony magazine honored her by including her name under the title The 56 Most Intriguing Blacks of 2001.
Moreover, this article is entirely dedicated to her life story, including her early life, education, family, and most importantly, her career achievements. So, stick until the end of this article to know her more.
Quick Facts
There is so much more to know about her life journey and her incredible achievements in sports and journalism, which will be discussed further in this article. So, we suggest you read the article thoroughly.
First, let's look into some of the basic facts about Stephanie.
| | |
| --- | --- |
| Full Name | Stephanie Ready |
| Known as | Stephanie Ready |
| Nickname | Stephanie |
| Birth Date | 1975 |
| Birth Place | Takoma Park, Maryland, United States |
| Residence | Not known |
| Religion | Christian |
| Nationality | American |
| Ethnicity | Black |
| Education | National Cathedral School, Coppin State University |
| Zodiac Sign | Not mentioned |
| Father's Name | Not mentioned |
| Mother's Name | Not mentioned |
| Siblings | Unknown |
| Age | 49 years old |
| Height | Unknown |
| Weight | Unknown |
| Eye Color | Brown |
| Hair Color | Black |
| Body type | Athletic |
| Profession | Sports Analyst, Former coach |
| Marital Status | Married |
| Spouse | Perry Jones |
| Children | 2 (a daughter and a son) |
| Name of Children | Daughter, Ivy, and Son, James |
| Beginning of Professional Career | 1998 |
| Retirement | Not retired |
| Renowned for | Sideline reporter for Charlotte Hornets |
| Professional Career at | National Basketball Association (NBA) |
| Coach for | Women's volleyball team, Men's basketball team |
| Honors | Titled 'The 56 Most Intriguing Blacks of 2001' by Ebony Magazine |
| Titles | First full-time female analyst at NBA, First female to coach professional men's basketball team |
| Net Worth | Estimated $5 million |
| Social Media | Instagram, Twitter, Facebook |
Stephanie Ready Education
Being raised in a suburb of Washington, Stephanie's private schooling started at National Cathedral School located in Washington D.C.
After finishing high school, she enrolled in Coppin State University in Baltimore, Maryland, and explored her athleticism by joining the basketball and volleyball team.
She was a bright student who honorably finished her bachelor's degree in psychology.
Stephanie Ready Body Measurement
Stephanie has an athletic body with an average built figure. Although her precise body measurement is nowhere mentioned, we can tell her height must be above five feet five inches based on her screen appearance.
She is a beautiful dark-skinned woman with black hair and brown eyes.
Stephanie's Basketball Career
In college, she explored her athletic ability by playing for Coppin State Eagles in basketball and volleyball.
Playing college basketball for four years, her passion for sports began to shine as she went on to become one of the top 10 ranking basketball players recognized for her top points, assists, rebounds, and steals.
Later, her stunning sports performance led her to become a renowned coach for basketball and volleyball teams.
Stephanie Ready Coaching Career
Before entering into broadcasting, Stephanie had already made incredible achievements by coaching both professional basketball and volleyball team.
Her talent was noticed by the athletic director at Coppin State, Ron Mitchell, who insisted on hiring Stephanie as a college volleyball coach for the women's team.
Just after two weeks of graduating from the university, she stepped up to coach the team.
With that, she became the country's youngest coach for a Division I women's volleyball team at the mere age of 25.
Stephanie Ready, a Basketball Coach
Not long after, Ron Mitchell again hired Stephanie as a men's basketball coach for Coppin State's team. This position titled her the third female to coach a men's basketball team in Division I league.
She was the only female who was given the authority to an off-campus recruit.
In 2001, she honorably resigned from the position and ended her Coppin State coaching career by being endorsed by Ron Mitchell.
2001 was a historical moment for Stephanie when Ebony Magazine enlisted her under the title The 56 Most Intriguing Blacks of 2001. The list also included some of the biggest basketball names, such as Michael Jordan, Shaquille O'Neal, and Kobe Bryant.
In an interview, she shared her thoughts on coaching men and women by saying there was not much difference between coaching professional men and women athletes.
Throughout her coaching years at Coppin State, she had already made a recognizable impact on sports. Impressed by Stephanie's coaching ability, Mitchell spoke highly of her and recommended that she coach the NBA development league.
She entered the National Basketball Development League as an assistant coach for Greenville Grove with great records. She coached the team for three years, from 2001 to 2003, and helped the team win the championship in 2002.
Despite aspiring to achieve more as a coach, Stephanie had to leave the coaching arena after Greenville Grove folded in 2003.
Without a doubt, Stephanie can be considered one of the significant women in sports who have raised the bars high and increased women's possibility of coaching professional teams.
Stephanie Ready's Broadcasting Career
After establishing herself as a successful coach with historical achievements, Stephanie further embarked on achieving greater milestones by switching her occupation to broadcasting.
Before Ready's Olympic break, she applied for the broadcasting station and got hired as well. However, she was expected to play the season as well as be in Charolette the other day.
Hence, an offer was put forth which expected her to be in Charolette the next day after she finishes her season. Lucky for her, her team was eliminated after the first round which granted her enough time to be there.
As a broadcaster, she has been associated with ESPN, the National Basketball Development League, and the Charlotte Hornets of the National Basketball Association.
While at Hornets, Stephanie was honored by awarding her Emmy Awards for her outstanding work in broadcasting.
Stephanie, flaunting her Emmy awards on a Twitter post.
Stephanie invested over a decade of her career as a broadcaster for Charlotte Hornets. Not only that, in 2006, she also became TNT's sideline reporter for the playoffs in NBA and WNBA.
Stephanie sharing a few words of gratitude and regards on her final day at Charlotte Hornets as their broadcaster for almost 15 years.
After years of amazing work, the NBA named her a full-time game analyst in August 2015.
<<STEVE CARELL BIO – EARLY LIFE, CAREER, MOVIES & NET WORTH>>
Stephanie Ready Making History in NBA
Stephanie's glorious journey has yet met another peak. In 2015, she sought to set a new record as the first-ever female to become a full-time game analyst in NBA. This was a historical moment in NBA broadcasting history.
The talented Stephanie mentioned that being a full-time game analyst was her dream. She also mentioned that being a player and a coach has made her even a better broadcaster as it has increased her understanding of the game. Consequently, allowing her to explain the game clearly to the audience.
Whether it is coaching or broadcasting, Stephanie has set records after records and proved to us that success is a guarantee if you put your head and heart into something.
Who is Stephanie Ready's husband?
Stephanie seems to be the type of person who likes to keep her personal life to herself. Despite all the limelight, she has been able to keep her personal information in shadow by the media.
However, Stephanie is known to be married to Perry Jones. The couple has two children, a daughter named Ivy and a son named James.
Sometimes the internet can be scary for famous people, so it is completely understandable why she keeps her personal information away from the public.
<<SPENCER HAWK, GUPI: MUSIC, TONY HAWK & NET WORTH>>
What is Stephanie Ready's Net Worth?
Having had a successful career in coaching and broadcasting, Stephanie is known to have a net worth of over 1 million dollars as of 2020. With the rising success in her career, it's pretty obvious her net worth will keep on rising in the coming years.
The net worth of Stephanie Ready is around $5 million.
Stephanie Ready Social Media
Stephanie is very active in social media and uses platforms such as Twitter, Instagram, and Facebook. If you are further interested to know about her daily life, you should definitely check her out on these platforms.
She is present on Twitter with the name Stephanie Ready having 20.2 k followers.
Stephanie, retweeting her conversation with Detroit's draft pick Killian Hayes.
Likewise, her user id on Instagram is @stephaniereadytv with 25.3k followers and has been active on the platform since April 2018. Lastly, on Facebook, she has a public page, @stephenie.ready.1, with 6.8 k followers.
In conclusion, it's fair to say that she is an inspiration to many women dreaming of pursuing a successful sports career.
Defying all the gender and cultural barriers, Stephanie has become one of the most influential women in sports. As of today, she is still going strong in her professional career. Hopefully, we will see her achieve greater heights in the coming years.
<<VALERIE VELARDI BIO: CAREER, NET WORTH & ROBIN WILLIAMS>>
FAQs
Who is Stephanie Ready married to?
Stephanie Ready is married to Perry Jones and has two beautiful children.
Were Stephanie Ready's nudes leaked?
We encourage the viewers to not spread around partially naked or any sort of inappropriate content of people around.