Tina Lai: Early life, Family Struggles, Husband & Net Worth
If you had stuck around to watch the Super Bowl LII Post-game, trophy presentation, and MVP Ceremony, you might have noticed an Asian woman on the big stage whose name is Tina lai.
Tina Lai is the wife of Jeffrey Lurie. That day his team, Philadelphia Eagles, won the game. Jeffrey Lurie co-owns the team with his ex-wife.
Tina Lai got the initial media attention after marrying Jeffrey Lurie. Further, her frequent appearance in football matches accompanying her husband made her easily recognizable.
In fact, Mrs. Lurie is a sister of Benny Lai. Bennie lai owns several chain restaurants, including Vietnam Restaurant in Chinatown, Fu Wah mini-market & Deli, West Philadelphia's Vietnam Cafe in University City, etc.
Tina has left people around the world craving to know more about her. Here in the article, we have discussed everything you need to know about this beauty.
But before diving into details, here are some quick facts that we found about Tina Lai.
Quick Facts
| | |
| --- | --- |
| Full Name | Tina Lai Lurie |
| Nick Name | Tina |
| Birth Date | 1975 |
| Birth Place | Vietnam |
| Nationality | American/Vietnamese |
| Ethnicity | Asian |
| Religion | Unknown |
| Residence | Wynnewood, Pennsylvania |
| Education | Lamberton High School |
| Father's Name | Nhu Lai |
| Mother's Name | Thuyen Luu |
| Siblings | 7 |
| Age | 48 Years Old |
| Horoscope | Not available |
| Height | Unknown |
| Weight | Unknown |
| Shoe Size | Unknown |
| Hair Color | Black |
| Eye Color | Brown |
| Body Measurement | 34-23-33 |
| Body Type | Slim |
| Marital Status | Married |
| Spouse | Jeffrey Lurie |
| Marriage Date | May 4, 2013 |
| Children | None |
| Step-Children | 2 |
| Profession | Restaurant Manager, Homemaker |
| Net Worth | $ 2.7 Billion(Husband's net worth) |
| Social Media | None |
| Philadelphia Eagles' Merch | Autographed Photo, Signed Helmet, Signed Football |
| Last Update | June, 2023 |
Originally, Tina is Vietnamese but later left her home country with her family after the start of the civil riots.
Tina Lai rose to fame after her marriage to Jeffrey Lurie. Before her marriage, Tina used to managed the Vietnam Cafe that belonged to her family.
Tina Lai: Early Life and Childhood
Tina Lai was born in 1975 as the youngest addition to the family. She was born to father Nhu Lai and mother Thuyen Luu.
Tina lai was born in Saigon, now Ho Chi Minh City, Vietnam. Additionally, Tina has seven siblings.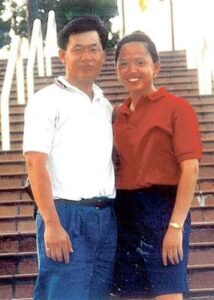 Sadly, there's not much information about tina's siblings. However, three of them are mentioned on her family's restaurant page.
Name of her known three siblings are Benny lai, Dave lai, and Ley lai.
<<COLLEEN WOLFE: HUSBAND, NFL, ANIMAL LOVER & NET WORTH>>
Background information
In 1978, the family fled from Vietnam because of the ongoing war. They rode on a small wooden boat with dozens of other families fleeing their homeland.
However, the family remained on the South China Sea for several days in the dilapidated boat. Fortunately, some kind-hearted sailors rescued them and took them to Malaysia.
The family spent about nine months in the Malaysian refugee camp.
Afterward, the family went to the United States as refugee immigrants. After moving, the family of 10 rented a tiny apartment in Philadelphia, USA.
Tina and her family had tough times in a foreign country. Mostly because of the language barrier. But they worked hard together to learn and raise their living standard.
Nevertheless, the Lai family became a classic example of the American Dream. Through their perseverance, they built a successful life in Philadelphia, starting from almost nothing.
They later moved to West Philadelphia. There Tina Lai, along with her siblings, attended Lamberton High School.
As their apartment was too small, the siblings used to finish their homework in the school library.
After the classes are over, the sibling joined their parents to help around in the restaurant.
Tina Lai: Age, Height, and Weight
Tina was born in 1975, which makes her 46 as of 2021.
Unfortunately, the actual height of Tina remains undisclosed in public. But by looking at the pictures, she seems quite tall.
Likewise, Tina maintains a slim and slender body figure. Her body measurement is 34-23-33 inches.
Moreover, by looking at her physical appearance, she has fair skin accentuated with long black hair and a pair of beautiful brown eyes.
Tina Lai: Horoscope and Ethnicity
Surprisingly, the exact birth date of Tina remains unknown. So, her horoscope is unknown.
At the same time, Tina's ethnicity is Asian, Southeast Asian, to be exact. But currently, she holds American Citizenship.
Well, there isn't much information about the religion she follows.
Tina lai: Love life
Besides her high-profile marital relation with Jeffrey, she doesn't seem to have any other relationships.
Tina's family operates multiple popular restaurants in Philadelphia. Back then, she worked as a cashier at one of their restaurants.
Tina met Jeffrey Lurie while he was dining at her family restaurant. The brief encounter was an instant attraction for Tina and Jeffrey.
Marriage with billionaire Jeffrey Lurie
Accordingly, the couple got married after just eight months of their romantic relationship.
The marriage ceremony was intimate and private. The couple took the oath of lifelong togetherness in Charleston, South Carolina, on May 4, 2013.
As for their wedding attire, the bride wore a white strapless gown, whereas the groom looked dapper in a classic black tuxedo.
Tina Lai and Jeffrey Lurie's relationship came out just like the fairytale.
Furthermore, Lurie is the father of two children from his previous marriage with Christina Weiss Lurie. The ex-couple shares a son and daughter.
Their son's name is Julian Lurie, born in 1995, a Harvard graduate. Likewise, their daughter's name is Milena Lurie, born in 1993, a filmmaker in New York.
Sadly, the married couple parted ways after 2-decade of relationship. They finalized their separation in August 2012.
However, less than 8 months later, Jeffrey remarried Tina Lai.
Although the couple doesn't share a child, they are enjoying their blissful married life to the fullest.
<<ULLA SANDROCK BIO – EARLY LIFE, CAREER & NET WORTH>>
Tina Lai: Career
Tina Lai started her career by helping around in the restaurant operations for her parents. She worked for the restaurant chains along with her other siblings.
Additionally, Tina would help to run the Vietnam Cafe as well as Fuh-Wah Deli.
She often worked behind the counter of these restaurants. Afterward, in 2008, Tina officially became the overall manager of the Vietnam Cafe.
Tina was involved in various operations during the restaurant's blooms.
But according to the restaurant's representatives, she no longer plays a direct role in their restaurants.
And also, according to the Eagles:
Tina Lai Lurie does not play any official position within the team.
Besides these, there is not much detailed information about her professional career.
Currently, she does not have a job. So, she is a homemaker and enjoys her leisure.
Tina Lai: Husband
Jeffrey Robert Lurie (born September 8, 1951) is a 69-years-old American Billionaire. Further, he's ranked #764th on the Forbes Billionaires list.
At the same time, the billionaire is an American motion picture producer, Business Tycoon, and co-owns the Philadelphia Eagles of the National Football League (NFL).
Jeffrey is Boston, Massachusetts native. As for his educational background, he graduated from Clark University, majoring in Arts/Science.
Furthermore, Jeffrey also holds a Master's in psychology from Boston University and a Doctorate in Social Policy from Brandeis University.
In1994, Lurie took a loan to purchase the Philadelphia Eagles team for $185 million from Norman Braman.
As per Forbes, the team is currently worth $3.1 billion. Lurie owns over 75% of the team.
Additionally, Lurie currently serves as a member of a handful of other NFL committees as well.
Awards
Lurie has won two Academy Awards (Oscar) for producing documentaries. Firstly, "Inside Job," a documentary about the 2008 economic crisis, won the best documentary film in 2011.
Secondly, "Inocente," a documentary about an undocumented homeless American teen, won Best Documentary Short Film in 2013.
Lastly, He became a proud owner of the Eagles after winning Super Bowl LII champion in 2017.
Tina Lai: Net worth
Tina's net worth remains hidden from the eye of the public.
Tina Lai might have made a decent sum of money while working in the restaurant, but the exact figure remains unknown.
But being the wife of a successful businessperson, we can assume that her current net worth would be quite impressive.
According to Forbes, Her husband, Jeffrey Lurie, has accumulated an estimated net worth of around $2.7 billion.
<<STEPHANIE READY – FAMILY, NET WORTH, CAREER & HUSBAND>>
Tina Lai: Lifestyle
Having a billionaire husband means living in luxuries. Currently, Tina and her husband Jeffrey Lurie live in Wynnewood, Pennsylvania.
The $14 million worth of property locates in the suburbs of Philadelphia.
Lurie purchased the 13-acre Cherry Lane home, also dubbed as 'In wood' back in 2006.
The home previously belonged to media baron and philanthropist Walter Annenberg, who sadly passed away in 2002.
The house comes with various amenities like the three-golf course, greenhouse, tennis courts, and bowling alley.
Overall, there are 18 rooms in the house, and the grounds have wooden flooring.
Additionally, Lurie also purchased an incredible winter residence in Palm Beach, Florida. He bought the lakefront mansion in 2013 for $28.75 million.
The two-acre property has about 17,113 square feet of overall living space and features eight bedrooms.
Additionally, the house equips a dock, several loggias, a fitness room, a library, three fireplaces, and a "wine cellar/grotto." They also owned several luxury cars of recent models.
So, in conclusion, Tina is undoubtedly living a better lifestyle with her husband and family members.
Social Media Presence
Tina lai seems to be a very private person. Aside from accompanying her husband on various matches, she is barely caught on camera.
Likewise, she is not available on any known social media networking sites.
FAQs
How did Tina Lai and Jeffrey Lurie meet?
Tina and Jeffrey met when Tina was working on her family's restaurant.
How old is Tina Lai?
She is 46 years old, but her exact birth date is unknown.