Braun Strowman: Early Life, Career & Net Worth
The former title receiver of Arnold Amateur Strongman Championship, Braun Strowman is currently a professional wrestler and strongman of WWE.
Braun Strowman, also known as the Black sheep of Wyatt's family, emerged in 2016. If we talk about the true passion of Braun Strowman, the word 'destruction' fits him perfectly.
Besides that, the WWE werestler is also known for his work ethic, splendid performances, and raw power.
Braun Strowman has earned his way into WWE with his dedication and hard work. His size and appearance have taken WWE with a storm, and in short, his career in WWE garnered him a huge fan base.
Since his beginning into WWE roaster, he has had a presiding influence in the company.
Braun Strowman has worked a lot in his initial days and got training from Matt Henry and Bray Wyatt, and Finn Balor as his mentors.
With a thirst for competition, Braun Strowman can be a nightmare for any superstar against him.
This passion for destruction has landed him Single championship Reigns in 2020, which is still ongoing and has been thrilling on his return on January 29 after recovering from a serious blood infection. The rest of his journey will be exciting as it unfolds in the coming future.
Now, let's start with quick facts about him you would love to know:
Quick Facts
| | |
| --- | --- |
| Full Name | Adam Scherr |
| Known as | Braun Strowman |
| Date of Birth | Sep 6, 1983 |
| Birthplace | Sherrills Ford, North Carolina, USA |
| Father Name | Rick Scherr |
| Sister Name | Hannah Scherr |
| Nationality | American |
| Horoscope | Virgo |
| Age | 40 Years Old |
| Height | 6'8″ |
| Weight | 174.6 kg |
| Body build | Chest- 62 inches, waist 42-inches, and biceps-32 inches |
| Eye color | Dark brown |
| Hair color | Dark brown |
| Ethnicity | American-Scottish |
| Food Habit | Non- Vegetarian |
| Hobbies | Fishing, traveling, hunting |
| Favorite Foods | Pizza, Grilled Vegetables, |
| Favorite Beverage | Monster Energy |
| Favorite WWE superstars | Steve Austin, Hulk Hogan |
| Favorite song | "First of the year" by Skrillex |
| Favorite Band | Metallica |
| Profession | Wrestler |
| Company | WWE Raw |
| Relationship status | In relationship with |
| Trainer | Mark Henry |
| Theme song | "I am stronger" by CFO$. |
| Catchphrase | Get these hands. |
| Career turning point | After winning Arnold Amateur Strongman Championship |
| Net worth | $1 million |
| Social Media | Instagram, Twitter |
| Salary ( approx) | $300000/ year |
| Merch | Clothing, Toys and Games |
| Last Update | November, 2023 |
Early life
Adam Joseph Scherr was born on 6th September 1983 at Sherrills Ford, North Carolina, USA, a former Strongman, and American professional wrestler. He has earned his popularity from his ring name Braun Strowman.
Braun was born to a former Slow-Pitchball softball player Rick Scherr, also known as "Crusher," in softball with a hit over 1800 career softball runs. Braun had always revered his dad, which made him grow a love for sports.
While growing up, Braun loved to play these three sports: American football, wrestling, track. But as he was not good at his studies, he couldn't get a college education which made him give up his dream of playing football for college.
However, later his love for sports helped him gain fame in wrestling.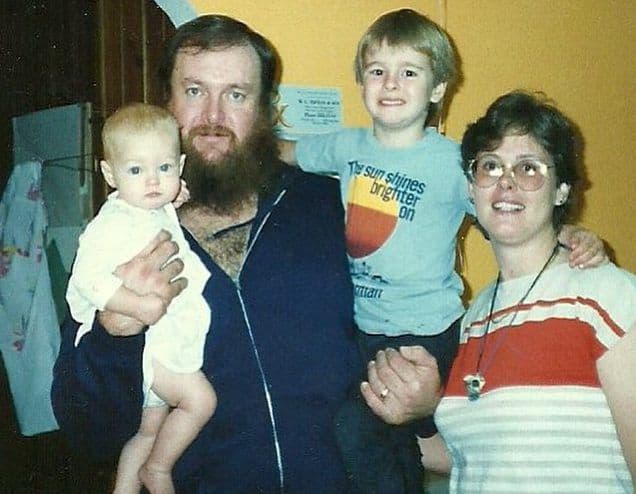 The name of Barun's younger sister is Hannah Scheer, and she shares physical attributes of the family, as having height similar to her brother.
Braun Strowman had completed his schooling at Bandy's high school, Catawba, North Carolina. However, he was not much into studies, but he had excelled in sports.
Braun seemed to grow over a foot and added 100 pounds in 9th to 12th grade, but he was an ordinary-looking guy. After graduating high school, he was 6'5'' and 315 pounds.
Age, Height, and Body Measurements
Braun Stroman is 37 years old and has one objective in life: never to give up and accept all the challenges ahead.
As per the recent news, Braun Strowman was recovering from a blood infection that made him lose around 2 pounds.
Stroman's physical appearance can be supporting his name, The monster among men, with a height of 6 feet and 8 inches and 385 lbs (175 kg) of weight.
Similarly, his chest is 62 inches wide, his waist 42 inches, and his biceps 24 inches. He has brown hair and eyes similar to his father.
Through Stroman's Instagram handle, he had shown pictures of him losing over 35 lbs through hard training and exercise. These changes had only brought him more attention for sure.
In the post, Braun has shared how he had struggled with depression and drinking, which led him to be overweight, and how he overcame all the struggles.
Career
Braun Strowman Career journey as Strongman
At the beginning of his career, Braun worked as a mechanic and security guard in North Carolina.
His love for sports initially pulled him to be part of strongman, in which he participated in many events and has earned lots of trophies and medals, which are certainly decorated in his room.
After that, he got hooked to a strongman career and earned several competitions for the U.S in 2009- 2012.
Hence, he became the fastest sportsman to turn into a professional strongman in history.
Braun Strowman Career journey as WWE wrestler
His journey from strongman to WWE has its own story. It was Mark Henry who had eyes for talent and spotted Braun Strowman in Los Angeles.
Later, he showed Braun to WWE executives and told them to check a weight-lifter and potential WWE participant. In conclusion, this discovery led to shaping Braun's career.
Braun had also appeared in a film before his NXT debut. However, that didn't gain him much popularity. Braun had acted in an Indie movie called Three Count, which was only 50 minutes long.
Initially, he started his WWE career in 2013 and was assigned to the WWE performance center Arnaldo, Florida, where he was given his ring name Braun Strowman.
Firstly, he appeared as a rosebud of Adam Rose in 2014. In 2015, he debuted WWE roaster against Dean Ambrose and Roman Reigns as a Wyatt family member. When he first appeared with Wyatt's family, WWE fans fat-shamed him.
Even the strongest man couldn't stay away from criticism, but he didn't let the criticism bother him and worked hard towards his goal.
Strowman's strength and persona have indeed done justice to the names he has received, including The Monster among Men, New face of destruction, The Mountain of man, The Abominable Strowman, among others after his emergence in 2016.
Braun Strowman is famous for his passion for destruction. The destruction has accomplished his many significant accomplishments, including record-setting performances in Royal Rumble matches.
Lifestyle and Net Worth
The total net worth of Braun Strowman can be estimated at around 2 million dollars.
As per a recent contract with WWE, Braun Strowman's multi-year deal is $1.2 million. This deal includes his downside guarantee, as well as merchandise and live event earnings.
Braun Strowman is supposed to have a huge passion for cars, so when you have 7 figure income, you can get cars of your choice.
His current car collection consists of Dodge Ram 2500, Toyota Supra, 1987 Buick Grand National. It is sure an exquisite collection.
Talking about his heavy body, Braun eats a lot like a monster. His normal breakfast includes two chick breasts, 8 scrambled eggs, double order of hash brown covered, three pieces of chunked bacon, and marble raisin toast with a large OJ and water.
Strowman consumes 15000 calories in a day for the Monster-looking body and, consequently, works hard in the gym.
Personal Relationship
Braun Strowman is reported to be dating Kailey Dawn Farmer, aka Kamilla Kaine. His beau is also a wrestler like him.
Kailey has an attractive personality which sure to has drawn Braun's attention.
Although he hasn't shared much insight into his private life, he surely likes that topic to keep a secret.
You might like to read about: Cody Rhodes.
Social media
Braun Strowman uses social platforms with his real name, Adam Scheerr99.
Here's the count of his followers, tweets, and posts as of August 2021 on Instagram and Twitter.
Facts
Fun facts and additional information of Strowman:
Braun Strowman's favorite food includes steak, pizza, grilled vegetables, and barbeque.
His favorite drink is monster energy, as the name suggests.
Braun Strowman is also known to be a big fan of Metallica band.
His hobbies include shooting, hunting, and fishing.
Steve Austin and Hulk Hogan are Braun's favorite wrestlers.
The wrestler Barun hates shaving his beard and the last time he shaved was long 2011.
Braun Strowman's ring name has been inspired by Major League Baseball's (MBL) Milwaukee Brewers star Ryan Braun.
The wrestler champ is a non-smoker, but he sometimes drinks alcohol.
Braun's initial name was Braun Stowman, to which he changed to the current stage name.
Quotes
Few quotes by Braun Strowman:
"Roman Reigns is, if not the best, one of the best performers in the world, hands down."
"I like working as a bad guy, and I don't plan on changing the way that I work if they want me to be a good guy."
Frequently Asked Question (FAQs)
Who is Braun Strowman's wife?
Barun Strawman isn't married yet. Barun is dating Kamilla Kane
Is Braun and Bray Wyatt related?
No, they aren't related but work as a team in WWE.
How much does Braun Strowman make a year?
Braun Strowman signed a new $1.2 million multi-year deal with WWE in 2019. His pay includes his downside guarantee, as well as merchandise and live event earnings.