Tracey Renee Needham is a well-known American actress who played Paige Thatcher on the Life Goes On TV show.
Born in March 1967, Tracey is an American actress best known for her appearances as Inspector Candace DeLorenzo on The Division (2001-2003), Lieutenant Junior Grade (LTJG), and Meg Austin on JAG (1995-1996).
Furthermore, Tracey made her first-ever television debut through an episode of 'Jake and the Fatman'.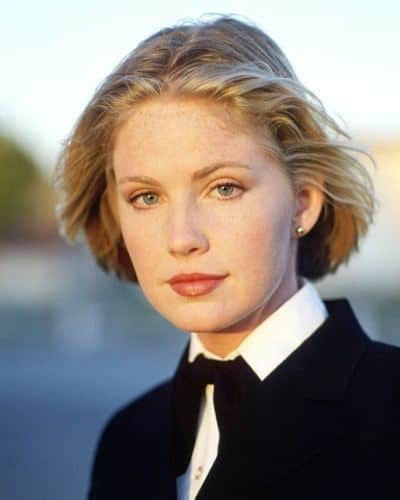 Tracey developed into a confident actor after taking a few more acting workshops; she was able to win the hearts of her audience because of her natural acting abilities.
Besides being a mesmerizing actor, Needham is a devoted wife and a mother of one kid.
Inspiration to many actresses and media personalities, Tracey is a role model to many.
Apart from being a very talented actress, there are various amazing things about Needham that you might know.
Hence, this article about Tracey Needham will provide you with all the necessary information about the actress.
Quick Facts
Before getting into details about Tracey's Life and Career, here are some quick facts about her:
Full Name
Tracey Renee Needham
Nick Name
Tracey
Date of Birth
March 28, 1967
Birth Place
Dallas, Texas
Religion
Christianity
Nationality
American
Ethnicity
White
Horoscope
Aries
Father's Name
Not Available
Mother's Name
Not Available
Siblings
Three brothers
Age

55 Y

ears Old
Height
5 feet 11 inches (1.8m)
Weight
143lbs (65kg)
Education
Cherry Creek High School and Plano Senior High School
Sexual Orientation
Straight
Hair Color
Blonde
Eye Color
Hazel
Profession
Actress
Annual Salary
Not Available
Hobbies
Traveling
Marital Status
Married
Husband
Tommy Hinkley
Kids
Daughter (Katie Hinkley)
Net Worth
$5 Million
Social Media
Not Active
Merchandise
Poster, Photos
Last Updated

March, 2023
Tracey Needham: Early Life, Family, And Education
Needham was born in Dallas, Texas, on March 28, 1967.
Her father was a homebuilder, and her mom was a housewife. There are no facts regarding her parent's identities or backgrounds.
To date, Tracey hasn't disclosed any information about her parents as she wants to keep her personal life away from the paparazzi.
However, Needham shares a beautiful bond with her mom and dad. She grew up in a very supportive, loving, and understanding family.
Furthermore, talking about her siblings, Tracey has three brothers, and she was the only girl in a family of four children.
Needham's siblings are incredibly close and supportive of one another.
Furthermore, the siblings are frequently seen together; it's amazing to see how close they are.
Needham's parents moved to Denver, Colorado, when she was eight years old, and her father's job required the family to go back and forth between the two places.
Every year, on March 28, she celebrates her birthday, and her zodiac sign is Aries.
Education
Tracey graduated from Plano Senior High School in 1985 after attending both Cherry Creek High School and Plano Senior High School.
During her school years, she was interested in acting. However, Needham swiftly increased in height, reaching a height of 5'11" by eighth grade.
As a result, Tracey was told by her school's theater director that she was too tall to perform on stage.
Furthermore, Needham worked with the technical crew during her high school years.
She also enjoyed football, and her tall height aided her while she was playing with boys.
On the football field, Tracey insisted on being treated equally to the guys.
She went throughout Australia and Europe after graduating from high school and before studying acting in Los Angeles.
Furthermore, Tracey was always very bright at her studies, and she always made her education a priority.
Age, Height, and Weight
Since Tracey was born on March 28, 1967, she is 55 years old as of 2023.
However, Needham has managed to look young and fit at this age by eating a healthy diet and working out.
Tracey stands 5 feet 11 inches (1.8m) tall. Her weight is around 143 lbs, which translates to 65 kgs.
Furthermore, Needham has a well-maintained and toned body, and her tall height compliments her beautiful body perfectly.
She also believes that sleeping regularly and eating healthy bits help have a better lifestyle.
Even after giving birth to one daughter, Tracey Needham has maintained her body well.
Tracey Needham: Career
Television Series
In 1988, Tracey Needham made her acting debut in a cameo role on CBS' crime drama "Jake and the Fatman."
After that, she took acting training and got Paige Thatcher's role in "Life Goes On" from 1990 to 1993. This was the first television series in which she played a character with Down Syndrome.
Furthermore, Tracey played Lt. Meg Austin in the military-themed action-adventure series "JAG" from 1995 to 1996.
She also played Inspector Candace DeLorenzo in TV episodes such as 'VR 5' from 1995 to 1997 and 'The Division' from 2001 to 2003.
Movies
Tracey has also appeared in several television movies.
Bonnie & Clyde: The True Story (1992), Prophet of Evil: The Ervil LeBaron Story (1993), Lush Life (1993), Sensation' (1994), and many others are among her notable films.
Tracey's short film roles include "Tupperware Party" in 1997 and "The Last Miracle" in 2006.
In addition, she also directed and created the screenplay for 'Tupperware Party.'
In 1993, she worked as the second assistant director on Ben Affleck's short film "I Killed My Lesbian Wife, Hung Her on a Meat Hook, and Now I Have a Three-Picture Deal at Disney."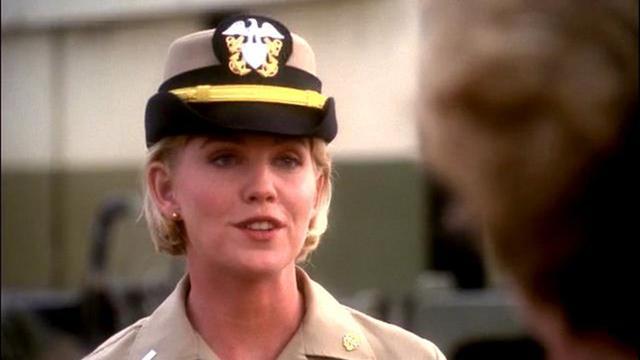 Tracey has appeared in several guest appearances on television shows and in television movie productions throughout her career.
Because of her physique, she was cast in largely action-oriented parts.
Moreover, Tracey doesn't mind playing strong female roles in male-dominated circumstances because she was raised with three brothers.
You might be interested to know about Beth Shak, a famous American professional poker player, and a widely acclaimed entrepreneur and philanthropist.
Awards
Tracey is indeed a very accomplished actress who can count on many achievements in her entire career.
However, she has not been listed in any awards and nominated over the years.
Nonetheless, Tracey has been able to win millions of hearts through her wonderful performance off-screen.
Husband and Kids
Tracey Needham is married to Tommy Hinkley, who is also an actor. The couple has been together for more than 25 years, having started dating in 1995.
Together, they have one daughter, Katie, born in 1999. The couple lives in Colorado, where they run a children's acting school.
Furthermore, the couple developed feelings for one another. They chose to marry each other after dating for a few years.
However, the beautiful duo tied the knot in secrecy and have kept their wedding ceremony a closely guarded secret.
Furthermore, she has worked hard to keep herself away from all kinds of distractions, which has allowed her to focus on her work fully.
Also, Tracey is not involved in extra-marital affairs and is happily living her life with her husband, Tommy, and daughter.
Talking about Needham's past dating history, it is believed that she was possibly single meeting Hinkley and never dated anyone before.
Who is Tommy Hinkley?
Born on May 31, 1960, Tommy Hinkley is an actor who starred in Star Trek Generations as a journalist.
Hinkley, born in El Centro, California, has starred in several films and television programs since the late 1980s.
He's renowned for his roles in Leatherheads (2008), The Little Vampire (2000), and Mad About You (1992). Since January 1, 1995, he has been married to Tracey Needham. Also, they only have one child together.
Some of Tommy's movies include Hung Her on a Meat Hook, the short comedy I Kill My Lesbian Wife, The Cable Guy, and Under Pressure.
Furthermore, Hinkley has also been in Cold Case, Without a Trace, Angel, ER, The Division, and That 70s Show.
In addition, Tommy also had minor roles in some of George Clooney's films as a close friend.
In the drama "Confessions of a Dangerous Mind" (2002, with Carlos Carrasco, Daniel Zacapa, Michael Ensign, and Monika Spruch), he portrayed a Hambone guy, a roulette dealer.
Net Worth of Tommy Hinkley
Undoubtedly, Tommy is one of the talented actors in America.
Hinkley has a net worth of around $1.1 million as of 2023.
After working for a long time in this industry, he has earned a decent fortune and living a comfortable lifestyle.
In essence, Tommy earns quite well working as an actor, and his net worth will surely increase over the years.
Tracey Needham: Net Worth, Salary, and Career Earnings
Undoubtedly, Tracey is one of America's most talented and hardworking actresses.
The actress has faced many obstacles and has achieved an abundance of success after all the hard work and dedication.
Tracey Needham has a net worth of around $5 Million as of 2023.
Furthermore, she has accumulated this huge amount through her acting career.
After working for over two centuries in this industry, Tracey has succeeded in earning a decent fortune and living a comfortable lifestyle.
In essence, Needham earns quite well working as an actress, and her net worth will surely increase over the years.
You might also read about Kim Tae-Hyung, a South Korean songwriter and singer famous as the vocalist of the popular Asian boy band BTS.
Social Media Presence
The brilliant actress Tracey is currently not active on different social media sites like Instagram, Twitter, Facebook, etc., which makes it hard for the audience and her fans to connect with Natalie's private life.
Furthermore, Needham seems to enjoy her secret life and has kept the majority of her life private, and does not use social media.
Also, Tracey has stayed away from the media and not wasn't seen in any interviews.
Learn about Patricia Southall, a former beauty queen and winner of Miss Virginia.
FAQs
Is Needham dead or alive?
She has not died and is in excellent health. According to reports, she hasn't been unwell or had any health problems.
Where is Tracey Needham now?
Tracey is still working in the entertainment sector as a creative actress. She was a member of the 2010 film "The Last Harbor."
On Jag, what happened to Tracey Needham?
Tracey left JAG after NBC canceled the show. However, when CBS renewed the show for a second season, Catherine Bell took her position.
Skeleton Crew, the first season's episode, featured her final appearance.
Іѕ Тrасeу Nееdhаm Lеѕbіаn?
Nо. Nееdhаm is strаight as far as sexuаl оrеntаtiоn is concerned. Tracey is neither lesbian nor gay and has never been the subject of such rumors.
Furthermore, she is married and has one daughter with her husband.