Who Is Bob Kraft Ex Wife Myra Kraft, Relationship Timeline With New Wife Dr. Dana Blumberg
Billionaire business tycoon Bob Kraft is now married to his girlfriend of three years and fiancée six months, Dr. Dana Blumberg. The marriage comes 11 years after Bob lost his first wife, Myra Kraft, to Cancer.
Robert Kenneth Kraft, also known as Bob Kraft, is an American billionaire businessman.
Bob is the chairman and CEO of the Kraft Group, a business conglomerate with investments in paper and packaging, sports and entertainment, real estate development, and private equity.
The businessman also owns several sports teams, such as the New England Patriots of the NFL, the New England Revolution of MLS, and the esport-based Boston Uprising.
As of 2022, the business mogul has a net worth of $10.6 billion.
Read Also: Shep Rose Parents Net Worth – How Wealthy Is His Family- What Fraternity Was Shep Rose In?
Who Is Bob Kraft Ex Wife, Myra Kraft?
Bob Kraft married his first wife, Myra Nathalie Hiatt, in June 1963. The 1964 History graduate of Brandeis University was his college sweetheart.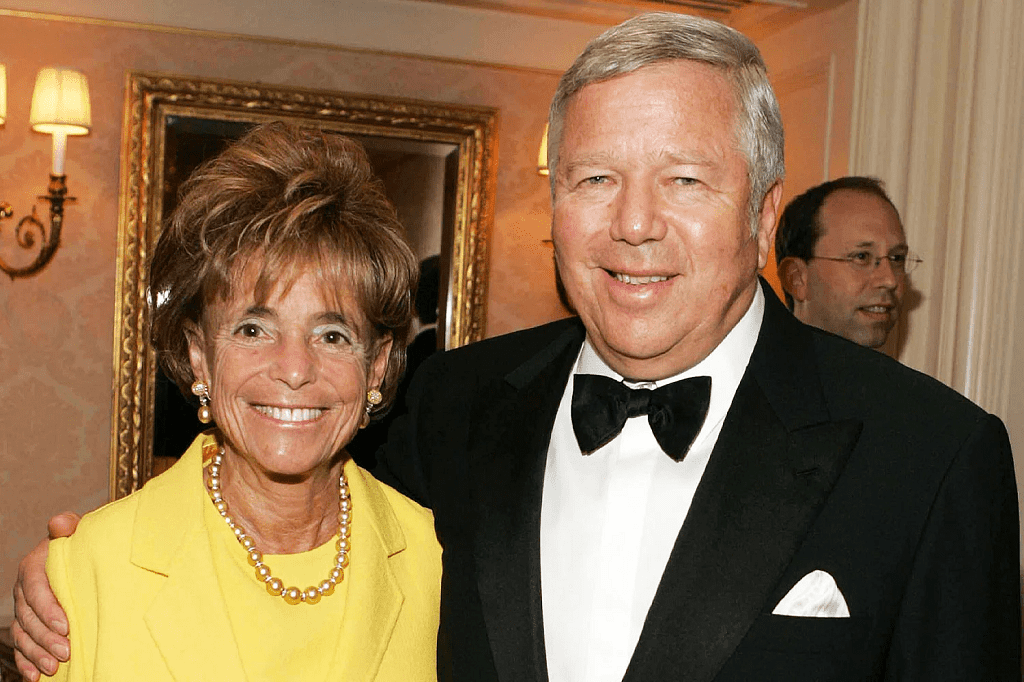 Myra, born in Worcester, Massachusetts, in 1942, was the daughter of Frances and Jacob Hiatt. Her Father was a Lithuanian Jewish immigrant who served as a circuit judge of the Court of Lithuania before moving to the U.S. in 1935.
Myra's grandparents and other family members were murdered during the Holocaust.
Jacob became a well-known philanthropist, Jewish leader, and businessman. He was the president of the E.F. Dodge Paper Box Corp. in Leominster, Massachusetts, and later the Rand-Whitney Corp.
Bob and Myra had four children: all sons Jonathan A., Daniel A., Joshua M., and David H. Kraft.
The Kraft sons handle many family businesses:
Jonathan is president of The Kraft Group and the New England Patriots.

Daniel is the president of International Forest Products.

Joshua Kraft is president and CEO of the Boys & Girls Clubs of Boston.
The two were together until Myra died of Ovarian Cancer on July 20, 2011. She was 68.
The Krafts followed Judaism and were members of Temple Emanuel in Newton, Massachusetts.
Relationship Timeline With New Wife Dr. Dana Blumberg
Bob Kraft recently married Dr. Dana Blumberg on October 14, 2022. Dana is a doctor based at New York-Presbyterian Hospital-Columbia. She is specialized in ophthalmology.
After three years of dating, Tommy Hilfiger announced at an event on March 5, 2022, that Bob and his partner, Dana Blumberg, had become engaged.
The couple wed in front of over 200 guests during a surprise wedding ceremony at the Hall des Lumières in New York City.
According to Page Six, Bob invited star guests to a "Kickoff and a Touchdown" Party without revealing that he and Blumberg would tie the knot during the event.
Most guests were completely taken by surprise when they announced the good news.
The guests include Elton John, Meek Mill, Jon Bon Jovi, Tom Brady, and Ed Sheeran. The couple reportedly showed a moving 10-minute video before NFL commentator Al Michaels introduced them to the crowd as husband and wife.
Bob stepped on the glass during the Party according to traditional Jewish tradition and explained its meaning to the gathering,
There is a huge age gap between the newly-wed spouses; Bob is 87, while his doctor wife is 41.
Besides his late wife, Maya Kraft, Bob is known to have dated actress Ricki Noel Lander from 2012 to 2018. He had also assisted Ricki in creating an audition video for a role in The Internship.
Learn More About The Newly-Wed Couple: Robert Kraft New Wife Age: How Old Is Robert Kraft New Wife Dr. Dana Blumberg? Family And Net Worth