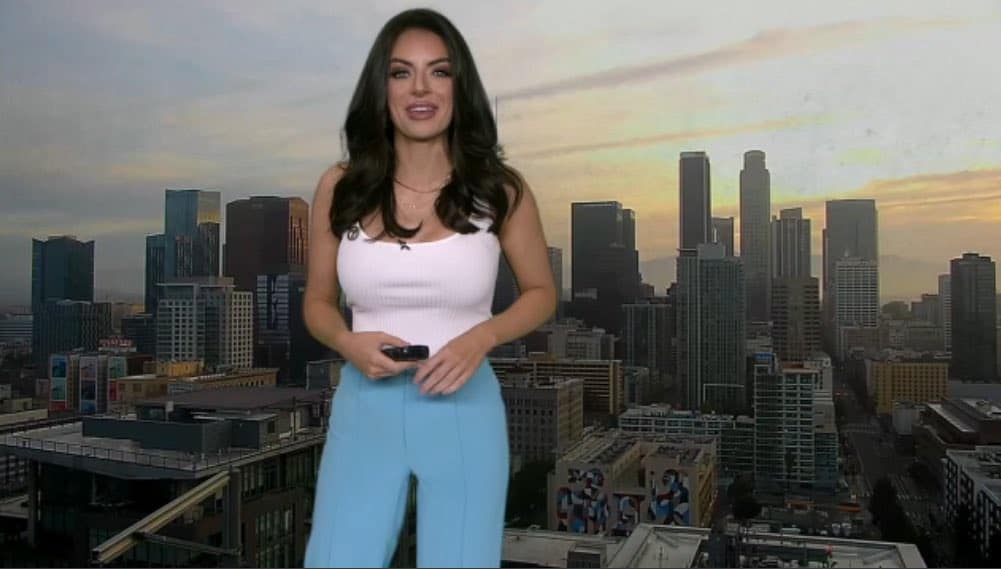 Brianna Ruffalo is a weather-caster and a reporter working for ABC7, a news channel in Los Angeles, California. She is a young and extraordinarily talented journalist.
Ruffalo was born on 10th May 1991 in Los Angeles, California.
Since starting her career at ABC30 and later switching to ABC7, she has been immensely loved and appreciated for her job.
Moreover, ABC30 is a sister station of ABC7, one of the top television networks in the U.S.
Brianna has motivated many young, ambitious girls who want to join the media field.
Due to her growing popularity, people are getting somewhat curious to know more about her professional life, which is quite significant.
What is her magic to attract the attention of so many viewers whose positive responses and appreciation specifically have been overwhelming?
Join us to get to know more about Brianna's life and career.
Quick Facts
Here are some quick facts about Brianna Ruffalo:
| | |
| --- | --- |
| Full name | Brianna Nicole Ruffalo |
| Birthdate | 10th May 1991 |
| Birthplace | Los Angeles County, California, USA |
| Age | 31 Years Old |
| Nationality | American |
| Religion | Christianity |
| Ethnicity | Italian-Greek |
| Hobbies | Traveling, visiting family and friends, spending time outdoors |
| Education | California State University, Northridge |
| Zodiac sign | Taurus |
| Father's name | Not revealed |
| Mother's name | Not revealed |
| Siblings | One older brother (Edward Ruffalo) |
| Height | 5'6″ |
| Weight | 120 lbs |
| Eye color | Green |
| Hair color | Black |
| Body type | Fit |
| Profession | Journalist (weathercaster and reporter) |
| Net worth | $1 Million |
| Source of income | Journalism |
| Current workplace | ABC7 |
| Marital status | In a relationship |
| Partner/Boyfriend | Will Carr |
| Social Media | Instagram, Twitter, Facebook |
| ABC7 Merch | Applications |
| Last Update | March, 2023 |
Brianna Ruffalo: Early Life, Family, and Education
Brianna Ruffalo was born in Los Angeles County, California, USA. She spent her childhood and early life in Southern California's Santa Clarita Valley.
In addition, she graduated with a B.A. in Broadcast Journalism from California State University, Northridge, after completing high school.
Ruffalo grew up with her parents and a sibling in a relatively comfortable way.
The reporter is currently studying to become a meteorologist with a second bachelor's degree from Mississippi State University. She has proved herself to be highly dedicated to her studies.
Brianna is the second of two children. She was essentially raised alongside one elder brother named Edward Ruffalo.
Moreover, Edward currently works as a firefighter at Pasadena Fire Department.
Ruffalo is mostly close with her parents, according to what she shares on her social media.
However, her parent's names have not been disclosed as of now. Her father is a homicide detective who works at Los Angeles Police Department (LPDP), or so it is revealed.
A very little to no information is known about her mother. But she revealed that she is very close to her mother.
Moreover, she once asked ABC30's Corin Hoggard to give her mom a special shoutout "on air" on mother's day.
In addition, this demonstrates the love she has for her mother. We, unfortunately, are not able to reveal more about her family.
Brianna Ruffalo: Age, Height, and Weight
Ruffalo was particularly born on May 10, 1991. Moreover, she is 31 years old.
During her 30th birthday, she posted multiple pictures on Instagram with the caption "Eating and relaxing my way into a new decade at my favorite restaurant with some truffle gnocchi."
In addition, she added, "Could not have asked for anything more… Grateful to have some of my closest friends and my mama together."
Brianna stands5 feet 6 inches (1.67m) tall. Her weight is predicted to be around 68 kg.
She is a very beautiful, young, and energetic woman who takes good care of herself.
You might be interested to know about Ashley Parker, a reputed journalist currently associated with The Washington Post.
Career
Special Projects Producer
Brianna initially worked as a special projects producer at KTLA in Los Angeles. Moreover, this was the beginning of her career.
Her duties involved the titles of Fill in Editor, Assistant, and Projects Producer.
In addition, the project also received an Emmy Nomination.
Brianna covered health and money issues throughout her time there, which proved highly significant and appreciated.
Co-Producer
Additionally, Ruffalo co-produced shows for Tribune Broadcasting, including their debut documentary in 2016.
During the production of those shows, she spent time in Missouri interviewing one of only five quadruple amputees who survived the conflicts in Afghanistan and Iraq.
Her dedication to the work she does is truly inspiring. She even risked her own life in doing the job.
Weathercaster and Reporter
Brianna Ruffalo currently works as a weathercaster and reporter at ABC7. She previously worked at a sister station of ABC7 in Fresno, ABC30, since March 2017. During her time in Fresno, she worked as a reporter.
Additionally, she also reported weather news for morning and midday air. She was offered another job at ABC two years later.
Moreover, Brianna has remained the station's top weather reporter since then. She usually split her time between weather reporting and presenting.
She has demonstrated her worth thus far, and many ABC7 TV fans see her as an idol. Her role as a journalist has been of great significance to the media house.
In addition, her work has been highly appreciated, and she has been greatly praised for her outstanding performances.
You might be interested to know about American news anchor Mary Calvi, a twelve-time New York Emmy award winner.
Brianna Ruffalo: Awards
ABC News stated that Ruffalo received "New Mexico Broadcaster's Association Reporter of the Year" for her hard work and dedication.
The title she received was highly deserving because of how dedicated and faithful she is towards her job. It is genuinely pleasing to see talents being recognized.
Brianna Ruffalo: Relationships and Marriage
Brianna usually prefers to keep her personal life private.
Though not much is known about her past relationships, she is currently in a serious relationship with Will Carr. He is a fellow ABC7 journalist.
The reporter is yet to tie the knot, but the couple has been seeing each other since 2019.
Further, Carr has worked as a national correspondent for Fox News Channel since 2013.
Brianna Ruffalo: Net worth and Salary
Ruffalo is one of ABC7's and the United States' highest-paid journalists. Moreover, the reporter's annual salary is said to be around $49,744.
Brianna Ruffalo is said to have a $1 million net worth. She is able to earn her income through her career as a journalist.
Employees at the well-known news organization earn a good living.
You might be interested to know about Kaitlan Collins, one of America's bravest and famous journalists and the Chief White House Correspondent for CNN
Brianna Ruffalo: Social Media Presence
Brianna Ruffalo is currently active on various social media with many followers, like any established journalist.
Ruffalo usually posts about her career with significant moments with her family. She is occasionally present on her boyfriend's posts as well.
She has over 38.8k followers on Instagram alone, and her Twitter account has more than 8k followers.
Additionally, her Facebook account has more than 14.6k followers.
Brianna Ruffalo: FAQs
What happened to Brianna Ruffalo from ABC news?
Brianna Ruffalo is presently pursuing her second bachelor's degree in meteorology. She studies at Mississippi State University.
Moreover, the reporter enjoys spending time with her family and friends. She also loves traveling to new areas and being outside when she is not working.
What happened to Brianna Ruffalo of channel 7?
Brianna Ruffalo continues to work at ABC7 as a weathercaster and reporter. She does, however, study part-time to become a meteorologist.
The reporter is, without a doubt, the epitome of beauty with intelligence.
She has shown to be a dedicated and determined journalist. In general, she is a force to be reckoned with in the world of journalism.
Is Brianna Ruffalo related to Mark Ruffalo?
Brianna Ruffalo is not related to Mark Ruffalo. There is no information that connects them.
Many people believe they are connected because they have the same last name, but this is not the case.
Does Brianna Ruffalo tell news?
Brianna Ruffalo does not tell the news.
She is a weather reporter, which means that she gives the viewer an idea about the weather status in the different parts of the country.
Is Brianna Ruffalo married?
No, Brianna Ruffalo is not married. She, however, has been in a serious relationship with Will Carr since 2019. But we do hope we hear the news of the engagement soon.