Meet Bryan Cranston Daughter Taylor Dearden, Wife Robin Dearden Family And Net Worth
People are curious to know about the 'Breaking Bad' actor Bryan Cranston Daughter Taylor Dearden as she is also following in his footsteps.
Bryan Cranston is an American actor and filmmaker best known for his roles as Walter White in Breaking Bad on AMC and Hal in Malcolm in the Middle on Fox.
He has six Primetime Emmy Awards, four Screen Actors Guild Awards, two Tony Awards, and a Golden Globe Award under his belt, as well as nominations for an Academy Award and a BAFTA Award.
Cranston won four Primetime Emmy Awards for Outstanding Lead Actor in a Drama Series for his work on Breaking Bad.
After becoming a program producer in 2011, he won the award for Outstanding Drama Series twice.
Also Read: Who Is Peter Wellington? Sabrina Grdevich Husband, Kids Family And Net Worth
Meet Bryan Cranston Daughter Taylor Dearden
Bryan Cranston's daughter Taylor Dearden is also an actress. She portrayed Ophelia in the MTV drama Sweet/Vicious.
She also played Chloe Lyman in the second season of the Netflix mockumentary American Vandal.
Taylor Dearden Cranston was born on 12th February 1993, in Los Angeles, California, the daughter of actor Bryan Cranston and actress Robin Gale Dearden.
She received her B.A. in drama from the University of Southern California in 2015.
Dearden appeared in the episode "No Más" of Breaking Bad in 2010. She participated in several short films between 2011 and 2016.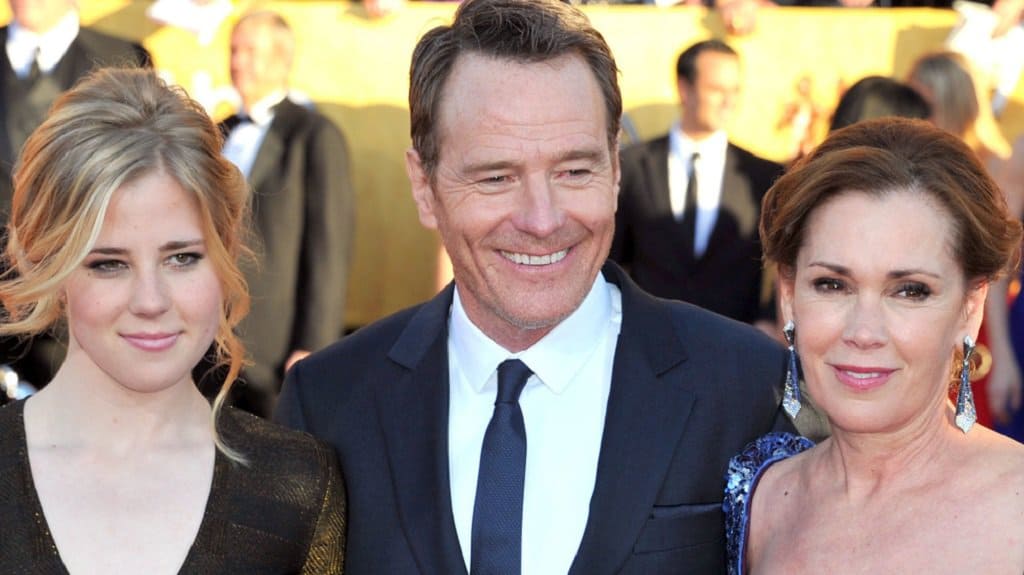 Dearden starred as McKenzie in two seasons of the 101 Ways to Get Rejected web series from 2013 to 2014. Susie Yankou, another USC student, produced and wrote the show, which Mike Effenberger directed.
Taylor was cast as Ophelia Mayer in the MTV TV program Sweet/Vicious in 2016. The program, written and created by Jennifer Kaytin Robinson, received critical recognition for its representation of university sexual assault.
Despite being beloved by reviewers and receiving good reviews for Dearden's work, it was discontinued after one season.
Dearden starred in the 2017 film The Last Champion, starring Cole Hauser as former Olympic wrestler John Wright.
The actress starred in season two of the Netflix mockumentary American Vandal as Chloe Lyman, with Tyler Alvarez, Griffin Gluck, and Travis Tope.
Also Read: Noel Miller Parents: Where Are They From? Family And Net Worth
Bryan Cranston Wife Robin Dearden – Family Details
Bryan and his current wife, Robin Dearden, have been married for 31 years.
On December 4, 1953, Robin Dearden was born in Los Angeles, California. She is an actress most known for her work in 'Magnum, P.I.' and 'Chicanery' on television.
She has given memorable performances in films such as 'Wooly Boys,' 'Last Chance,' and 'Myron Movies,' to name a few.
Bryan Cranston's wife was also the director of the first two films. Cranston wrote the screenplay for 'Last Chance.'
Taylor Cranston, the daughter of Robin and Bryan, was born in 1993. She is an ambitious actor who, despite being just 24 years old, has already established herself in the film industry.
In Cranston's critically acclaimed television drama 'Breaking Bad,' his wife and daughter participated in brief cameo parts.
They featured as background actors in the episode 'No Mass' simultaneously.
Bryan Cranston Net Worth Explored
Bryan Cranston has an outstanding net worth of $40 million, according to Celebrity Net Worth.
Cranston's most notable role, Walter White on Breaking Bad, earned him $225,000 per episode during the show's popularity.
Bryan Cranston paid $2.5 million for a seaside property in Ventura County in 2007. He then demolished the property's previous residence, finishing development in 2012.
The completed home was custom-designed to meet cutting-edge environmental criteria.
It was Platinum LEED-certified as a green home with solar panels, rainwater collection tanks, and many other ecological amenities.
Also Read: Ginny And Georgia: Who Is Alisen Down Husband David Richmond-Peck? Kids And Net Worth