Damion Lee Wife: Pregnant, Warriors & Baby
In 2018, Sydel Curry became the wife of Damion Lee, her brother's teammate from the Golden State Warriors. Ever since her birth, she has been surrounded by basketball.
To clarify a bit, her father is non-other than the legendary Dell Curry. Similarly, the legends of this modern basketball era, Seth Curry and Stephen Curry are her siblings.
Damion Lee is a professional basketball player from the United States. He was a member of the NBA Development League's Maine Red Claws as a shooting guard.
Lee also spent three seasons at Drexel University. After that, he redshirted his senior year at the University of Louisville.
We will talk very briefly about their lives, but before that, let's get some quick facts about Sydel:
Damion Lee Wife | Quick Facts
| | |
| --- | --- |
| Full Name | Sydel Curry Lee |
| Date of Birth | October 20, 1994 |
| Religion | Christian |
| Age | 29 years old |
| Father's Name | Dell Curry |
| Mother's Name | Sonya Curry |
| Marital Status | Married |
| Birthplace | Charlotte, North Carolina |
| Nationality | American |
| Siblings | Stephen Curry and Seth Curry |
| Profession | Social Media Influencer |
| School | Charlotte Christian School |
| College | Elton College |
| Height | 6'2″ |
| Weight | Not Available |
| Hair Color | Dark Brown |
| Eye Color | Brown |
| Zodiac Sign | Libra |
| Husband | Damion Lee |
| Children | Daxon Wardell-Xavier Lee |
| Net Worth | $300 thousand |
| Social Media | Instagram, Twitter, YouTube |
| Damion Lee's Merch | Notebook |
| Last Update | November 2023 |
Damion Lee Wife | Early Life and Family
Sydel Curry, the celebrity, was born on October 20, 1994, in Charlotte, North Carolina, as the third child of Dell and Sonya Curry.
Dell Curry, Sydel's father, was a former NBA player who played for the league from 1986 to 2002. Curry retired as the Charlotte Hornets' all-time leading scorer (9,839).
Sonya Curry, her mother, is a former Virginia Tech women's volleyball player.
The Famous Brothers
Seth and Stephen Curry, NBA superstars, are Sydel's older brothers. Sydel gets along swimmingly with both of their brothers.
Stephen is a professional basketball player who currently plays for the Golden State Warriors of the NBA.
Without question, Stephen is one of the best shooters in NBA history. He's also a two-time NBA MVP and three-time NBA champion.
A basketball player from the United States, Seth Curry is a member of the NBA's Philadelphia 76ers.
Meanwhile, Seth Curry is also a two-time NBA D-League All-Star, having played in the 2014 and 2015 seasons. He was also given the Men's Basketball award for his efforts on behalf of the United States.
Know more about the NBA rising star, Kevin Durant.
Damion Lee Wife | Education
Because all of the Curry family members are involved in sports, they are one of the most athletic families.
Sydel was not exposed to the sports' influence. On the other hand, Sydel followed in her mother's footsteps, unlike her father and brothers, who chose basketball and went on to play in the NBA.
In northern California, she attended a Catholic school. She selected volleyball and, like her mother, showed her enthusiasm for the sport.
Sydel was a member of her high school squad and served as captain for three years. She also guided her volleyball team to a series of quarterfinals as a captain, helping her school set a record for most wins.
The only daughter of Currys earned a bachelor's degree in psychology from Elon University after graduating from high school.
Career
Sydel is a former volleyball player, as previously stated. From 2009 to 2012, she was a four-time CISAA All-Conference pick.
She was also named to the 'NCISAA all-state selection twice in 2011 and 2012. Sydell also played for the Carolina Union and was a team member in the 2012 nationals.
Sydel continued to play volleyball for the university team even after she graduated. Her college squad had several spectacular performances. However, due to injuries, she could not continue her volleyball career.
Sydel was redshirted in 2014 after suffering an injury while participating in a scrimmage. Her anterior cruciate ligament (ACL) had been injured.
Mrs. Lee dislocated her knee once more in 2017. Unfortunately, Sydel's injuries made it difficult for her to continue playing volleyball.
As a result, Sydel stopped playing volleyball and began exploring other options in life.
Damion Lee Wife | Mental Health Activist
Sydel also has a podcast called 'Because Life With Sydel,' which she hosts. Her podcast's main goal is to post the conversation around mental health.
It is the program produced by Dear Media Studio and Scale Productions.
'Personal Anxieties and Navigating Mental Health,' 'Relationship with Self as a Function of Healing,' and 'Personal Anxieties and Navigating Mental Health' are just a few of the topics covered in her podcast.
Damion Lee Wife | Social Media Presence
Sydel is a well-known social media personality. She has 67.3 thousand Twitter followers.
Curry is very active on Instagram, where she has 681 thousand followers. Sydel, an Instagram celebrity, shares photos, videos, and material on body care, skincare, recipes, gift ideas, makeup, and workouts, among other topics.
She also engages in a variety of Q&A sessions with her admirers. Sydel is a nice woman who is adored by her fans.
The 29-year-old social media sensation also runs her own brand, "A Curry Girl," which has a Neiman Marcus partnership.
YouTube Channel
Sydel Curry also has her own YouTube channel. The channel was once known as 'A Curry Girl.'
Her Youtube channel, like her other social media accounts, has a sizable following. Her YouTube channel has a total of 95.3 thousand subscribers. Also, her videos have amassed millions of views.
Sydel's YouTube channel features clips from her personal life. Similarly, she publishes videos with travel cosmetics and skincare advice. All of her suggestions are quite effective.
She also discusses her nighttime routine, food, and memories with the Curry family, among other things.
Relationship with Damion Lee
Sydel is married to Damion Lee, an NBA Golden Star Warrior. The youthful pair initially met during one of Seth Curry's basketball games.
Sydel was present to support her brother. Damion's friend was also in the game, and he was there to support him.
Later, they began chatting on Instagram and exchanged phone numbers. They fell in love right away, realizing they were made for each other.
They began dating in mid-2016. On New Year's Eve 2016, Damion proclaimed his love for Sydel.
Who are the 30 Richest NBA Players in the World? Find out!
Wedding
On September 1, 2018, Sydel and Damion tied the knot. For both Sydel and Damion, the marriage was a dream come true.
The Charlotte Marriott City Center hosted the wedding ceremony. The flower girls were Sydel's nieces, Ryan and Riley.
Seth Curry and Stephen Curry, Sydel's brothers, were also groomsmen.
On September 3, 2018, the husband and wife posted the same photo of their wedding with their love and devotion to one other.
"I have a lot of people to thank," Sydel wrote, "but for now, I just need to enjoy the fact that I have found my soul mate, we are now one, and I am Mrs. Lee!!!!!"
Damion wrote, "I can't wait to spend the rest of our life with you." "This is forever, to the grave, and we are buried next to each other." MRS. LEE, I adore you."
Sydel and Damion are head over heels in love and aren't afraid to flaunt it on social media. Both of them frequently share photos of one other with regular messages of love and support.
The pair celebrated their fifth wedding anniversary just a few months ago. They appear to be unable to get enough of one another.
A Baby Boy
In June 2021, the adorable couple announced that they were expecting a child. In addition, they were expecting a son in November 2021. "Lee for three," Damion revealed on Twitter.
Sydel stated on Instagram, "Baby Lee is coming at you in November 2021!" Curry also shared a video on her YouTube channel of her notifying Damion she was pregnant.
Mrs. has also posted a series of videos on her YouTube channel on her journey to parenthood with Damion Lee.
"Our Journey to Parenthood & Our IUI/IVF" is the series title. As of the present, it is divided into three parts. So go ahead and take a peek.
Later the name of the newborn baby was announced to be Daxon Wardell-Xavier Lee.
Body Measurements
Sydel Curry was born in 1994, making her 29 years old. She is a stunning woman with a fierce attitude. Curry is 6'2″ tall.
Sydel was born under the sign of Libra.
Net Worth
The social media sensation makes enough money to live comfortably. Her social media presence accounts for a large portion of her earnings.
In addition, Sydel Curry and her sister-in-law, Ayesha Curry, are partners in the Napa winery "Domaine Curry."
The wine has received rave reviews. On her website, you may learn more about her wine.
Short Glance on Damion Lee, her Husband
Lee is a professional basketball player in the United States. He is currently a shooting guard for the Golden State Warriors.
He's also played with the Santa Cruz Warriors, Maine Red Claws, and Atlanta Hawks.
Damion was born in Baltimore, Maryland, on October 21, 1992. He has a long list of remarkable accomplishments on his resume.
Lee won the CAA Rookie of the Year award in 2012 and was named to the CAA All-Defensive Team in 2015.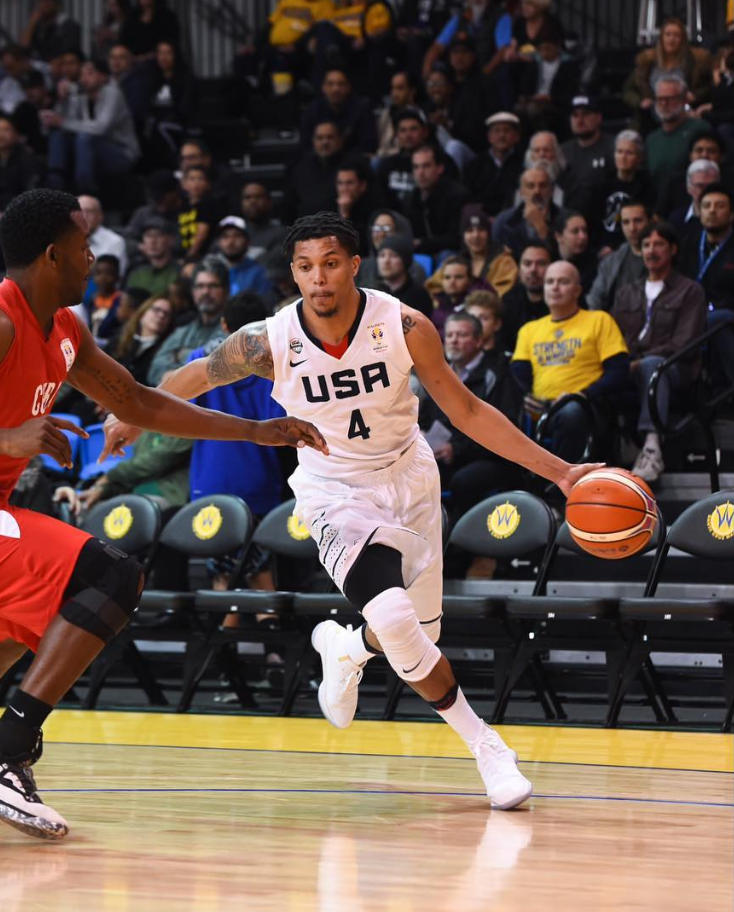 Damion was also named to the United States national squad for the 2019 FIBA Basketball World Cup qualification in 2018.
Basketball is his principal source of income. He does, however, earn money from various endorsements, which helps him supplement his income.
Golden State Warriors have signed Damion Lee to a three-year, $4,515,983 contract. His deal also included a guarantee of $2,605,123 and a $1,505,328 annual average income.
Damion will make a base salary of $1,910,860 and a cap hit of $1,910,860 in 2021-22.
Who is Klay Thompson Wife? – Laura Harrier, Spouse & Net Worth
FAQs
How did Damion Lee meet Sydel Curry?
During a college basketball game, the pair met. Curry explained, "He was heading up the stairs, and I was sitting in the stands, and we kind of made eye contact." They struck up a dialogue and exchanged phone numbers.
What nationality is Sydel Curry?
Sydel Curry is an American.