Georges St-Pierre: Early Life, MMA, Wife, & Net Worth
Georges St-Pierre is a retired Canadian mixed martial artist who competed in the welterweight and middleweight divisions.
Furthermore, he is a UFC Hall of Famer who has won 4 UFC titles in two different weight classes.
As a result, he was just the fourth fighter behind Randy Couture, Conor McGregor, and BJ Penn to have achieved this milestone.
Likewise, he held the UFC welterweight title three times. Further, he holds the record for most title wins in the welterweight division with 12 wins.
In fact, the champion holds the record for the third-longest combined title streak in UFC history behind Amanda Nunes and Anderson Silva.
Similarly, with an impeccable professional record of 26 wins and 2 losses, he is considered one of the greatest MMA fighters in UFC history.
Therefore, Sherdog and various publications ranked him as the number 1 welterweight in the world.
Moreover, the Canadian fighter retired as the reigning Welterweight Champion in December 2013. Not to mention, he was on a consecutive nine title match winning streak.
Despite numerous rumors of him returning, he remained away from professional fighting. Therefore, fans had given up hopes of ever seeing him back in the octagon.
However, after a four-year hiatus, he made a comeback and won the UFC Middleweight Championship.
Nonetheless, he later vacated the title and returned to retirement, claiming that he was now done for good.
Quick Facts
| | |
| --- | --- |
| Full Name | Georges St-Pierre |
| Birth Date | May 19, 1981 |
| Birth Place | Saint-Isidore, Montérégie, Quebec, Canada |
| Nick Name | Rush, GSP |
| Religion | Christian |
| Nationality | Canadian |
| Ethnicity | White |
| Education | Édouard-Montpetit College |
| Horoscope | Taurus |
| Father's Name | Roland St-Pierre |
| Mother's Name | Pauline St-Pierre |
| Siblings | Myriam St-Pierre |
| Age | 42 Years Old |
| Height | 5 ft 10 in |
| Weight | 170 lb |
| Hair Color | Blond |
| Eye Color | Blue |
| Build | Athletic |
| Sports | Mixed Martial Art |
| Team | Jackson Wink MMA Academy |
| Profession | Mixed Martial Artist |
| Active Years | 2002-2013, 2017 |
| Marital Status | Unmarried |
| Spouse | None |
| Kids | Liam St-Pierre |
| Net Worth | $30 million |
| Social Media | Instagram, Twitter, Facebook |
| Merch | Posters, Way of the Fight, Bobblehead, Hoodies, Rookie Card |
| Last Update | November, 2023 |
Georges St-Pierre: Early Life, Family, and Education
Georges St-Pierre was born in Saint-Isidore, Montérégie, Quebec, Canada.
Further, he was born to Roland and Pauline St-Pierre alongside a younger sister Myriam.
In his childhood, the decorated fighter was a victim of bullying. Likewise, they used to steal his clothes and money, making his schooling a bad memory.
As a result, he started learning Kyokushin Karate at age seven to defend himself.
Initially, he trained under his father and later under a Kyokushin Karate Master.
Hence, at the age of 12, he was a 2nd dan Kyokushin Karate black belt.
Furthermore, he also played hockey, skates, and basketball and participated in various sports.
Similarly, he was so athletic that he held the school record for the most chin-ups done.
Moreover, after the death of his Master, he learned wrestling, Brazilian Jiu-Jitsu, and boxing.
During this time, he worked as a bouncer at a nightclub called Fuzzy Brossard.
In fact, he also worked as a sanitation worker for six months to pay his school fees.
Hence, due to financial problems, he started his professional MMA career at the age of 20.
Georges St-Pierre: Age, Height, and Weight
The former UFC Welterweight Champion was born on May 19, 1981.
Hence, he is 42 Years Old. Being a former athlete, he is very disciplined about his health and diet.
As a result, the champion hits the gym quite frequently and has a very toned physique.
Furthermore, he is 5 feet 10 inches tall and weighs 170 lb.
He followed a 3200-3500kcal per day, with around 250 grams of protein, 350 grams of carbs, and 100 grams of fat diet plan.
You might be interested in reading about Fedor Emelianenko: Early Life, Championship & Net Worth.
Georges St-Pierre: Career
MMA Carrer
Gorges made his MMA debut at the UCC 7 on January 25, 2020, in Canada.
Further, he defeated Ivan Menjivar via TKO in just under five minutes of the first round.
Following his debut, he landed a title match in the UCC Welterweight Championship.
Surprisingly, he won the match via armbar submission in the first round.
As a result, at just the age of 20, he had already exceeded expectations.
Similarly, he successfully defended his title after three months via a nasty elbow to his opponent's face.
Furthermore, he won two more matches to maintain a five fights win streak. Due to his early success, he had created enormous hype around him.
At an early age, he showed sheer dominance inside the octagon. Hence, the president of UFC, Dana White, didn't miss any opportunity to sign the starfighter.
The contract allowed him to compete in other MMA promotion companies.
Thus, he held the TKO Welterweight Championship for a year while fighting in UFC.
Likewise, he defended the title once in TKO 19, after which he vacated the title and focused on winning a UFC title.
UFC
Debut, Championship Hunt, and Injuries
As a 22-year-old, the UFC Hall of Famer made his UFC debut on January 31, 2004.
Further, he faced Karo Parisyan in his debut, which he won by unanimous decision.
Similarly, he recorded his second UFC victory by defeating Jay Hieron via TKO.
Moreover, he landed a title opportunity for the vacant UFC Welterweight Championship for his third match.
Furthermore, he faced Matt Hughes at UFC 50 on October 22, 2004. Despite putting a great performance, Hughes pinned St-Pierre and locked him in an armbar submission.
Therefore, St-Pierre tapped out with only 10 seconds remaining in the first round. As a result, he faced his first loss after winning seven consecutive matches.
The Canadian fighter then went on to take Jason Miller, winning via unanimous decision.
Likewise, he continued to increase his winning streak by winning two more matches.
Moreover, he went down on his knees in the post-match interview and asked to be given another title opportunity.
As a result, he faced B.J. Penn in his next match, where the winner became the No. 1 contestant for the UFC welterweight title.
GSP went on the win the match via split decision. However, due to a groin injury, he had to withdraw from the fight against Matt Hughes.
Nonetheless, UFC management still promised him a title shot after his recovery.
He also won a fight against Josh Koscheck in 2010.
You might be interested in reading about Khabib Nurmagomedov: Controversies, Wife & Net Worth.
Short Title Regin, Second Title Victory, and Backlash
After seven months, he fully recovered and, as promised, got a title opportunity against Matt Hughes.
Rush asserted dominance in the fight, where he almost finished Hughes with a superman punch in the first round.
However, Hughes survived the punch and extended the fight to the next round. Nevertheless, he couldn't overcome St-Pierre's offense and lost via a technical knockout.
As a result, the fighter won the UFC Welterweight Championship and signed a six-match extension deal with UFC.
Hence, he faced Matt Serra for his first title defense, where he lost the title.
Seera opened with a series of unanswered strikes, which led the referee to stop the match.
Thus, the fighter suffered his second and the last loss of his career. Ironically, both of his losses came in the hands of a fighter named Matt.
Nonetheless, he had his venges against Matt Hughes and Seera, winning Hughes's interim UFC Welterweight Championship.
Similarly, he went on to fight Seera, where he won and unified the UFC Welterweight Championship.
Moreover, he had nine successful consecutive title defenses. However, in his 9th match, things got worse for the champions.
Despite him retaining the title from Johny Hendricks via split decision, he faced a major setback.
Hendricks had maintained an overwhelming dominance in the match.
However, the split decision favored GSP, which angered the fan and even UFC president Dana White.
Retirement, Comeback, and UFC Middleweight Champion
Following his controversial win against Hendricks, he announced to vacate the title voluntarily.
Similarly, he also announced he wouldn't be returning to MMA as he needed some time off.
Further, a year later, he tore his ACL while training, which delayed his return.
Thus, he went under ACL surgery and was medically cleared to resume training after 7 months of rest.
Despite being fully clear, he was still uncertain about his plans. Hence, rumors flew around about his potential return and negotiation with the UFC.
Nevertheless, on June 20, 2016, UFC and GSP sat down for negotiation. Further, the negotiation ended with him signing a four-fight contract with UFC.
Therefore, Dana White announced that the Rush would make his comeback against UFC Middleweight Champion Michael Bisping.
However, the match was canceled due to an eye injury suffered by St-Pierre, but later it got reinstated for UFC 217.
Henceforth, he debuted after four years, where he defeated Bisping to win the UFC Middleweight Championship.
As a result, Georges St-Pierre became just the fourth player in the UFC history to have held titles in the two-weight division.
Nonetheless, he vacated the title after 34 days of holding the belt due to ulcerative colitis.
Furthermore, he was rumored to return and fight multiple start fighters through the years.
Nevertheless, nothing happened, and he announced his official retirement on February 21, 2019.
Likewise, on May 9, 2020, UFC inducted him into the Modern Wing of the UFC Hall of Fame.
Movies
After being out of the fighting industry, he made some notable appearances in moves such as Captain America: The Winter Soldier.
Similarly, in movies such as Kickboxer Vengeance, Death Warrior, Kickboxer: Retaliation, Never Surrender, and many more.
Georges St-Pierre:

Marriage and Kids

GSP is not yet married. However, it is rumored that he has been dating a lot of women in the past.

One of the women was Divine Kirezy, an Instagram model who dated the fighter briefly. Further, they also share a son named Liam St-Pierre.

Currently, they are not in a romantic relationship but are co-parenting the child.

Likewise, it was rumored that he was dating British-born sprinter Lucy Onyeforo.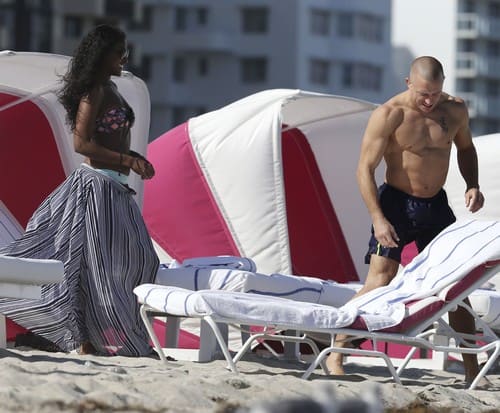 However, because St-Pierre keeps his personal life outside the limelight, both sides have not confirmed the relationship.
Similarly, due to a picture alongside a girl posted by the Canadian fighter on his Instagram handle, he was rumored to be dating her.
Furthermore, she is a Canadian tennis player, Genie Bouchard.
Georges St-Pierre: Net Worth and Salary
The UFC Hall of Famer has made an enormous wealth throughout his 28 MMA bouts.
Pierre has accumulated a net worth of $30 million.
Currently, he is ranked as the fourth richest MMA fighter in the world.
Similarly, he averaged six figures sum per fight, which was generally above $200,000.
Not to mention, he received another $200,000 as a bonus if he won the fight.
Hence, after only losing 2 out of his 28 matches, he undoubtedly ranks as one of the richest MMA fighters.
Likewise, he earned a career-high $5 million from his bout against Nick Diaz at UFC 158.
On top of that, he also earns a fair amount through endorsements and sponsorships.
In fact, he has partnered with brands like Under Armour, NOS energy drink, Hayaboosa, Affliction, and Bacardi.
Moreover, he earned about $1 to $2 million from his endorsement per fight.
As a result, he averaged about $12 to $15 million per year during his fighting days.
Besides that, he lives a very comfortable life in a great house along with multiple cars.
You might be interested in reading about Deontay Wilder: Heavyweight Champion & Net Worth.
Georges St-Pierre: Social Media Presence
Rush can be found on various social media platforms like Instagram, Twitter, and Facebook.
Further, he has over 3.8 million followers on his Instagram handle.
He mostly shares pictures and videos of him training and performing gymnastic moves.
Likewise, the MMA fighter is also active on Twitter, with over 2 million followers. Furthermore, he mostly tweets about fighting-related news.
Similarly, GSP also has a verified Facebook account with over 4 million followers.
He shares pictures and videos of his training, early fights, and promotions like the other two platforms.
All in all, he loves to share his daily life on social media.
FAQs
What disease does GSP have?
GSP was diagnosed with Ulcerative colitis, which caused him to vacate the UFC Middleweight Champion.
Is Georges St-Pierre married?
No, the UFC Hall of Famer is still unmarried and might remain so for a while.
What degree of black belts does George St-Pierre have?
George St-Pierre is a 3rd dan black belt in Kyokushin Karate, 1st-degree black belt in Brazilian Jiu-Jitsu under Bruno Fernandes, Black belt in Gaidojutsu, and Black belt in Shidōkan.