Countries with Most LGBTQ+ Athletes in Winter Olympics
Did you know that the Olympics 2022 is being held in Beijing, and around 35 LGBTQ+ athletes are participating in it!
Surprisingly, Beijing 2022 has the highest number of openly LGBTQ+ athletes recorded at the Winter Olympic Games.
Moreover, Timothy LeDuc will make history as the first openly non-binary athlete to compete in the Olympics.
Beijing's Olympic Games will be held from February 4, 2022, to February 20, 2022.
Furthermore, let us look at the countries with the Most LGBTQ+ Athletes in the 2022 Olympics without further ado.
Country Name
Number of LGBTQ+ Players
Name of the Players
Canada
Ten
Megan Banks
Paul Poirier
Eric Radford
Brianne Jenner
Erin Ambrose
Emily Clark
Melodie Daoust
Jamie Lee Rattray
Jill Saulnier
Micah Zandee-Hart
USA
Six
Jason Brown
Amber Glenn
Timothy LeDuc
Alex Carpenter
Andrew Blaser
Britanny Bowe
Great Britain
Four
Bruce Mouat
Lewis Gibson
Makayla Gerken Schofield
Gus Kenworthy
France
Two
Kevin Aymoz
Guillaume Cizeron
Sweden
Two
Ebba Berglund
Anna Kjellbin
Czech Republic
Two
Aneta Ledlova
Sarka Pancochova
Italy
One
Filippo Ambrosini
Armenia
One
Simon Proulx Senecal
Finland
One
Ronja Savolainen
Belgium
One
Kim Meylemans
Brazil
One
Nicole Silveira
Austria
One
Daniela Iraschko-Stolz
Australia
One
Belle Brockhoff
Netherlands
One
Ireen Wüst
Countries with the Most Open LGBTQ+ Athletes in the 2022 Beijing Olympics
Canada
Canada has the highest number of LGBTQ+ athletes, with ten representatives in the Winter 2022 Olympics.
Megan Banks is a queer athlete participating in the Biathlon representing Team Canada.
Furthermore, this is her first Olympics, although she has competed in several World Championships before.
Likewise, Paul Poirier is an openly gay figure skater who inspires many queer athletes in Canada.
Moreover, this is Paul's third Olympics; he competed in Vancouver and Pyeongchang.
Eric Radford is a renowned two-time world champion and an Olympic gold medalist who has come out of retirement to represent Canada in figure skating.
Most importantly, Eric openly admitted to being gay while competing for the world championships back in 2014.
Ice Hockey
Brianne Jenner is another individual representing the nation in Ice Hockey. In addition, she won gold in the 2014 Olympics and silver in the 2018 Olympics.
Erin Ambrose is another openly LGBTQ+ athlete competing in Ice Hockey.
Similarly, she is participating in her first Olympics this year, whereas she has already won a gold medal at the Four Nations Cup tournament.
Moreover, Emily Clark is also competing in the Ice Hockey event; she has previously won a silver medal in Olympic Games for Canada.
Melodie Daoust is entering her third Olympics representing Canada and playing ice hockey.
In addition to that, she won gold and silver previously and is from Quebec.
After missing out on the spot in Pyeongchang, Jamie Lee Rattray grabbed her spot to represent the ice hockey roster for Team Canada this year.
Moreover, this Canadian is also joined by Jill Saulnier, who previously won gold at the IIHF World Women's Under 18 Championship.
The queer athlete is friends with Micah Zandee- Hart, representing Team Canada in Beijing 2022.
USA
Team USA has the second-highest number of LGBTQ+ athletes at the Winter Olympic Games 2022.
Moreover, six gorgeous people have been chosen to represent the nation.
Jason Brown is an openly gay figure skater who has previously earned bronze in the 2014 Sochi Olympics.
Similarly, Brown also competed at the 2018 Olympic games and is a part of Team USA this year.
Amber Glenn identifies herself as both bisexual and pansexual. She is also competing in figure skating representing the USA.
Additionally, the athlete opened up about herself in an interview with The Dallas Voice.
Most importantly, Timothy LeDuc made history as she became the first openly non-binary athlete to compete in the Winter Olympics.
Additionally, LeDuc is a figure skater who won the US National Championship.
The 2014 Olympic Silver medalist Alex Carpenter has opened up to be gay and is representing Team USA once again in 2022.
Andrew Blaser, a skeleton slider, is participating as a Team USA member at Beijing 2022.
Likewise, this athlete was previously a decathlete, volleyball player, and part-time cheerleader.
Brittany Bowe is also an individual who is representing Team USA this year.
She is an out-speed skater who has won the world championship six times. Moreover, she is a 2018 Olympics bronze medalist as well.
You would also want to read about the 17 Best Winter Sports.
Great Britain
Team Great Britain has 4 LGBTQ+ athletes participating at this year's Winter Olympics.
Bruce Mouat is a Scottish curler competing in his first Olympic Games representing Team Great Britain.
This athlete has been open about his sexual orientation and is proud of it. Moreover, Mouat ranked first in the World Mixed Doubles Championship 2021.
The four-time British national champion Lewis Gibson is competing in his first Olympics competition.
Additionally, Gibson is a Scottish openly gay figure skater. Makayla Gerken Schofield is a freestyle skiier who is a pansexual individual.
She is representing Team Great Britain in the Skiing category. Most importantly, she has three siblings who are also skiers.
Gus Kenworthy, an openly gay freestyle skier, participates as a Great Britain athlete in this year's winter Olympics.
In addition to that, he has dual citizenship in the USA and Great Britain. This athlete won a silver medal in Sochi, representing Team USA.
He chooses to represent Team Great Britain in honor of the country he was born.
France
France, the country of love, has 2 LGBTQ+ athletes participating in this year's Winter Olympic Games.
Kevin Aymoz is an openly gay figure skater who is representing Team France.
Although this is his first Olympics, he has previously won the French National Championship five times.
He revealed in the documentary; We Need To Talk that he was gay.
Guillaume Cizeron is accompanying Kevin, a four-time world champion and a seven-time French National champion.
Cizeron is an openly gay figure skater who won silver in the 2018 Olympics. Cizeron and his skating partner Gabriella Papadakis have broken 28 world records together.
Sweden
Ebba Berglund represents Team Sweden in the category of Ice Hockey in the 2022 Winter Olympics.
She is an individual who is from Örnsköldsvik, a city renowned for elite athletes.
Anna Kjellbin is also an LGBTQ+ athlete. He is an ice hockey player for Team Sweden.
Additionally, from Finland, her girlfriend Ronja Savolainen might compete against Anna.
Czech Republic
Team Czechia features two LGBQT+ athletes in Beijing 2022.
Aneta Ledlova is a queer out ice hockey player participating in this year's Winter Olympics as the Team Czech Republic's team member.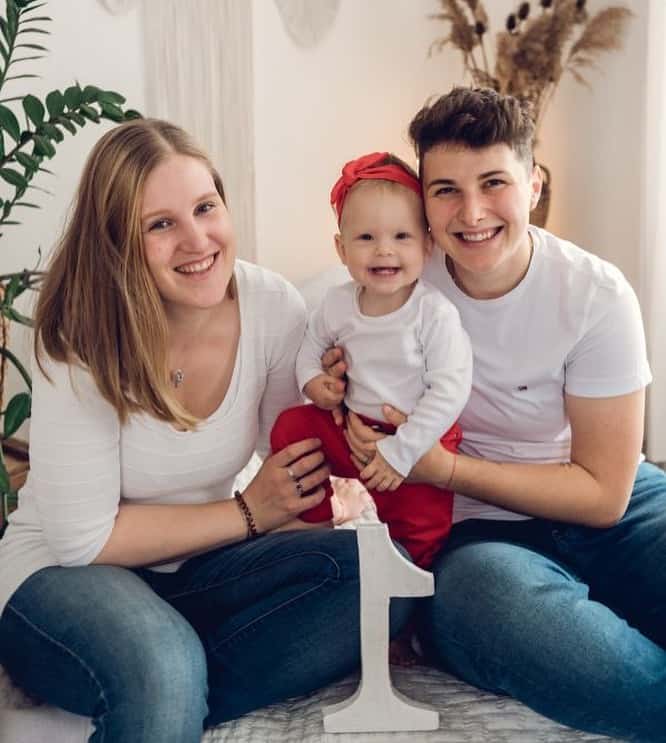 Aneta is married to Janna Ra, who has been together for eight years and has a daughter.
Sarka Pancochova is a slopestyle snowboarder representing Team Czechia. She is competing in the category of Snowboarding.
Moreover, Pancochova is an X-games silver medalist and has represented the Czech Republic in three previous Olympic Games.
You must be interested to know about the 12 Most Successful Soccer Teams in England.
Italy
The country famous for Pizza and Pasta has one LGBTQ+ athlete representing them in the Winter Olympics.
In addition, Filippo Ambrosini represents Team Italy in the figure skating category.
Beijing 2022 is his first Olympics, but he has already won multiple titles, and his skating partner is Rebecca Ghilardi.
Moreover, Rebecca and Filippo have won three ISU Challenger Series medals tagging along with each other.
Armenia
The Canadian-born Simon Proulx Senecal is the only LGBTQ+ Armenia international athlete representing Team Armenia in Beijing 2022.
Additionally, the bisexual Armenian national champion is competing in the category of Figure skating.
Finland
Ronja Savolainen, a queer Finnish ice hockey player, is the only LGBTQ+ athlete representing Team Finland.
Most importantly, she might compete against her Swedish girlfriend, Anna Kjellbin.
Ronja was diagnosed with ADHD and has used ice hockey to relieve her stress.
Belgium
This year, Kim Meylemans is the only LGBTQ+ athlete to represent Team Belgium.
Likewise, she might face her Brazilian girlfriend, Nicole Silveria, in the Skeleton category.
In addition, they announced their relationship at Christmas through Instagram.
Brazil
Team Brazil has only one queer athlete to represent them in Beijing 2022.
Nicole Silveira is an out skeleton slider who aims to bring gold home, even if it means beating her Belgian girlfriend, Kim Meylemans.
Moreover, Nicole is the winner of the Skeleton Intercontinental Cup 2021.
Austria
Daniela Iraschko-Stolz is one of the proud LGBTQ+ athletes competing in Ski Jumping, representing Team Austria.
She won a silver medal in Pyeongchang in 2018. Additionally, Daniela has been married to her wife Isabel Stolz since 2013.
Also, read about The 15 Greatest Female MMA Fighter of All Time.
Australia
Belle Brockhoff is a lesbian snowboarder who claimed top honors at the World Championships 2021.
Belle represents Team Australia and hopes to win gold in the snowboarding event.
Likewise, she came out about being a lesbian in 2013 and has been promoting the LGBTQ+ community at the Olympics and other tournaments proudly.
Netherlands
One of the most decorated LGBTQ+ athletes of all time, Ireen Wüst, is representing Team Netherlands again this year.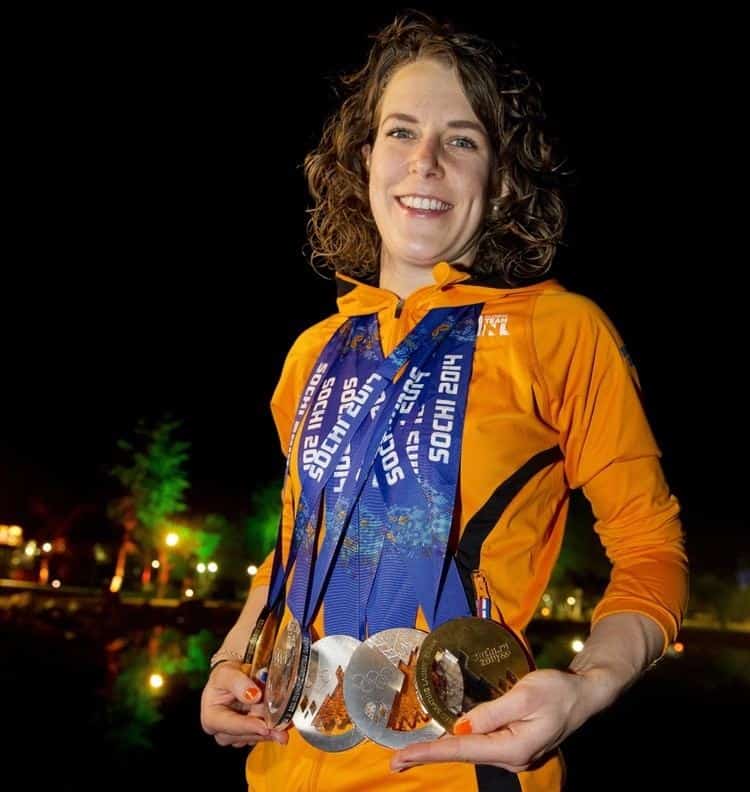 Ireen is a bisexual speed skater who became the youngest Dutch Olympian to win a gold medal in the Winter Olympics.