What Happened To Talia Jackson? Her TikTok Weight Loss Has Gone Viral- Has She Had Surgery?
Talia Jackson has surprised fans by losing a great deal of weight. Her TikToks show just how slimmer she is, leaving onlookers in surprise.
Talia Jackson is an American actress, model, singer, songwriter, and social media personality. She is best known as Jade McKellan in the original Netflix sitcom Family Reunion.
The 21-year-old is also into music and produces R&B/ soul tracks. Some of her records include Hidden, You, Piece of Me, 5FIVE, 19, and Interlude.
Moreover, Talia is the founder of Beautiful Minds 999, a non-profit organization "dedicated to the education on holistic modalities for mental health, drug addiction and suicide prevention."
Also Read: Is Kat Timpf Married To Cameron Friscia ? Kids And Net Worth.
What Happened To Talia Jackson? Has She Had Weight Loss Surgery?
Talia Jackson has surprised everyone with her weight transformation. She looks slimmer in her new TikTok videos as compared to before. Talia is in much better shape than her character as Jade in Family Reunion.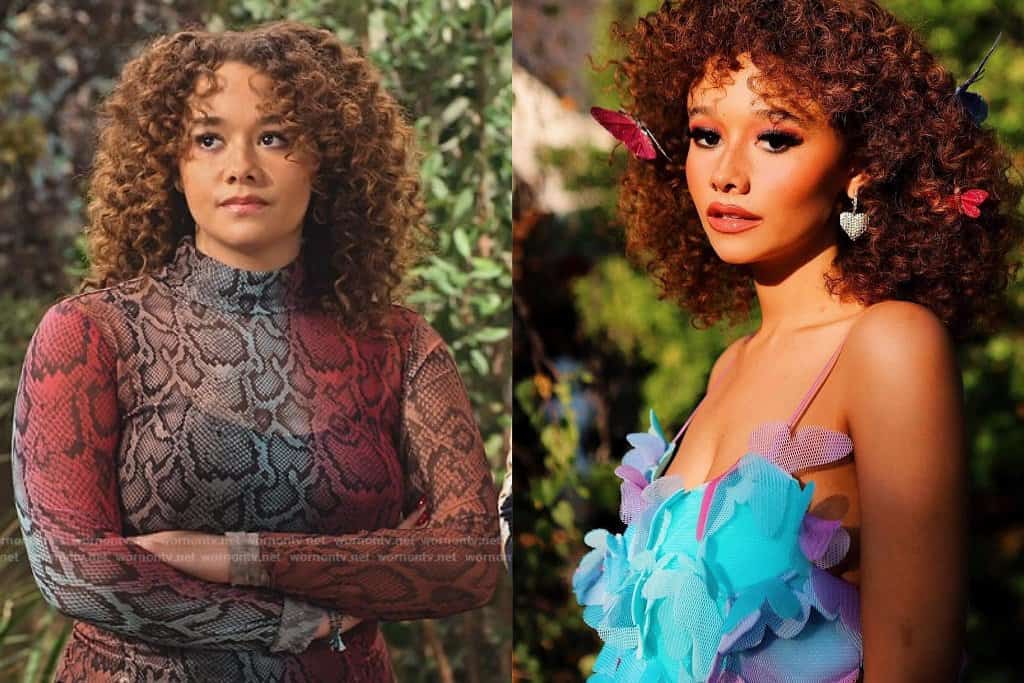 However, the actress is yet to reveal the secret behind her major weight loss. It is unknown if she underwent weight loss surgery or naturally lost weight through diet and exercise. However, it appears that the latter might be true, given how well she has worked on her mental health.
Talia once revealed that she was bullied as a child for the way she looked. She has also been open about her struggle with mental health. She was diagnosed with depression and anxiety at age 13 amid a nasty custody dispute between her parents. Additionally, she also had ADHD and OCD.
Moreover, she has suffered from a tick-borne disease called Lyme Disease since she was 13. She is actively involved with the Lyme Alliance, an organization established to raise awareness about the condition.
In an interview, she shared that she previously found it hard to become comfortable with her natural beauty. For a long time, she would try to evade her natural look because of the influence of people around her. However, she coped and now feels comfortable with the way she looks.
Talia further added that time is the healer of all. Around April 2020, she felt lost and depressed and like it would never end. However, she was wrong since she is now not only OK but also the happiest she has ever been.
According to her, the best thing to do is to be patient and do one's best not to give it too much attention. She explained the reason behind the semicolon tattooed on her wrist, which reminds her to pause, and then continue.
Talia is huge on TikTok, with more than 2 million followers. The social media star also has over 487k followers on Instagram.
Talia Jackson Family Background Learned
Talia Jackson was born in Madison, Wisconsin, United States, to her parents, Kelly Jackson, and Trent Jackson. She is biracial and multicultural since her mother, Kelly, is white (Lithuanian), and her Father, Trent, is black (African-American).
Kelly is a former international actress-model and current film producer, whereas Trent is a former basketball player. They had divorced long ago. Talia has one sibling: a younger brother named Armani Jackson.
Like his sister, Armani is also an actor with 15 acting credits, including Wolf Pack, Honor Society, Palm Trees & Power Lines, Chad, Grey's Anatomy, and The Last Witch Hunter. He made his acting debut with the TV series Man Up! in 2011.
Born on August 28, 2001, Talia is currently 21 years old. Armani, born in 2003, is two years younger.
You May Like: Kerry Washington Is Married To Nnamdi Asomugha, Kids, And Net Worth.