One of the best American football players, Aaron Donald, is capable enough to secure his name on the first row of the top 100 NFL list. Aaron Donald's father, Archie Donald, is the man behind his success.
Archie Donald, the father of the beast footballer, is the one who paved the way for his children and encouraged them to achieve their goals.
Although Archie couldn't achieve his dream of pursuing his career in football, he made every small effort for Aaron Donald and walked the journey with him.
As we know, there is a woman behind every successful man, but in this case, it's a man responsible for another man's success.
Unlike Aaron, who was lazy and plump in his childhood, his father, Mr. Donald, was very athletic from a young age.
Moreover, we will discuss the various events that took place in the life of this hardworking businessman.
Before diving into the details about this wonderful father and authentic personality, let's take few minutes to look at the quick facts.
Aaron Donald's Father: Quick Fact
| | |
| --- | --- |
| Full Name | Archie Donald |
| Birth Place | Pittsburgh, PA |
| Birth Date | December 9, 1965 |
| Nick Name | Not Known |
| Religion | Christian |
| Nationality | American |
| Ethnicity | Black |
| Father's Name | Not Available |
| Mother's Name | Not Available |
| Siblings | One |
| Age | 57 Years Old |
| Education | Norfolk State University |
| Height | 6 feet 1 inch |
| Weight | Not Available |
| Hair Colour | Black |
| Eye Colour | Black |
| Marital Status | Divorced |
| Ex-wife | Anita Goggins |
| Children | Three |
| Profession | Businessman |
| Net Worth | Not Available |
| Social Media | Not Active |
| Hobbies | Football, Weightlifting |
| Aaron Donald Merch | Signed Jerseys, Signed Helmets, Autographed Picture |
| Last Update | March, 2023 |
Archie Donald: Early Life
Mr. Archie Donald, famous as the father of one of the top American football players, was born in Pittsburgh, PA.
He grew up alongside his younger brother, Anthony Donald, his only sibling.
Although his childhood was quite blissful, he had to shoulder the responsibility of his family when his father left home.
Moreover, Archie himself was athletic in his younger years and liked to play football and do weightlifting. So, he was pretty active in sports.
However, later, he injured his knee cap in a match, thus wholly giving up the sports and his dream of being a footballer.
Though he gave up on his dream, he never lost interest in fitness, and the same passion is what helped his children.
You may be interested to know about Whitney Ward, known for her appearance in the famous TV reality show "Racing Wives" aired on CMT.
Aaron Donald's Father: Family
Talking about the family of this straightforward man, initially, there were five members.
Archie Donald got married to his ex-wife, Anita Goggins, and had three children with her.
After the knee injury incident, he established his footholds in the business industry and provided everyone with their needs.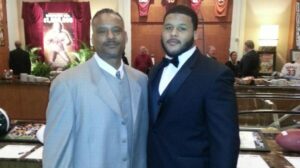 For many years, Archie ran a commercial cleaning company with his ex-wife, a homemaker, and took care of the kids.
One of the most popular football players, Aaron Donald, lived with his parents and two older siblings in their hometown before their lives changed significantly.
Who is Anita Goggins?
Anita Goggins, the mother of Aaron Donald, got married to Archie and lived with him for more than two decades.
Their marriage was considered successful until they finally decided to separate from each other and live independently.
After the divorce, Anita Goggins(Archie Donald's Wife) moved to Duquesne, PA, and found a new job as a transportation specialist, utterly different from the previous one.
Even after getting separated from her husband, Archie, Anita didn't give up on her children and is still in touch with them.
Moreover, Anita likes to spend time with her family, and Aaron's posts on his Instagram can support this fact.
Was it easy for Aaron Donald's Father to provide for three children?
It's never easy for anyone to live life in the best way in this competitive world. Nor was it for Aaron Donald's father.
Along with running a cleaning company, Archie also did many odd jobs to provide for his wife and children.
He never wanted his children to live an ordinary life, so he took the initiative to train his kids on his own and pushed them to the instant where they understood their aspirations.
You may be interested to know about Mia Randall, a celebrity kid who is mostly famous for being the half-sister of Patrick Mahomes II.
Who are the Donalds?
Along with Aaron Donald, two more children were born in the humble home of this hardworking father.
After that, Aaron got successful and made his name all over the world.
However, it is not the same for his other two siblings. Although they are doing good in their life, they still cannot be compared to the footballer.
Akita Donald
Akita is the only daughter of Archie Donald Sr. and a pampered sister of Aaron and Archie.
Young Donald has a close relationship with both of her brothers as well as her parents.
Also, she helps her brother with the charity foundation(AD99 Solutions) created for unprivileged youths in Pittsburgh.
Additionally, Akita mainly works as a mental care specialist.
However, she possesses many good qualities, which proves her competence as a mother, a social worker, and a beautiful woman.
The Executive Director position of AD99 Solutions is being handled by Akita, which is an excellent help for Aaron as he stays busy with game stuff.
Archie Donald III
Archie Donald Jr. is a proud brother and elder among the kids of Aaron Donald's Father. In addition, he shares a close bond with both his brother and sister.
Archie Donald III studied at the University of Toledo and played football in the University Team.
But, unfortunately, he couldn't progress much and had to give up the idea of a football career.
Aaron's elder brother couldn't pursue his career in football after graduating from college in 2010 and didn't get to play in matches after 2012.
He has always been supportive of his brother and understands his duty as an elder brother.
Aaron Donald
Aaron Donald is one of the best footballers who has secured his rightful place on the top 100 NFL players list.
This outstanding player was born in Pittsburgh, in the family of a businessman.
He was pretty lazy as a child. Aaron Donald's Father, Archie Donald, was the one who inspired him to exercise.
His father trained Aaron and his elder brother in the gym they created in their house's basement. On the top of that, Aaron also began playing football at high school.
Significant changes start from small efforts, and Archie Donald was well aware of it. He predicted the future and knew only Aaron could fulfill his dream.
Only after few games, Aaron got the recognition and few scholarships on the merit of his game.
However, he kept practicing at a constant pace, and his hard work proved the capability to receive many awards.
On the top of that, he was selected and got hired by St. Louis Rams in 2014.
You may be interested to know about Randi Mahomes, mother of the famous National Football League Player Patrick Mahomes II.
Who is the Daughter-in-law of Aaron Donald's Father?
This Successful Player is not only lucky on the field but also in the context of life-partner.
Jaelynn Blackey and the God of tackle, i.e., Aaron, knew each other from school time and decided to take the relationship to the next step.
Aaron's wife was also born in the same city and thus attended the same high school as him.
She became the center of attraction for thousands of people and media when her picture went viral in 2014.
Donald didn't hide anything from his fans and made the identity of his wife and mother of his baby public.
Jaelynn has fully supported his husband in every aspect and takes good care of the home and children.
Archie Donald tears up with a Gift
Aaron and his siblings are the kinds of children every parent wishes and pray to have.
They not only respected their parent's decision to separate but also stopped them from tiring themselves.
The father of this handsome player almost cried when his son, Aaron, gifted him a Rolex watch on his birthday.
Apart from that gift, the Donald brothers also gifted their parents a home worth $1million after Aaron signed a contract with his professional team.
One of the Aaron's Instagram posts holds the most beautiful smile and excitement of a proud father who was gifted a new truck by his successful and respectful son.
Frequently Asked Questions (FAQs)
Why did Aaron Donald's Father separate from his wife?
As for the specific reason for their divorce, no information is available.
However, they didn't cut off all the ties or fought for property or custody rights like most couples.
Why did Aaron Donald choose football as his career?
Aaron Donald was too lazy and chubby as a kid.
However, his interest in fitness and sports reached a new level when his father started training him and his brother early in the morning.
Another reason might be to fulfill the dream of his father, which remained incomplete.