Aishah Hasnie: Family, Journalism, & Net Worth
Aishah Hasnie is one of the most beautiful and sought-after journalists.
She is an American news reporter who worked on Fox & Friends First and Fox & Friends as an overnight anchor and headline news reporter.
In addition, Aishah currently works as a congressional correspondent at Fox News. Moreover, she works as a daytime news correspondent.
Before we delve into the Aishah Hasnie universe, let's take a look at some quick facts about her:
Quick Facts
Here are some quick facts about the bold and ferocious Aishah Hasnie:
Full Name
Aishah Hasnie
Birth Date
October 4, 1985
Birth Place
Lahore, Pakistan
Age
38 years old
Home Town
Bedford, Indiana, United States of America
Residence
Washington, DC, United States of America
Religion
Muslim
Nationality
Pakistani-American
Ethnicity
South Asian
Hobbies
Trap and Target Shooting with her dad, playing soccer, globetrotting, basketball, socializing with friends and Family, Reading about history and religion
Education
Bedford North Lawrence High School and
B.A. in journalism from Indiana University, Bloomington
Profession
News Anchor/Journalist
Average Salary
$33,774 to $112,519 a year
Net Worth
$500,000
Award Nominations
Emmy Award
Awards
Not Known
Associated Media
Fox News
Zodiac Sign
Libra
Height
5′ 7″/1.7m
Weight
Not Available
Eye Color
Brown
Hair Color
Brown
Body Type
Lean
Father's Name
Not Known
Mother's Name
Not Known
Siblings
Two (Dr. Afiah Hasnie)
Marital Status
Unmarried
Boyfriend
Not Known
Children
Not Known
Social Media
Facebook, Instagram, Twitter, LinkedIn
Active Years
2006 – Present
Fox News Merch
Applications
Last Updated
December, 2023
Aishah Hasnie: Early Life, Family, and Education
On October 4, 1985, the Pakistani-American journalist was born in Lahore, Pakistan, part of Pakistan's Punjab Province.
Aishah Hasnie: Immigration
When she was a child, Aishah Hasnie family migrated to Bedford, Indiana, United States of America.
Her uncle, a lieutenant commander in the United States Navy, sponsored her parents' Immigration.
Moreover, Aishah has spent some time in Saudi Arabia, where she still has some family and friends.
Aishah Hasnie: Family
The names of Aishah Hasnie's father and mother are unknown.
Aishah has a little sister who is a doctor, and her name is Dr. Afiah Hasnie. She also has an older brother whose name is not known.
Additionally, Aishah is a Pakistani-American woman and is Muslim. Her mother tongue is Urdu, which she speaks fluently.
Aishah Hasnie: Education
Aishah Hasnie graduated from Bedford North Lawrence High School in 2002.
And went on to Indiana University to pursue a B.A. in media while also serving as a Dick Yoakam Broadcast Journalism Scholar.
After that, she interned at WICS-TV in Springfield, Illinois, where her cousin, Maira Ansari, worked during her high school years.
In addition to this, the journalist has also worked as an intern for WTHR-TV in Indianapolis and GEO-TV in Pakistan.
Aishah Hasnie: Age, Height, and Weight
Aishah Hasnie is a stunning woman with a gorgeous slim physique.
A fashion enthusiast and often a trendsetter, Aishah has big brown eyes and beautiful, luscious brown hair.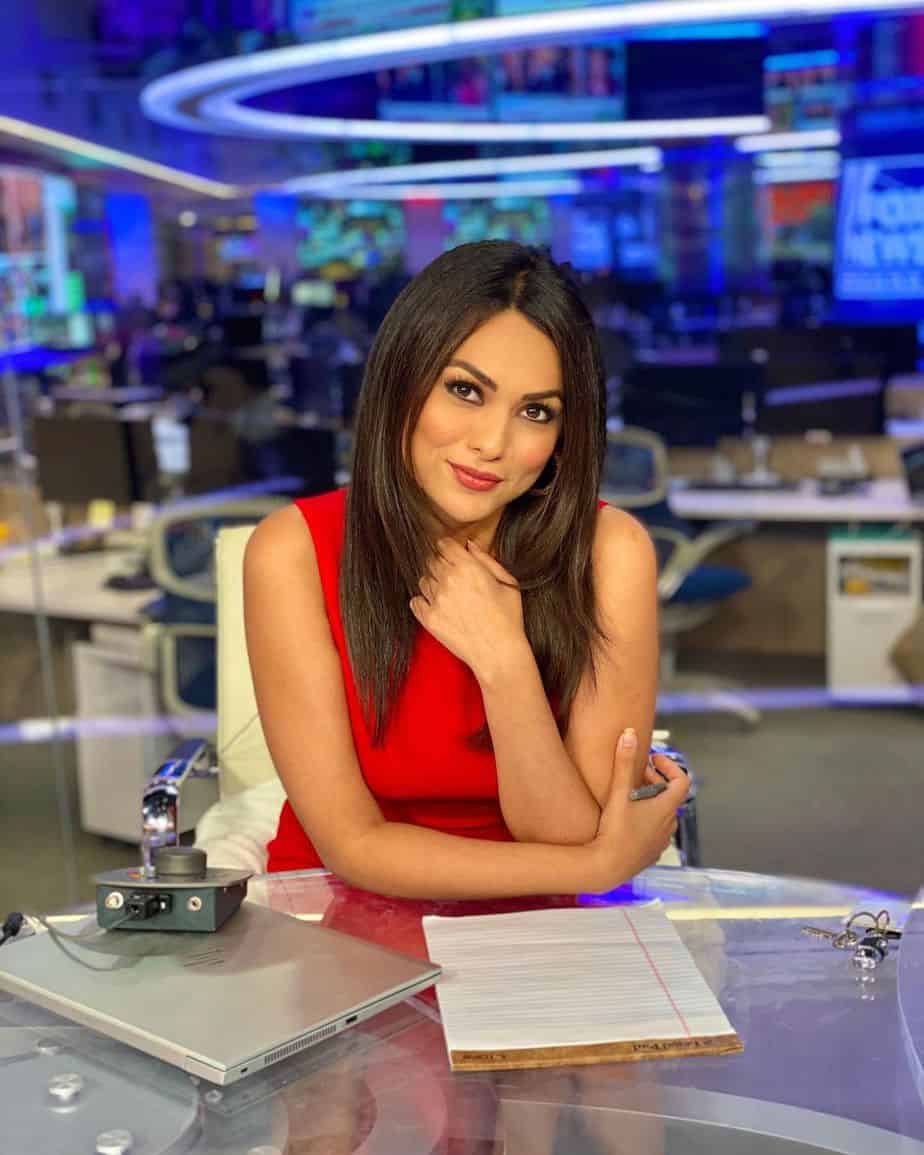 In addition, she is 38 years old and stands 5 foot 7 inches or 1.7m tall.
However, her weight is unknown, but the journalist has a fantastic figure and great beauty. Apart from this, she enjoys dancing too.
Aishah Hasnie: Career
Aishah Hasnie is a dynamic woman with a wide range of careers.
Past Career
Aishah Hasnie began her profession as an on-air intern reporter at WICS-TV in Springfield when she was Eighteen years old.
Moreover, Maira Ansari, her cousin, worked as a reporter here as well.
Furthermore, she also worked at WTHR-TV in Indianapolis and GEO-TV, a Pakistan-based nationwide network.
Shortly after graduating from high school, Aishah worked as an investigative reporter and fill-in news anchor at WANE-TV in Fort Wayne, Indiana.
Moreover, while Aishah was working there, she was nominated for an Emmy Award for her investigation on voyeurism.
In addition, Aishah joined FOX59 News in Indianapolis in July 2011 as an investigative reporter and served as the host of First at Four which started at 4:00 PM.
Further, she also had a show called Taking Action for You.
In addition, she investigated customer scams in this show and defended society from companies and individuals selling tainted goods or defrauding Indiana residents.
Then, Aishah accepted an overnight anchor and news correspondent for Fox & Friends First and Fox & Friends in New York City in January 2019.
You might be interested in reading about Phil Rucker, an American political analyst and a White House Press Corps member.
Present Career
After more than seven years of joining Fox News, Aishah quit her job as an investigative reporter and anchor at Fox59.
Moreover, she announced the news on her various social media accounts.
Now, Aishah joined Fox News as a congressional correspondent in August 2021. She is now happy to work as a midday news anchor and journalist.
Aishah also has some volunteering experience. She was the board member at Circle Up Indy.
In addition, she joined the organization in April 2010, and according to her LinkedIn, she is still active there.
On top of that, Aishah also serves on the Citizens Foundation/Seeds of Learning board, an educational non-profit.
In addition, The Society of Professional Journalists and the Indiana Association Press have given her appreciation for her hard work.
Aishah Hasnie: Awards
Aisha Hasnie has won numerous honors for her work in journalism. The prize's specifics, however, are unknown.
On the other hand, she was nominated for an Emmy for her research on voyeurism.
Moreover, the research was about the habit of obtaining sexual pleasures through seeing others naked or engaging in sexual activities.
In addition, Variety named Aishah as a New York Woman of Impact in 2020.
You might be interested to know about Kaitlan Collins, one of America's bravest and famous journalists and the Chief Correspondent of the White House for CNN.
Aishah Hasnie: Boyfriend, Husband, and Kids
Aishah Hasnie is an unmarried woman and has no children. However, her dating life is also unknown.
Moreover, in an Instagram post and an article published by the Hollywood Mask, Aishah has made it evident that she wants to be the lady of her dreams rather than looking for the man of her dreams.
Aishah Hasnie: Net Worth
The estimated net worth of Aishah Hasnie ranges from $300,000 to $800,000 which, she has accumulated from her journalist career.
Moreover, her annual income, which is average for a Fox News journalist, varies from $33,774 to $112,519 per year.
Aishah Hasnie: Social Media Presence
Aishah Hasnie has a presence on various social media. Moreover, Aishah is an active social media user. In addition, she also has a LinkedIn account.
Aishah usually posts her opinions, personal life updates, and her beautiful pictures. Further, she also posts about her friends and Family and the topics that interest her.
In addition, she often takes and posts photos with persons she admires and idolizes.
Moreover, Hasnie has also received high ratings from IMDB and Rotten Tomatoes for her work in variFamilyries.
Not only that, but Aishah is also praised for her excellent works by famous and remarkable journalists like Greg Gutfeld, often in his social media platforms like Twitter.
Facebook: Over 122k followers
Instagram: Over 44.6k followers
Twitter: Over 20.6k followers
Moreover, the journalists also have a Linkedin profile.
You might be interested to know about Ashley Parker, a reputed journalist currently associated with The Washington Post.
Aishah Hasnie: FAQs
What is the nationality of Aishah Hasnie?
Aishah Hasnie was born in Lahore, Pakistan, which is in the Punjab Province of Pakistan.
After then, she moved to America with her parents and lived in Bedford, Indiana, where she finished high school in Bedford North Lawrence High School.
Moreover, she has also spent some of her childhood in Saudi Arabia. Hence, Aishah is Pakistani-American, but she lives in America.
Who is Aishah Hasnie's boyfriend?
Aishah is a single woman. Even though she has been speculated to have a boyfriend in the past, she disagrees with the rumors.
Further, Aishah has posted many pictures with many guys, but they were just colleagues or friends.
Moreover, Aishah wants to remain single to achieve her goals.