Brock Lesnar Net Worth: Media & Income
Famed wrestler, former MMA fighter, and professional football player Brock Lesnar have a net worth of $28 million as of 2021.
He is a five-time WWE Champion, three-times Universal Champion, and a multiple WWE Slammy Award winner.
Lesnar is one of the most prominent names in combat sports history, having tasted success in various categories of the sport.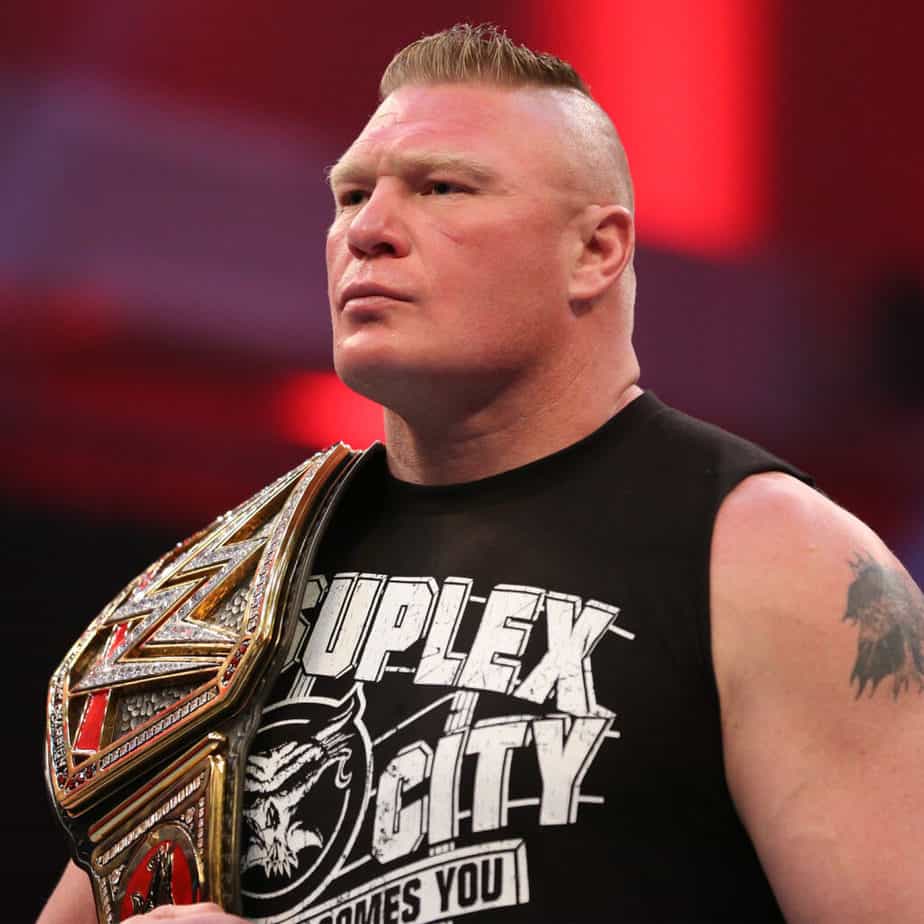 He is known for his dominant style of wrestling and his moves, such as Suplex City and the F-5.
Further, Lesnar is the only person ever to have won the NCAA, NJPW, IGF, UFC, and WWE Championships.
Lesnar holds a Guinness World Record for being the youngest person to become the WWE Champion.
Quick Facts
Following are some facts about The Beast Incarnate, Brock Lesnar:
| | |
| --- | --- |
| Full Name | Brock Edward Lesnar |
| Net Worth | $28 Million |
| Birth Date | 12 July 1977 |
| Known as | Bork Laser, Broccoli, Brock Solid, The Conqueror, The Next Big Thing |
| Age | 45 Years Old |
| Birth Place | Webster, South Dakota, United States |
| Religion | Christian |
| Nationality | American-Canadian |
| Ethnicity | White |
| Education | University of Minnesota, Bismarck State College, Lassen Community College |
| Zodiac Sign | Cancer |
| Father's Name | Richard Lesnar |
| Mother's Name | Stephanie Lesnar |
| Siblings | Chad Lesnar, Troy Lesnar, Brandi Nichol Lesner |
| Height | 6 ft 3 in (191 cm) |
| Weight | 120 kg (265 pounds) |
| Sexual Orientation | Straight |
| Hair Color | Blond |
| Eye Color | Blue |
| Build | Athletic |
| Chest | 53 in |
| Waist | 38 in |
| Biceps | 21 in |
| Reach | 81 in |
| Profession | Wrestler, Retired MMA fighter, Professional Football Player |
| Signature Moves | Suplex City, F-5, Kimura Lock, Fallaway Slam |
| Endorsements | Jimmy John's, Dymatize Nutrition, DeathClutch |
| Active Years | 2000-Present |
| Marital Status | Married |
| Spouse | Rena Marlette Lesnar (Sable) (m. 2006) |
| Children | Mya Lynn Lesnar, Luke Lesnar, Turk Lesnar, Duke Lesnar |
| Social Media | Facebook, Twitter |
| Merch | Action Figure, Odd Sox, WWE: Hell in a Cell, Canvas Art Print |
| Last Update | June, 2023 |
Brock Lesnar: Net Worth and Income
Brock Lesnar has a commendable net worth of $28 million created through his combat career and endorsement deals. The fighter is one of the richest MMA fighters in the world.
According to his 2018 contract, Lesnar was the highest-paid WWE superstar with a $12 million base salary.
In addition, he got $500 thousand for every main event appearance.
He had previously signed a $5 million deal with the WWE in 2012.
Also, he was one of the top-earning UFC performers with a salary and bonuses totaling $5.3 million in 2011, inclusive of the PPV bonuses.
Lesnar's earnings from his UFC 100 victory against Frank Mir was $400,000.
Also, he makes $2.5 million from endorsements and $75,000 from merchandise sales.
He was once fined $1,500 as a hunting charge for failing to tag a mule deer he had shot properly.
Net Worth of Brock Lesnar in Different Currencies
Here is how Brock Lesnar's net worth turns out in different currencies worldwide, including Bitcoin.
Currency
Net Worth
Euro
€

23,598,826

Pound Sterling
£

20,256,827

Australian Dollar
A$

37,204,356

Canadian Dollar
C$

34,500,340

Indian Rupee
₹

2,086,518,000

BitCoin
฿

789.06912
Brock Lesnar: Cars and Houses
Cars
Brock Lesnar owns a relatively cost-effective Chevrolet Cruze sedan which costs $18,000.
Besides, he has a Ford F150 worth $40,000, which features a V8 engine producing 300 hp of power.
The powerful truck is also an all-wheel-drive and is based on a 4-speed automatic transmission.
Further, he has a 2014 Dodge Ram, which he mentioned as his favorite vehicle in "Stone Cold" Steve Austin's show.
<<Drew Mcintyre: Wrestler, Wife & Net Worth>>
Houses
Brock Lesnar owns a $2.1 million house in Maryfield, Canada. His brother also lives nearby on a farm.
In 2014, he sold his 43 acres wide rural abode of Minneapolis for an estimated $750,000.
Lesnar had originally purchased it in 2003 for a sum of $783,500.
Previously, he had tried to sell the house for no less than $849,000 but accepted a lower sum after failing to get the quoted price.
Brock Lesnar: Lifestyle
Brock Lesnar is an extremely private person who rarely gives interviews and avoids talking about his personal life.
Generally, he is seen in shorts and fighting gloves in the ring.
He intakes a well-balanced diet and has managed to be fit to prolong his sparkling career as an athlete.
Besides, he has a  sword tattoo on his chest, which symbolizes the hardships he had to face, which was like having a sword placed on the neck.
Lesnar is a fan of the NHL ice hockey side Winnipeg jets, and all of his sons also play the sport.
During his first WWE stint, he was addicted to alcohol and painkillers due to his stress.
The wrestlers drank a bottle of Vodka every day and took Vidocin pills every month during the tough period.
Currently, he lives on a farm in a small town in Canada, where he spends his time indulging in farming.
Brock Lesnar: Charity
Lesnar has granted many dreams of his loving fans on Make-A-Wish.
Also, he has taken part in fundraisers, charity dinners, and auctions.
Due to his private nature, he doesn't publicize his charitable works.
Brock Lesnar: Media, Endorsements, and Book Publications
Media
Lesnar has made uncredited appearances in the movies 'Foxcatcher' and 'Countdown.'
Also, his WWE career has been summarized in the WWE Home Video releases 'Brock Lesnar: Here Comes The Pain' and 'Brock Lesnar: Eat, Sleep, Conquer, Repeat.'
He has been the cover star of Muscle & Fitness, Pro Wrestling Illustrated, and Power Slam magazines.
Besides, he has been in the TV series 'The Heyman Hustle,' 'Mike & Mike,' 'The Ultimate Fighter,' 'Late Night with Jimmy Fallon,' etc.
Furthermore, he is available in many video games as a playable character and has been the cover star of WWE 2k17, Here Comes the Pain, and UFC Undisputed 2010.
The 'Attack On Titan' character Armored Titan was based on Lesnar, as revealed by its author Hajime Isayama in a 2013 blog post.
Endorsements
Lesnar has appeared in a promotional video for Dymatize Nutrition's product "Xpand."
Surprisingly, he is sponsored by the 'freaky fast' sandwich restaurant Jimmy John's.
<<The 35 Richest Wrestlers in the World>>
Book Publications
Lesnar published his autobiography, which manager Paul Heyman co-authored in 2011.
In the book titled 'Death Clutch: My Story of Determination, Domination, and Survival,' he shares his grit and determination to reach the pinnacle of WWE and UFC.
Moreover, Joel Rippel has released the book 'Brock Lesnar: The Making of a Hardcore Legend' in 2010.
Brock Lesnar: Career
Brock started as a professional wrestler in 2000 by signing with the WWF.
Initially, he had won the NCAA Division I Heavyweight title during his amateur career.
In 2002, Brock became the youngest WWE champion in history at 25 years of age by beating The Rock at SummerSlam to claim the title.
Lesnar halted his WWE career to try out for the NFL in 2004, where he was signed by the Minnesota Vikings but couldn't make his debut due to a groin injury.
He continued with WWE before moving on to NJPW, where he won the IWGP Heavyweight Championship on his debut in a triple threat match.
Then, he made his UFC debut in 2008, losing to Frank Mir but later conquered UFC's Heavyweight Championship Title with a victory against Randy Couture at UFC 91.
Later, he rejoined the WWE and won the Universal Championship and the WWE Championship before leaving in 2020 upon the expiry of the contract.
<<Cody Rhodes: Life Wrestling, Film & Net Worth>>
3 Facts about Brock Lesnar
Lesnar is an excellent hunter and is a member of the National Rifle Association.
Brock Lesnar is red-green colorblind; sadly, due to this, his dream of becoming a military man was squashed.
In 2018, he was named the Most Hated Wrestler of the year by Pro Wrestling Illustrated.
Brock Lesnar: Social Media Presence
Brock Lesnar has social media handles but scarcely uses them to post stuff.
Instead, most of his posts are related to the WWE.
Facebook – 12 million
Twitter – 1.4 million
Quotes
"I'm a prizefighter. Titles don't pay bills. I fight for money. I'm making money. They're making money. Everybody's making money. That's what this is all about."
"Life for me has always been about timing, and it was bad timing for that disease to hit me; it was time to exit the stage."
"I've never come out and said, 'I hold the most pay-per-view buys.' All I know is what I got paid, and I'm happy."
FAQs
What does Brock Lesnar do during his off-time?
Brock Lesnar enjoys farming during his off-time.
Is Brock Lesnar a nice guy?
Yes, Brock Lesnar is a nice guy and only acts tough in WWE.
Is Brock Lesnar still contracted to WWE?
No, Brock Lesnar is a free agent after his contract with WWE expired in 2020.