Is Philadelphia Phillies Brandon Marsh Hair And Beard Real? Long Hairstyle – How Did He Grow His Hair
The long and luscious hair and beard of Philadelphia Phillies' Brandon Marsh make many fans wonder if it is real.
Brandon stands out even among Major League Baseball (MLB) 's furry-faced guys like Paul Blackburn, Luis Guillorme, and Charlie Blackmon.
The American baseball player is the #16 outfielder for the Philadelphia Phillies. The professional athlete previously played for the Los Angeles Angels.
<< Laura Haddock New Boyfriend: Is She Still Dating Tom Rhys Harries? >>
His MLB career record includes a .248 batting average, 71 runs batted in (RBI), and 13 home runs.
Find Out: How Many Tattoos Does Davante Adams Have? Their Meaning And Design Explained.
Is Philadelphia Phillies Brandon Marsh Hair And Beard Real? Why Is It Always Greasy?
Since entering the major leagues, Brandon Marsh has had a crazy hair-beard combo. He is known for his caveman-like look with a long head and facial hair, all bristly and bushy. The hair is real and naturally grown.
Besides, the Phillies' base bandit is a fan of wet-looking locks. His hair almost always looks greasy, like he just came out of the shower. Brandon says the secret is not bathing and using lots of water on his hair in between innings or every 15 minutes.
Brandon does not use any conditioner, hair gel, or other products. He only uses shampoo – that only once a month and lets the elixirs of nature do the job.
The Phillies outfielder shared that it gets super bristly if he does not wet his hair. "I don't like it that way. I like it wet," he added. His teammates do not mind and think it "gives him his edge."
Brandon Marsh Long Hairstyle – How Does He Look With Short Hair?
Although Brandon Marsh is now known for his long, gangly hair, he sported a slightly shorter cut while in the minors.
The Brandon behind all that hair looks completely different. Fans were surprised to see the younger Brandon, who looks worlds apart from now.
However, his hairdo still had that signature Marsh slickness he so enjoys.
Brandon Marsh Family And Childhood Details
Brandon Marsh was born in Buford, Georgia, United States, to his parents, Jake and Sonja Marsh. Born on December 18, 1997, he is currently 25, and his zodiac sign is Sagittarius.
2022 was a grim year for Brandon. He lost his dad, Jake Marsh, to Cancer in April. Jake has diagnosed with tongue and throat Cancer in 2017, which later spread to his kidney and head. He was unable to speak or walk during his last days.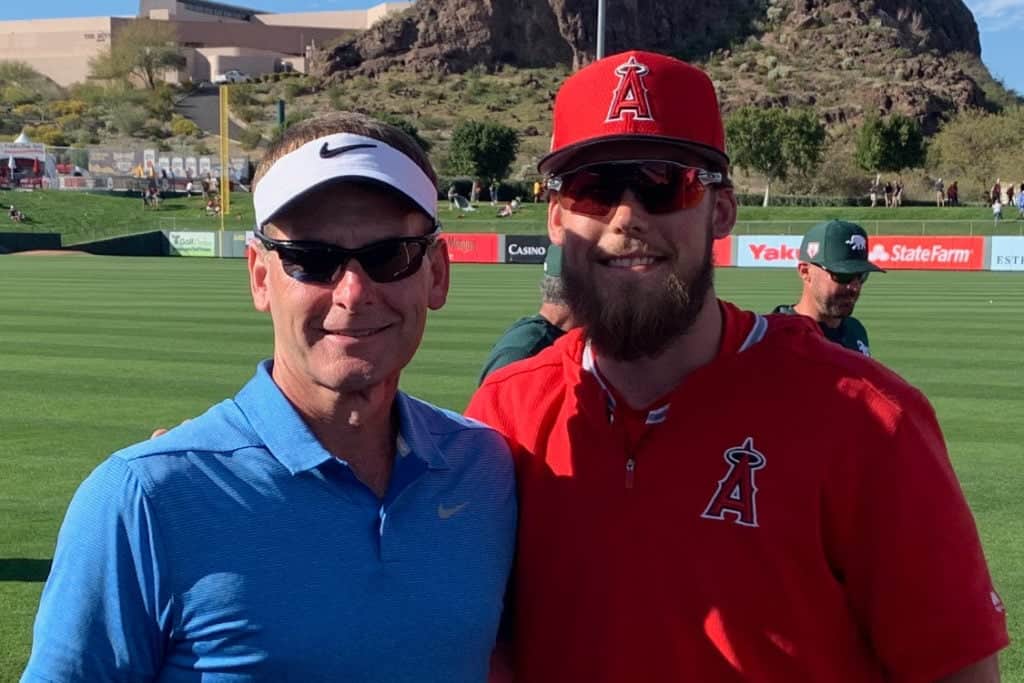 Only two months later, Brandon's best friend, Jacob Cardiello, died unexpectedly from an unknown cause. He was 23.
Brandon has a sister named Erin, a track and field athlete for the Duke Blue Devils. The younger Marsh sibling has won two bronze medals in collegiate competition: the pentathlon at the indoor NCAA track and field competition of 2021 and the heptathlon at the outdoor competition in 2022.
Brandon attended Buford High School in his hometown, was a multi-sport athlete, and won a state championship title as a junior. He grew up playing American football, basketball, and baseball.
After growing to a big frame of 6 feet 4 inches (1.93 m) and 98 kg, Brandon attracted the attention of college recruiters. In his junior baseball season, he batted .370 with 15 runs batted in (RBI). Brandon and fellow MLB player Joey Bart took Buford to a Georgia High School Association state championship title.
The Marsh family is American by nationality, white by race, and follows the Christian religion.
Find Out: Tyler Herro Wife: Is He Married To Katya Elise Henry? Daughter And Net Worth.