If you are into pole vaulting, you must indeed be familiar with the household name Jenn Suhr.
American vaulter Suhr dominated as a pole vaulter and was part of the 2008, 2012, and 2016 Olympics.
American vaulter Suhr managed to bring home the gold medal during the 2012 London Olympics. Meanwhile, she finished the 2008 Beijing Olympics with a silver medal.
Suhr gained her first USA Outdoor title during the 2006 AT&T USA Outdoor Championships, where she vaulted 4.55 meters. The same year at the World Athletics Final, she ranked third.
Eventually, in the coming years, she went on to break many records.
First, she broke Stacy Dragila's record at the Adidas Track Classic, setting a record of 4.84 meters.
For her massive achievements, in 2013, Suhr became a member of the Buffalo Sports Hall of Fame.
Reigning over the pole vault world for some 17 years, she indeed is a consistent player.
Quick Facts
Here are some quick facts about pole vaulter Jenn Suhr:
Full Name
Jennifer Lynn Suhr
Birth name
Jennifer Lynn Stuczynski
Nick Name
Jenn
Profession
Track and Field: Pole Vault Athlete
Net Worth
$5 million
Birth Date
5th February 1982
Birth Place
Fredonia, New York, United States
Father's Name
Mark Stuczynski
Mother's Name
Sue Stuczynski
Grand Father's name
Bunk Stuczynski
Gender
Female
Siblings
Brother: Matthew Stuczynski
Sister: Terra Stuczynski
Nationality
American
Sexual Orientation
Straight
Education
Fredonia High School, Roberts Wesleyan College (Bachelors & Masters in Psychology).
Age
41 Years Old
Weight
145 lb
Height
6 feet
Body Type
Athletic
Skin Color
Brown
Zodiac Sign
Aquarius
Birth Stone
Amethyst
Eye Color
Black
Hair Color
Black
Husband/Spouse
Rick Suhr (2010)
Children
None
Team
American pole vault team
Event
Pole Vaulter
Highest World Ranking
First (2011)
Coached by
Jenn Suhr
World Finals
Valencia 2008, Portland 2016
Olympic Finals
Beijing 2008, London 2012
Personal Best
Indoor: 5.03 meters (16'6 inches)
Outdoor: 4.92 meters (16'2 inches)
Social Media
Instagram, Twitter, Facebook
Sponsorship
Addidas (2006-2010), Nutrilite
Biography
Running into the Headwind: The Price of Olympic Gold the Untold True Story
Agent
Mark Wetmore
Merch
Trading Card
Last Updated
April, 2023
Jenn Suhr: Early Life and Education
Jennifer Lynn Stuczynski, known as Jenn Suhr, was born on 5th February of 1982 in Fredonia, New York, United States.
Her father's name is Mark Stuczynski whereas, her mother's name is Sue Stuczynski.
She has two siblings a brother named Matthew and a sister named Terra.
Suhr's parents own a grocery store in home city Fredonia, New York. However, their shop was formerly owned by her grandfather Bunk Stuczynski.
As a mere child of six, Suhr was interested in sports and was an active child.
She played softball, and her grandfather usually was her partner while playing.
In addition, at the age of nine, with her grandfather, Suhr participated in an adult golf league.
As for her education, she attended Fredonia High School, where she participated in plenty of sports.
Moreover, she was involved in basketball, soccer, track & field, and softball.
In her senior year in 2000, she went on to win the New York State pentathlon title. In this event, contestants participate in five different events.
Moreover, she enrolled at Roberts Wesleyan College and played track & field and basketball.
She participated in the basketball competitions and scored average points of 6.7 and 24.3 rebound points in 2004.
After securing great points, Suhr represented her college Roberts Wesleyan at the NCCAA national championship.
Until she graduated from the college, she had collected 1,819 points in basketball.
During her college time, she was studying for a masters' degree in psychology.
However, she dropped out of her college to pursue a career in pole vaulting.
You might want to know about Armand Duplantis: Early Life, Career & Net worth.
Jenn Suhr: Body Measurement
American record-breaking athlete Jenn Suhr stands 6 feet tall. She weighs around 145 lb and has an athletic body type.
Moreover, Suhr has long black hair and beautiful black eyes. Her skin color is fair, and she has an attractive smile.
Suhr trains regularly and maintains a balanced diet as a professional athlete. She focuses on living a healthy lifestyle by consuming nutritious foods.
Jenn Suhr: Career
Jenn Suhr is professionally a pole vaulter and has been vaulting for around 17 years. Suhr always performed her best and broke many records.
She dominated the pole vault field since her debut and managed to make herself a household name.
The pole vaulter competed in many championships and leagues.
For example, she was a part of the World Championships in Athletics, Aviva Grand Prix, USA Outdoor Track & Field Championship, etc.
Debut
It was in 2004 when Jenn first began pole vaulting. Her coach and husband, Rick Suhr, coached her.
He supported Suhr financially, even by going to an extent like re-mortgaging his home.
It all started when Rick Suhr saw Jenn playing basketball at her college Roberts Wesleyan.
He found her highly skilled and thus, confronted her about pole vaulting, and she agreed.
Some months after their meet Jenn Suhr was already defeating top players making her place amongst the star players.
Eventually, Suhr started competing in many indoor and outdoor competitions. But, unfortunately, Suhr had only been training for ten months.
However, being a rookie, she impressed everyone by winning the 2005 US title.
Also, during the game, she set her personal best record of 4.35 meters. In the NAIA indoor championship the same year, she defeated everyone.
Eventually, she was honored with the indoor national title. With her massive achievements during the 2006 indoor season, she got many high praises.
Based on overall performance, she was a consistent player and became known as America's second-best vaulter behind Stacy Dragila.
Competition
After her debut year, she began competing in many championships and leagues.
She was a part of the World Championships in Athletics, Aviva Grand Prix, Boston Indoor Games, USA Outdoor Track & Field Championship, etc.
In 2008, Suhr qualified for the IAAF World Indoor Championships, where she ranked second behind Russian vaulter Yelena Isinbayeva.
Both vaulted at 4.75 meters, but the winner was decided on a countback by the association of the game.
So, since Isinbayeva's earlier points were higher than Suhr's, she was the winner.
Suhr, during the Boston Indoor Games, recorded a new score of 4.82 meters. It was a new American record at the 2009 Boston Indoor Games.
Similarly, in 2010, she won the USA Outdoor Gill Women's Pole Vault.
In addition, the pole vaulter had won the outdoor title consecutively five times. Her repetitive win made her known as one of the prominent women in the pole vault field.
However, American pole vaulter Kylie Hutsobroke her outdoor title-winning streak during the 2011 USA Outdoor Track & Field Championships.
Suhr won the USA Outdoor Track & Field Championships both in 2014 & 2015.
Even more, in 2016, set a new record of an indoor pole vault of 5.03 meters during the Division iii track & field meet.
You might want to know about Sam Kendricks: Early Life, Olympics & Net Worth.
Olympics
Jenn Suhr competed in the 2008 Beijing Olympics, where she ranked second, losing to Yelena Isinbayeva. She vaulted at 4.80 meters, winning a silver medal.
Suhr gave all the credit for her win to her coach and husband, Rick Suhr. He had trained her perfectly for the Olympics.
In 2012, after winning the Olympic Trials, she qualified for the 2012 Summer Olympics.
In addition, the Olympics was held in London. Also, it was her second time competing in the Olympics.
Fortunately, she won the gold medal defeating Cuban pole vaulter Yarisley Silva.
However, since they both vaulted at 4.75 meters, the winner had to be selected by the countback method.
Moreover, Suhr's previous points shined, and thus, she took home the gold medal.
Suhr also went on to compete in the 2016 Summer Olympics held in Rio de Janeiro, Brazil.
Unfortunately, she became very ill before the competition, and even the doctors couldn't understand her illness.
Despite all of this, she did very well in the qualifiers round. However, during the main event, she performed average and ranked seventh.
Suhr competed in the prelims of the U.S Olympic Track and Field Trials and reached the finals.
However, she couldn't make it to the main event. So, she wasn't a part of the 2020 Tokyo Olympics.
Jenn Suhr: Book (Biography)
Rick Suhr has written a biography about Jenn Suhr titled, Running into the Headwind: The Price of Olympic Gold the Untold True Story.
It is available on Amazon, where readers can buy Kindle for $9.99, and the paperback cost $17.99.
The biography tells the remarkable story of Suhr making her way to the top of the pole vault games.
Suhr and her coach turned husband Rick worked together since her debut.
Their hard work and drive to compete in the Olympics paid off, and during the 2012 Beijing Olympics, she won a gold medal.
Therefore, the book gives inspiration to all the upcoming athletes. Through this book, one can learn about the journey of a pole vaulter.
You can also learn about Katerina Stefanidi: Early life, Career & Net worth.
Jenn Suhr: Achievement and Titles
American pole vaulter Jenn Suhr has several honorable titles. In 2008 she was named American Female Artist of the Year by Track & Field News.
Suhr was the only second female to receive this honor and the other athlete being Stacy Dragila. In addition, no male pole vault athlete ever has won this title.
The pole vaulter was honored with a silver medal for her win at the World Championships in Athletics in 2013. There she vaulted 4.82 meters.
In addition, during the USA Indoor Track & Field Championships in both 2014 & 2016, she won a silver medal.
Suhr grabbed a gold medal at the World Indoor Championships. She defeated her opponents by vaulting at 4.90 meters.
Jenn Suhr: Injuries and illness
Suhr suffered from an Achilles tendon injury in 2009. Unfortunately, therefore, she had to withdraw from the World Championship.
Also, she was recommended a gluten-free diet by the doctors in 2011 after being diagnosed with Celiac Disease.
Moreover, she became very ill before the 2016 Summer Rio de Janeiro Olympics, and even the doctors couldn't understand her illness.
Moreover, she lost her voice and had complications with her respiratory system.
Her symptoms include feeling dizzy and coughing all the time. Yet, despite all this, she competed in the event and performed relatively well.
Unfortunately, during the 2018 Championships, she had to end the season soon due to her illness. Suhr had been suffering severe pain in her groin.
After an MRI test, the doctor found a 3 cm cyst on her right side and a 7.4 cm mass on her left. Also, her pelvis was swelling during that time.
Even more, she has to withdraw from the Diamond League due to her health conditions.
Jenn Suhr: Rivalry and Controversy
In 2008, Suhr was caught up in a rivalry with Russian gold medalist Yelena Isinbayeva.
During the Beijing Olympics, Suhr had promised to kick some Russian butt, which made the Russian fans furious. Soon after, a rivalry arose between Suhr and Isinbayeva.
Moreover, another controversy was created when the NBC camera captured her coach Rick Suhr's angry face.
Since Suhr didn't win the gold medal and won a silver medal instead, he looked unpleased & angry.
In addition, for his harsh reaction, the whole of America wanted Suhr to fire her coach.
However, she defended her coach, saying that those intense reactions were because she had questioned him about her performance.
Also, she further said that it was a one-to-one coach and athlete conversation. She wasn't pleased with the public demanding her to fire her coach.
Jenn Suhr: Retirement
After years of pole vaulting, Jenn Suhr had a downfall after falling ill during the 2016 Rio Olympics. She couldn't perform well due to her sickness and performed relatively average.
Gradually, she started to lose her drive and passion for the sport.
Finally, she didn't want to vault anymore and traveled to East Texas to spend her leisure time. Meanwhile, she tried to find her passion for the sport again.
In 2017, Suhr had announced her retirement, not making any promises for a comeback.
However, she came back more robust in the 2018 games and broke the Prefontaine Classic meet records.
Also, in 2020 she competed in the US Nationals and ranked second.
Jenn Suhr: Net Worth
American top-ranked pole vaulter Jenn Suhr is estimated to have a whopping $1 million – $5 million net worth.
She lives a luxurious life from the earnings of her 17 years career in the pole vault.
The pole vaulter had earned a good income from her wins in multiple championships. According to stats, a US gold medalist receives $37,500 prize money.
As for silver and bronze, the medalist bags $22,500 & $15,000, respectively.
Further, she has a winter home in New York and wishes to buy properties in the East Texas.
However, information about her exact salary and her properties is not known.
You can also learn about The 30 Richest Athletes in the World.
Jenn Suhr: Personal Life
Jenn Suhr is happily married to Rick Suhr since 2010. He was formerly a high school wrestling champion and is a renowned pole vault coach as well.
Rick coached Jenn Suhr for the longest time since her debut. Soon their professional relationship turned into love, and they decided to get married.
They tied the knot in Rochester with the presence of their loved ones on the 3rd of January, 2010.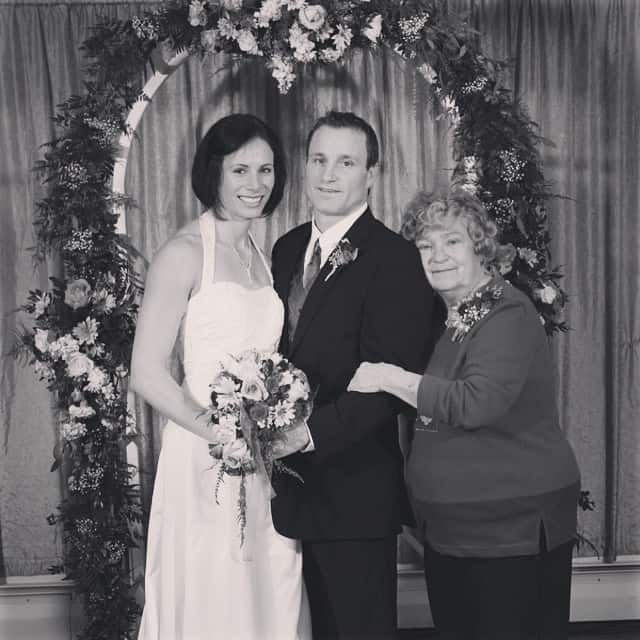 As for Suhr's interests, she loves vegetables like steamed cauliflower and broccoli.
In addition, she loves lemon and eats it often. Moreover, she is an animal lover and loves to watch the wildlife.
She had a pet dog named Tundra, which was a Great Pyrenees breed. Also, she used to have a cat named Morris.
Also, she saved a deer's life once in 2011 and watched over it for a while.
Then, she entrusted the deer with fostering care and later realized that keeping a deer as a pet was illegal.
Suhr has some interesting hobbies, which include boating and camping. Besides, she speaks Spanish very well.
Jenn Suhr: Social Media
American pole vaulter Jenn Surr has a massive following on her social media handles.
She is active on Instagram with over 28.9k followers. On the site, Suhr shares photos of her professional career. Also, she posts pictures of her pets and her travels.
Suhr is present on Twitter with over 14.6k followers. In addition, she joined Twitter in February 2012.
She retweets things related to pole vaulting. Besides, she tweets exciting stuff.
Moreover, Suhr has a following of over 26k on Facebook. So we can see a lot of pictures of her dog Pyr and her cat.
Suhr seems to be an outgoing person and loves to share her life with her fans. Therefore, she is very active on all the big social media platforms.
Both Suhr and her husband are very vocal about their thoughts. They have raised their voices against the injustice in the Track and Field.
The couple admitted that they have seen cheating and corruption happening at the upper level.
FAQs
Is Jenn Suhr going to retire?
No, currently, Suhr plans to compete in the championship and doesn't wish to retire.
However, in 2017, she had planned to retire as she lost her interest in the sport.
How much does a Track and Field Athlete earn?
The top US athlete earns around $50,000 yearly.
However, the average earning of a track and field athlete comes down to $15,000.