Armand Duplantis: Early Life, Career & Net worth
Armand Duplantis is an American-born and Swedish pole vaulter. Even his siblings are also involved in the athlete.
Undoubtedly, Armand is widely famous as the current world indoor and outdoor record holder.
Surprisingly, his parents are also from a sports background.
So, how well do you know about Armand Duplantis? In the article, you will find detailed information about him.
Quick Facts
Here are some quick facts about Armand Duplantis:
Full Name
Armand Gustav Duplantis
Nick/Celebrated name
Mondo Duplantis
Date of birth
November 10, 1999
Birthplace
Lafayette, Louisiana, United States
Age
24 Years old
Parents
Father's name- Greg Duplantis
Mother's name- Helena (nee Hedlund)
Siblings
Brothers – Andreas Duplantis and Antoine Duplantis
Sister – Johanna Duplantis
Nationality
American / Sweden
Ethnicity
Cajun
Zodiac Sign
Scorpio
Height
5 ft 11 in
Weight
79 kg (174lbs)
Body Type
Athletic
Eye Color
Blue
Hair Color
Light brown
Sexual Orientation
Straight
High School
Lafayette High School
University
Not available
Martial Status
Unmarried
Girlfriend
Desire Inglander
Children
Not available
Profession
Athlete/Pole vault
Achievements and Titles
Indoor 6.18 meters World Record (Glassgow 2020)
Outdoor 6.15 meters World Record (Rome 2020)
Representing Country
Sweden
Club
Upsala IF
Coaches
Greg Duplantis
Helena Duplantis
Sponsors
Redbull, Puma, Omega, Pole star cars
Salary
Unspecified
Net worth
$4 million
Year active
2009- present
Merch
Not available
Social Network
Instagram, Twitter
Pole Vault Merch
T-Shirt, Personalized Ornament, Coffee Mug
Last update
November, 2023
Armand Duplantis: Early Life and Family Background
Interestingly, Armand was born into an athletic family. He was born to Greg and Helena on November 10, 1999.
His father is of Cajun descent. Similarly, his mother is Swedish. Moreover, his father is a former pole vaulter with a personal best of 5.80 m.
While her mother is a former heptathlete and volleyball player.
In addition to this, he grew up with his older brothers, Andreas and Antoine, and his younger sister, Johanna.
Subsequently, they are also involved in sports.
Evidently, he was born and grew up in an English-speaking household. However, he is fluent in Swedish as his second language.
His mother has stated that he was really shy about speaking Swedish.
His mother was engaged in different sports events. However, his mother used to give him extensive lessons over Skype.
In contrast, this helped him to improve his fluency and confidence to speak in public. Consequently, he was fluent by 2020.
By 2021, he was completely comfortable doing full Swedish-speaking interviews.
Duplantis extended that he was a relief when he won the Jerringpriest in Sweden in 2020, and the Swedish people accepted and embraced him.
Armand Duplantis: Education Background
Armand attended school at Lafayette High School.
Unfortunately, there is no further information on his senior-level education. However, he might be pursuing his University level senior education.
You may be interested in reading Stephen Hendry, seven times World Championships, and nine seasons winning snooker player from Scotland.
Armand Duplantis: Body measurements
He is really concerned about his physical appearance and maintains his athletic body.
The athlete stands 1.81 meters (5 ft 11 in) tall. Likewise, he weighs around 79 kg (174lbs). Similarly, the November-born athlete zodiac sign is Scorpio.
Nonetheless, due to his continued training, his body shape is in perfect shape and size.
Likewise, his hair color is light brown. In addition, the pole vaulter has a beautiful pair of blue eyes.
Armand Duplantis: Career
Early Steps
Armand was just three years old when he first tried pole vaulting at his home. Moreover, he continues to practice and set the first age group world record best at seven.
Surprisingly, his jump was 3.86 meters. Likewise, he kept setting the record and as well as surpassing his own record.
Furthermore, he holds the world's best record in all age groups from seven to age 12. Likewise, he held another record at 13.
Moreover, he set national freshman records indoors and outdoors during his freshman year at Lafayette High School in 2015.
Therefore, he was then named Gatorade Louisiana Boys Track & Field Athlete of the Year.
Similarly, he set new age-16 world best, world indoor youth best, and national high school indoor record in Baton Rouge in 2016.
Evidently, he was the first high school athlete to vault 18 feet indoors. However, Emmanouil Karalis broke his record only a week later.
Professional Career
Nevertheless, having American and Swedish citizenships, he announced in 2015 that he would represent Sweden.
Interestingly, Armand jumped 5.75 meters to set the 2017 World Indoor Junior Record and was ratified by IAAF.
Again he jumped and improved to 5.82 meters. However, it was not ratified due to incorrect peg lengths being used.
Furthermore, he jumped again and was 5.90 meters. Improving his own personal records, he set the new record.
Surprisingly, it became a Swedish Senior Record holder by 3 cm. In addition, USATF also ratified his mark as the American Junior Record.
Moreover, he improved his record to 5.88 and reached 6.05 meters at the 2018 European Athletics Championships. Consequently, it ranked him the 5th best pole vaulter and 2nd best outdoors.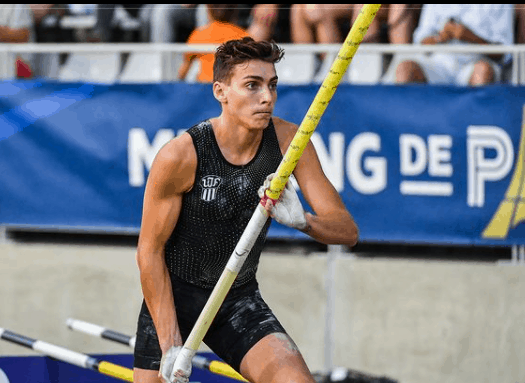 Armand managed to rank 2nd at the 2019 IAAF World Championships in Doha. Clearly, he cleared 5.97 meters on his third attempt.
Interestingly, he set two new world records in 2020. Surprisingly, he cleared a height of 6.15 meters to claim the outdoor world record.
Regarding his indoor world record, it is 6.18 meters which he set in February 2020
In addition, he competed at the 2021 European Indoor Championships and made three unsuccessful attempts to break his own world record at 6.19 meters.
Similarly, he also participated in a year-delayed 2020 Olympics in Tokyo. Moreover, he won gold.
In 2021, the athlete won the Paris Diamond League with a clearance of 6.01 meters.
Armand Duplantis: Controversy
Surprisingly, the young, energetic, and rising athlete has managed to keep his profile clean so far.
You may be interested to learn about Gabriel Medina.
Armand Duplantis: Coach and Training
Surprisingly, his won parents are his coaches since they are also athletes.
Decidedly, Armand has divided his year into summer and winter.
For this reason, he spends his winter in Louisiana and summer in Upsala for the best possibilities of his training.
Armand Duplantis: Diet
Obviously, the coaches and nutritionists will preach the importance of green vegetables and nutrition.
However, it is completely different in the context of Armanda. But, conversely, he does not like green vegetables.
Interestingly, he hates sticking with the diet and everything.
Surprisingly, he has confirmed that he ate candy before the jump in Texas Relays.
Previously, he used to consume a lot of fried chicken during his college year. However, he has changed his diet since 2020.
Also, you may be interested to learn about the American health professional Ryan Marie Carney.
Armand Duplantis: Achievements
Clearly, Armand is a Gold medalist of the 2015 World Youth Championships, Cali.
Apart from this, he has also won the major tournaments in the junior category as well.
Similarly, the pole vaulter won the Bronze in the 2016 World Junior Championships. Furthermore, he won Gold in the 2017 European Junior Championships in Grosseto.
Likewise, Armand managed to win the Gold in the 2018 World Junior Championships.
Subsequently, in the same year, he won Gold in the 2018 European Championships in Berlin.
Sadly, in the 2019 World Championships, he was able to grab the Silver.
Interestingly, the athlete represented Sweden in Tokyo's 2020 Olympic Games and won the Gold medal.
Consequently, he was awarded the Svenska Dagbladet Gold Medal for "the most significant Swedish sports achievement of the year."
Furthermore, he won the Meeting Hauts de France Pas de Calais on February 19, 2020.
In addition to this, Duplantis also won All-Star Perche in Clermont-Ferrand by clearing 6.01 meters.
Similarly, he won Gold in the recent 2021 European Indoor Championships, Torun.
As of 2021, he is currently the number 1 ranked pole vaulter in the world.
Armand Duplantis: Relationship Status
Mondo is recently dating a Swish model. Her name is Desire Inglander.
Furthermore, she is based with Istanbul and London-based Voce Model Agency.
Initially, he confirmed in a magazine that they met on midsummer eve and are together and later on posted on an Instagram account.
Armand Duplantis: Net worth
Armand has earned a pretty handful amount of money from his career. However, he keeps his salary and income private.
Nevertheless, it is estimated that Armand Duplantis's total net worth is around $4 million.
You might be interested in reading about Devon Larratt: Special Forces, Wife & Net Worth.
Armand Duplantis: Social Media
Armand is not an active social media user.
However, he is on Instagram with around 358k followers. Similarly, his account is verified.
Undoubtedly, his posts are about his professional and personal life.
Similarly, his Twitter account username is @mondohoss600. He has around 30k followers. However, he is not much on Twitter.
Frequently Asked Questions (FAQs)
Why is Armand Duplantis called Mondo?
His nickname Mondo was given by his father's Italian friend at a very young age.
The word means World. Eventually, it stuck among people as he was often called Mondo.
Where did Armand Duplantis break the pole vault record?
Armand managed to break the pole vault record at the Rome Golden Gala Pietro Mennea Diamond League Rome.
In addition, he broke Renaud Lavillenie's Indoor record and Sergey Bubka's Outdoor record.
What nationality is Mondo Armand?
Interestingly, Mondo has dual citizenship. He is a Swedish and an American.