If you are on social media and follow top models on Instagram, I am sure you must have heard Niece Waidhofer.
For those who are not following the models on social media. Let me tell you about one of the top models on Instagram who likes to cosplay as well.
Niece Waidhofer is an Instagram model who likes to cosplay different characters, wear unique clothes and take pictures in various settings.
She is very popular for being bold in her pictures, and with that fantastic body of hers, she managed to gather many followers on her social media accounts.
Have you heard of someone getting famous because they are getting roasted on the internet? Well, Niece Waidhofer is that person.
She gained a tremendous amount of fame from her roast me challenge on Reddit.
Before we dive into her story, let's look at some facts about her.
Quick Facts
| | |
| --- | --- |
| Full Name | Deniece Waidhofer |
| Nickname | Neice Waidhofer |
| Famous As | Cosplayer, Instagram model, Bikini model |
| Date of Birth | 27 August 1990 |
| Place of birth | Huston, Texas, USA |
| Residence | Unknown |
| Age | 32 Years Old |
| Zodiac Sign | Virgo |
| Nationality | American |
| Ethnicity | White |
| Religion | Christianity |
| Father's Name | Not Available |
| Mother's Name | Not Available |
| Siblings | Unknown |
| Profession | Model, cosplayer |
| Height | 5 feet 2 inches |
| Weight | 121 lbs |
| Hair Color | Black |
| Eye Color | Dark Grey |
| Relationship Status | Committed |
| Boyfriend's Name | Mike Evans |
| Education | Unknown |
| Net worth | $100,000 |
| Hobbies | Reading, Photography |
| Favorite Color | Black |
| Video Games | The witcher |
| Social media | Instagram, Facebook, Tiktok, Reddit |
| Merch | Striplv Issue 0620 |
| Last Update | 2023 |
Niece Waidhofer: Early Life, Family, and Education
The gorgeous model was born on the fateful day of August 27 in 1990.
She was born in Huston, Texas, and she grew up in Huston for her early childhood. Similarly, there isn't much information about her childhood days or parents.
She seems like she is not comfortable with revealing information about her early life and parents. She wants her parents to live a life without any media bothering them.
There is no information if she has siblings or she is the only child either.
Moving on to her education, she has not revealed much information about it either.
In her college days, she intended to attend nursing classes, aiming to become a nurse.
Still, unfortunately, she was not able to pursue that career due to some unforeseen circumstances.
<<Shannon Harris: Wedding, Boyfriend & Net Worth>>
Nationality, Ethnicity, and Horoscope
Niece is an American as both of her parents are from America, and she was born and raised in the USA, which makes it clear that she has an American citizen.
Similarly, She belongs to white ancestry.
Furthermore, her star sign is Virgo. Virgos are usually known for being perfectionists but practically.
Honestly, Niece seems like a perfect fit for that description.
Height, Weight, and Physical Appearance
The beauty, Niece, has a fantastic body and aesthetic face.
Her gorgeous face and body are some of the reasons for her massive success as an Instagram model.
Niece stands at 5 feet 2 inches tall. Even though that's not quite tall, she has made it work out for her.
Similarly, Niece weighs about 121 lbs.
The American beauty has terrific long black hair and dark grey eyes, which complements her beauty and looks further gorgeous.
She has body measurements of 33 inches of bust, 24 inches of waist, and 34 inches of hips.
Unfortunately, there isn't any information about her dress size or shoe size either.
Nevertheless, a perfect body for a model, don't you agree?
Niece Waidhofer: Career
There is no exact information about when Niece started her career, but she first started on Reddit and later moved to Instagram.
Niece is a very energetic and expressive person, and this habit of her helped her gather a lot of followers.
She has never been afraid of showing off her body, and she is also open to the idea of nudes. She posts different kinds of cosplay pictures that she does in different settings and locations.
When she was on the rise, she also got featured on the homepage of Reddit, which added to her fame even more.
Moving on to Instagram
She went uphill from there and got way more popular, and she went on to create an Instagram account in October 2014.
She created her account and started to post various pictures of herself and her daily activities.
Moreover, she already had a pretty big fanbase on Reddit; she had no trouble getting famous on Instagram.
The fans followed her, and she already had a large following on Instagram as well.
Then she started posting her cosplay pictures and showing off her beautiful body, which resulted in many new followers.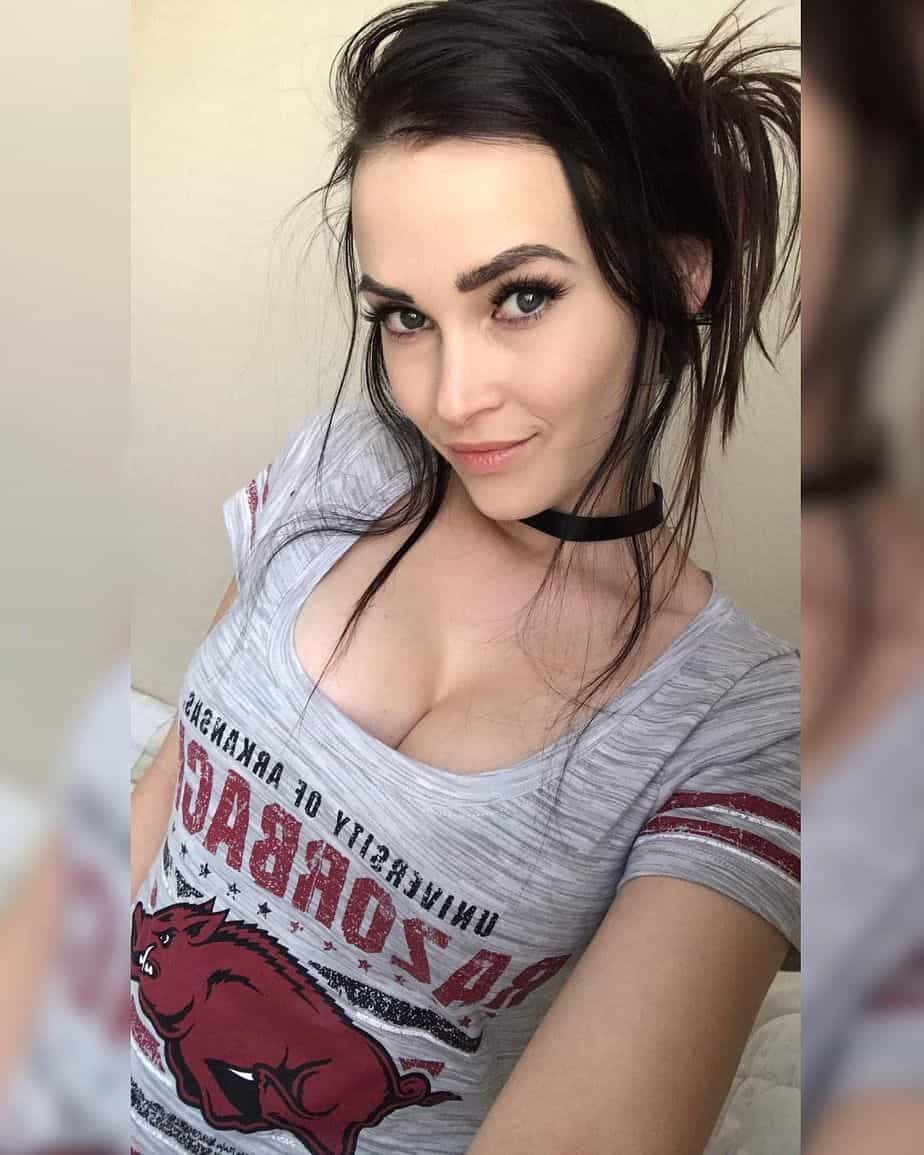 As she was getting more fame, she started to do Modelling, the big brands noticed her.
She was recognized by one of the famous modeling agencies in the US named 'Mayhem.' Waidhofer worked as a bikini model for the agency and did many photoshoots with them.
She then went on to feature on the cover page of VanQuish magazine for two straight issues.
Similarly, she was also featured in other famous model magazines like Vogue and Allure.
You might be interested in reading about Sarah Williams.
Movies
The glamorous diva has also played vital roles in two movies throughout her career.
One of her childhood dreams was to work as an actress, and she has managed to achieve it.
Miss Waidhofer starred in the 2011 movie 'Project Aether' and the 2013 movie 'The Legend of darkhorse County.'
She starred as Anna Rothschild in The Legend of darkhorse County.
She did a fantastic job in both of those movies, which led her to gain many followers.
Niece Waidhofer: Onlyfans and Lawsuit
When an online celebrity starts their account on Onlyfans, people mostly expect it for sexual purposes.
However, that does not appear to be the case for Niece Waidhofer.
Niece opened her only fans account for exclusive content such as cosplay pictures and others.
Even though she is pretty open to the idea of exposing her body to the public, she has not posted any nudes on her only fans' accounts as of now.
She has over 441K followers on her only fans account, and she has posted over 785 pictures and 48 videos.
To view the contents on her account, you need to pay the fee of $14.99 every month.
She posts her exclusive pictures and videos that are not available on the internet except on only fans' accounts. However, her fans seem to be pretty pleased with her content.
A few months ago, a hefty lawsuit took place between Niece Waidhofer and a site called Thothub.
Niece sued the site for allegedly posting her Onlyfans content on their website without any permission.
They accessed her content by paying $14.99 and made it available to others for free by posting on their site.
This illegal action had caused harm to Niece's reputation and a lot of monetary damage. Many users saw her pictures that were supposed to be exclusive of Thothub for free.
Niece had every right to get angry and file a lawsuit. But, instead, she went on Instagram to express her thoughts and posted a photo.
She addressed why she filed the lawsuit, and she also expressed her anger towards online pirating.
Soon the website, Thothub, was taken down, and it all came to a rest.
Niece Waidhofer: Reddit Controversy
In early 2017, Niece started a challenge where she held a piece of paper to write 'Roast me' and posted it on Reddit.
As we all know, the internet can be a cruel place sometimes.
Niece got to experience that first hand when she decided to do this challenge.
She thought it would be humorous and funny, but some people just crossed the lines with their jokes and insults.
The people were really over the top and criticized her for everything she had done till that point.
She went to Instagram to address the situation and let her fans know she wasn't affected by it and appreciated the funny roasts.
Niece Waidhofer: Relationship
Niece is not the type of person who would reveal everything she has been up to in her personal life, and one of those things is her relationship.
She has not given any information about her relationship. And as she tends to be very private when she is asked about her relationship.
It is clear that Niece is not married yet, but as for the relationship, it is rumored by many sources that she is currently dating Mike Evans.
It is just speculation, though, and Niece has not said anything about it publicly or revealed if it is true or false.
Being the gorgeous woman she is, she is probably looking for someone up to her standards.
And if the rumor is true about her dating Mike Evans, they would make a great couple.
Niece Waidhofer: Net Worth
Niece is a rising star and one of the most popular Instagram models out there right now.
We would expect that she is making banks from all the modeling and other stuff she is doing.
"It is estimated that Niece Waidhofer has the net worth of $100,000."
Niece has earned a lot of money from her modeling career, and as of now, she is also on Onlyfans, which her fans pay to get the exclusive content that she is putting out.
It is speculated that she is paid $2000 per Instagram post.
We can estimate that her net worth is going to skyrocket in the coming years.
Niece Waidhofer: Social Media
Niece is an internet celebrity, so it is evident that she has many followers on her social media account.
She is the most popular on Instagram, as she has 3.8 Million followers on Instagram.
Similarly, she has about 47K followers on Facebook.
Unfortunately, her Twitter account is suspended for some reason, so we cannot see any of her followers.
Finally, on her Tiktok account, she has about 49.1K followers.
She is very active on most of her social media account, and Instagram being the most.
Similarly, she is also active on Reddit.
Niece posts a lot of pictures of her in a bikini.
She also posts cosplay pictures with different settings.
Niece Waidhofer: Fun Facts
She was born on Monday.
The Instagram model gets paid $2000 per post.
She has dark grey eyes.
Miss Waidhofer is also a cosplay actress.
She cosplayed Laura Croft from Tomb Raider on her Instagram in August of 2018.
Neice is associated with Katelyn Runck.
FAQs
Does Niece have any pets?
No, she doesn't have any pets.
Does Niece Waidhofer have any tattoos?
Yes, she has Pistol Tattoos.