Phoebe Cates: Family, Career & Net worth
Her scene was termed 'the most iconic bikini drop in the history of the movie' for the movie Fast Times at Ridgemont High.
Yes, we are talking about the iconic actress Phoebe Cates.
Phoebe Cates is an American actress and singer who has disappeared from the screen for a long time.
Phoebe is famously known in the movie industry for her role in movies like Gremlins, Fast Times at Ridgemont High, and Drop Dead Fred.
Even though Phoebe was an actor most of her life, she originally started modeling.
But, one way or the other, Phoebe found her true self by being in front of the camera.
Phoebe is not only successful in her professional life but equally blessed in her personal life.
She is married to actor Kevin Kline with whom she shares two children.
This article will find all you need to know about the stunning actress Phoebe Cates.
Quick Facts:
Here are some quick facts about Phoebe Kline.
| | |
| --- | --- |
| Birth name | Phoebe Belle Cates |
| Other names | Phoebe Cates Kline, Phoebe, Cates, Kline |
| Date of birth | July 16, 1963 |
| Age | 60 Years Old |
| Birthplace | New York City, US. |
| Religion | Christian |
| Nationality | American |
| Ethnicity | Russian-Jewish, Chinese-Filipino |
| Education | Julliard School |
| Profession | Actress and entreprenuer |
| Current Status | Retired |
| Current business | Blue Tree |
| Debut year | 1980 |
| Active Years | 1982-1994, 2001-2016 |
| Father's name | Joseph Cates |
| Mother's name | Lily Cates |
| Relatives | Gilbert Cates |
| Zodiac sign | Cancer |
| Height | 5 feet and 7 inches |
| Weight | 130 lbs |
| Spouse | Kevin Kline |
| Children | 2: Greta Kline, Owen Kline |
| Body Measurement | 35-24-35 inches |
| Hair color | Black |
| Eye color | Black |
| Net Worth | $ 35 million |
| Sexual Orientation | Straight |
| Marital Status | Married |
| Salary | $210 thousand |
| Social Media | None |
| Last Update | October 2023 |
Phoebe Cates: Early Life
Phoebe was born on July 16, 1963. She was born in New York City of, the United States of America. She was bred and brought up in a city that never sleeps.
Her father's name is Joseph Cates, and her mother's name is Lily Cates.
Joseph Cates was a major broadway producer and pioneering figure in television.
He helped create the TV show called The $64,000 Question while her mother was a homemaker.
Phoebe was born into a family of television and Broadway insiders.
Her late uncle Gilbert Cates produced multiple television specials. With the partnership with his brother Joseph, he had earned many Academy Awards.
Phoebe is the only child of her parents, which means that they spent all the time they could with her.
Her parents provided her with very good guidance and all the attention and nurturing in the world.
Phoebe was never shy of the camera, and she knew she wanted to be a model from a young age.
So when the opportunity arose when she was just ten years old, she took it.
At the age of ten, she modeled for Seventeen magazines.
She also modeled for other teen-oriented magazines. Phoebe, along with modeling, had a passion for dancing.
She loved to watch the ballerinas in the show and aspired to be a dancer onstage like them.
Even though she did have a shot at her modeling career, she soon gave up because she disliked it.
The model felt she was doing it for the money, and its repetitiveness soon bored her.
Education
For her high school education, Phoebe first enrolled at the Hewitt School.
But since she had a passion for dancing, she applied to the School of American Ballet.
With her talents, she was selected, and she transferred soon after.
But at the age of 14, she had to drop out of the School of American Ballet because of a knee injury.
The incident crushed her, but she was not going to give up on schooling.
She joined Professional Children's School, from where she graduated with her high school degree.
Then when the time came for her to choose a college, she chose one of the most prestigious institutions.
She went to Julliard School. She graduated with her college degree in 1985.
Phoebe Cates: Physical Appearance
Phoebe is known for her striking good looks. She is five feet and seven inches tall, and she weighs around 130 lbs.
Her body measurement is 35 inches in the chest, 24 inches in the waist, and 35 inches in the hips.
The model has a shoe size of 7.5 in the US and 6 in the UK.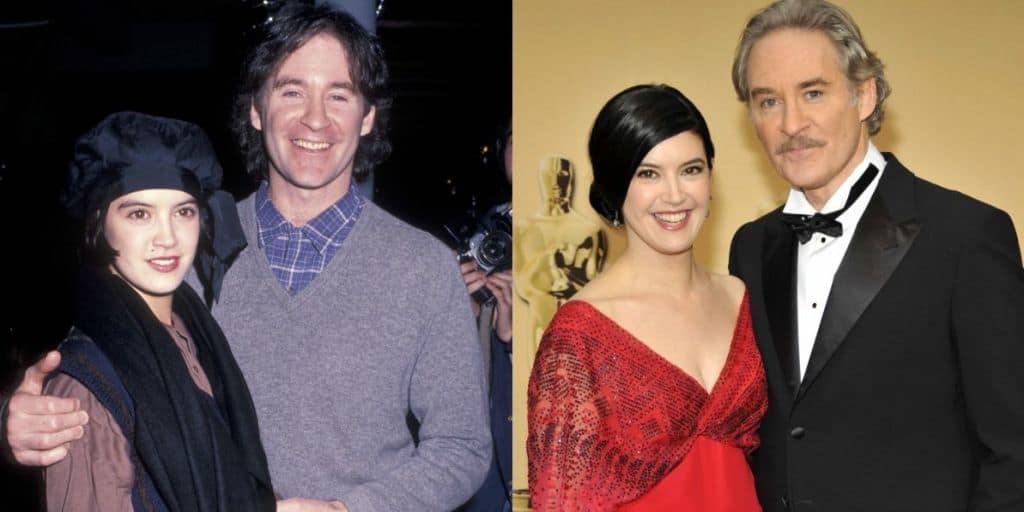 Phoebe has black hair and similar black eyes.
She has a fair skin complexion. And despite having two kids now, she has still maintained her body figure.
Phoebe Cates: Personal Life
Phoebe Cates is an American citizen. However, she is Jewish when it comes to her religion.
Talking about her ethnicity, her father and maternal grandmother are of Russian- Jewish descent, while her maternal grandfather is of Chinese-Filipino descent.
Her mother was born in Shanghai, China. So Phoebe has encountered cultures from all over the world.
And her ethnicity can be classified as mixed race.
Born in July, Phoebe is a Cancer regarding zodiac signs.
Cancers are water signs and are often in tune with their emotional sign.
Cancer has traits such as being intuitive, loyal, caring, and moody.
However, while the Cancerians are very protective over their loved ones, they are also very sensitive and vindictive.
Cancers are relentless and wildly imaginative. This trait is seen with Phoebe Cates, who does not rest when it comes to her tasks.
Husband
Before meeting the love of her life, Phoebe was in a relationship with film producer Stavros Merjos.
They were in a live-in relationship till 1979, when they broke up.
Then in an audition venue, she met Kevin Kline in 1983.
But they were dating different people when they met. However, they did remain friends for the next two years.
And when the time was finally right, and both of them were single, they decided to go on a date. Then sparks flew around the room as chemistry brewed.
The couple immediately started dating and were inseparable.
After dating for more than four years, Kevin decided to pop out the ring, and Phoebe was happy to say yes.
The wedding took place on March 5, 1989, in New York, and only close family and friends were present to bless the couple.
Kevin Kline is also an actor by profession. But he is thirteen years older than Phoebe, but she did not seem to mind the age gap.
Ever since they have been married, there have been no rumors of affairs or rumors of conflicts.
It seems like the two are still in deep love to this day.
The Klines moved to the Upper Eastside of Manhattan, where they decided to raise their family.
They welcomed their first child Owen Joseph Kline in 1991, who has now followed his parent's footsteps to become an actor.
Their second kid is named Greta Simone Kline, who was born in 1994 and is now pursuing a musical career under the stage name Frankie Cosmos.
<<Tony Alva: Early Life, Wife & Net worth>>
Phoebe Cates Professional Career
Initially, Phoebe started her career with modeling, but she decided to pursue an acting career later.
The model auditioned for the movie called Paradise, and she was immediately selected.
But she was uncertain about the nudity scene in the movie. But when she consulted with her father, he encouraged her to take on the role.
So just at the age of 17, she was cast in her first movie, and she did frontal nudes scenes as a minor. She also sang the theme song of the movie.
And when the movie came out, she regretted doing the role.
Phoebe said that she learned never to do a movie like that. So the actress did not do any promotion for the movie and was not proud of it.
Later the same year, she got a role in the movie Fast Times at Ridgemont High, where she did the most iconic bikini drop in movie history.
She said that she had fun filming the movie.
Additionally, Judge Reinhold, Seann Penn, Jennifer Jason Leigh were cast alongside Kates in the coming-of-age drama film.
The consequent year she went on to play in the movie Private School for which she sang two songs called How do I let you know and Just one touch.
Then she starred in the mini-series called Lace which was based on the novel by Conran.
All the audience applauded her portrayal of the role of Lili, and her line 'Which one of you is my bitches now?' was the best line in TV history, according to a TV guide in 1993.
She also starred in the prequel called Lace II. At this time, Phoebe was taking a break from the sameness of the movie.
Return to the movies
Phoebe returned to the movies with the 1984 movie called Gremlin, whose executive producer was Steven Speilberg.
She played in the movie's sequel called Gremlins 2 since it was the highest-grossing film of her career.
Phoebe debuted in off-broadway too. She debuted with the play called The Nest of Wood Grouse in 1984.
Then the same year, she enacted in the play called Rich Relations.
The actress finally made her Broadway debut with Paddy Chayefsky's The Tenth Man at the Vivian Beaumont Theater.
Phoebe then continued with movie roles in Date with an Angel and Bright Lights, Big City.
In addition, she is known for her role in Drop Dead Fred.
Likewise, the 1991 film was produced by Paul Webster and is rated 5.9 by IMDb.
Additionally, Phoebe Cates and Rik Mayall are the leading actors in the movie, which was produced on a budget of $6.8 million.
Rik and Phoebe show great chemistry in the movie despite being low-rated.
In 1994 she gave up acting after her movie Princess Caraboo with her husband Kevin Kline to raise her children.
However, she returned to the movies as a final favor for her friend Jennifer Jason Leigh who directed the movie The Anniversary Party.
After quitting the movie industry, Phoebe has ventured into the world of business.
She has opened a variety shop in New York called the Blue Tree.
The stores sell various fragrances, toys, dolls, and gifts.
<<Andre Agassi's Net Worth: Charity & Investments>>
Phoebe Cates: Net Worth
From her amazing journey on-screen, Phoebe has gathered not only fame but also fortune.
The actress has earned quite a good fortune from her acting career.
Phoebe Cates has an estimated net worth of approximately $35 million.
Reportedly Phoebe earns more than $210 thousand each year as salary.
The Kline family lives a comfortable life in their house in California, with her husband's combined net worth, who is also worth tens of millions.
<<Rahki Giovanni: Workout, Career & Net Worth>>
Phoebe Cates: Social Media
Phoebe Cates is not active on any social media platform as of now.
FAQs
What does Phoebe Cates' boutique Blue Tree sell?
Phoebe's company Blue Tree sells various items from socks to engagement rings!
Some of the variety found in Phoebe's great business are:
Clothes
Accessories
Jewelry
Decor
Board Games
Lucite
Gifts
Additionally, the site sells top-quality engagement rings for both him and her.
Will Phoebe return to the movies?
No, Phoebe has quit her acting career.
Are Phoebe Cates and Kevin Kline still married?
Yes, the couple is still happily together since 1989.