Richard Osman Kids are Ruby and Sonny. He is a famous English television host, producer, novelist, and comedian.
He invented and co-presents the quiz show Pointless, which airs on BBC One.
He has hosted the game programs Two Tribes and Richard Osman's House of Games on BBC Two, in addition to serving as team captain on the comic panel shows Insert Name Here and The Fake News Show. He has made multiple appearances on British panel shows.
Before becoming the creative director of the television production business Endemol UK, Osman worked at Hat Trick Productions with Ben Smith, producing such programs as Prize Island for ITV and Deal or No Deal for Channel 4.
The Thursday Murder Club (2020), The Man Who Died Twice (2021), and "The Bullet That Missed" is his crime thrillers (2022)
Richard Osman Kids Ruby And Sonny
Ruby and Sonny are two of Richard's children from his former marriage. The celebrity spoke candidly to The Times about making sure he spends time with the kids and trying to be different from his father, who left the family home when Richard was 10 years old. The couple split back in 2007.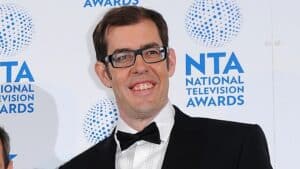 He said, " I thought, "Oh God, this is going to be dreadful," when my relationship ended. I never stopped seeing my kids. It was quickly realized that it wouldn't be the same, which is a remarkable relief. They know my affection for them, and I tell them constantly, to their utter boredom. However, I never heard that."
In a previous interview with The Guardian, he described the moment his father departed and said: "The worst thing anyone has ever said to me was when I was ten and my dad called us into the living room and told us he was leaving. Nobody has been able to surpass that. I still have a lot of that person in that room."
You may also be interested in: Is Millie Bobby Brown Related To Bobby Brown? Millie Bobby Brown Death Hoax Debunked- What Happened
Who Is Richard Osman Ex-Wife?
Sumudu Jayatilaka, a jazz vocalist, and Richard have been dating since 2018. However, it was just recently revealed that they had broken up.
Richard refused to say whether a romance in his most recent work, The Thursday Murder Club, was connected to Sumudu when they discussed it.
Richard Osman Relationship Timeline With Ingrid Oliver
Richard Osman, 51, sees Doctor Who actress Ingrid Oliver, 44. He said he knew he had found "the one" while gushing about his partner and declaring his desire to live out the rest of his days with her. The novelist and presenter divorced his wife in 2007, but he has since found love again with Ingrid.
He admitted, "I'm satisfied with myself, I've got these lovely kids, and I've met the woman I'm going to be with for the rest of my life," during the Christmas Day edition of Desert Island Discs.
"That idea of rivalry and ambition, you quickly realize that rocket fuel vanishes, and it's about happiness, and my kids provide me happiness, and Ingrid brings me happiness," he said.
Richard and Ingrid have both participated in his House of Games shows, and Ingrid is rumored to have moved into Richard's southwest London residence. Ingrid is well known for her role as Petronella Osgood in the BBC One science fiction series.
Ingrid, a star of the BBC comic show Watson & Oliver, is the daughter of Conservative MP Jo Gideon. In May 2022, the couple got engaged.
You may also like: Jenna Petty Parents: Dating History And Relationship Timeline With Harrison Burton