Stipe Miocic: UFC Heavyweight Title, Wife & Net Worth
Isn't it intriguing that we humans love watching people hurt each other? Be it Boxing or MMA; we enjoy it when a fighter gets knocked out cold.
One of the fighters in the MMA world widely known for destroying his opponent in the ring is Stipe Miocic.
Stipe Miocic is a Professional MMA fighter who competes in the Heavyweight division of the Ultimate Fighting Championships.
Miocic is a former two-time UFC heavyweight champion and is arguably regarded as the best heavyweight fighter of all time.
As of 22nd May 2021, Miocic ranks as the number one contender for the UFC heavyweight championship.
Additionally, he also ranks in the eighth position as the best pound-for-pound fighter globally.
Before getting into the UFC octagon, Stipe used to be a prominent boxer and a world-class wrestler.
He had won the Golden Gloves boxing champion and NCAA Division I wrestler at Cleveland State University.
In the octagon, he destroys his opponents with his excellent combination of boxing and wrestling.
Quick Facts
Let's look at some facts about the fighter before we get into this article.
Full Name
Stipe Miocic
Nickname
Stone Cold, The silencer
Date of birth
August 19, 1982
Place of birth
Euclid, Ohio, United States
Nationality
American
Ethnicity
Croatian
Religion
Unknown
Residence
Independence, Ohio
Age
41 Years Old
Height
6 feet 4 inches (193 cm)
Weight
109 KG
Skin color
White
Eye color
Grey
Hair color
Brown
Horoscope
Leo
Gender
Male
Sexuality
Straight
Education level
Graduate
School
Unknown
University
Cleveland State University and Trevecca Nazarene University
Father's name
Bojan Miocic
Mother's name
Kathy Miocic
Siblings
Jonathan (step-brother)
Marital status
Married
Partner
Ryan Marie Carney
Profession
MMA fighter
Team
Strong Style Fight Team
Rank
#1 Contender
Reach
203.2 cm
MMA Stats
Wins: 20
Loss: 4
Draw: 0
Division
Heavyweight
Injury
Eye Injury, Knee Injury
Knockouts(win)
15
Debut
2010
Net Worth
$4 Million
Social Media
Facebook, Twitter, Website, Instagram, Youtube
Merch
#Stipe Mug, T-Shirt, Men's Tank Top, Autograph Pictures
Last Update
December, 2023
Stipe Miocic: Age, Height, Weight, and Physical Appearance
Miocic is currently 41 Years Old.
Next, he stands at 6 feet 4 inches. He is a giant in the ring, but it is common for a fighter to be tall in the heavyweight division.
Similarly, he weighs 109 kilograms. With his height and weight, he can intimidate any other fighter.
The fighter has huge arms because of his tall height, and he has a reach of 203.2 cm.
Despite being huge, he has a muscular body and abnormal stamina and power.
He has brown hair and a pair of grey eyes.
Unfortunately, there was no information about his exact body measurements.
Stipe Miocic: Nationality, Ethnicity, and Horoscope
Miocic is American by birth.
Despite being American, he belongs from Croatian ancestry. Both his parents are Croatian immigrants.
Moving on to his horoscope, he falls under the Leo sign. Moreover, Leos are known to be aggressive and prideful. Miocic can surely relate to that.
Stipe Miocic: Early Life
Parents and Siblings
Stipe Miocic was born on August 19, 1982, in Euclid, Ohio.
Miocic was born to his father Bojan Miocic and mother Kathy Miocic. Both his parents were originally from Croatia.
His father was from Rtina in Croatia, and his mother was from Cetingrad, Croatia.
Unfortunately, Miocic's parents divorced and went their own way, and Stipe had to part ways with his father as he chose to live with his mother.
During the process of his parent's divorce, Miocic used to live with his grandparents.
After the divorce, his mother married another man, and after that, Miocic lived with his mother, stepfather, and stepbrother Jonathan.
Childhood and Education
Moving on to his childhood, Miocic was an athletic and sporty kid, as expected, and he was very competitive in every sport he participated in.
Since his early days, he was involved in numerous sports like baseball, wrestling, boxing, etc.
Recognizing his talent, his mother would always push him to be better and always supported him in any sports he decided to partake in.
While studying at Eastlake North High School, he used to play baseball, wrestling, and football, and around that time, he was the most prominent in baseball.
After finishing high school, when he joined Coker College, he used to play in division 2 of the baseball league.
And by the time he was studying at the Cleveland State University and Trevecca Nazarene University, he was pretty famous in the Baseball scene, and even Major baseball teams were showing interest in getting him on board.
He majored in communication studies at Trevecca University. While studying, he used to play on Jeff Forehand's baseball team.
Around 2005, he scored 344 with seven home runs and helped his team win the 2005 TranSouth Athletic Conference.
You may be interested to learn about Michael Boxleitner.
Stipe Miocic: Career
Early Career
After the successful 2005 season in baseball, he decided to take it easy in baseball and focus more on wrestling.
At first, he was hired as the wrestling training partner of Dan Bobish in Strong Style MMA Training Centre in Independence, Ohio.
Around that time, he also started training in the MMA fight style, but soon, he changed it and just focused on his boxing.
He started boxing and realized he was extremely good at it and put his mind to it. Just after a few months of training in the boxing ring, he was prominent at it.
He fought boxers with way more experience than him and still emerged victoriously.
Miocic then won the Golden Gloves award and participated in the national boxing tournament, but he was stopped in the quarterfinals, and that was his first loss.
Besides boxing, he was also involved in wrestling. He was an NCAA Division I wrestler at Cleveland State.
After getting proficient in boxing and wrestling, he finally started training in MMA again and began his MMA career from thereon.
He won his first six fights right off the bat, and all of them were knockouts.
While he was in Ohio, he also won the NAAFS Heavyweight Championship, an Ohio-based MMA promotion.
Joining the UFC
Around mid-2011, Miocic was signed by the rising MMA promotion UFC.
On June 14, 2011, it was announced that Miocic had signed a multi-fight deal with UFC.
Similarly, on October 8, 2011, Miocic made his UFC debut against Joey Beltran at UFC 136.
It was a close fight, and Miocic won it via unanimous decision.
Next up was Phil De Fries. Stipe was set to face Phil De Fries on February 15, 2012.
Both fighters trash-talked each other in the press conference, and it was a clown fiesta, but Miocic seemed to have the upper hand in the mental warfare.
The matchday approached, and Miocic earned the Knockout of the Night award on the fight day.
He decimated Phil De Fries with a first-round knockout and left the crowd in awe.
Then just a few months after, Miocic won again via knockout in the second round against Shane del Rosario.
Stipe's first loss of his career was against Stefan Struve on September 29, 2012.
Both fighters approached each other aggressively, but Stefan came on top and won via a TKO in the second round.
After his first loss, he did not despair but returned stronger and won his first fight after the loss via unanimous decision despite being the underdog in the fight.
He kept winning via unanimous decisions for the next fights, and then on May 5, 2014, Miocic won a fight via TKO against Fábio Maldonado.
He fought extremely well and earned the award for performance of the night.
On May 10, 2015, at UFC Fight Night 65, Miocic destroyed Mark Hunt and set a new record for the widest margin of strikes landed on his opponent, with the count of 361 of Miocic to 48 of Hunt.
Winning the UFC Heavyweight Title
After the continuous streak of wins and being the best performer of the night a few times, Miocic finally had the opportunity to face the UFC heavyweight champion, Werdum.
Miocic defeated Werdum via Knockdown in the first round. He caught Werdum with a short right hook and followed it up with countless numbers of quick punches.
This was Werdum's first loss since 2011, and with this outstanding performance, he won the award for performer of the night again.
Defending his Heavyweight title
After winning the title, he became a viable target for many prominent fighters in the division. The first one to challenge him for the title was Alistair Overeem at the UFC 203.
The fight was a quick but entertaining one.
Overeem knocked down Miocic around the first round and was the more aggressive one, but Miocic kept his calm and came back strong and knocked out Overeem later in the first round.
Next up was Dos Santos, and Miocic was starving for his revenge against Santos as he was defeated previously by him.
They faced each other in the octagon on May 13, 2017, at UFC 211.
Miocic had full control of Santos in the early round, but Santos also started retaliating with kicks, and it was getting intense. Still, Miocic ended it by knocking down Santos, getting on top of him, and pounding him.
He won the fight via TKO.
Miocic and Ngannou faced each other in the octagon on January 20, 2018, at UFC 220.
This was one of the most anticipated fights of all time because everyone predicted that Ngannou would rest to the win streak Miocic had.
Despite many critics predicting against him, Miocic emerged victoriously and retained his title after beating Francis Ngannou via unanimous decision.
Miocic was the aggressor throughout the fight and kept striking Ngannou throughout the match.
Miocic set the record for the longest title defense streak in UFC heavyweight history with this win.
Losing and reclaiming the title
After the Ngannou fight, the most anticipated fight of Miocic was with Daniel Cormier.
The fighters were set to face each other on July 7, 2018, in the main event at UFC 226.
Stipe was a clear favorite in the match as he had the advantage in height and reach, and it was his comfortable division, unlike Cormier.
Miocic surprisingly lost the fight via knockout in the first round, but it was a very controversial fight.
Cormier poked Stipe's eyes multiple times despite being warned by the referee, but he continued, and when Miocic's eye was closed, Cormier struck and knocked out Miocic.
Miocic lost his title in an unruly fashion, and he was furious that he lost the fight like that. He then got his rematch against Cormier, and in the rematch, Miocic wrecked Cormier.
Miocic won the fight via TKO in the fourth round, and up until the fourth round, Stipe consistently punched Cormier hard and landed many clean punches.
After this fight, a trilogy was requested from the Cormier side, and Miocic also agreed, and the third fight between Cormier and Miocic took place On August 15, 2020.
This time both fighters played it dirty and poked each other's eyes, but in the end, Miocic emerged victoriously and retained his title.
Recent title loss
On January 17, 2021, Miocic lost his UFC heavyweight title to his former opponent Francis Ngannou.
Miocic lost the fight via knockout in the second round.
It is not disclosed if there will be a trilogy between Miocic and Ngannou yet.
Statistics
Miocic has faced 24 opponents until the 22nd of May, 2021.
He has won 20 fights while losing only 4 fights.
Out of 20 wins, 15 of them are knockouts.
He is the number one contender for the UFC Heavyweight title.
Miocic has won the fighter of the night award thrice and performance of the night 5 times.
Stipe Miocic: Wife and Kid
Stipe is married to his lovely Ryan Marie Carney.
The couple has been married since 2016. She is a real estate agent, but she was a beautician and hairstylist before doing real estate.
She has also gone through nurse training.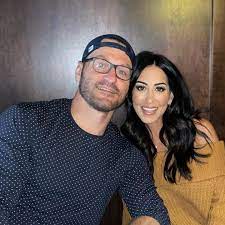 Miocic and Ryan have two children together. Meelah Claire Miocic and Mateo Cruz Miocic.
Meelah was born in 2018 and is just three years old as of now, and Mateo Cruz Miocic was born in 2021.
Miocic loves his family and enjoys spending time with his wife and kids.
Stipe Miocic: Net Worth
The 41 Years Old has earned a lot of money since his early days from various sports.
Though his main source of income over the years has been his bouts in the UFC octagon.
Stipe Miocic is Estimated to have the net worth of $4 Million.
Various companies like Modelo also endorse Miocic.
During his title defense matches, it was reported that he made over Million dollars per match.
And in the win against Daniel Cormier, Miocic reportedly made around $750,000.
Stipe Miocic: Social Media
Firstly, he has over 493.1K followers on his Twitter account.
Next, Miocic has gathered around 1.6 Million followers on his Instagram account.
Moreover, Miocic is followed by 345K people on his Facebook page.
Lastly, he also has a Youtube channel with 12.4K followers.
He also has his own official website.
Talking about social media, Joe Rogan also talked about Miococ in his YouTube video, where Joe states his feeling of Miocic being very underappreciated.
FAQs
What team does Miocic belong to?
He belongs to the Strong Style Fight Team.
Who is Miocic's trainer?
Marcus Marinelli trains stipe.
What stance does Miocic use?
Stipe fights in an orthodox stance.
What ethnicity is Stipe Miocic?
Stipe Miocic belongs to the Croatian ethnicity.