12 Best Gymnasts in the World Right Now
Gymnastics is one of the hardest sports globally. Today we will be looking at 12 individuals who are the best gymnasts in the world right now.
These athletes have been on top of the game for a long time and have achieved everything from national tournaments to Olympic medals.
Gymnasts must be physically and mentally tough to put their body and mind through strenuous practices and performances.
Let's look right into the list of 12 best Gymnasts in the world right now.
12 Best Gymnasts in the World Right Now
12. Gabby Douglas
On our list coming on number 12 is Gabby Douglas, an American artistic gymnast born on December 31, 1995.
Douglas is the first American woman who won both the team and individual all-around events in the Olympics.
Furthermore, Gabby is also the first African American woman to have won an all-around title. She achieved this feat in the 2012 Olympics Games in London.
One of her biggest achievements in gymnastics is her win in the World all-around silver medal in 2015.
As she continued her career-winning titles, she was nicknamed "The flying squirrel" for her ability to obtain extraordinary elevation while performing.
11. Mai Murakami
Next on our list is a gymnast from Japan. Mai Murakami is also an artistic gymnast and the champion of the 2017 World Champion on floor exercise.
After her win in the 2017 World Championship, she tried defending her title next year but unfortunately failed.
Despite failing, she still achieved all-around silver and a bronze medal in the floor exercise.
What's more amazing about her is that she is the four times national champion.
Also, she was the representative for Japan in the 2016 Olympic games.
She started her career at the early age of two; she has grown up to achieve many awards and medals.
Murakami is the first-ever Japanese woman to win a Gold medal in Olympics.
10. Nina Derwael
Nina Derwael is a Belgian gymnast known for her achievements in the World and European gymnastic championships.
Derwael is a two-times world and European champion on uneven bars gymnastics.
In addition, Nina is also a two-time national all-around champion and is one of the best gymnasts in the world.
Paving the way for other Belgian gymnasts, Nina is one of the first women from Belgium who made such an uproar in the international gymnastic world with her extraordinary skills.
Derwael has managed to win five gold, one silver, and one bronze medal throughout her career while representing Belgium in various international tournaments.
Unfortunately, in the 2020 Olympics, she couldn't perform her best and could not win any medals for her country.
<<Top 12 Insane Sports Riots in History>>
9. Manrique Larduet
Coming at number 9 on the list of best gymnastics in the world is Manrique Larduet, a Cuban artistic gymnast.
Larduet is widely known in the gymnast world for his achievement in the 2015 World Artistic Gymnastics Championships, where he secured a silver medal for his country.
Larduet specializes in high bars and all-around performance, where he can showcase all of his abilities to the fullest extent.
Manrique has acquired twelve gold, twenty silver, and four bronze medals in international tournaments. The scariest part is that Manrique is just 27 Years Old.
He will surely be able to climb higher in rank in no time soon.
8. Oksana Chusovitina
Oksana Chusovitina is one of the most interesting gymnasts on this list as she is the only one who has competed for three different counties in one career.
She has represented the Soviet Union, Uzbekistan & Germany.
Chusovitina is the oldest gymnast to have qualified for the Olympic games. She is still doing gymnastics at the age of 46.
Oksana is one of the most experienced gymnasts out there with a career of more than two decades.
In her long career of two decades, she has won nine gold, fourteen silver, and nine bronze medals in international tournaments.
7. Shang Chunsong
Coming up next is an extremely talented artistic gymnast from China, Shang Chunsong.
Chunsong is one of the most elite gymnasts in China who has represented her country in the 2013, 2014, and 2015 World Championships.
She is one of the most skilled gymnasts in the all-around format and has challenged various veteran gymnasts with her high skills.
Around 2015 and 2016, she was untouchable in China due to her outstanding performances. She was the national all-around champion in both those years.
While representing china, Shang has won four gold, five silver, and three bronze medals in international competitions.
6. Dipa Karmakar
Coming halfway across our list is an artistic gymnast from India.
Dipa Karmakar is the first woman to have won a medal at the Commonwealth Games for her country.
She is one of India's precious athletes. In addition, she is considered one of the best Gymnasts in her country.
Due to her achievements, she was also awarded one of the most prestigious awards in India, the Padma Shri's award.
Karmakar also became the first woman to represent her country in the summer Olympics in the last six decades.
Unfortunately, due to injuries, she was not able to participate in the ongoing Olympic games.
<<Top 16 Richest Golfers in the World>>
5. Artem Dolgopyat
Next on our list is Artem Dolgopyat, who is an Iranian artistic gymnast.
Rated as one of the best gymnasts in the world right now, Dolgopyat has shown his unique skills at the highest level of the game.
He has won one gold medal, two silver medals, and one bronze medal in the European Gymnastic Championships in his career.
The athlete has also participated in the Maccabiah Games in 2017 and won two gold medals and one bronze medal.
Artem is yet to win any gold medals in the World Championships, but he has managed to win two silver medals.
4. Danell Leyva
Next on our list is Danell Leyva, who is a Cuban-American Gymnast.
Leyva has represented the United States in two Olympics, and in those two Olympics, he has managed to win 2 silver, one bronze medal.
Danell started his career with a flash by becoming the youngest gymnast on the US senior national team. He was just 17 years old.
Leyva is often known for his skills on parallel bars and high bars.
In international tournaments, Leyva has managed to win four gold medals, four silver medals, and three bronze medals.
3. Sam Mikulak
Coming at number three, we have Sam Mikulak, an American Gymnast. He is the winner of the 2019 Longines Prize for Elegance title.
Moreover, Mikulak is also a six-time United States national all-around champion.
Besides those wins, Sam is also an eight-time NCAA champion.
Around 2010-2014, Sam won various awards in all categories of the NCAA Men's Gymnastics Championships.
Mikulak also won four gold medals at the Pacific Rim Championships, and Sam is competing in the 2020 Olympic games.
<<Top 12 Hardest Sports in the World>>
2. Kohei Uchimura
Coming up as the runner-up on our list is the superman of Japan, Kohei Uchimura.
One of the most proficient and skilled gymnasts globally is known for his all-around, team, and floor exercise performances.
Kohei is one of the best gymnasts in Japan. Moreover, Uchimura is a seven-time Olympic medalist for Japan.
The athlete has won three golds and four silvers for Japan in four Olympic appearances.
Kohei has won twenty-one medals in the World Championships in various gymnastic performances like horizontal bars and parallel bars.
Furthermore, Kohei is the first-ever Gymnast globally who has managed to win every major all-around title in an entire single Olympic cycle.
1. Simone Biles
Coming at number one is Simone Biles, and everyone can agree that she is by far the best gymnast in the world.
She is one of America's most decorated athletes and gymnasts because of her achievements for her country.
Simone is widely known as the best gymnast in the world due to her unmatched portfolio of medals.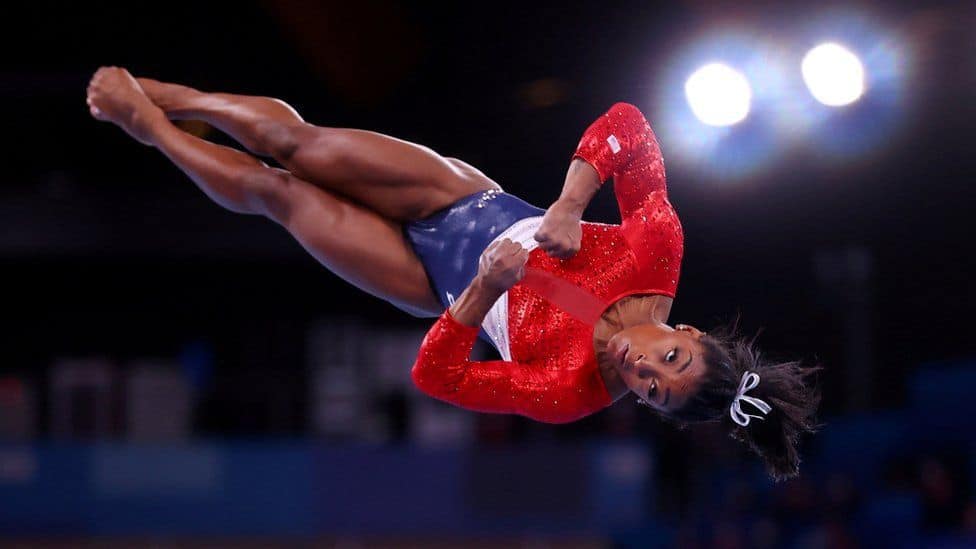 She is a three-time World balance beam champion, a seven-time United States national all-around champion, and a two-time world vault champion.
Biles has won four gold medals for America in the Olympic games alongside one silver and one bronze medal.
In total, she has 27 gold medals, five silver medals, and four bronze medals.
With this feat, she is the gymnast with the most medals and most Gold medals.