Ding Junhui: Early Life, Career & Net Worth
Chinese professional snooker Ding Junhui is known as the most successful Asian Snooker in sports history.
Winning The China Open and The UK Championship in 2005 was the major turning point of his life.
Ding Junhui is also the first Chinese player to win the title outside Great Britain and Ireland.
In addition, he has 14 major wins under his name and became the youngest to win the IBSF World under-21 Championship just at 15.
In 2014, Ding Junhui became the first and only Asian snooker player to achieve world number one.
To know more about China's most loved snooker player Ding Junhui, stick with us till the end.
Quick Facts
| | |
| --- | --- |
| Full Name | Ding Junhui |
| Nickname | Enter the Dragon, Chinese Sensation |
| Date of birth | 1 April 1987 |
| Place of birth | Yixing, Jiangsu, China |
| Current Residence | Sheffield, England |
| Age | 36 Years Old |
| Height | 5 feet 9 inches (1.76 cms) |
| Weight | 132 lbs (60 kgs) |
| Eye color | Unknown |
| Hair color | Unknown |
| Skin color | Fair |
| Body type | Athletic |
| Gender | Male |
| Sexual Orientation | Straight |
| Nationality | Chinese |
| Religion | Not Available |
| Ethnicity | Asian |
| Horoscope | Aries |
| Birthstone | Diamond |
| Life Path number | Three |
| Hobbies | Cars, Action Films, Man Utd |
| Father's name | Ding Wenjun |
| Mother's name | Chen Xijuan |
| Siblings | Unknown |
| Marital Status | Married |
| Spouse | Apple Zhang |
| Children | One Daughter |
| Education | Shanghai Jiao Tong University |
| Profession | Professional Snooker Player |
| Highest ranking | 1 (December 2014, January – February 2015) |
| Career Winnings | £3,600,854 |
| Current Ranking | 8 (as of 4th May of 2021) |
| Century Breaks | 558 |
| Highest Break | 147: (6 times) |
| Years active | 2003-Present |
| Net Worth | $3.81 million |
| Social Media | Facebook, Instagram |
| Merch | Book (Ding Junhui) |
| Last Update | November, 2023 |
Ding Junhui: Early Life, Family, and Education
On 1st April of 1987 in Yixing, Jiangsu, China, Ding was born to mother Chen Xijuan and father, Ding Wenjun. But sadly, in 2017, he lost his mother.
His father was a pool enthusiast and wanted to practice with a local pool expert.
So, he took his son with him, and there, Ding played with a professional and even won the game.
His parents were very supportive and always pushed him towards success.
Ding's father took him to the training center of the Chinese national snooker team near Shanghai at the age of nine.
Moreover, his parents sold their house and grocery business so that Ding could continue playing snooker as a career.
Education
At the age of 11, Ding stopped his formal education and solely focused on snooker by practicing 8 hours a day.
Similarly, in 2006, he enrolled at Shanghai Jiao Tong University to study Business Administration and Management.
You might like to read about Dan Bilzerian.
Ding Jinhui: Age, Height, and Weight
Since Ding was born on 1 April 1987, he is currently 36 Years Old.
And his height is 1.76 m making him 5 feet 9 inches tall. He weighs around 60 kg that is 132 lbs.
Ding Jinhui: Career
Beginning Stage
Ding started his career as a snooker player at the very young age of nine.
He first gained recognition when he won Asian Under-21 Championship and the Asian Championship in 2002, becoming the youngest ever snooker player to win the IBSF World Under-21, being just 15.
Unfortunately, Ding couldn't progress much in 2003 as Asian tournaments were canceled because of the 2002-2003 SARS virus outbreak.
Furthermore, Ding reached the IBSF World Under-21 Championship semi-finals and was awarded a concession to play on the main snooker play by the WPBSA.
This led Ding to turn into a professional snooker player at the age of 16 in September 2003.
Moreover, Ding ranked number One snooker player in China the same year(2003).
China Open and the UK Championship
The major success came in Ding's life after winning China Open and the UK Championship in 2005, making him the first-ever Asian to win the title outside Great Britain and Ireland.
The snooker celebrated his 18th birthday by reaching the finals at China Open in Beijing and eventually defeating world number 3 Stephen Hendry by 9-5, which led to his first ranking tournament.
Further, 110 million people watched the match on China's national sports channel CCTV-5.
Moreover, this was the largest number of the television audience ever recorded for a snooker match.
Sadly, Ding lost by 6-2 in the semi-finals to Mark Willaims, who later went on to win the 2006 China Open.
In the same year, Ding reached the UK Championship as a defending champion but lost to the eventual winner Peter Ebdon.
Similarly, in 2013, Ding won his second UK Championship defeating John Higgins by 10-8, and he won his third UK Championship, defeating Stephan Maguire by 10-6.
Wold Number 1
Ding ranked 62 at the start of 2005-6 season but eventually ranked 27 by the 2005-6 season.
He then secured world rank 9 by the end of the 2006-7 season, his first-ever top ten placement.
Ding slipped down two places, ranking world number 11 because he failed to reach the single semi-final in the following season.
He ranked world number 1 in 2014 and was able to secure the place till February 2015. Ding currently holds 8th place in the world rankings.
You might like to read about another snooker player Wilfredo Leon.
Championships
In 2012, Ding won the Championship league tournament and Premier League.
The snooker reached the semi-finals of the China Open but got beaten by eventual winner Peter Ebdon.
Although Ding never won the World Championship, he became the first and only Asian snooker player to reach the World Championship's finals in 2016.
Furthermore, in the following year, Ding won the Six-red World Championship defeating Stuart Bingham.
In 2016, Ding won the World Open defeating Kyren Wilson 10-3 in the final.
However, he struggled against Ronnie O'Sullivan and unfortunately faced defeat by 10-3 in 2018.
Ding Junhui: Achievements
There is a total of 14 major ranking titles under Ding's name. He won UK Championship thrice in 2005, 2009, and 2019 respectively.
Similarly, in 2013 and 2016, Ding won Shanghai Masters. Furthermore, Ding won Masters in 2011 and German Masters in 2014.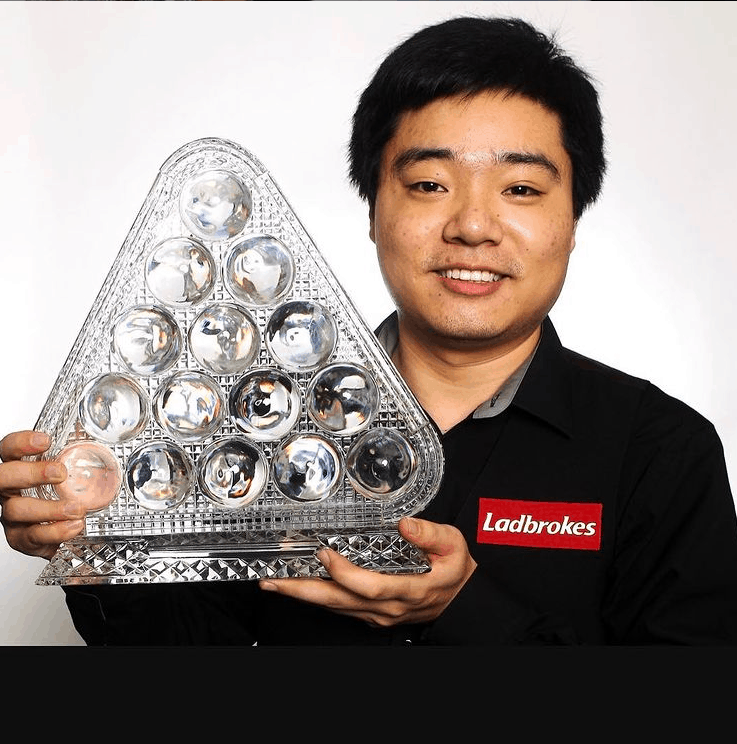 He reached the World Championship's final in 2016, becoming the first and only Asian snooker player to do so.
Despite his loss in the finals, he won the Six-red World Championship the very same year.
Ding became the third person after Ronnie O'Sullivan and John Higgins to win three ranking titles in Northern Ireland Trophy before turning 20 in 2006.
He represented China at the Asian Games and won five gold medals in individual and team events.
After reaching world rank 1 in 2014, Ding became the 11th snooker player to grab the top spot.
Ding was able to compile over 500-century breaks in his professional play till now.
The snooker has also assembled six 147 maximum breaks.
Junhui became the youngest player to make a televised 147 at the age of 19 & nine months at the Masters in 2007.
Ding Junhui: Personal Life
He keeps his personal life very private. He married his wife, Apple Zhang, in 2014 and has a beautiful daughter.
Moreover, other than that, nothing much is known about Ding Junhui.
He has not been surrounded by any rumors and has not made his dating life public before getting married to Apple Zhang.
Ding Junhui: Social Media
Ding is not much active on social media platforms, but he does post on Instagram once in a while.
He loves to share pictures of his little daughter time and again on Instagram.
Ding seems to be a little shy and introverted person but with a goofy personality.
Through his social media posts, we can see that he loves to play with his daughter.
He has over 19k followers on Instagram.
And the snooker player also has a Facebook account.
He also has a Weibo account which is a popular social media platform in China.
You might want to know more about Devin Booker.
Ding Junhui: Net Worth and Income
There is no doubt that Ding Junhui is one hard-working guy and has earned fame and recognition.
Ding Junhui's net worth is estimated to be around $3.81 Million.
Moreover, the snooker definitely deserves the success he has achieved so far.
Also, Ding has opened his own snooker academy called Ding Junhui Snooker Academy located in Sheffield, which also contributes to his income.
Interesting Facts about Ding Junhui
Ding is known as a break-builder and defending champion.
He won Welsh Open winning his fifth-ranking tournament in 2012, beating Mark Selby.
In 2011, World Snooker Championship, Ding had his career-best run.
Ding has won one German Masters title, two Shanghai Masters titles, and three UK Championships.
However, in his professional snooker career of eighteen years, Ding has yet to win a World Championship.
Moreover, many snooker fans and snooker player Ronnie O'Sullivan believe that Ding would win a World Championship one day.
FAQs
How good is Ding Junhui?
Ding Junhui is the most successful Asian player holding 14 major wins. He is the first and only Asian ever to achieve a top spot in the world ranking.
What cues does Ding Junhui use?
Ding uses handmade cues. Both Mark Selby and Ding Junhui used cues handmade in Stamford.
Is Ding the snooker player married?
Even though Ding seems to keep his personal life private, he announced his marriage with Apple Zhang in 2014.