Boxing is one of the first combat sports ever introduced to humanity, and over time, we have seen extraordinary boxers who were born to conquer the ring. Today we will be talking about the top 10 best boxers of all time.
Despite the popularity of the sport going down, we cannot deny that the history of boxing has a lot to offer to people who are trying to get into it.
Moreover, we all have different opinions on who we think are the best boxers of all time, and there cannot be one certain winner.
So please sit back and enjoy the list of top 10 boxers of all time.
Who are the 10 best boxers of all time?
10. Shane Mosley
Shane Andre Mosley, who is widely popular by his in-ring name Sugar Shane, is one of the best boxers of all time to have ever stepped in the ring.
Mosley used to compete in the lightweight division and is known as the best lightweight champion.
He competed in 61 matches throughout his career and won 49 of them while losing 10, 1 draw, and 1 no contest.
Mosley was a proficient striker, and out of his 49 wins, 41 of them were via knockouts.
Shane held titles in three different divisions: IBF lightweight titles; the WBA (Super) and WBC welterweight titles; and the WBA (Super), WBC, and Ring magazine light middleweight titles.
He is also a former lineal champion at welterweight (twice) and light middleweight.
9. Joe Louis
Joseph Louis Barrow, a legendary boxer regarded as one of the most influential boxers of all time. Louis was often called the Brown Bomber in the ring.
Joe holds the record to date for the most consecutive title defenses in the history of boxing. He defended his title 25 times in a row.
Louis is considered the first person of African-American descent who had done something of that caliber.
Despite the discrimination reigning high at that time, he was considered a national hero in the USA.
The brown bomber was a huge guy, and he dominated his opponent with his power punches. He is one of the strongest power punchers of all time.
Throughout his career, Louis competed in 69 matches and won 66 fights whilst losing only 3. Out of his 66 wins, 52 were by knockout.
8. Larry Holmes
Larry Holmes, known as the Easton Assassin, is an American retired professional boxer popular for his devastating left jab.
Holmes was the WBC heavyweight champion for 5 years and the Ring magazine and lineal heavyweight champion for another 5 years.
Larry defended his title for 19 consecutive fights and held the record for second-highest title defenses in the boxing history.
The Easton Assasin is the only alive boxer who managed to stop the legendary Muhammad Ali.
Nevertheless, he defeated Muhammad Ali and retained his WBC heavyweight title.
Furthermore, Holmes dominated Ali throughout the fight, and Ali's dad threw in the towel and stopped the fight.
This was the only fight Muhammad lost in his retirement.
Holmes fought in 75 fights in his career and won 69 of them and only lost 6 fights.
<<The Best 13 Popular Football Players of this Year>>
7. Roberto Duran
Roberto Durán Samaniego is a Panamanian retired professional boxer who goes by the in-ring name of El Cholo.
Throughout his 33 years of career, he held championship titles in four different divisions; lightweight, welterweight, light middleweight, and middleweight.
Along with those, he was also the undisputed and lineal lightweight champion and the lineal welterweight champion.
Duran was one of the smartest fighters in the ring, and many experts consider him an extremely versatile and technical brawler who knew how to use the momentum in his favor.
Due to his extraordinary power punching and rock-like defense, he was also given the nickname "Manos de Piedra," which translates to Hands of Stone.
The Associated Press honored Duran as the best lightweight fighter of this century.
Duran fought in 119 fights in his career and won in 103 of them whilst losing only 16 of them. Furthermore, 70 of his wins were via knockout.
6. Mike Tyson
Next on our list is probably the most popular fighter of our generation, Michael Gerard Tyson, also known as Iron Mike.
We have all heard stories about Mike Tyson and how fearsome he was in the ring, and it would be foolish not to put him on this list.
Tyson is one of the greatest and scariest fighters to have ever stepped in the ring.
Due to his dominance, Tyson was later named "The Baddest Man on the Planet."
Mike is one of the greatest heavyweight boxers of all time, and his achievement tells us why.
Tyson started his career with 19 knockout wins in a row, and 12 knockouts were in the first round.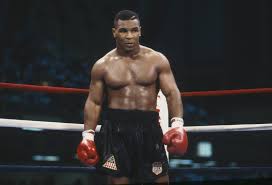 He then claimed the World Heavyweight Title at the early age of 20, and he still holds the record for the youngest heavyweight champion.
Tyson was known for his ferocious power and his scary boxing style, which intimidated his opponents just after stepping in the ring with him.
Mike fought in 58 fights and was victorious in 50 of them while he lost 6, and 2 ended in no contest. 44 of his wins were via knockout.
5. Guglielmo Papaleo
Next on our list is Guglielmo Papaleo, who was popular by his ring name Willie Pep. Papaleo was the World Featherweight championship twice in his career.
He fought in many fights throughout his career, and it's a lot, you might be thinking 100 or 150, but to everyone's surprise, he fought in around 241 fights.
Moreover, the boxer fought in 1,956 rounds in his career.
Papaleo was popular for his speed and elusiveness in the ring. He used to dance around the opponents avoiding their shots and landing hits to their faces and bodies.
The Associated Press named him as the best featherweight champion of the 20th century.
Out of his 241 fights, Papaleo was victorious in 229 of them while only losing 11 and 1, ending with a draw. What an Extraordinary record!
<<The Top 20 Most Evil People in History>>
4. Ray Charles Leonard
Next on our list is another legendary fighter, Ray Charles Leonard, known as "Sugar" Ray Leonard.
Leonard is one of the greatest boxers of all time due to his extraordinary record.
He was the champion in five different weight classes, the lineal championship in three weight divisions & the undisputed welterweight champion.
Sugar Ray Leonard was part of the The Fabulous Four, a group of 4 boxers who made waves in the boxing world and brought the attention of the fans to the lower weight classes.
Ray is also one of the first boxers who banked over $100 million through his fights.
Over the course of his career, Ray fought in 40 fights and won in 36 of them.
3.  Floyd Mayweather Jr
Coming at number three on our list is Floyd Mayweather Jr., often known by his nickname Money Mayweather.
He is one of the most popular and best defensive fighters of our generation.
In his career, he fought in 50 fights and did not lose in any of them.
Floyd is the villain of the boxing world. He often plays the role of the heel while building up for the fights.
However, we can't argue that he backs up his trash talk with his skills.
Mayweather won 15 world titles in his career and defeated every top boxer he fought with.
Recently, he was back in the ring with a famous Youtube star "Logan Paul."
Unfortunately, they fought in an exhibition match, and the fight ended in a draw as the fight went to the distance.
Floyd supposedly made around $100 million from that fight alone. He has the nickname Floyd money Mayweather for a reason.
2. Muhammad Ali
Muhammad Ali, probably the biggest name in the boxing world and the undisputed People's champion.
Ali is one of the most significant and decorated fighters of the 20th century. He is one of the best heavyweight boxers and the greatest athlete of this century.
Even before turning professional, Muhammad Ali won the light heavyweight division title at the 1960 Summer Olympics.
Ali was popular for his speed and his power punches.
Despite facing prison due to draft evasion just after he claimed the Heavyweight title, he came back stronger.
His fight with Joe Frazier is titled the Fight of the Century.
He fought in 61 fights in his career and won in 56 of them while losing in five.
You may be interested to know about the Top 16 Richest Golfers in the World.
1. Sugar Ray Robinson
Coming at the top of the list of the best boxers of all time is none other than Sugar Ray Robinson.
Ray is one of the greatest boxers of all time and might be the best welterweight boxer.
Robinson is the best pound-for-pound boxer in the history of boxing.
Sugar Ray started his amateur career with an outstanding win and finished his amateur career without any loss. His amateur career stats were 85–0.
In 25 years, Robinson competed in 200 matches and won 173 of them, and 109 were via knockouts. What a beast he was.
Robinson also holds the record for the third-longest wins streak in the boxing history. He had a winning streak of 91 fights.