Top 12 Insane Sports Riots in History
Sports, by nature, are based on athleticism, fitness, strength, etc. The noble aim of conducting such sports events is to bring together a disparate group of people.
But, sometimes, despite the good intentions, sadly, sports events are the source of riots.
Mostly, sports riots occur after the event. However, some have been at the time of the event.
The world has witnessed several insane riots throughout sports history. So be forewarned as things are about to get wild.
Here, we have counted down our top picks for the top 12 insane sports riots in history.
12 Insane Sports Riots
12. The Bite Fight, Las Vegas, 1997
At number 12 of our top 12 insane sports riots in history is The Bite Fight.
Also known as The Bite of '97 occurred during a professional boxing match between Evander Holyfield and Mike Tyson II for the WBA Heavyweight Championship.
Mike Tyson had bitten off a chunk of Evander Holyfield's ear in the third round.
However, Mike Tyson insisted with a blood-stained mouth that it was justice.
The American professional boxer Mike Tyson was disqualified. More than 16,000 people witnessed the fight and caused a riot.
More than 200 police officers and hotel security guards worked together to clear the jammed hotel lobby as people ran through hallways.
Moreover, most Restaurants shut their doors to keep people out.
11. Ten Cent Beer Night, 1974
Ten Cent Beer Night riot occurred when the Cleveland Indians held a promotion event for a game against Texas Rangers at Cleveland Stadium in 1974.
The idea was to offer the fans to buy unlimited beers for 10 cents during the game. Predictably, this led to the fans becoming heavily intoxicated and unruly.
Eventually, the crowd became uncontrollable and started throwing objects into the field. So the only option left was to forfeit.
Therefore, the Indians who had scheduled three more of these beer nights changed it to four beers per person for the rest of the promotions.
10. The Sydney Sports Riot, 1879
At number 10 of our list of top 12 insane sports riots in history is The Sydney riot.
The English toured Australia for the cricket match way back in 1879.
Moreover, it was the second match between the English XI led by Lord Harris and New South Wales led by Dave Gregory.
New South Wales was behind by 90 runs. The English-chosen umpire George Coultard gave a run out to The New South Wales' star player Billy Murdoch.
Thus, the Australian crowd was less than pleased by that decision. As a result, the mass of around 2000 people burst into the pitch and caused the riot.
English captain Lord Harris was struck with a stick.
Also, English batsman A.N. Hornby was stripped of his shirt. The other Englishmen wielded cricket stumps as weapons while defending Coulthard.
The situation was worsening gradually. So, the match continued the next day.
9. Denver Super Bowl Celebration Sports Riot, 1998
At number 9 of our top 12 insane sports riots in history is the Denver Super Bowl Celebration riot.
The Broncos won their first Super Bowl Championship by defeating Green Bay Packers.
Denver Broncos' fans came to the streets to celebrate their team's victory on a Sunday night, and police used tear gas to break up the crowd.
Police Sgt. Dennis Cribari estimated about 10,000 people poured on the streets of downtown for more than 3 hours.
Many people took part in street brawls and disturbances. As a result, the police arrested many people for their participation in violence.
In addition to that, some people used the situation to loot, vandalize, and overturn cars randomly.
This riot caused about $160,000 damage. There is no death record in this riot.
You may be interested to know about Brock Lesnar Net Worth: Media & Income.
8. Butembo Witchcraft Sports Riot, 2008
At number 8 on our list is the Butembo witchcraft riot.
On 14 September 2008, this riot broke out during the football match between two local clubs named Socozaki and Nyuki System.
One of the players was accused of using a form of witchcraft to win the game unfairly.
It started a riot that got 13 people (majority in their early teens) killed and 36 others injured in the Democratic Republic of the Congo.
The witchcraft belief caused a brawl between players at first. Police were thrown stones by viewers when they tried to intervene.
To control the situation, police tried firing canisters of tear gas into the crowd. But instead, it caused a stampede at Matokeo stadium.
Hence, dozens of teenagers staged a protest at Butembo's dirt streets the next day, and the regional governor, Julien Mpaluku, paid a visit to the hospital.
7. Sports Riot of South Africa Rugby Union Tour of Australia, 1971
At number 7 of our top 12 insane sports riots in history is the South Africa rugby union tour of Australia.
In 1971, the springboks, the South African national rugby team, went to Australia on a six-week rugby union tour.
The Springbok tour comprised 12 games between 26 June and 7 August – three test matches and nine games against various representative teams.
All the rugby players in Springboks were white as blacks were banned from selection into the national sporting teams and foreign visiting teams. This led to one of the huge protests in history.
Many young viewers triggered the protest during the first games. By the time the third match was about to begin, more than 5,000 protestors had poured into the streets of Melbourne to undermine racism.
Later, this protest culminated in the declaration of a State of Emergency in Queensland.
This campaign was proof that strikes and broad-based movements are the keys to changing public opinion and conquering racism.
6. Detroit Tigers World Series Sports Riot, 1984
At number 6 of our top 12 insane sports riots in history is the Detroit Tigers World Series riot.
On 14 October 1984, Detroit Tigers won the World Series over San Diego Padres.
Afterward, the riots erupted that left one person dead and 80 other people injured.
Consequently, instead of being a moment of triumph, people poured into the streets, causing a riot.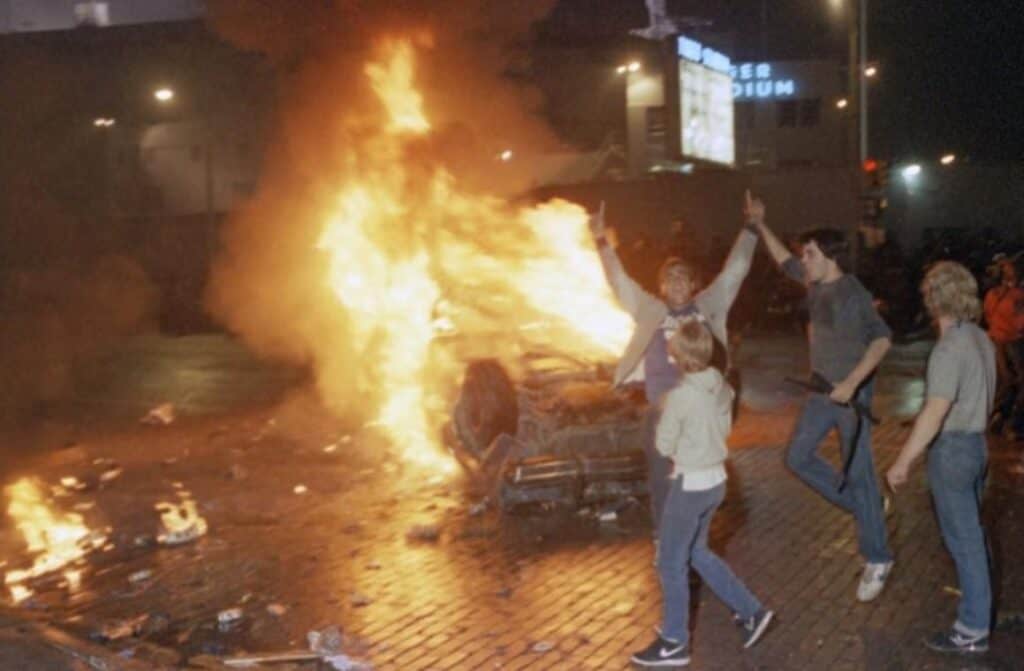 As a result, many police and civilian cars were flipped, shops were looted, and over thirty were arrested.
Accordingly, a police escort was needed for the Padres to escape Tiger Stadium.
5. Oppenheimer Stadium Sports Riot, 1991
At number 5 of our top 12 insane sports riots in history is The Oppenheimer Stadium Disaster.
Also known as Orkney Disaster, it occurred during the friendly football match between Kaizer Chiefs and Orlando Pirates at the Oppenheimer Stadium in the city of Orkney in South Africa.
In the Oppenheimer Stadium, with a capacity of 23,000 people, over 30,000 people entered the stadium.
The riot began when Kaizer Chiefs' striker Fani Madida scored the leading goal.
It all started when the Pirates fans threw cans and fruit at Chiefs fans, and allegedly some knife-wielding Pirates fans attacked Chiefs fans.
It caused a stampede where many fans were trampled or crushed to death against riot control fences.
This riot concluded with the death of 42.
4. Montreal Stanley Cup Sports Riot, 1993
At number 4 of our top 12 insane sports riots in history is The Montreal Stanley Cup riot.
This riot occurred in the Stanley Cup Finals between Los Angeles Kings and the Montreal Canadiens.
As Canadiens won the finals, it triggered the Kings fans to come down to the streets.
And the riots began by destroying properties while the Canadiens were celebrating inside the Montreal Forum.
Saint Catherine Street was the epicenter of this riot, where stores were looted. The police reported 47 police cars damaged. Many rioters were arrested.
The riot caused $2.5 million worth of damage.
At the peak point of the riot, 980 officers were dispatched and made 115 arrests.
Moreover, some rioters were also suspected of planning to loot stores using riot as a decoy.
In addition, 168 people were injured, including 49 police officers.
You may be interested to know about Who are the 10 best boxers of all time?
3. Port Said Stadium Riot, 2012
At number 3 of our top 12 insane sports riots in history is The Port Said Stadium riot.
On 1st February 2012, an Egyptian Premier League football match took place in Port Said Stadium.
That day, the two Egyptian football clubs, Al Masry and Al Ahly, played against each other where El Masry became victorious.
Moreover, El Masry fans invaded the pitch to celebrate the victory. Then, they began attacking El Ahly fans with swords, stones, and knives that caused the riot.
The death count of this insane riot is 74. Also, the injured count was over 500.
According to health ministry official Hisham Sheha, most deaths were caused by stabbing sharp tools, brain hemorrhage, and concussions.
Many people were arrested for such violent acts. About 11 people were sentenced to death because of such violence and disturbing act.
Furthermore, the Egyptian government decided to shut down all domestic leagues for the next two years.
2. Lima Football Sports Riot, 1964
At number 2 on our list is the Lima football riot. Also called the Estadio Nacional disaster occurred at the Estadio Nacional stadium in Lima.
This riot took place during the qualifying match between Peru and Argentina for the Tokyo Olympics' football tournament. It attracted around 53,000 people.
Argentina was leading with a single goal until the final minutes.
Then, about six minutes before the final whistle, Peru was denied an equalizing goal by the referee.
As a result, Peru's fans invaded the pitch and committed a violent riot.
The Peruvian police decided to fire tear gas to prevent the invasion of fans.
But that decision led to panic and caused a stampede while trying to rush towards the gate.
As a result, most people died from internal hemorrhaging or asphyxia.
This riot caused 328 deaths and over 500 injured.
You might be interested in reading about The Best 13 Popular Football Players of this Year.
1. Nika Riot, 532 AD
At number 1 of our top 12 insane sports riots in history is the Nika riot. This is the oldest and the most brutal riot in sports history.
Nika riot is also called the Nika revolt or Nika sedition. It took place in Constantinople in the sixth century during Byzantine Empire.
Emperor Justinian I ruled Roman at that time. Chariot racing was a very popular sport.
During such ancient times, there was a lack of a proper outlet for grievance handling.
The Nika riot began to take shape when people started to shout political demands during chariot racing.
Things began to escalate very fast. Many protestors attacked Justinian's palace. The emperor ordered his troops to control the riot by any means necessary.
As a result, the murdering and butchering of thousands of people took place for the next few days.
The death count in this ancient and most brutal riot was around 30,000.