Chris Cornell Net Worth: Earnings & Charity
Chris Cornell was a musician, songwriter, and singer who had a net worth of $40 million.
He was best known as the rhythm guitarist and lead vocalist for famous rock bands Soundgarden and Audioslave.
Further, Chris had a successful career as a solo musician and was a part of the one-off tribute band for Andrew Wood called 'Temple of The Dog.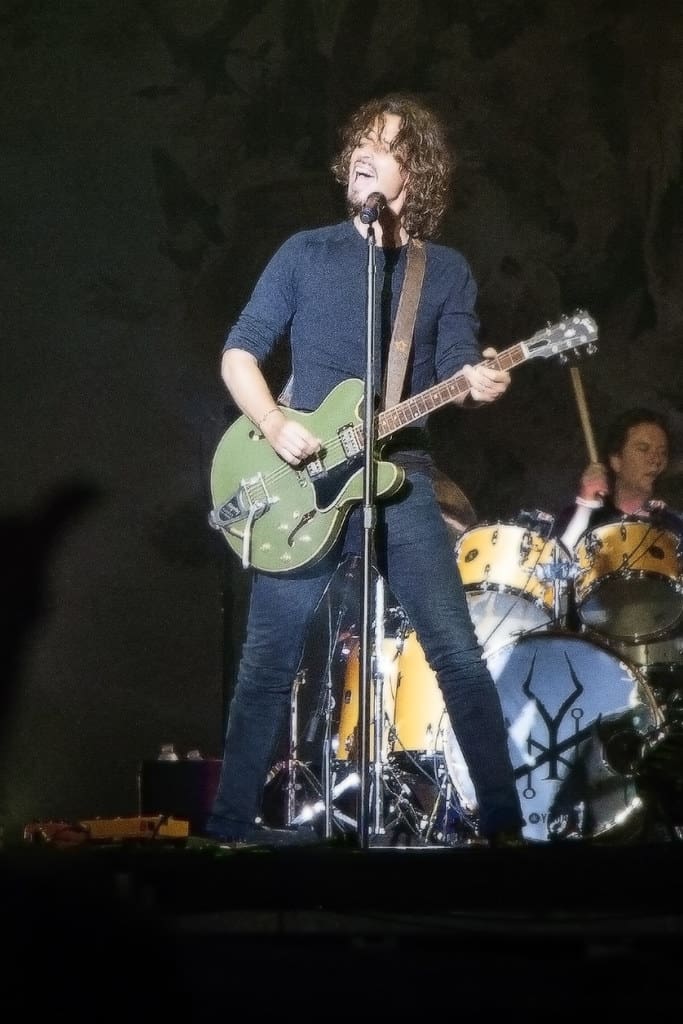 Cornell is considered a primary figure in the 1990s grunge music boom and is prominent for his excellent vocals, which spanned four octaves.
He produced hits such as 'Like a Stone,' 'Be Yourself,' 'Show Me How To Live,' 'Patience,' 'Can't Change Me,' 'Black Hole Sun,' 'The Promise,' 'Fell on Black Days,' etc.
Besides, he was nominated for 16 Grammy Awards and won 3 of them. Also, he received the Satellite Award, iHeartRadio Music Award, and World Soundtrack Award.
Quick Facts
We have enlisted a few quick facts about the legendary vocalist, Chris Cornell, in the table below:
| | |
| --- | --- |
| Full Name | Christopher John Boyle |
| Net Worth | $40 Million |
| Birth Date | 20 July 1964 |
| Birth Place | Seattle, Washington, US |
| Date of Death | May 18, 2017 (at the age of 52) |
| Cause of Death | Suicide by hanging |
| Resting place | Hollywood Forever Cemetery |
| Known as | Chris Cornell |
| Religion | Unknown |
| Nationality | American |
| Ethnicity | English, German, Irish, French, Northern Irish, Manx, Scottish, Norwegian, Welsh, Swiss |
| Education | Shorewood High School, Christ The King School |
| Zodiac Sign | Cancer |
| Father's Name | Ed Boyle |
| Mother's Name | Karen Cornell |
| Siblings | Katy Boyle, Maggie Boyle, Patrick Boyle, Peter Boyle |
| Sexual Orientation | Straight |
| Hair Color | Brown |
| Eye Color | Hazel Grey |
| Profession | Musician, singer, songwriter |
| Genre | Alternative Metal, Heavy Metal, Grunge, Alternative Rock, Hard Rock |
| Instruments | Vocals, drums, guitar |
| Labels | Sub Pop, S.S.T., A&M, Suretone, Mosley, Interscope, Epic |
| Associations | Soundgarden, Audioslave, Temple of The Dog, Pearl Jam, M.A.C.C., Heart, Center for Disease Control Boys, Mad Season |
| Endorsements | N/A |
| Active Years | 1983-2017 |
| Spouse | Susan Silver(m. 1990-d.2004), Vicky Karayiannis(married 2004) |
| Children | Toni Cornell, Christopher Nicholas Cornell, Lillian Jean Cornell |
| Social Media | Instagram, Twitter, Facebook, Deezer, Youtube |
| Last Update | December, 2023 |
Chris Cornell: Net Worth and Income
Chris Cornell racked up his impressive net worth of $40 million from his exploits in the musical scene.
It is assumed that his fortune was split up between his three children and wife Vicky upon his death.
His highest earning from an album was $9 million for his 1994 release 'Superunknown' with Soundgarden.
Further, he made $2.16 million from 'Badmotorfinger,' $1.6 million from 'Down on the Upside,' $1.2 million from 'A-Sides,' and $235 thousand from 'King Animal.'
In addition, he made $1 million from the compilation album Telephantasm released with Soundgarden.
On the other hand, his income from Audioslave albums encompasses $4 million,$1.27 million from 'Out Of Exile,' $685 thousand for 'Revelations,' and $110,000 for 'Live in Cuba.'
Additionally, his work with the band Temple of the Dog led him to earn $1 million from their self-titled album.
Similarly, his earnings from solo albums include $86 thousand from 'Songbook,' $26 thousand from 'Scream,' $421 thousand from 'Carry On,' and $343 thousand from 'Euphoria Morning.'
Also, he made millions from tours with several bands and solo live shows.
Net Worth of Chris Cornell in Other Currencies
The net worth of Chris Cornell in various currencies is enlisted in the table below.
Currency
Net Worth
Euro
€

34,113,248

Pound Sterling
£

29,281,000

Australian Dollar
A$

55,159,480

Canadian Dollar
C$

51,169,600

Indian Rupee
₹

2,949,140,000

BitCoin
฿

952
Chris Cornell: Cars and Houses
Cars
Cornell had a classic 1970 Dodge Challenger, which costs around $100 thousand.
Unfortunately, he wrecked the car by crashing it into a roadblock.
In addition, he owned a 1955 Porsche Speedster Spyder, which may be worth around $5 million in the present day.
You may be interested in reading about The 25 Richest Rockstars in the World.
Houses
Chris Cornell resided on the 21st floor of a rented condo in Continuum South Beach, Miami Beach.
The 3000-sq-foot apartment featured three bedrooms and four bathrooms. Cornell paid a rent of around $30,000 for the condo.
Besides, he had a Mediterranean-styled villa engulfing 5700-sq-foot which had comfy living spaces, hardwood & limestone flooring, gourmet kitchen, gym, etc.
Earlier in 2013, he had listed his Beverly Hills estate having five bedrooms and 6.5 bathrooms for $5.4 million.
Chris Cornell: Lifestyle and Struggles
Cornell always insisted that he did not produce music with the intent to gain commercial success.
Also, he always looked forward to the future rather than dwell in the past occurrences.
He had a tattoo on his arm signifying 'Forever' in Greek, which symbolizes love for his wife, Vicky Karayiannis.
The death of his dear friend Andrew Wood had a profound impact on him, and he expressed his difficulty with facing reality in a Guardian interview.
He struggled for extensive periods with depression and multiple addictions such as alcohol and prescription drugs after the disbanding of Soundgarden and the failure of his first marriage.
Previously, he came across marijuana, L.S.D., shrooms, etc., by the age of 12 and had relapses before eventually making music professionally.
Chris Cornell: Charity
In 2012, Cornell established Chris and Vicky Cornell Foundation with his wife to support the vulnerable, poor & abused children.
Also, he utilized proceeds from ticket sales of 2013 concerts to aid the cause of the foundation.
Moreover, he donated all earnings from his work in 'The Promise' to the International Rescue Committee.
Cornell was awarded the Species Ray Vaughan Award for his dedication to 'MusiCares M.A.P. Fund' to help addicts in their recovery process. It was handed to him by the legendary Alice Cooper.
Moreover, he had contributed to the charities Aid Still Required, Live Earth, Nordoff Robbins, and Global Angels.
And, he also supported causes like Disaster Relief, Health, Human Rights, Hunger, Refugees, Career Support, etc.
Chris Cornell: Media, Legacy, Endorsements, Investments, and Book Publications
Media
Chris Cornell had made a cameo in the Seattle-based 1982 movie Singles, where he acted alongside Matt Dillon and Bridget Fonda.
Additionally, he appeared in the T.V. shows C.B.S. This Morning, Made in Hollywood, Ellen, Late Show with David Letterman, N.Y.C. Concert Series, Howard Stern on Demand, Rage, etc.
Also, he is featured in the documentaries All Things Must Pass, Foo Fighters: Sonic Highways, Pearl Jam Twenty, Behind The Music, etc.
<<Ad-Rock Net Worth: Charity & Houses>>
Legacy
In an interview with Rolling Stone, Axl Rose of Guns N' Roses expressed that Chris Cornell was the best vocalist in rock music.
Likewise, Ronny James Dio stated that his work with Soundgarden and Audioslave was awe-inspiring.
His good friend Eddie Vedder once said that Cornell was the best singer on the planet.
Besides, Alice Cooper revealed that Cornell was referred to as 'The Voice' in their circle as the musician had the best voice in rock and roll.
Endorsements
Cornell was the lead face in the advertisement campaign of fashion producer John Varvatos in 2006.
Investments
Cornell owned a restaurant in Paris called Black Calvados.
Besides, he was the owner of You Make Me Sick I Make Music, a music production company.
He had plans to convert Philip Carlo's crim book 'The Night Stalker: The Life and Crimes of Richard Ramirez' into a movie by producing its screenplay.
Further, he offered his line of 'No One Sings Like You Anymore' clothing from his website.
Book Publications
Chris Cornell's life is explored in the book 'Total F*cking Godhead: The Biography of Chris Cornell' written by Corbin Reiff.
It presents the early struggles of Cornell, his unwavering legacy in music, and the tragedy of his death.
Chris Cornell: Career
Cornell learned to play drums as a 16-year-old and started by playing with local bands. He played with Kim Thayil & Hiro Yamamoto and later formed Soundgarden with them.
They released the Screaming Life and Fopp before gaining traction after the rise of Seattle's grunge music.
Following that, they got international recognition and acclaim with their fourth album 'Superunknown,' also topping the Billboard 200.
However, in 1977, the band broke up, and Cornell pursued a solo career, releasing 'Euphoria Morning,' which earned him a Grammy nomination.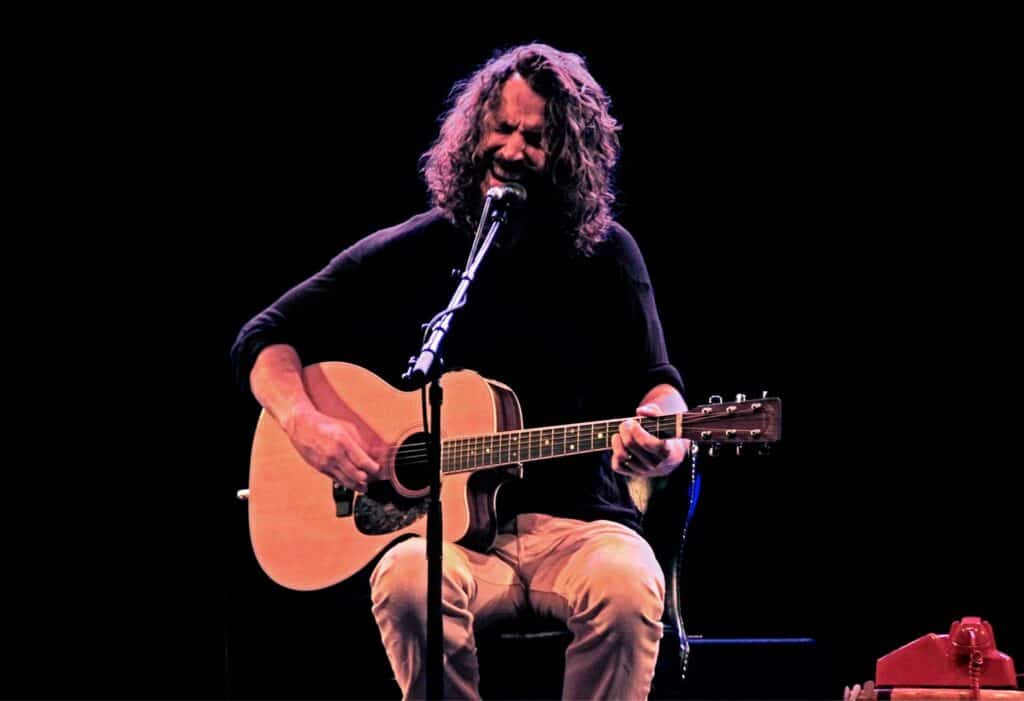 Soon, he was contacted by the members of the band 'Rage Against the Machine' who had lost their lead singer and ended up forming the band 'Audioslave.'
The group produced' Audioslave,' 'Out of Exile,' and 'Revelations' before Cornell left the group due to creative differences.
Besides, Cornell also played with the bands M.A.C.C., Temple of Dog, and Center for Disease Control Boys during his career.
<<Barry Gibb Net Worth: Charity & House>>
3 Facts About Chris Cornell
Cornell listened to a lot of music produced by The Beatles, which he had found in an abandoned neighbor's house from ages 9 to 11.
Before becoming a musician, Cornell worked many blue-collar jobs such as busboy, dishwasher, fishmonger, etc.
He co-wrote the theme song for the James Bond movie 'Casino Royale' and received a Grammy nomination.
Chris Cornell: Social Media Presence
Cornell's social media accounts are active to this day. We can see stuff about his music, life, etc., from the posts.
Instagram – 813 thousand followers
Twitter – 1.7 million followers
Facebook – 2.5 million followers
Deezer – 240.8 thousand fans
Youtube – 333 thousand subscribers
He has a personal website named Chris Cornell that provides access to his music, bio, photos, foundation, and store.
Quotes of Chris Cornell
"And if you don't believe the sun will rise, stand-alone and greet the coming night in the last remaining light."
"I never look back, ever. I'm always looking ahead, working on the next thing."
"What do you think Jesus would Twitter, 'Let he who is without sin cast the first stone' or 'Has anyone seen Judas? He was here a minute ago."
FAQs
What happened to Chris Cornell?
In 2017, Chris Cornell was found dead in his hotel room in M.G.M. Grand, Michigan.
What is Vicky Karayiannis's net worth?
Chris Cornell's wife, Vicky Karayiannis, has a net worth of $1 million in 2023.
Did Chris Cornell have depression?
Yes, Chris Cornell had depression, and he talked publicly about it and his struggles with isolation and suicidal thoughts.