Gwen Berry: Early Life, Marriage, Career & Net Worth
Gwendolyn Denise Berry, also known as Gwen Berry, is an American Track and Field athlete specializing in the hammer throw.
Likewise, she holds the world record in the weight throw with 25.60 meters, set in March 2017.
The American has won Gold medals in the Hammer category in the 2019 and 2014 Pan American Games.
Most importantly, the incredible athlete is a single mother who gave birth to her son at 15.
Gwen Berry is mostly popular as a Professional Track and Field athlete.
So, in this article, we'll learn and dive into her early life, marriage, career, controversies, relationships, net worth, and much more.
Quick Facts
Here are some quick facts about Gwen Berry:
Birth Name

Gwendolyn Denise Berry

Other Names

Gwen Berry, Gwen, Berry

Date of Birth

June 29, 1989

Birthplace

St.Louis, Missouri, U.S

Age
34 Years Old
Zodiac Sign

Cancer

Religion

Christian

Nationality

American

Profession

Track and Field athlete

College Team

Southern Illinois University Carbondale

Club

New York Athletic Club and Nike

Event(s)

Hammer throw

Active years

2011- present

Ethnicity
African-American
Father's Name

Michael Berry

Mother's Name

Laura Hayes

Siblings

Two brothers, Davon & Michale, and one sister, Quincy.

Marital status

Single Mother

Children

Son (Derrick)

High School

McCluer High School

College

Southern Illinois University

Career Highlights

2013 USA Indoor Championship, Gold




2014 USA Indoor Championship, Gold




2016 USA Indoor Championship, Gold

Height

5ft 10 in (1.78 m)

Weight

194 lbs

Hair color

Black

Eyes color

Black

Net Worth

$1 Million – $5 Million

Social Media

Instagram

,

Twitter, Facebook
Track and Field Equipment
Hurdle Set, Discus
Last Update
September 2023
Gwen Berry: Early Life & Family
On June 29, 1989, Gwendolyn Denise Berry was born in St.Louis, Missouri.
Likewise, Berry was born to parents Michael Berry and Laura Hayes.
Furthermore, the American athlete is one of four children to her parents.
Additionally, Davon & Michale are the names of her brothers, and Quincy is the name of her sister.
Similarly, Berry was always an energetic and active child growing up and tried to participate in different outdoor activities.
Furthermore, Gwendolyn loved outdoor activities.
Moreover, Gwen said in an interview that she used to play basketball, baseball, dodgeball, and a few other outdoor curriculum activities alongside her brothers and sister.
The American athlete was 15 years old when she gave birth to her son(Derrick).
Unfortunately, the detailed information about the father of her child is still unavailable.
Education
Likewise, Berry attended McCluer High School, where she played basketball and started taking part in Track and Field in the off-season.
Gwendolyn also competed in the triple jump in High School before devoting herself to Hammer Throw and Weight Throw.
Her college sports team first recruited Berry to be a triple jumper representing her college.
Later, she decided to try the hammer throw, and she threw the Junior Qualifying mark in her first three months of training for the event.
Similarly, she also has a degree in Psychology and a minor in criminal justice from Southern Illinois University.
While in college, Berry took part in a throwing event representing her college team of Southern Illinois and came in fourth.
You may also be interested in reading about Reese Hoffa.
Gwen Berry:
Age, Height, Weight & Ethnicity
Gwen is 34 Years Old. She stands tall at 5'10" and weighs about 194 lbs.
Likewise, Berry was born in the USA and held American citizenship. She follows the Christian religion, and her ethnicity is African-American.
Additionally, the athlete has Black colored hair and eye pupils.
Gwen Berry:
High School and College Achievements
As her throwing improved over time, she participated in different events.
Gwen was the Missouri Valley Conference(MVC) champion in the weight throw and shot put, and it took her to eleventh place in the former event at NCAA Indoor Championships.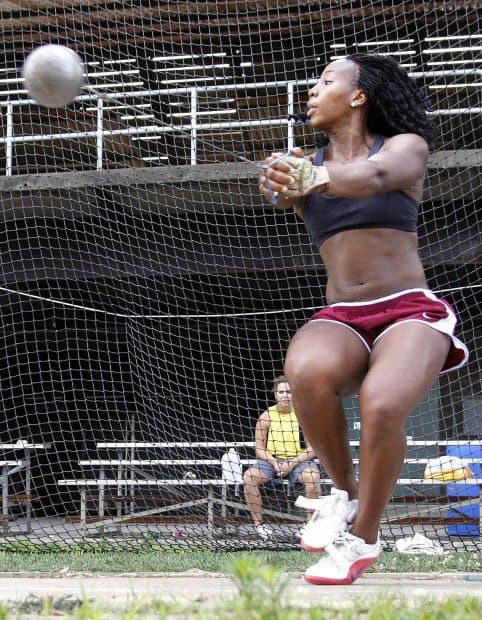 Likewise, she earned the NCAA All-American honors and came in fourth in the weight throw and shot put(indoors) and hammer throw(outdoors).
In the 2010 NACAC Under – 23 Championships, Berry made her International debut for the United States.
She won Bronze on hammer throw, following her fellow athletes Heather Steacy and Salukis athlete Jeneva McCall.
In Berry's last season at Southern Illinois Carbondale, she won the MVC Outdoor Title and later placed 12th at the 2011 Championship.
Similarly, she was also placed second in the world behind Amber Campbell in weight throw that year.
Likewise, She also entered the NCAA Indoor Championships for weight throw and came in 10th due to her poor performances.
Moving to the outdoor season at the Drake Relays, she threw a personal record for the victory with her mark of 70.52 meters, which ranked her in the world's top 25 athletes for the year.
Gwen Berry: Marriage, Husband & Child
Likewise, we don't have the proper information as to who is Berry's husband or she is married or not.
But, we know that she was 15 when she gave birth to her son Derrick.
Similarly, the information on who the father is and what kind of relationship they have or even have any relationship is a complete mystery and unknown factor.
Despite some hardships of giving birth at the age of 15, she managed to take care of her child.
Most importantly, she is an independent single mother, yet she managed to become a professional athlete.
However, as for her dating life, she is a fully passionate and dedicated athlete and says that she has no time or interest in love and relationships right now but maybe after she retires.
<<RANDY BARNES: CAREER, WORLD RECORDS, BAN & NET WORTH>>
Gwen Berry: Career
After her graduation, Berry focused on weight throw indoor and hammer throw outdoor season and continued competing.
Similarly, Berry was ranked 6th at the 2011 USA Outdoor Track and Field Championship.
Likewise, she came 3rd in the weight throw at the 2012 USA Indoor Track and Field Championship.
Furthermore, Gwen also threw a new personal best of 71.95 meters in the hammer throw.
The record-breaking throw helped her proceed at the 2012 United States Olympic Trials as the number two ranked American woman after Jessica Cosby.
However, she couldn't live up to her previous endeavors and ended in seventh place due to her poor performance.
On the other hand, despite her failure, she was later approached and recruited by the New York Athletic Club, which encouraged her to remain in the sport and join them.
International Career
2013 to 2014
Berry got her first National title at the 2013 USA Indoors with the 24.70 meters throw.
Likewise, she achieved a best of 73.81 meters for the same year's hammer throw.
Despite an incredible achievement, she did not perform well at the 2013 USA Outdoor Track and Field Championship placing her in 9th place.
Berry defended her weight throw national title in 2014.
Similarly, the same year, Berry marked her first venture into the International Professional Circuit.
Likewise, she ranked 8th in the 2014 IAAF Hammer Throw Challenge.
Furthemore, Gwen was also 7th at the 2014 USA Outdoors Track and Field Championship.
Despite her rank and past performances, Berry got selected to represent the USA in the Pan American Sports Festival.
In addition to that, at the Festival, she won a gold medal in the season's best throw of 72.04 meters.
Similarly, she beat the three-time world Champion Yipsi Moreno of Cuba, who was an idol for Berry.
2015 and later
Most importantly, Berry was ranked 17th in the overall world ranking that season.
In 2015, Berry skipped the 2015 Indoor Season and competed on the circuit again, placing her 10th in the 2015 IAAF Hammer Throw Championship.
However, Berry cleared 70 meters for the first time at the 2015 USA Outdoor Track and Field Championship.
On the other hand, strong performances by Campbell, DeAnna Price, and Bingson left her in 5th place overall.
<<DAVID STORL: CAREER, WIFE, CHILDREN & NET WORTH>>
Gwen Berry:
Records and Achievements
At the start of 2016, Gwen was dominant in the weight throw, winning straight meetings with throws over 24 meters.
Likewise, as she gained her third career win at the 2016 USA Indoor Track and Field Championship, Berry was placed at the top spot globally for the season.
Similarly, she also has a consistent hammer throw beyond 70 meters.
Furthemore, Berry also holds the national record and North American record throw of 76.31 meters at the Tuscan Elite Classic.
Similarly, Gwen was placed second in hammer throw behind her USA teammate Amber Campbell at the 2016 Olympic Trials.
The African-American athlete represented the U.S. at the 2016 Summer Olympics.
As the years and training went on, she competed in the 2019 Pan American Games in Lima, Peru, where Gwen won the gold medal for the hammer throw.
Gwen Berry:
Controversies
Raising her hand
In 2019, during the award ceremony of the Pan American Games, Berry raised her fist at the end of the Star-Spangled Banner.
Furthemore, the activist raised her fist in protest against injustice in America to Black Americans.
Most importantly, she stated that the president was making it worse.
Similarly, the activist also spoke out loud that she participated in the games to represent the people who died due to the systematic racism of America.
Later she was reprimanded and placed on probation for 12 months by the International Olympic Committee, prohibiting her from protesting.
However, this courage and humanity made her lose most of her corporate sponsor, and it is estimated that she lost about $50,000.
Likewise, the corporate sponsor's Berry lost because of her activism were:
Nike
Kellogg's
Coca-Cola
Ralph Lauren
Toyota
Samsung
Hershey's
United Airlines
The athletes who raise their voices against something wrong should be awarded rather than punished.
Likewise, we hope that all of her corporate sponsors get back to her and support her financially soon!
Through all the hardship and being reprimanded from the sport, Berry didn't lose her spirit.
After her ban was lifted, she started training harder than ever and continued her Track and Field Career.
Looking away from the flag!
While in the track and field trials for the 2020 Tokyo Olympics in 2021, the athlete turned away from the U.S. flag as the national anthem played!
Furthermore, she stated that she felt set up as the anthem was planned to be played before arriving at the stadium.
Likewise, the critics negatively commented on this matter and doubted her love for the country.
Gwen accused her critics and stated they favored "Patrirostm over morality."
Gwen Berry: Net Worth
Berry is a reputed Track and Field athlete. Her earning sources are sponsorships, club deals/contracts, and endorsement deals.
Berry's net worth is estimated to be between $1 Million to $5 Million.
Berry trains herself as an incredible athlete, but she also coaches young generations to help them develop in Track and Field.
After the reprimand and ban lift, Berry continued her training and work.
Gwen Berry:
Social Media
Gwen is an active social media user. We can find on her all the social media platforms.
The Pan American gold medalist has an Instagram account with around 46k followers.
Here's a post of her protesting.
https://www.instagram.com/p/CIpOpkalFzs/
Similarly, she is also active on Twitter and has over 20K followers.
Furthermore, we can also find her on Facebook. She posts photos of herself playing.
The professional Hammer thrower isn't afraid to express her thoughts towards American society through social media.
Gwen Berry: Fun Facts
Gwen comes from a military family, as her father,

Michael Berry, served the U.S. Military.

Additionally, her father served in the military in Iraq.
Michael Johnson, a four-time Olympic gold medalist, loved Berry's courage for standing up against the system.
Moreover, the African-American began her activism after the death of an 18-year-old Micheal Brown Jr, who a police officer fatally shot.
Gwen Berry:
FAQs
Does Gwen Berry have a Tattoo?
Yes, the incredible single mother has some tattoos on her body.
The Pan American gold medalist has tatted her Left Shoulder, Muscle, and Arm.
Who is Gwen Berry dating?
We don't know Gwen's husband, but we sure know she has been a single mother since 15.
Likewise, the American athlete is criticized for not revealing the child's father.
But we are sure Derrick, her son, is completely fine with Berry's decision not to disclose the matter!
What happened in the U.S. flag incident?
Gwen turned away from the U.S. flag as The Star-Spangled Banner was being played in the incident.
Furthermore, this incident caused a lot of controversies as the patriots backlashed Berry.