Is Sabrina Claudio Racist? What Did Sabrina Claudio Say?
Sabrina Claudio, accused of being a racist, is an American songwriter and singer famous for singing R&B and pop songs. What did she actually say on her Twitter?
Sabrina, the mistress of over $2 million fortune, mainly earns YouTube royalties and songwriting fees. The R&B singer has four studio albums to her name, which her fans adore.
In April 2018, Claudio faced backlash for her racist comments on Twitter.
Although the American singer with mixed racial ancestry joked about some things, people online took it as a racial slur.
Want to know more about Sabrina Claudio's racist case? Well, you have come to the right place!
Is Sabrina Claudio Racist?
In April 2018, Twitter exploded because of Sabrina Claudio's racial comments toward a fan.
Many screenshots began circulating in the social media app, displaying Sabrina's use of racial slurs.
Similarly, there were reports that the Christmas Blues singer used offensive language towards minorities.
Even Sabrina's fans accused her of being racist due to her replying to the comments in a racist manner.
Many of her fans and haters accused the Hispanic artist of trying to talk like a black woman.
Want to know about Lina Morgana, the actress related to Lady Gaga? See more to learn about how Lina died>>
Likewise, Sabrina is called a racist because she used two different Twitter accounts to share racist messages.
Want to know what exactly the pop singer said? Don't worry. We've got all the spices to deliver the hottest news.
What Did Sabrina Claudio Say?
Most of her racist tweets and comments have been deleted, but the internet is a small circle.
Some of the screenshots and tweets were retrieved and made viral by people.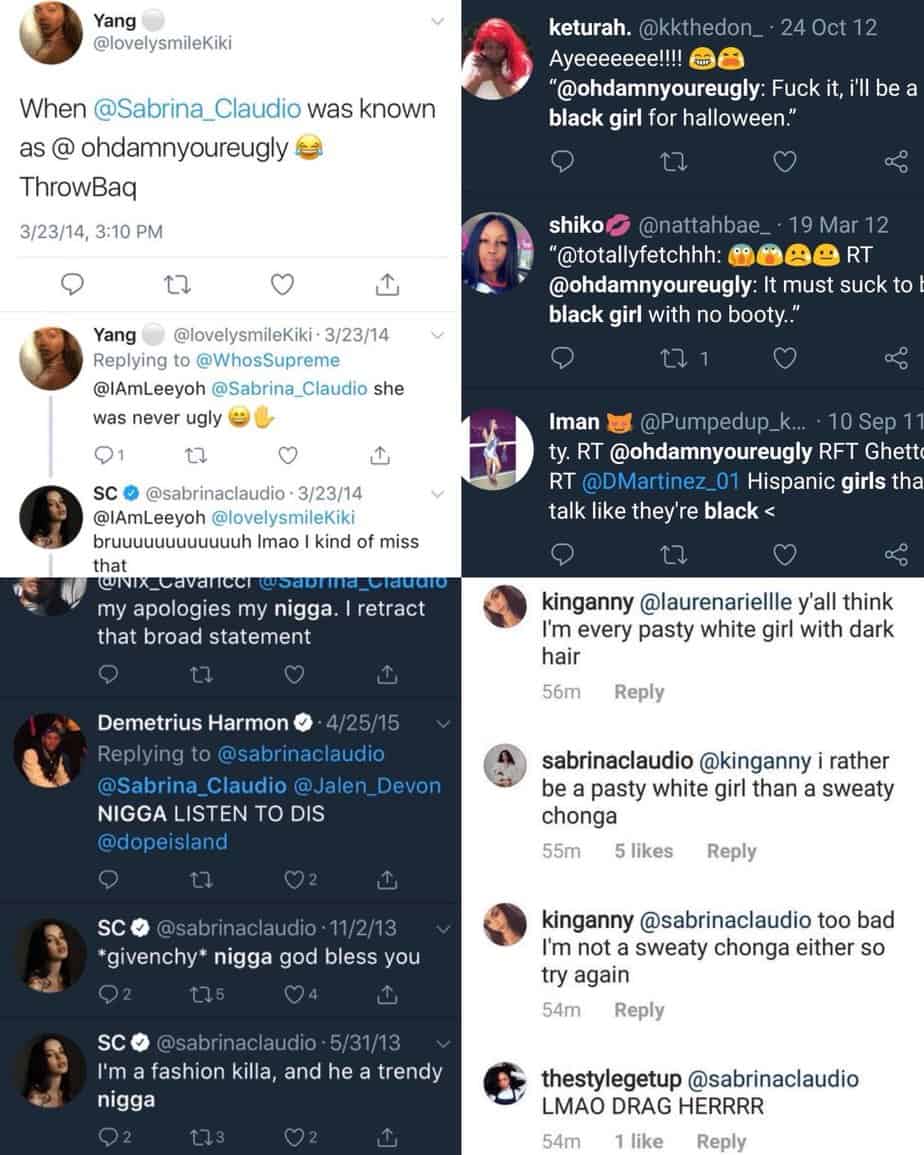 The singer used the n-word, and despite being Hispanic, most people criticized Sabrina for trying to act like a black girl even if she wasn't.
Similarly, on another screenshot from Instagram, we can see that Claudio has called a person with the username kinganny a sweaty chonga.
Although Sabrina claimed she was joking about her comments, she eventually received backlash for it.
Claudio has apologized for her racist comments; she has said sorry to her fans for her past ignorance.
As Sabrina is a massive star and influences many people, she sincerely apologized for her actions toward her fans.
Who is Sabrina Claudio?
Sabrina Claudio is an R&B pop singer born in Miami, Florida, on September 19, 1996.
The versatile artist grew up in Fort Lauderdale, has Cuban and Puerto Rican ancestry, and is proud of her descent.
Similarly, Claudio is signed to SC Entertainment and Atlantic.
You might know Sabrina from her mixtape About Time, which ranked at no. 13 on the Billboards Top R&B charts in 2017.
Christiane Paul, who portrays the role of Katrin Jaeger in FBI: International, is in the news for leaving the show. See More About Her>>
Furthermore, some of Sabrina's famous songs are Energy, Frozen, Confidently Lost, Unravel Me, and Rumours.
The singer has collaborated with high-profile artists like 6lack, Khalid, A$AP Rocky, Zayn, and more!
No Rain, No Flowers, Truth Is, Christmas Blues, and Based on a Feeling are the studio albums that Sabrina has released.
Recently, Claudio went on her Based On a Feeling Tour in 2022.