Lin Dan: Early Life, Affair, Career & Net Worth
Lin Dan is a former professional badminton player from China. He is also known as the greatest badminton player of all time.
Furthermore, after winning the All England Open in 2004, he was tagged with the Super Dan nickname by his opponent Peter Gade.
Lin has won nine major titles in the badminton world, making him the first and only player to achieve this feat. Not to mention, he also is the former World No. 1 badminton player.
Moreover, Super Dan won two Olympic gold medals in 2008 and 2012, making him the only badminton singles player to win two consecutive Olympic gold medals.
Besides that, Dan has won five world titles and is a six-time All England champion.
As a matter of fact, he dominated these platforms for more than two decades.
QUICK FACTS
Here are few interesting facts about Lin Dan.
| | |
| --- | --- |
| Full Name | Lin Dan |
| Birth Date | October 14, 1983 |
| Birth Place | Longyan, Fujian, China |
| Nick Name | Super Dan |
| Religion | Christian |
| Nationality | Chinese |
| Ethnicity | Chinese |
| Education | Fujian Shanghang No.1 Middle School Huaqiao University |
| Horoscope | Libra |
| Father's Name | Lin Jianbin |
| Mother's Name | Gao Xiuyu |
| Siblings | None |
| Age | 39 Years Old |
| Height | 178 cm (5 ft 10 in) |
| Weight | 70 kg (154 lb) |
| Hair Color | Black |
| Eye Color | Black |
| Build | Athletic |
| Profession | Badminton Player |
| Handedness | Left |
| Active Years | 2000–2020 |
| Marital Status | Married |
| Wife | Xie Xingfand |
| Kids | Fang Fang |
| Net Worth | $41 Million |
| Social Media | Instagram |
| Merch | T-Shirt, Racquet |
| Last Update | 2023 |
Lin Dan: Early Life, Family, and Education
Lin dan was born in Longyan, Fujian, China. His parents are Lin Jianbin and Gao Xiuyu.
When Dan was young, his parents wanted him to learn piano. But the young Lin was more interested in sports and started playing badminton at the age of five.
Nonetheless, the athlete's parents were very supportive of his decision, as of which they encouraged him in his badminton journey from the beginning.
In fact, they also enrolled him in a training facility. Hence, at the age of five, he started his badminton training.
Furthermore, his journey began by winning the National Junior Championships. During this time, he was just twelve years old.
Likewise, at the age of thirteen, he joined the People's Liberation Army's Sports Team and started playing for China's national badminton team when he was eighteen.
Besides that, Super Dan finished his schooling at Fujian Shanghang. Further, he got his degree in badminton from Huaqiao University.
Lin Dan: Age, Height, and Weight
Lin Dan is 39 Years Old.
As a formal athlete, Lin takes tremendous care of his health. He often hits the gym and plays badminton every day.
Moreover, he strictly maintains his diet with high protein and low-fat meals. Even though he has retired from competitive sports, he still tries to stay in good shape.
In fact, he is one of the most disciplined athletes of the current era. Furthermore, he is 5 ft 10 inches tall and weighs 154 lbs, i.e., 70 kg.
You might be interested in reading about Rod Laver: Early Life, Grand Slam & Net Worth.
Lin Dan: Badminton Career
Junior Year
The shuttler played multiple local events during his schooling period. However, his first major event was the 1995 National Junior Championships.
Further, he went to win the championship by dominating the entire tournament. Luckily, the audience in the tournament included a scout from the People's Liberation Army Sports Team.
As a result, Super Dan was recruited into the military as a sports player. This introduced him to proper training and diet, which polished his skills.
Dan won the Asia Junior Championships in 2000. Furthermore, he won both singles and doubles events at the age of seventeen.
On top of that, he also participated in the singles and doubles event of the 200 World Junior Championships. With the help of his partner, they secured gold in the doubles event.
Nonetheless, he could only secure bronze in the singles event. However, his performance was on top of the roof in both tournaments.
Due to which he gained multiple praises in the badminton community. Hence, peoples had high hope from the seventeen-year-old Lin.
Asian Tournaments
Super Dan's professional badminton career started in 2001 at the Asian Badminton Championships.
Further, he lost the finals to Xia Xuanze to secure his silver medal as a senior.
The athlete then took part in the 2002 Asian Games. He participated in the doubles, where they lost in the semi-finals.
Hence, this crushed China's hope of gold in the Asian event.
Furthermore, after four years, the shuttler again participated as a singles player in the Asian Games.
He reached the finals of the tournament. Nonetheless, the drought of gold medals in the Asian Game continued for him as he lost the match to Taufik Hidayat.
After eight years, he finally won his first gold medal in the 2010 Asian Championships.
Similarly, he won his second consecutive gold medal, the following year.
After having a taste of gold in the Asian games, he continued to secure the first spot.
As a result, he was the winner of the 2014 and 2015 Asian Games and Asian Championships.
However, after 2015 he could not win any gold in Asian events. Nonetheless, he did secure bronze in 2016 and Silver in 2017.
You may be interested in reading about Saina Nehwal: Early Life, Husband & Net Worth.
International Tournaments
Sudirman Cup
Lin was a part of the 2005 Chinese badminton roster for the Sudirman Cup. Further, both the men's and women's teams were in their best shape.
Hence, both teams won gold for China that year. Additionally, the men's team defeated the former champion South Korea to reach the finals.
As a result, they faced the reigning defending champion Indonesia in the finals. The Chinese men's team absolutely blew out Indonesia to secure gold.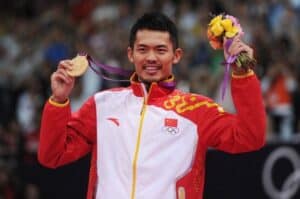 Moreover, two years later, he was again part of the Chinese Sudirman Cup team. Much like the last tournament, they again faced Indonesia in the finals.
As expected, they won the title by defeating Indonesia for the second consecutive year.
Likewise, the team went on to win their third consecutive title in 2009.
Initially, they set a record of winning three titles in a row without dropping a match in the series.
Ironically, after two years, they would break the record themselves. Thus, they won their fourth title. Not to mention, they didn't lose any match in this series as well.
Furthermore, Lin didn't participate in any tournament in 2013. As of which, he didn't play for the Chinese Sudirman Cup's team.
Nevertheless, he did participate in the 2015 cup. As expected, they kept their title run by winning their sixth consecutive title in a row.
However, this winning record will end in 2017 as they were beaten in the finals. Aside from that, this would be his last game of Sudirman Cup.
Thomas Cup
Super Dan made his Thomas Cup debut in 2004. Further, he helped China to an excellent start for the series.
Chinese team went on to win the tournament. Thus, this ended Chian's fourteen-year drought in the tournament.
In 2006, he again helped China to defend its title successfully.
Similarly, Lin and his teammates had extended China's Thomas Cup reign for the next three victories.
After winning five consecutive titles, they lost to Japan in the semi-finals in 2014.
Furthermore, the athlete could only play the third single due to his reflated ranking.
Additionally, he didn't play any tournaments in 2013. Hence, this affected his ranking because he didn't play in the semi-finals of the 2014 Thomas Cup.
Nonetheless, a comeback was expected for the Chinese team. However, they failed to meet the expectation and lost the tournament very early.
With much desperation, Dan and his teammates again entered the 2018 Thomas Cup. Moreover, they didn't lose any set in the match.
Therefore, after four years of drought, they again regained the title. Further, this would be his farewell game as he retired two years after this tournament.
World Championship
After multiple tries, he finally succeeded in winning his first World Championship in 2006.
Further, he started the tournament with multiple wins to reach the finals.
Upon finals, he faced his colleague Bao Chunlai. Furthermore, he beats his colleague to be crowned the champion for the very first time.
Likewise, the shuttler extended his title reign by beating Sony Dwi Kuncoro in the finals of the 2007 World Championships.
In 2009, he again beat his opponent to be crowned a world champion. After winning this title, he becomes the first player to win a World Championship three times.
Similarly, in 2011, he broke his own record by winning his fourth world title.
For much of 2013, he didn't play any tournaments. As a result, his world ranking standard fell below that of other Chinese players. Thus, he couldn't participate in the tournament.
Nevertheless, he received a wild card entry into the World Championships. He won all of his matches to reach the finals, where he beats Lee Chong.
Hence, he successfully converts the wild card entry into his fifth world title.
Olympics
The athlete made his Olympics debut in the 2008 Beijing Olympics. Here, he beat Ng Wei to advance to the second round.
Further, he keeps his composer beating Peter Gade to advance in the quarterfinals. As a result, he faced his teammate Chen Jin who lost to Lin in straight sets.
Likewise, he faced his arched rival Lee Chong Wei in the finals. Most critics tag this match as the perfect finals for the 2008 Olympics.
Even though both sides were very promising, the final was a one-sided match favoring Lin. As a result, he demolished Lee to win his very first Olympics gold medal.
Moreover, with this victory, he became the first men's singles player to win the Olympic gold as the first seed.
Furthermore, the gold medalist entered to 2012 Olympics to defend his title. As expected, he swished his way to the finals of the tournament.
Much like the last time, he again faced his chief rival Lee Chong Wei in the finals.
However, the victory was not a cakewalk for super dan as Lee put up an amazing performance.
Nonetheless, Dan still recovered and won the final set to win his second gold medal.
As a result, he became the first men's singles player to retain the Olympic title.
Lin Dan: Marriage and Kids
Lin Dan is married to Xie Xingfang.
Furthermore, Xie is also a retired female Chinese badminton player.
In fact, she is the two-time world champion and a former World No. 1 badminton player. Not to mention, she also participated in the 2008 Bejing Olympics.
However, she lost in the finals and secured the second position in the 2008 Olympics.
Both the couple meets back in 1997 during a national youth team badminton training camp. Further, this camp was held in Jinjiang, Fujian.
During this time, Lin was 14, and Xie was 16 years old. Instantly, they both were fond of each other. Hence, after many months of keeping in touch, they started dating each other.
The public came to know about this relationship in the 2004 Thomas Cup. Here the shuttler, after winning the tournament, went to the bench and kissed Xie.
The couple had already tied knots back in 2010. Nevertheless, this was more of a secret wedding, and it didn't have an official wedding part.
Hence, the couple decided to marry again with a proper wedding ceremony. As a result, after winning the 2012 Olympics, they decide to get married again.
Besides that, the couple has a baby boy named Fang Fang, born on 5th November 2016.
Lin Dan's Affair with Zhao Yaqi
In 2016, an intimate picture of Lin and Zhao went viral.
Likewise, this news was shared a few days after the birth of Lin's first child. Furthermore, the athlete admitted the affair and publicly apologized.
Similarly, the Chinese model Zhao Yaqi also apologized in a press conference.
Additionally, there was a lot of tension rising between Lin and his wife.
However, things got smooth over time, and Xie eventually forgave her husband for cheating on her.
Lin Dan: Net Worth and Salary
The two-time Olympic gold medalist has generated impressive wealth amount throughout his badminton career.
Lin Dan's estimated net worth is Around $41 million.
Further, he is ranked as the second richest badminton player in the world. However, his exact salary details are unknown.
Moreover, he has earned a fair amount through prize money and endorsement.
Not to mention, he is also sponsored by some biggest brands like Yonex, FedEx, and RedBull.
Furthermore, the olympian leads a very luxurious life. He lives in a splendid house and owns multiple cars.
You may be interested in reading about Randy Barnes: Career, World Records, Ban & Net Worth.
Lin Dan: Social Media Presence
The shutter is quite active on various social media platforms like Instagram and Chinese social media platform Weibo.
Furthermore, he has over 37 thousand followers on Instagram. However, he does not use this platform very often.
Hence, he has over 27 posts on his Instagram handle.
Nevertheless, he has posted pictures of a digital graphic novel based on his badminton career.
Further, the novel is called Super Dan Origin and has nine chapters.
Moreover, the athlete is very active on Weibo as he has over 46 million fans.
Similarly, he uses the social media platform to communicate with his fans.
Likewise, he shares news and his opinion about badminton sports. Alongside that, he also shares pictures of his post-retirement life.
FAQS
Who is best, Lin Dan or Lee Chong Wei?
No doubt both of the athletes are elite-level players. However, Lin has won 28 out of 40 matches against Lee. As a result, we can say that Lin has the edge over Lee.
Which racket does Dan use?
Lin Dan used the Yonex Voltric LD Force racket. Furthermore, Super Dan also used the Yonex Voltric Z Force 2 racket.