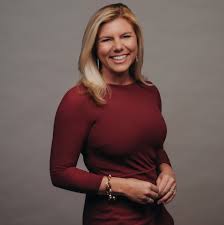 Molly Meade Grantham, widely known as Molley Grantham, is one of the most famous news anchors with two Emmys.
The famous American anchor is an inspiration to many youths who are involved in journalism. Her dedication and effort for her passion at an early age have already paid off her.
Molly is well recognized across the United States for covering different stories and producing documentaries on contemporary issues.
Molli has two decades of long experience in the field of broadcasting entertainment. In addition to this, she is involved in different philanthropic works too.
So, how well do you know about Molly?
Quick Facts
Take a glance at the facts of Molly Grantham.
Full Name
Molly Meade Grantham
Nickname/Celebrated Name
Molly Grantham
Date of birth
May 1, 1977
Age
45
Birthplace
North Carolina, United States
Ethnicity
Caucasian/White
Nationality
American
Zodiac Sign
Taurus
Hair Color
Blonde
Eye Color
Blue
Height
5 ft 7 in (1.7 m)
Weight
N/A
Parents
Father – Joseph Michael Grantham
Mother – Wilsie Moss Hartman
Siblings
N/A
High School
McCaskey High School
University
University of North Carolina (Broadcast Journalism), Chapel Hill
Partner
Wes Hyland
Children
Daughter – Parker Grantham Hyland
Son- Hutch Grantham Hyland, Hobie Michael
Pets
Fisher, a dog (demised)
Rudolph (Rudy)
Profession
News Reporter, TV Personality
Salary
$75,000 per annual (expected)
Net Worth
$2 million ( as of 2023 )
Years Active
1999-present
Debut Year
As an Intern in Australian Broadcast Corporation (ABC), Sydney, Australia
Books
Small Victories: The Off-Camera Life of an On-Camera Mom (2017)
The Jungle is Real: The Off-Camera Life of an On-Camera Mom (2020)
Social Media
Twitter, Instagram, Website
Last Update
March, 2023
Early Life
Parents
Molly Grantham was born to Joseph Michael Grantham and Wilsie Moss Hartman. She loves to refer to her dad as 'Forever Hero.'
On May 1, 1977, Molly was born in Lancaster and was brought up subsequently in Pinehurst, North Carolina.
She is the only daughter of her parents. Molly has three other brothers. Yet, no source has any knowledge about her brothers and respective occupations about her parents.
Likewise, her parents had complete support to pursue her career as a journalist during her early days.
Sadly, her family has a history of cancer. Her parents and grandparents died of cancer. Molly's grandfather and grandmother died of pancreatic and breast cancer, respectively.
Also, her father died of colon cancer in 2006. Likewise, her mother died in 2017 due to breast cancer.
Also, read about a voice actress and singer from California, Ashley Johnson.
Education
Molly studied at McCaskey High School and graduated in 1995.
Similarly, Molly graduated in 1999 with a Bachelor of Arts in Broadcast Journalism from the North Carolina University, Chapel Hill.
Likewise, right after her graduation, she interned at the Australian Broadcast Corporation in Sydney, Australia.
Body Measurement
The Emmy Award winner, Molly, stands 5 feet 7 inches (1.7m) tall, but there is no actual information regarding her body weight.
However, observing her online photos, she seems to care about her appearance and has a perfect body structure.
Further, Molly has captivating blue eyes, which goes perfectly with her blonde hair.
Personal Life
On June 17, 2017, Molly got married to Wes Hyland in Fort Fisher, North Carolina.
There is no actual history regarding how they met and what profession Molly's husband is involved in!
The couple is blessed with a daughter and two sons. Their first daughter named, Parker Grantham, was born in 2011.
And, the second son, Hutch, was born in 2016. Likewise, they recently had their third child, Hobie Michael, in 2020.
They also had a pet dog, Fisher. They had adopted him from Charlotte-Mecklenburg Police Department's Animal Care and Control back in 2006.
Fisher had been more like a child and a big brother to her kids, but, unfortunately, they had to bid farewell to him.
They brought their new pet, Rudolph (Rudy) home, in 2019.
Career
As an anchor
Molly first kicked off her career as an intern after graduating from the Australian Broadcasting Corporation (ABC), Sydney, Australia.
During the same year, in 1999, she reported for WTVD-TV in Raleigh-Durham during weekends for a year.
Molly made VHS tape for her then-job and sent it out to different stations across the country to intensify her professionalism.
Luckily, Molly got hired by WLEX-TV in Lexington, Kentucky, and worked for three years.
However, Grantham had always intended to work for Charlotte. Therefore, once again, she sent tapes to every station.
Molly was hired by WBTV News in 2003. Since then, she is working in WBTV News.
So far, the American anchor has contributed a lot in this field. Molly has covered many stories and produced many documentaries.
Her stories and documentaries include social issues such as terrorism, the military, cannabis oil legalization, and gangs in North Carolina.
You may be interested in reading about Sohvi Rodriguez, a Nicaraguan actress and a former restaurateur known for TV series like Animal Kingdom and Crazy Bitches.
Business
Besides anchoring, Molly is also involved in a business of her own.
Molly owns a website called CorkDorkGifts.com, where she sells different unique gifts made from recycled corks.
This business has aided her in adding a considerable amount to her net worth.
Books
Apart from anchoring and running a private business, Molly has published two books; Small Victories: The Off-Camera Life of an On-Camera Mom (2017) and The Jungle is Real: The Off-Camera Life of an On-Camera Mom (2020).
She released the second book amidst of Coronavirus pandemic.
Indeed, The American anchor has a variety of talents.
Lifestyle and Net worth
Molly has been in the field of journalism since 1999. After years of her dedication and hard work has paid off her value.
Grantham is a well-recognized personality as a news anchor.
Apart from this, Molly runs a private business where she sells unique made gifts from the corks.
It is estimated that she has around $2 million of net worth as of August 2021. Likewise, Molly's annual income is estimated to be around $75,000.
The anchor's everyday life is not always the same. Somedays she spent more time with family and somedays more working.
During Summer weekends, she mostly spends time with her family on the beach or traveling.
Apart from this, Molly loves to play with Fisher.
You may be interested in reading about the 12 Best Female Skaters in the World.
Philanthropic Works
Apart from her profession, Molly is also very proactive. She plays an active role in many charity organizations and events.
Molly is engaged in March Forth with Hope Foundation and the Zach Ramsey Children's Cancer Fund.
Moreover, the Emmy-winning anchor regularly produces stories highlighting the children dealing with health-threatening illnesses via the "Molly's Kids" segment.
Social Media
Since Molly is in the broadcasting field, naturally, she is active on different social media.
Molly has a verified Instagram account with 23.3k followers.
Going through her profile, she shares a lot of her personal stuff content, such as family photos, especially children, to let her fan have a close look into her life behind the camera.
Likewise, she is on Twitter, too, with 19.7k followers. However, she primarily shares her professional life content on Twitter.
Similarly, we can reach her through her official website too.
(Reminder: The number of followers mentioned above are as of August 2021).
Facts
Exciting facts about Molly Grantham:
Molly has given a TedxCharlotte Talk called "Real We Are" on stereotypes about women and images.
The anchor has been listed in "50 Most Influential Women''.
Molly is nominated for 9 Emmys so far and won twice in 2008 and 2014.
Grantham's reports are regularly featured by The Radio & Television News Directors Association of the Carolina (RTNDAC) and the Associated Press.
The anchor was awarded the "Promise of One Award'' from Charlotte's Susan G. Komen for her enthusiasm in advocating breast cancer.
Molly was also awarded Excellence in Reporting for "The Sobering Truth: Underage Drinking in Charlotte."
Further, Molly has also received the Green Eyeshade Awards for 'Public Service' in 11 states.
Molly wants to be a mermaid in her next life.
The whole family of Molly had covid while she was raising her newborn child.
Molly once made a new year resolution to stop eating French Fries.
Frequently Asked Questions (FAQs)
Is Molly still on WBTV?
Yes, she is. Since 2003 she is engaged with WBTV. She anchors WBTV at 5 PM, 5:30 PM, and solo at 11 PM.
Does Molly Grantham have cancer?
Molly's parents and grandparents had cancer and died for the same reason. But luckily, when Molly went to test if she had a breast cancer gene like her mother, the results came out negative.