12 Best Female Skateboarders in the World
Skateboarding has been one of the sports that has been under the radar for many years.
Moreover, people take it as a hobby, but not many people know about the professional skating scenes.
Today we will be looking at the 12 best female skateboarders in the World.
Skateboarding is one of the most amusing sports globally as it consists of fancy tricks that can make you go wow and leave you in awe.
Professional skateboarders train all their life to master skating and learn new tricks as they are learning how to skate.
The female skateboarders have been prominent in the scene, and some outstandingly skilled female skateboarders stand out more than others.
Without any further delay, let's get right into our list of the 12 best female skateboarders in the World.
12 Best Female Skateboarders in the World
12. Patti Mcgee
Coming at number 12 on our list is the first-ever female skateboarder in the history of professional skating.
Patti paved the way for the young female skateboarders, and even for many female skateboarders on this list, she was probably their icon.
Mcgee loved skating, and she went against all the odds and challenged the skating World to become the first-ever female skateboarder.
She was a great skateboarder as well, and she held the record for fastest girl on a skateboard at 47mph in the 1960s.
Patti is the first female ever to be inducted into the skating hall of fame.
11. Peggy Oki
Coming at number 11 on our list is the only female skateboarder of the famous skateboarding group Z-Boys.
Peggy is one of the best female skaters in the World. Despite the group being a boy-dominated group, she held her own place in the group.
She began skating at the early age of 10 and continued and become a professional skateboarder.
Later in her career, Peggy was also inducted into the hall of fame.
Despite not being in the professional skateboarding scene for a long time, Peggy is one of the OGs.
Oki, later on, tried surfboarding as well, and she was proficient at that as well.
10. Cara-Beth Burnside
Cara started her career in the late 1980s; to be exact, it was in 1989, and she was soon well known for her strength and physique.
Burnside loved skating, but she did not have enough financial support to continue her skating career, but she came out on top and continued her professional career despite the hardships.
She did snowboarding to make enough money to continue skating.
She worked hard, and in her career, she won around 16 titles in various competitions like X Games, All Girl Skate Jam, Vans Triple Crown, Slam City Jam, and Soul Bowl.
Cara also was honored with the Female Vert Skater of the Year award by World Cup Skating.
<<Top 12 Hardest Sports in the World>>
9. Sabre Norris
Sabre Norris, one of the youngest skateboarders in the World right now.
Norris is an Australian skateboarder and youtube star known across the world as the third female who landed a 540 (halfpipe).
The crazy thing about this stunt is that she was just nine years old when she performed it.
She is this good at this age; we can probably guess that she will be a phenomenal skateboarder shortly.
Besides skating, Norris is also very popular in the surfing scene, and she is the second youngest surfer that competed in the World Surf League event.
8. Sky Brown
One of the bravest skateboarders is Sky Brown. Skateboarding can be scary sometimes when you are practicing and fall horrendously.
Something similar happened to Sky Brown recently, but she has shown no sign of backing off and slowing down her career despite that.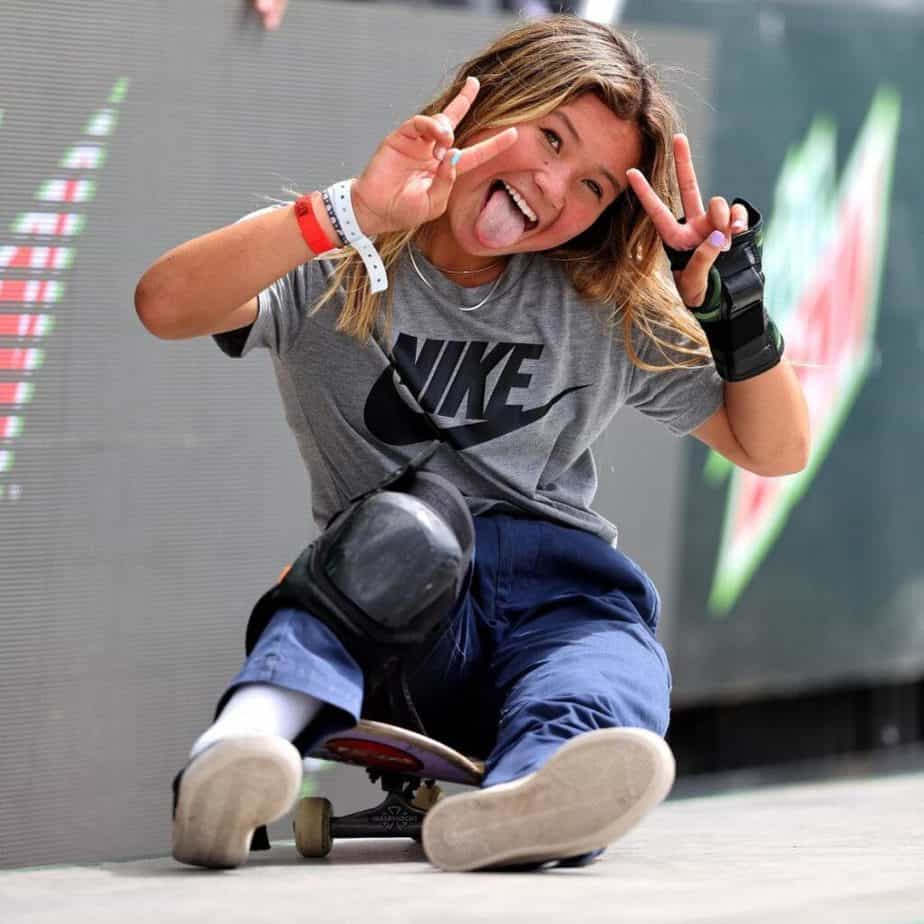 Her enthusiasm towards the sport of skateboarding is what makes her one of the best.
At just the age of 11, she said something even adults don't think of.
Further, in an interview, she stated, it's okay to fall, but getting back up and pushing even harder is what matters most.
Sky Brown is the youngest professional skateboarder and also the youngest skateboarder to ever to sponsored by Nike.
<<Top 16 Richest Golfers in the World>>
7. Alana Smith
Alana Smith, one of the skateboarders who has been in the game for a long time despite only being 23 Years Old.
In addition, Smith is a skateboarder from Mesa, Arizona.
Alana is one of the veterans in the X Games skateboarding tournament.
You must be wondering how she can be a veteran if she is only 23 Years Old?
Well, she was a participant in the X Games since her middle school days. She was only 12 years old when she won a medal in the X Games Women's Park Contest.
She also got her name in the Guinness book of world record for that feat.
6. Nora Vasconcellos
Next on our list is Nora Vasconcellos, who is a skateboarder from Pembroke, Massachusetts.
Nora is one of the most well-known females in the skateboarding world as she has achieved various titles that other skateboarders dream of.
Vasconcellos is also the first woman on the Adidas team.
In 2017, Nora won the Vans Park Series World Championships and then followed it up with a win in Transworld's Readers' Choice Female Award.
5. Lizzie Armanto
Lizzie Armanto is an American-Finnish professional skateboarder.
Armanto is widely known in the skateboarding scene for being the first female ever to make Tony Hawk's 360 loops. She performed the trick in 2018.
Lizzie is sponsored by the shoe company Vans. In her career, she has won over 30 awards in various competitions across the country.
Armanto was also the first woman to achieve gold in the X Games Women's Park Competition in 2013.
Lizzie has also been included in a few games for her achievements in the skating world.
She is featured in the games like Tony Hawk's Shred Session, Tony Hawk's Pro Skater 5, and Tony Hawk's Pro Skater 1 + 2.
4. Alexis Sablone
Coming next on our list is Alexis Sablone, who is one of the only females who has competed in every X Games competition over the last decade.
She is the oldest skateboarder on the US Olympic Skateboarding team.
Sabalone is famous for her fierce and bold skating. She said that she could skate like that because she is determined in what she does.
Alexis started her career at the early age of 12 and has participated in various tournaments over the past two decades.
The skateboarder has won three golds, one silver, and two bronze medals in the X Games tournament.
<<Top 12 Insane Sports Riots in History>>
3. Elissa Steamer
On our list coming at number 3 is Elissa Steamer, a female skateboarder from Fort Myers, Florida, U.S.
She is one of the most veteran female skateboarders in the world right now.
Steamer started skating at an early age and turned professional in 1989, and thereafter she competed in various competitions across the country.
Elissa won four gold medals, one silver, and one bronze medal in the X Games in her long skateboarding career.
Elissa is one of the most influential females in the skateboarding scene, and various new skaters consider her as their idol.
2. Aori Nishimura
The runner-up on our list is Aori Nishimura, one of the most fun skateboarders to watch.
In addition, she is from Japan, and skateboarding fans love her for her extraordinary skills.
Nishimura turned professional at just the age of seven. She was the Japanese skating prodigy.
She started her career with a bang by winning the Japanese Skateboarding Championship.
And soon became the first Japanese athlete to win a gold medal at the X Game.
In 2018, she showed her extraordinary performance on the board and won two gold medals in the X Games.
In addition, Aori followed it up with a bronze medal in the World Skateboarding Championship in Sao Paulo.
1. Leticia Bufoni
Topping our list of 12 best female skateboarders in the world is none other than Leticia Bufoni. She is a professional skateboarder from Brazil.
Bufoni started her career at the early age of nine, but her parents were against it as she used to skate amongst the boys.
Back then, skating was mostly male-dominated, but she refused to quit and continued skating and turned professional.
Bufoni turned professional, and soon enough, her hard work and practice showed up in the professional scene.
She was way better than any other skaters at that time, and just in few years, she won 5-time gold medals in the X Games.
Bufoni also holds the world record for the most wins in the World Cup of Skateboarding.