Nuno Gomes, often mistaken with the Portuguese football player, is a scuba diver.
He holds two world records in deep diving verified and approved by Guinness World Records.
Firstly, he holds the cave dive record from 1996 to the present day—secondly, the seawater dive record from 2005 till 2014.
In addition, Nuno learned diving from the legendary Sheck Exley, widely regarded as one of the pioneers of cave diving.
In the article, we have mentioned detailed information about Nuno Gomes's personal and professional life.
Nuno Gomes: Quick Facts
Full Name
Nuno Gomes
Age
72 Years Old
Nick Name
Gomes
Date of Birth
1951
Gender
Male
Profession
Civil Engineer, Scuba Diver
Place of Birth
Lisbon, Portugal
Nationality
South African
Ethnicity
N/A
Marital Status
N/A
Father
Portuguese
Mother
Portuguese
Education
WITS Underwater Club, University of Witwatersrand
Social Media
N/A
Height
N/A
Weight
N/A
Eye Color
Brown
Hair Color
Black (bald)
Occupation
Civil Engineer
Records
Deepest Cave Dive (1996)
Deepest seawater dive (2005)
Active Years
1977-
Merch
Drysuit and Wetsuit, Scuba Tanks
Last Update
April 2023
Nuno Gomes: Early Life
Nuno Gomes was born in Lisbon to his Portuguese parents. He grew up on the Portuguese coast.
During his time in Portugal, he practically lived in the sea. Meanwhile, he learned to swim and spearfish in the Portuguese Atlantic.
Later, when he was 14 years old, his family moved and settled in Pretoria, South Africa.
The reason behind the immigration was his father's disappointment with the dictatorship in Portugal.
Pretoria is a landlocked country, and Nuno had lived in the sea for all of his childhood. As a result, he was attracted to cave diving.
So, he joined and pioneered many cave dive expeditions. In addition, he dived in all the known water-filled caves in South Africa and Namibia.
If you love sport, you might be interested to read about 12 Major Athletes in the World Right Now.
Nuno Gomes: Career
Early Diving
In 1977, Nuno joined the WITS Underwater Club to improve his diving.
Additionally, he found like-minded people in the institution who were also interested in cave diving and deep diving.
Along with time, Nuno started to test his limits and began to dive deeper and deeper.
He also started diving into Boesmansgat in the Northern Cape during his quest for deeper dives. As a result, he set a new Africa record of 123m.
Along with diving, Nuno also made his mark on spearfishing in South Africa.
In addition, he was, and maybe still is, the only landlocked spearo to get Protea colors.
Nuno was a massive fan of Sheck Exley, a legendary deep cave diver.
In 1993, he met his hero, Sheck, when he visited Boesmansgat. In addition, the diver learned crucial things about diving from Sheck.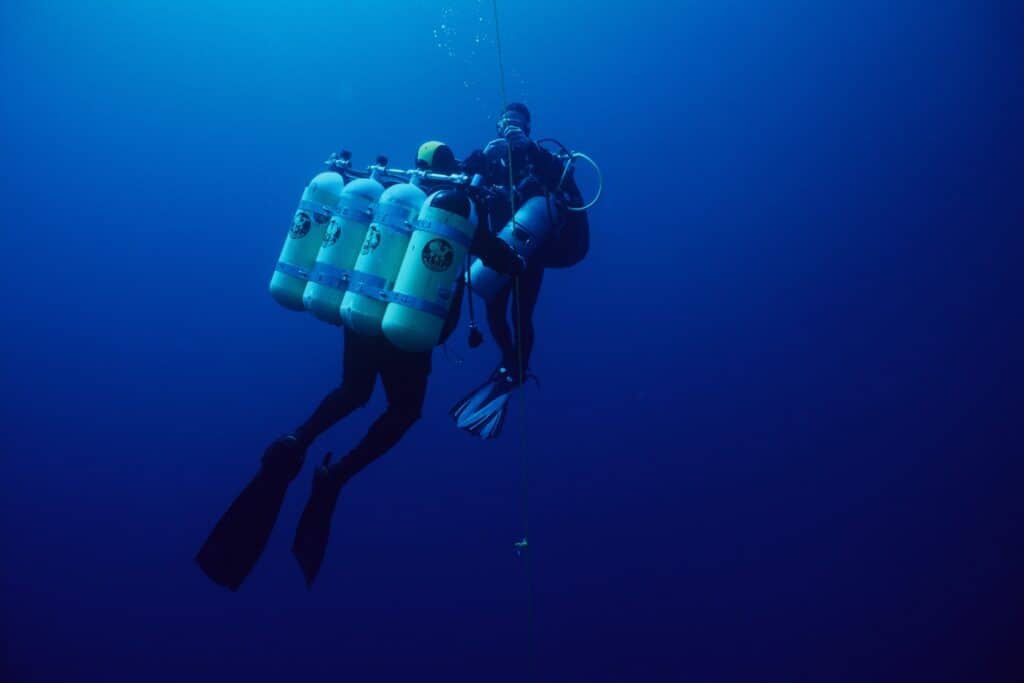 Sheck taught Nuno about TRIMIX decompression schedules and calculations and staged cylinder diving.
In addition, Nuno also learned the discipline required, the rule of enough gas to breathe, teamwork, and being conservative with decompression calculations.
Gomes wanted to dive even deeper after diving into Boesmansgat multiple times and learning a lot about it.
Nuno Gomes: Sheck Exley Death
Sheck Exley played an essential role in developing Nuno as a deep cave diver.
Despite people considering him as Nuno's teacher, Nuno believed him to be a valuable friend.
With the goal of the next level of deep diving, Nuno started training for deeper diving.
On the other hand, extreme deep diving required a team effort to carry out.
Hence, Nuno assembled a team of dedicated divers to assist him on his numerous expeditions to caves and sinkholes.
Later, in 1994, Nuno extended his personal deepest dives to 230m. In addition, after a few months, he improved his personal best to 253m.
However, this record was followed by devastating news. The news affected the whole deep-diving community.
While aiming to go beyond the 300 mark, Nuno's legendary hero Sheck Exley did not resurface from 276m.
The legendary deep cave diver was accompanied by Jim Bowden, another leading scuba diver.
The two of them went down into the abyss of Mexico's Zacaton Cave System, from where only Jim Bowden returned.
Jim Bowden also got the bends and nearly ran out of gas but had been extremely lucky to survive.
In addition, Bowden was credited with an overall depth world record of 281.9m.
However, the news of Sheck's death had affected all divers along with Nuno, his family, and teammates.
Everyone questioned Nuno's quest for deeper dives after the death of Exley.
You might be interested to read about the Top 12 Best Online Games of this Year.
Deeper Dives
Deon Dreyer, a South-African scuba diver, went missing in Boesmansgat in 1994.
An experienced police diver, Theo van Eeden wanted Nuno to help him find Dreyer's body. Theo was intent on finding Dreyer's body.
However, Nuno declined to dive to the bottom, looking for the body.
Despite declining the request, it was the beginning of a long friendship between Nuno and Theo.
Theo continued to request Nuno to look for the body. Finally, Nuno agreed to make the dive for the world record.
Nuno made the dive at altitude with a 330m decompression requirement at sea level and completed it in 12 hours.
In addition, Nuno wore seven cylinders weighing 135 kg for the dive. The cylinders contained mixtures of air, oxygen, nitrox, and trimix.
The rest of his gear included a helmet, fins, computerized gauges, and pressure-resistant torches.
Nuno narrowly beat Him Bowden's record to keep a Guinness World record for deepest cave dive record of 293m. The record stands till this day.
In addition, he also kept an overall dive record, but Guinness does not have a provision to keep the record.
Broken Records
Nuno was preparing for the coelacanth expedition on the coast of Sodwana in 2001. It was a 120m deep dive with an extended bottom time of 18 minutes.
Before the dive, Nuno received the news about John Bennet setting a new 307.8m record on Escarcia Point, Puerto Galera, Philippines.
Bennet had beat Nuno's record with his life on the line, followed by 6.5 hours of vertigo, nausea, and vomiting after the dive.
After the news, Nuno confirmed his next project to reclaim the overall and SCUBA world record in the sea.
In addition, Nuno's coelacanth dives were going very well and setting the foundations for the record dive in the sea.
Nuno and his team started their training, increasing Gym programs and going diving every weekend.
Later after obtaining sponsorship and making arrangements, the team arrived in Dahab in April 2004.
Nuno was ready for the record dive after seeing the Red Sea for only two weeks.
Nuno descended alone and reached past 315m. However, the dive did not go well, and he was denied the world record due to technical problems.
But Nuno is not the kind to quickly get upset and distracted by setbacks.
With his sponsors keeping faith and providing backing to try again, Nuno returned to the Red Sea one year later.
For the record, Nuno dived into the sea in the morning without any ceremony and disappeared.
He resurfaced after sunset, creating a new world record of 321.81 meters with rope stretch.
Nuno Gomes: Later Life
After making the world record in deep diving, Nuno did not make many deeper dives.
He continued to be in the sea as a diver up to 100m to 150m. He also did expeditions as a diver.
Currently, Nuno sees himself as a recreational diver. However, Nuno is still doing deeper dives from time to time.
In addition, Nuno pursued Civil Engineering at the University of the Witwatersrand.
As an engineer, Nuno has worked on different projects playing the role of project manager and engineer.
He worked in the SANRAL for 16 years since April 1998. Later, he left the project in April 2014.
After that, he joined Rivera & Kaplan Inc. in February 2016 as Civil Engineer and SC Prime Energy Ltd as a Project Manager in March 2017.
In addition, the diver is still holding his posts in both of the projects.
Nuno has also written a book named Beyond Blue. The book consists of his journey to the world record and his other diving journey.
In addition, he also has a personal website where he posts different things related to his diving.
If you love sports and have heard about sports riots, you might want to read about the top sports riots in history.
Nuno Gomes: Net Worth
Nuno Gomes has collected a wealth of $3 to $5 million through his diving career.
He earned his wealth by breaking records and diving into the dangerous underwater caves.
He also worked as a diving guide later in his career.
Nuno Gomes: Social Media
There are multiple personalities with the name Nuno Gomes which you might be confused with.
However, Nuno is not present on any of the social media platforms.
FAQs
How does Nuno Gomes view the deaths of divers?
Nuno stated that the death of divers needs to be taken into account more systematically.
In addition, he also stated his disappointment is in the current system where deaths are not investigated as they used to be in the past.
Moreover, the diver added that divers' death needs to be investigated to improve calculations and equipment.
Does Nuno Gomes think of death during his dives?
In his book interview, Nuno said that he does not think of his death before his dives; instead, he goes with complete confidence.
In addition, he stated that if you are not confident enough, you should not dive and abort right away as it works negatively against the dive.
Why does Nuno Gomes like the Polish divers?
Nuno has written warmly about Polish divers in his book Beyond Blue.
The fact that the Polish divers were prepared to help him without any compensation amazed him.
In addition, he also loved the integrity of the Polish divers who came with his trip to the world record without even knowing him.