Meet Kodah Dash And Nala Ryan Dyrdek, Rob Dyrdek Beautiful Kids, Wife Family And Net Worth
Father of two, 49 years old the American entrepreneur Rob Dyrdek Kids.
Rob Dyrdek was born on June 28, 1974, in Kettering, Ohio, to his parents, Gene and Patty Dyrdek.
Rob Dyrdek is an American entrepreneur, Actor, producer, reality Tv personality, and former professional skateboarder.
As a child, he developed his early interest in skateboarding and dreamt of being a pro skateboarder. At 11, Dyrdek earned the sponsorship to represent surf Ohio.
Meet Rob Dydrek Kids- Kodah and Nala Dyrdek
Kodah Dash Dyrdek is the firstborn of Rob Dyrdek and his wife, Bryiana Dyrdek. The star kid was born in Los Angeles, California, on September 9, 2016.
Although Kodah has American Nationality, he belongs to a mixed ethnicity as his Father is Caucasian, whereas his mother is a mixture of Filpino, Chinese, Cherokee, Caucasian, Spanish, and Blackfoot.
Kodah seems to have a meaningful name, according to Sheknows. Kodah can be linked to the musical term, and Coda translates to the end section of a musical piece distinct from the rest of the song.
Kodah is nicknamed Little Dreamer by his mom Briana who means a brilliant and thoughtful boy. On his first birthday, his parents organized a circus-themed Party for him.
Also, Meet 12 Years Old Logan Brod From Kids Baking Championship: Parents And Family.
Meet Kodah Baby Sister- Nala Ryan Dyrdek
Rob and Bryiana welcomed a baby sister to the son Kodah on December 29, 2017. The beautiful meaning behind her name comes from the Arabic word Nahla which means the first drink of water or water in the desert.
On her birth, Rob mentioned that she was an angel from heaven and absolute perfection. As an addition to the family and as a daughter, Nala seems to complete the family.
The star kids, Kodah and Nala, are enjoying their life. They have been to exotic places that many of us can only imagine. They are undoubtedly living magnificent life.
You can Read Meet Jackie Sandler's Kids Sadie And Sunny Sandler, Husband Adam, And Family.
Meet Rob Dyrdek Wife- Byriana Dydrek
Bryiana Noelle Flores is a model and businesswoman. she modeled for various campaigns and even posed as playmate of the month for playboy magazine in 2013.
She runs two organizations for women's empowerment and motivation: Iconic Beauty and Iconic Wine Beauties.
Bryiana is Rob's one of the genie wishes that came true. Rob and Brianna first met in 2013, and on their first date, this fantastic couple took a helicopter ride to Bakersfield to rescue puppies.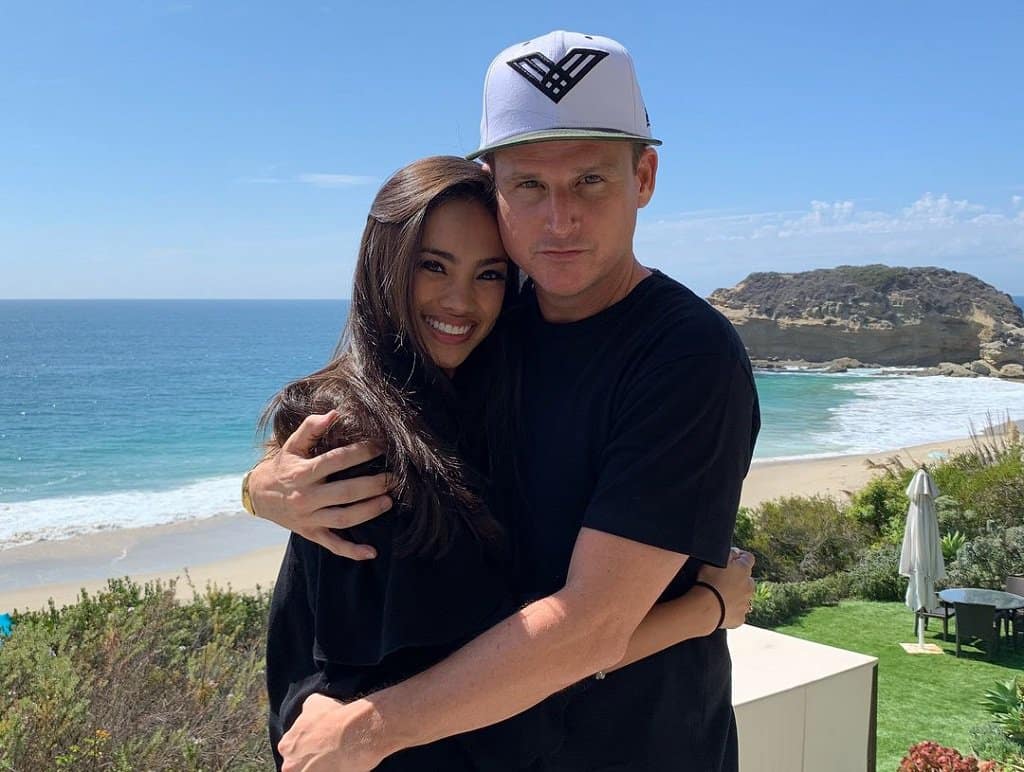 After dating for two years, the tight lovebird knotted on September 19, 2015, and welcomed their firstborn, Kodah, in 2016 and 2017; the family was expanded with a baby girl Nala.
Also, Briana loves reading books and has stated that Napolean's Hills Thank and Grow Rich has shaped her life.
What Is Rob Dyrdek's Net Worth?
The American entrepreneur Rob Dyrdek is the perfect example of a hard-working, goal-achieving, and intelligent person who has now worthed a net fortune of $100 million.
Derek's income mostly comes from his business venture, Tv shows, and sports after returning to skateboarding. He is also featured in several music videos and video games.
Dyrdek made $60,000 per episode while the show Rob and Big and the revenue increased by $300 million during the three years.
Dyrdek became a household name in the Television industry for his show Dyrdek's Fantasy Factory for seven years and increased his salary to $100,000 per episode.
The entrepreneurial carrier has served Dydrek a great fortune. He has an annual income of $5 million.
Dyrdek is the founder of Dyrdek Machine, a business incubator, and acquired the holding of Alien workshop, DNA distribution, and co-founder of Black Feather Whiskey and Ultracast.
Subsequently, he launched short-lived companies, including a skate shop and a hip-hop record level, which helped him improve his fortune.
You May Also Read::Andrew Herr Girlfriend: Who Is He Dating? Family And Net Worth