Stephanie Ruhle is a journalist, television host, and news anchor happily married to Andy Hubbard and the proud parents of three children: Drew, Harrison, and Resse.
Stephanie worked in finance for 14 years before starting her career in journalism. She debuted in journalism with Bloomberg Television in October 2011 and is currently a Senior Business correspondent and anchor with MSNBC.
Besides, the 46-year-old founded the Corporate Investment Bank (CIB) Women's Network and worked as a columnist for Shape magazine.
Stephanie Ruhle Kids: Daughter Drew Beachley & Sons Harrison and Resse
Stephanie Ruhle is the proud and happy mother of three kids: Drew, Harrison, and Resse Hubbard. Harrison is the oldest at 16, Resse is 13, and Drew is 9.
When she was 36, Stephanie took a risk by moving from her high-paying banking career to media — where she had no prior experience.
Read Also: Where Is Alisyn Camerota Going After Leaving CNN? Her Family, New Job, And Career Earning.
When Stephanie started working at Bloomberg, she already had Harrison and Resse and soon gave birth to Drew. It was challenging for her to raise her kids and work simultaneously. However, she always managed to find a work-life balance.
For instance, she takes her daily 6 am meeting from home so she can spend the mornings with her husband and kids.
Stephanie constantly talks about her experiences being a working mother and advocates for working moms on her show and through blog posts on NBC Better.
She had also defended comedian Amy Schumer when mom shamers criticized her for getting back to work after welcoming her son Gene in May 2019.
Furthermore, the news anchor hopes to empower stay-at-home moms who want to get back into the workplace, a topic she has previously discussed Today.
She revealed, "Moms are unaware of how much work they put in. Consider your management and organizational skills if you head your PTA, head a kids' little league team, establish a charity, or simply run your family."
Stephanie knows everybody is trying to care for their families and live their best lives. She finds herself extremely lucky for all the blessings she has had as she gets to live the American dream.
Stephanie Ruhle Family And Parents Details
Stephanie Ruhle has a small and sweet family consisting of her husband, Andy Hubbard, and three children.
The family of five resides in the Upper East Side of Manhattan, New York, in a four-story mansion believed to be worth $7.5 million. They had previously lived in Tribeca for years.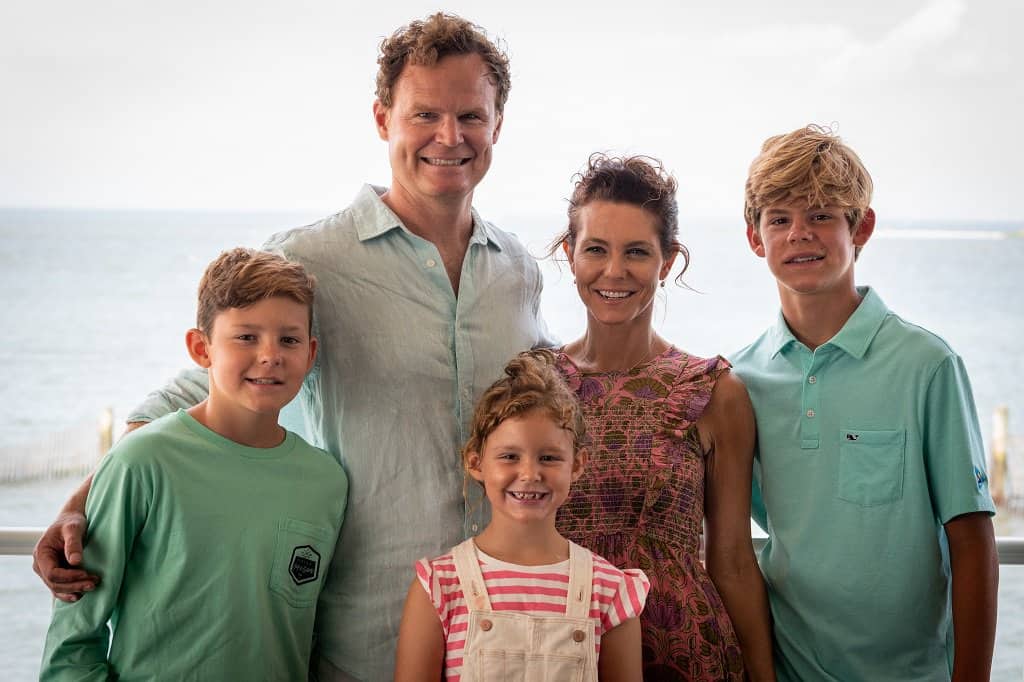 Andy is currently the head of Sales & Business Development at Ruhle Companies, Inc., industrial automation manufacturing Company in Valhalla, New York.
He earned a bachelor's degree in science and engineering from Princeton University in 1995. Since then, he has held several corporate positions, including Managing Director at Credit Suisse, Vice President at Deutsche Bank, and co-CEO of HausMart.
Stephanie and Andy met in 1998 when both worked at Credit Suisse. They began dating shortly, tied the knot in 2002, and have been going strong.
The parents of Stephanie Ruhle are Frank and Louise Ruhle. Names or details about her siblings are not available. Stephanie is American by nationality, Caucasian by ethnicity, and Catholic by religion.
The native of Park Ridge, New Jersey, United States, attended and graduated from Lehigh University in Bethlehem, Pennsylvania, with a bachelor's degree in international business in 1997.
Stephanie studied in different parts of the world for her major, including Guatemala, Italy, and Kenya. She later returned to Lehigh to give the 2017 commencement address.