Tom Petty Wife Dana York And Jana Benyo, Daughter Adria, Grand Daughter And Net Worth
Late rockstar Tom Petty is survived by his wife, Dana York, and his three children, Adria, Annakim, and Dylan.
Thomas Earl Petty, also known as Tom Petty, was an American musician. He was the vocalist and guitarist of the 70s rock band Tom Petty and the Heartbreakers, the band inducted into the Rock and Roll Hall of Fame in 2002.
Previously, he was a leader of the band Mudcrutch and a member of the group Traveling Wilburys alongside Bob Dylan, George Harrison, Roy Orbison, and Jeff Lynne. Besides, he also had a successful solo music career.
Unfortunately, the rock musician died of a cardiac arrest in 2017, one week after the Heartbreakers' 40th Anniversary Tour. Tom, who had several medical problems, died from an accidental drug overdose. He was 66.
Read Also: Where Is Russ Abbot Now? Is He Still Alive- What Happened To Him?
Tom Petty Wife: Dana York And Jana Benyo
Tom Petty was married twice. He first married Jane Benyo in 1974. They had two daughters: Adria Petty, a director, and Annakim Petty, an artist.
After 22 years of marriage, Tom and Jane divorced in 1996. Following the divorce, Tom struggled with heroin addiction until 1999. He explained that the main cause was the emotional pain he experienced from the end of his marriage to Jane.
The musician later shared that he did not want to be enslaved to anything and consequently went to a treatment center, successfully coming out well before the tour for Echo in mid-1999.
After his divorce from Jane, Tom found love again and married Dana York on June 3, 2001.
He became the stepfather of her son Dylan whom she had from an earlier marriage. Tom and Dana were together until he died in 2017.
Tom Petty Daughter: Adria Petty And Granddaughter
Adria Petty is an American director, editor, and artist. She is best known for her music video work with Beyoncé on Countdown and Sweet Dreams and Regina Spektor on All the Rowboats, Eet, Laughing With, etc. She has received five MTV Video Music Awards nominations.
Adria also worked with her dad's band Tom Petty & The Heartbreakers on the music videos for I Should Have Known It in 2010 and The Last DJ in 2002.
Furthermore, she has worked on films like Paris, Not France (2008), Regina Spektor: Live in London (2010), and NU-6 (2011), and also on several commercials including those of CASA, Clorox, Converse, Hershey, Target, and Volkswagen.
Adria attended Tisch School of the Arts for her graduate program and gathered work experience by working as an assistant to several directors before kickstarting her career.
Although the details of her partner are unknown, Adria has a daughter named Everly Petty, the granddaughter of the late Tom Petty.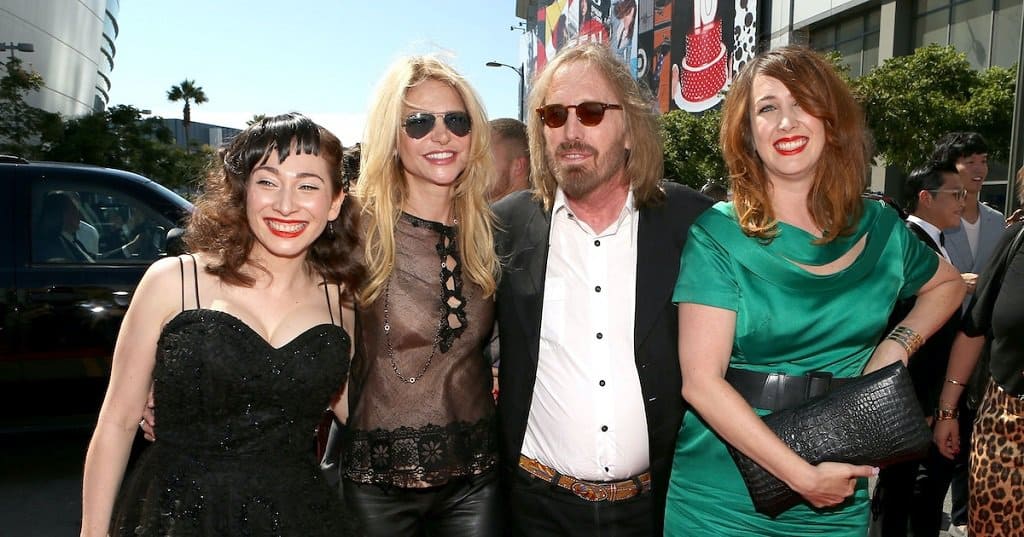 Adria was born on November 28, 1974, to her parents Tom Petty and his first wife, Jane Benyo. Adria, 48, is their eldest daughter and has a younger sister named Annakim, 40, and a stepbrother named Dylan Petty.
Throughout the years, Tom was a big family man, as his three kids often accompanied him to red-carpet events. Even though he struggled with addiction, he was always there whenever they needed him.
Tom Petty Net Worth At Death
Tom Petty had a net worth of $95 million at the time of his death, per Celebrity Net Worth. Given Tom's huge music career, his massive net worth is no surprise.
Whether solo or with the Heartbreakers, Tom had many hit albums from the 1970s to the 2010s and sold over 80 million records globally, making him one of the best-selling music artists of all time.
In addition to his career in music, he also had a minor acting career, most notably starring as the voice of Elroy "Lucky" Kleinschmidt in the animated comedy series King of the Hill from 2004 until the show's end in 2009.
Although Tom is no more, he has been able to leave wealth for his wife and kids so they can lead a comfortable life.
You May Like: Joyce Sims Death Cause: What Happened To Her? Illness Husband And Net Worth