Augustin Hadelich Partner Or Wife Suxiao Yang: Is He Married? Relationship
Relationship status and details about Augustin Hadelich partner are something people are curious to know more about. Is he just romantically involved with Suxiao Yang, or are they married?
One of the greatest violinists of the modern era, Augustin Hadelich, is renowned for his remarkable skill and elegant tone.
Not only has he performed with all the major orchestras in America, but he also performs internationally.
Hadelich is widely known for his performances at Berliner Philharmoniker, Concertgebouw Ensemble, Orchestre National de France, London Philharmonic Orchestra, and many others.
Suxiao Yang: Augustin Hadelich Partner Or Wife?
The 2016 Grammy Award winner, Hadelich, is very private about his personal life. Hence, a lot of confusion and false information has been circulated in the past about Augustin Hadelich partner.
In 2021, news about the relationship between Joyce Yang and Hadelich went viral. The news did not just report Yang to be Augustin Hadelich partner, but called her his wife!
However, according to Hadelich, the news was false, and Yang was just his pianist for a concert they performed together.
When asked by the Aspen Public Radio, Hadelich did confirm his relationship status. It turns out that the renowned violist is married to Suxiao Yang.
Suxiao Yang used to be a medical researcher and is also a photographer. Though Hadelich did not reveal much about his wife, he said that they met many years ago.
The lovely couple have a son together, who is just a toddler. Hadelich's son's name is not revealed to the public.
Hadelich said he knew nothing about the mistake and false information on the internet that claimed Pauline de Ahna as Augustin Hadelich partner.
Interestingly, Pauline de Ahna is a woman who died decades before Hadelich was born.
Augustin came to know about the whole situation only when he started receiving mail addressed to Pauline.
In the interview with Aspen Public Radio, Hadelich shared that this has become a running joke. When asked about his real wife Suxiao's take on it, he said she also finds it funny.
You Might Like To Read: Jennifer Coolidge: Rumors, The White Lotus & Net Worth
Augustin Hadelich: Career As A Professional Violinist
Augustin Hadelich was born to German parents in the Italian city of Cecina. He began learning to play violin with his father, who was an aspiring cellist and agriculturalist.
Hadelich further advanced in his musical training with occasional sessions and seminars from violinists passing through the Hadelich farms in rural Tuscany. He received lessons from Uto Ughi, Christoph Poppen, Igor Ozim, and Norbert Brainin.
He received a summa cum laude diploma from the Instituto Mascagni in Livorno, Italy, and was accepted to The Juilliard School after a successful audition.
Hadelich studied at Juilliard under Joel Smirnoff from 2004 to 2007, earning a Graduate Diploma in 2005 and an Artist Diploma in 2007.
He continued to reside in New York after graduating and became an American citizen in 2014.
After bagging the first prize at the International Violin Competition of Indianapolis in 2006, Augustin Hadelich began doing several short-notice substitutions for major orchestras.
Hadelich performed with the Los Angeles Philharmonic in the Hollywood Bowl in 2008 as a stand-in for Julian Rachlin. He made his New York Philharmonic debut at the Bravo! Vail Festival in 2010, when he was filling in for violinist Nikolaj Znaider.
In addition to performing at other significant orchestras in North America, Hadelich frequently performed with the New York Philharmonic and the Los Angeles Philharmonic for almost a decade.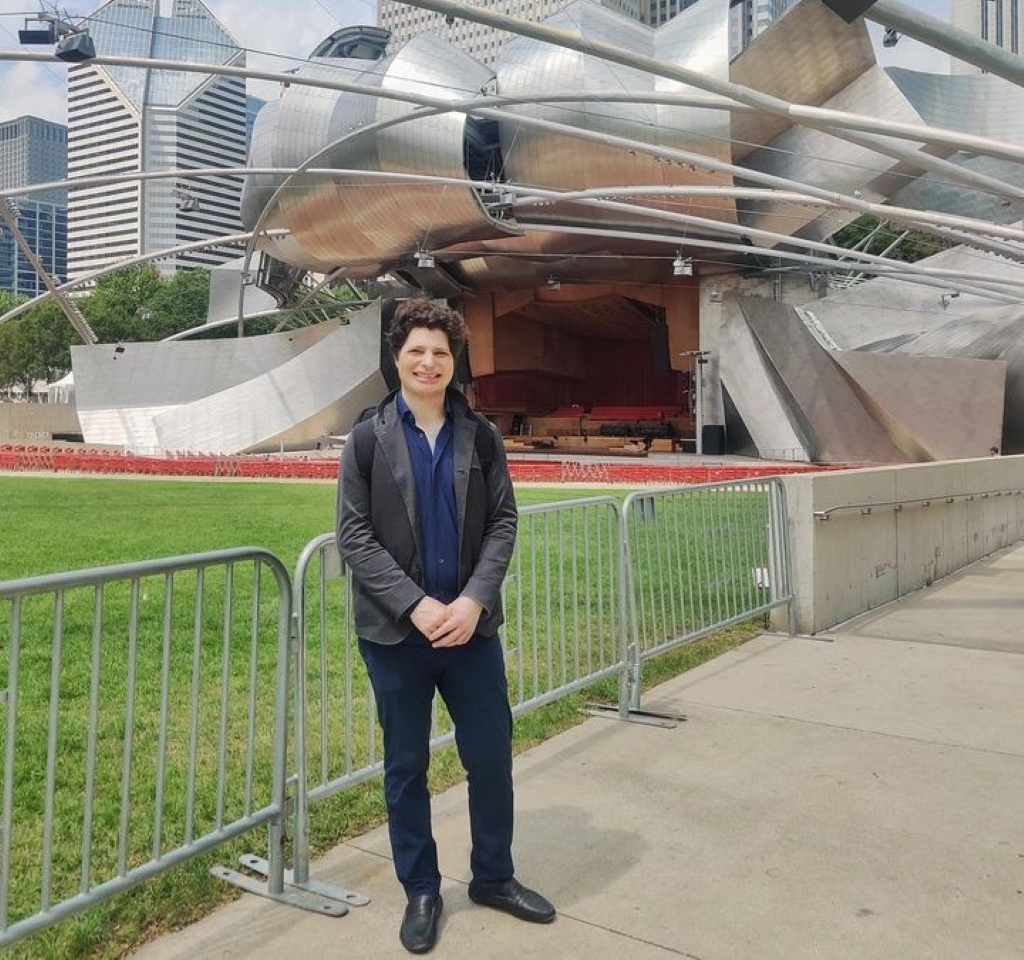 He was also appointed Artist in Association with the Hamburg-based NDR Elbphilharmonie Orchestra in 2019. He held the title until 2023.
Hadelich is renowned for his versatility as a performer. Although he frequently performs violin concertos from the classic repertoire (Beethoven, Brahms, Sibelius, Tchaikovsky, etc.), he is also a supporter of modern compositions.
Also Read: Is Celine Dion Dying? Death Hoax: Does She Have A Eating Disorder?