21 Best Met Gala Looks of All Time
Every year, the Met Gala, a fundraising event organized by Vogue (since 1948), returns to the Metropolitan Museum of Art.
Part of the fun at the Met Gala (the celebrity-filled party) is seeing a considerable number of celebrities.
On the other hand, the celebrities will have to experiment to find the appropriate outfit for the night's theme.
There have been some of the most outrageous and elegant appearances throughout the Met Gala's history.
We have shown you about 21 of those outstanding outfits in this article. Let's go!
Quick Overview
| | | | |
| --- | --- | --- | --- |
| S.N. | Worn By | Designer | Year |
| 21. | Neil Patrick Harris and David Burtka | Thom Browne | 2014 |
| 20. | A$AP Rocky | Eli Russell Linnetz | 2021 |
| 19. | Donatella Versace | Donatella Versace | 1992 |
| 18. | Jaden Smith | Louis Vuitton | 2017 |
| 17. | Will.i.am | Gucci | 2016 |
| 16. | Justin Bieber | Balmain: Tom + Lorenzo | 2015 |
| 15. | Cara Delevingne | Chanel | 2017 |
| 14. | Amanda Gorman | Vera Wang | 2021 |
| 13. | Sebastian Stan | Valentino | 2022 |
| 12. | Alan Cumming | Not Available | 2001 |
| 11. | Marc Jacobs | Comme des Garçons | 2012 |
| 10. | Dove Cameron | Iris Van Herpen | 2022 |
| 9. | Jennifer Lopez | Ralph Lauren | 2021 |
| 8. | Kim Kardashian | Roberto Cavalli | 2015 |
| 7. | Cardi B | Thom Browne | 2019 |
| 6. | Kendall Jenner | Julia Haart | 2017 |
| 5. | Billy Porter | Christian Siriano | 2019 |
| 4. | Rihanna | Maison Margiela | 2018 |
| 3. | Lady Gaga | Brandon Maxwell and Judith Leiber | 2019 |
| 2. | Katy Perry | Atelier Versace | 2018 |
| 1. | Iman | Dolce and Gabbana and Harris Reed | 2021 |
21. Neil Patrick Harris and David Burtka
Theme: Charles James: Beyond Fashion
Neil Patrick Harris and his partner David Burtka looked stunning as a duo at the 2014 Met Gala.
The couple wore Thom Browne tuxedos to the 2014 Met Gala.
Harris looked dapper in a black and white tuxedo with a spectacular floor-length blazer trimmed above his belly.
He incorporated a classic spin to his bizarre outfit with a white cummerbund and a matching white bow tie.
While preserving his stride in slick leather trainers, Harris introduced a whimsical twist to his unique ensemble by pairing it with a pair of high waist trousers.
Burtka, on the other hand, chose a one-of-a-kind and eye-catching outfit for the luxurious evening.
Like Harris, the chef wore striped trousers with a patterned blazer trimmed at the waist.
20. A$AP Rocky
Theme: In America: An Anthology of Fashion
A$AP Rocky drew much attention at the Met Gala in 2021.
For the occasion, he dressed simply in a tuxedo. That suit, however, was not the highlight of the day.
Furthermore, he was encased in a cocoon, and a massive multicolored quilt labeled ERL.
Rocky's designer Eli Russell Linnetz is regarded as one of the most significant figures of young American fashion.
The brand's SS22 selection influenced the look of A$AP Rocky.
19. Donatella Versace
Theme: Fashion and History: A Dialogue
The motif of Donatella Versace's bondage outfit is "90s and in-your-face sexuality."
It was a part from her brother Gianni Versace's Miss S&M Fall/Winter 1992 catalog.
Donatella decided to wear the leather, belt buckled bondage gown to the 1992 Met Gala, becoming one of the decade's most provoking appearances.
The choker dress with tight golden hoops is still a decisive image of the decade's fashion.
Furthermore, Donatella reimagined the gown for the 1992 event.
18. Jaden Smith
Theme: Rei Kawakubo/Comme des Garçons: Art of the In-Between
Jaden Smith looked stylish in a Louis Vuitton suit on the Met Gala 2017 red carpet. However, rather than his accessory, his outfit drew all the attention.
Smith walked onto the blue carpet, clutching a bunch of his blonde hair.
Furthermore, it was a striking contrast to his previous affairs, which featured distorted ponytails, gold jewelry, and avant-garde updos.
Smith carried his hair like a bunch of roses, which complemented his all-onyx outfit when merged with his blanched buzz.
Learn about Deanna Burditt, married to Rick Harris, a television personality who rose to prominence due to the show "Pawn Stars."
17. Will.i.am
Theme: Manus X Machina: Fashion in an Age of Technology
There was one guy who took the Met Gala theme, Manus X Machina: Fashion in an Age of Technology, and ran with it.
It was none other than the singer, producer, and superstar, Will.i.am.
The producer and performer added a full face visor to his unique silver flower stitched sleeve in a black Gucci suit.
Despite his questionable attire, no one can deny that Will.i.am made an impression.
16. Justin Bieber
Theme: China: Through the Looking Glass
Justin Bieber had a wonderful time at the 2015 Met Gala. The "Peaches" singer wore a personalized Balmain Homme black velvet blazer.
Moreover, gold dragons were embellished around the sleeves.
Justin was modeled by Ugo Mozie and proceeded to walk the red carpet as a guest of Olivier Rousteing, the creative director of Balmain.
The pop star wore his statement jacket with a black collarless shirt and skinny pants.
A silk shawl collar, smart black suede shoes, and shades rounded out his ensemble.
15. Cara Delevingne
Theme: Rei Kawakubo or Comme des Garçons: Art of the In-Between
Cara Delevingne updated the classic pantsuit yet again for the 2017 Met Gala.
Delevingne debuted a spectacular silver buzzcut to give it a metallic edge and a memorable outfit. Yes! She indeed painted her head silver.
Chanel completed her look with a brocade pantsuit from the Spring 2017 couture collection.
Furthermore, her look also had a science fiction and editorial-worthy gracefulness.
The supermodel's appearance also included bold shoulders, metal-like materials, and a plunging neckline.
14. Amanda Gorman
Theme: In America: A Lexicon of Fashion
Amanda Gorman attended the 2021 Met Gala in a personalized royal blue Vera Wang gown.
Furthermore, the stunning gown was embellished with 3,000 crystals.
She and the designer worked together to reinvent the Statue of Liberty. A silver leaf laurel finalized the look (unique meaning for poets).
In addition, Amanda wore a purse that matched the blue gown.
It was also Gorman's first Met Gala appearance. Not to mention, she co-chaired the event with Timothée Chalamet, Billie Eilish, and Naomi Osaka.
13. Sebastian Stan
Theme: In America: An Anthology of Fashion
Sebastian Stan stepped into the famous 2022 Met Gala steps in New York City dressed entirely in pink.
Furthermore, the actor appeared to be a perfect match for the event's theme.
Stan was dressed in a Valentino pink overcoat, a long-sleeved shirt, a bomber jacket, and trousers.
Furthermore, he wore everything in a hot pink color. To complete the look, he went for pink sneakers with color-coordinated laces.
However, the only thing that wasn't hot pink was Sebastian's brown tinted sunglasses.
Learn about Joelle Carter, a model and actress with a quiet demeanor.
12. Alan Cumming
Theme: Jacqueline Kennedy: The White House Years
At the 2001 Met Gala, Alan Cumming displayed his Scottish heritage.
In addition, the Scottish actor wore a plaid kilt to the Metropolitan Museum's Costume Institute Gala.
He could have even passed as the legendary kilted Scotsman Rob Roy.
Furthermore, the actor wore knee-high boots and a white shirt to complete his look.
11. Marc Jacobs
Theme: Schiaparelli and Prada: Impossible Conversations
Jacobs was spotted at the 2012 Met Gala dressed in a sheer lace dress by Comme des Garçons.
Jacobs completed the daring combination with pilgrim shoes, personnel socks, and white boxers from his line.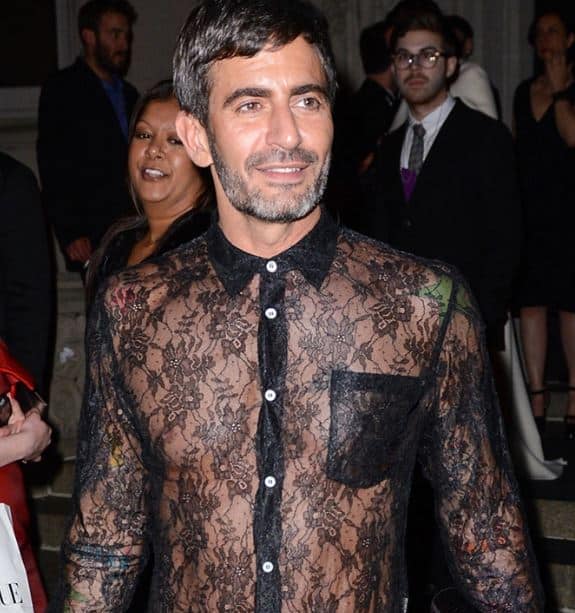 "It's just a lace dress," Jacobs said about the outfit.
Though his outfit choice at the time appeared odd, the full extent of his influence became apparent when the dress quickly sold out.
Now, let's crack into the top 10 list of the Met Gala Fashion.
10. Dove Cameron
Theme: In America: An Anthology of Fashion
Dove Cameron arrived on the red carpet in a one-of-a-kind ensemble for her debut at the 2022 Met Gala.
The singer and actress stepped on the red carpet in an Iris Van Herpen gown.
Her outfit was influenced by the cosmic frameworks of spiral nebulas, which twist out from their core.
The dress also has "holistic outlined rivers of stars discovered in these spirals are mirrored in this design's sketches."
A spectacular spheroid silhouette is formed by fine lines that spiral subtly with the user's motions.
Dove's dress was constructed from layer upon layer of white fabric and recycled mylar.
In addition, long yarns were hand-embroidered in the tips of the sleeve and the hem.
A gentle laser-cut metal structure also bolstered Cameron's outfit.
9. Jennifer Lopez
Theme: In America: A Fashion Lexicon
Lopez wore a Ralph Lauren plunge gown to the 2021 Met Gala in New York City.
Furthermore, she showed up with a cowgirl hat and many large declaration necklaces.
It was in keeping with the evening's theme, In America: A Fashion Lexicon.
The singer even shared pics of herself dolled up in glamorous outfits on her Instagram account.
Affleck also joined her at the event, where they were pictured kissing while wearing masks.
Jennifer's rustic outfit featured a plunging neckline, fluffy trim, and a thigh-high slit. Lopez completed the appearance with her own DSW metallic silver strappy stilettos.
Learn about Annalisa Cochrane, who has appeared on major television shows at such a young age.
8. Kim Kardashian
Theme: China: Through the Looking Glass
Kim Kardashian wore a sparkling Christmas tree decoration gown to the 2015 Met Gala.
The enchanted, white Roberto Cavalli gown isn't as bare as most naked dresses. However, the billionaire wore a revealing dress, barely leaving anything to the imagination.
We're used to seeing Kim flaunting her assets, but this is her fresh out of a crystal bed.
Furthermore, fashion editor Danielle Prescod noted that the outfit resembled Beyoncé's Givenchy gown from 2012.
7. Cardi B
Theme: Camp: Notes on Fashion
When the rapper arrived on the red carpet at the 2019 Met Gala, Cardi B established herself as a serious contender in fashion.
She wore a specially made, hand-embroidered Thom Browne gown with a wide-ranging train and a pairing Stephen Jones headpiece.
Moreover, 30,000 burned and colored coque feathers were used to beautify the look.
Furthermore, it took 35 people and more than 2,000 hours to create the dress. It was a powerful perception of the night's poetic theme.
6. Kendall Jenner
Theme: Rei Kawakubo or Comme des Garçons: Art of the In-Between
Kendall Jenner wore a dress made of thread and crystals, which was one of the most daring Met Gala looks.
She was spotted wearing the La Perla Haute Couture Collection, designed by Creative Director Julia Haart.
Furthermore, the dress was made with 85,000 crystals and assembled by 60 people from 5 different cities.
The nearly-naked dress is reminiscent of another nearly-naked dress.
The Rose McGowan VMAs gown from 1998 and Cher's most famous "The Naked Dress."
5. Billy Porter
Theme: Camp: Notes on Fashion
Billy Porter walked the Met Gala red carpet as a gold-plated, winged Egyptian pharaoh.
He was dressed in a specially made Christian Siriano tuxedo gown.
The Pose star was carried onto the carpet by a collective of bare-chested male attendants in a sparkling gold bodysuit and robe by The Blonds.
Porter's awe-inspiring entry and outfit proceeded as he walked onto the carpet and expanded his Golden Wings.
4. Rihanna
Theme: Heavenly Bodies: Fashion and the Catholic Imagination
Rihanna paid homage to Pope at the 2018 Met Gala.
She wore a stunning Maison Margiela gown with a papal tiara rendition of those worn by Popes.
Furthermore, hundreds of pearls adorned the strappy hand-beaded gown. Similarly, the singer's dress had that extra oomph thanks to the complementary sculptured jacket.
Likewise, she wore a pearl anklet and a jeweled crucifix necklace.
Each piece was made in an intricate Seafoam brocade and accessorized with pearls and "bijoux."
Rihanna's designer Maison Margiela Atelier took 250 hours to sew this stunning dress.
3. Lady Gaga
Theme: Camp: Notes on Fashion
At the 2019 Met Gala, Lady Gaga showed the world how it's done! The singer wore an enormous hot pink Brandon Maxwell dress to the Met Gala.
Maxwell also finished it with a descending train and a massive color-coordinated bow on her head.
Gaga then changed three live wardrobe changes on the red carpet. Under a slew of black umbrellas, she strikes a series of spectacular red carpet poses.
She began by removing her massive pink cape, revealing an all-black outfit complete with a complimentary umbrella.
And there was another hot pink gown by Judith Leiber, finished with a massive black cell phone backpack.
Gaga then stripped down to her undergarments, fishnets, and underwear for her final outfit of the event.
She looked gorgeous while pulling a hot pink wagon loaded with rosé and pink cowboy hats.
2. Katy Perry
Theme: Heavenly Bodies: Fashion and the Catholic Imagination
Katy Perry dressed as an angel for the 2018 Met Gala. Furthermore, the signer of "Teenage Dreams" gave the angel look a whole new meaning.
The night's theme inspired her Atelier Versace outfit.
Furthermore, her look was perfectly complemented by over-the-knee boots.
Perry looked stunning in gold chainmail, which she paired with incredible theatrical angel wings.
1. Iman
Theme: In America: A Lexicon of Fashion
At the 2021 Met Gala, supermodel Iman stole the show.
She arrived at the red carpet wearing an awe-inspiring personalized brocade bustier and trousers, which she matched with a tiered, gilded feather cage overskirt.
She also wore a corresponding headpiece made in partnership with Dolce & Gabbana and British-American designer Harris Reed.
Everything about the look was red carpet gold, from the dramatic silhouette to the jaw-dropping jewelry.
America's golden age ballroom culture inspired the outfit.
Furthermore, Iman's decision to wear this outfit aided Harris Reed in achieving some well-deserved fame.
Learn more about Bryiana Noelle Flores, featured in the famous "The Playboy Magazine."