Are you interested in bodybuilding? If so, you must be familiar with the name of former Mr. Olympia Dorian Yates.
Dorian Andrew Mientjez Yates, also known as Dorian Yates, is a former English professional bodybuilder. Moreover, he retired in 1997.
Similarly, he is recognized as one of the most successful bodybuilders in the world. Currently, he owns a gym.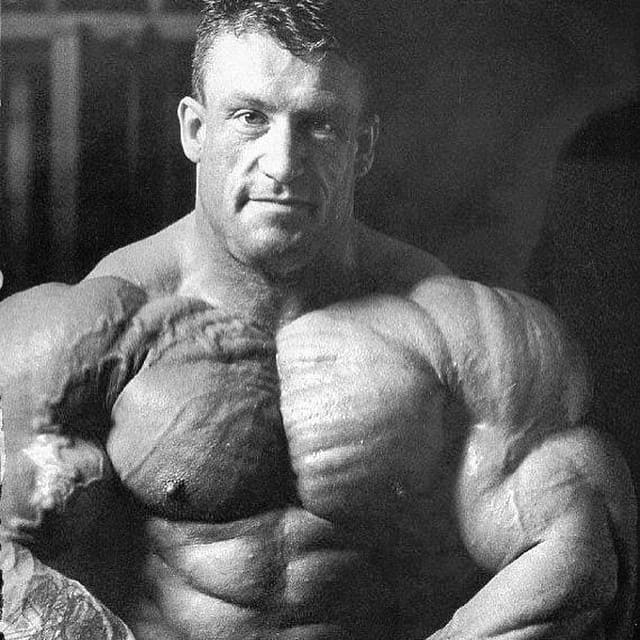 In 1983, Yates started working out and never stopped. However, he had his struggles and had to face many criticisms throughout his journey.
This article will give you a closer look at the life of an astounding bodybuilder, Dorian Yates.
Quick Facts
Here are some quick facts about Dorian Yates:
Full Name
Dorian Andrew Mientjez Yates
Birth Date
19 April 1962
Birth Place
Walmley, Warwickshire, England
Religion
Unknown
Nationality
British
Ethnicity
English (English, Irish, Scottish, and Scandinavian)
Education
Wood End School, Wolverhampton
Kings Bury Middle School
Zodiac Sign
Aries
Father's Name
Kenneth Yates
Mother's Name
Hilma Yates
Siblings
Tanya Yates, Lisa Yates
Age
59 Years Old
Height
5'10" (179 cm)
Weight
121 kg
Eye Color
Green
Hair Colour
Light Brown
Occupation
Bodybuilder, Trainer, Entrepreneur
Nickname
The Shadow
Marital Status
Married
Spouse's Name
Debbie Yates (ex-wife), Glauce Ferreira
Children Name
Lewis Yates, Tahnee Yates
Net Worth
$4 Million
Sexual Orientation
Straight
Social Media
Instagram, Facebook, YouTube, Twitter
Pro-debut
Night of Champion's 1990
Retirement Year
1997
Mr. Olympia Wins
6 times
Pro-debut
Night of Champion's 1990
Retirement Year
1997
Merch
Posters
Last Update
October, 2021
Dorian Yates: Family, Childhood, and Education
Parents
Dorian was born on 19 April 1962 in Walmley, Warwickshire, England, to father Kenneth Yates and mother, Hilma Yates.
His father was a night shift maintenance engineer and a car mechanic. Similarly, his mother used to give riding training.
Unfortunately, Dorian lost his father at the age of 13 due to a heart attack. Soon after, he moved to Birmingham with his mother.
Siblings
Dorian was the eldest brother of two younger sisters.
Sadly, his younger sister Tanya died at the age of 3 when Dorian himself was just 5.
Similarly, Lisa Yates is the youngest sister of Dorian, a teacher, and a trader of horses.
Education
Dorian got his elementary education from Wood End School, Wolverhampton.
Furthermore, he went to Kings Bury Middle school for his further education. However, Dorian decided to quit school at 16.
You may be interested in reading about Lewis Hamilton.
Dorian Yates: Age, Height, Weight, and Body Measurements
Since Dorian was born in 1962, he is currently 59.
Moreover, Dorian stands 5'10" or 179 cm tall and weighs 121 in kilograms.
Similarly, Dorian's chest size is 148 cm, and hip size is 107 cm.
In addition, his thigh size is 79 cm, waist size is 83 cm, calf size is 56 cm, and upper arm size is 54 cm.
Dorian Yates: Personal Life
Wife
Nothing much is known about his first wife, Debbie Yates. They got married in 1991 but soon got separated after his retirement. They had two children together.
In addition, they had one son named Lewis Yates and a daughter named Tahnee Yates.
Through the Instagram of Dorian Yates, it is clear that he loves his children and spends quality time with them, and does exercise and yoga together.
Lewis Yates has decided to follow in his father's footsteps and is a bodybuilder now.
He then met Brazilian fitness model Glauce Ferreira in 2008. They dated for several months and got married in 2009.
Moreover, she had won the IFBB South American Bodyfitness event and was also the 2007 IFBB World Bodyfitness Champion.
He seems to constantly spend time with his family, especially in the gym, and shares a really good bond with them.
Dorian Yates: Career
Yates was never involved in sports when he was younger.
At the age of 19, Dorian was sentenced to the youth detention center for six months because he joined a skinhead gang.
Even though Dorian was never involved in sports before, he was certainly athletic.
In addition, he used to power lift to keep himself entertained, and his inmates were pretty impressed by his strength.
This was when he realized he has potential, and his love for fitness grew.
BodyBuilding
After getting released, he decided to never return behind bars.
Yates officially started working out in 1983 at the age of 21. After that, he studied nutrition and training in-depth on his own.
Dorian took part in the 1984 Mr. Birmingham Novice when he was just 22 and walked away with 1st position.
Furthermore, he went on to participate in the 1985 IFBB World Games, his first international contest.
The athlete was able to compete with renowned bodybuilders and secured 7th position at the age of 23.
Similarly, he entered in many contests and was able to secure 1st positions in most of them.
Dorian is also considered to be the first of the "mass monsters" in bodybuilding.
Business
In 1994 Dorian established a sportswear company named Heavy Duty Inc. with Mike Mentzer and Ray Mentzer that marketed athletic apparel and bodybuilding-related books.
Moreover, Yates partnered up with Kerry Keyes (former bodybuilding champion) in 1998 to form a bodybuilding supplement company named CNP Professional.
But he left the company in 2006 to form his own company.
Similarly, in 2010, Yates started his second company called EU Peptides. The company sells peptide hormones and other pro-hormone supplements.
In 2011, Yates founded a third company called DY Nutrition and left EU Peptides in 2012.
In addition, His third company focuses on pre-workout formulas.
Yates also franchised his company in California, Las Vegas, and the UK.
Training Style
Dorian had the mentality of "more is better," that was until he first won the Mr. Olympia title in 1992 and went to Los Angeles, then got trained by Mike Mentzer.
Mike Mentzer was the one to convince Yates to reduce his workout sets to just one, and he immediately started seeing results.
You may be interested in reading about Brandon Curry.
Dorian Yates's Nickname: The Shadow
Dorian Yates earned the nickname "The Shadow" for unpredictably appearing at the major bodybuilding contests.
Moreover, he would steal the wins and avoid public eye contact between the contests.
Similarly, the nickname "The Shadow" was given by Peter McGough.
Dorian Yates: Injuries and Retirement
Injuries
Yates suffered chronic injuries, which included torn biceps and triceps.
Despite his injuries, he still participated in Mr. Olympia 1997 and won.
In addition, many criticized him for this and said the runner-up, Nasser El Sonbaty was more deserving.
Retirement
Dorian Yates's injuries led to his retirement. He retired in 1997 as one of the most successful bodybuilders in the world.
Dorian Yates: Steroids
According to Yates, great genetics, great work ethic, and steroids lead you to success, but how much steroids you consume doesn't matter if you don't possess the first two.
Dorian himself admitted that he used higher amounts of steroids than he was listed and also added insulin during his Mr. Olympia tenure.
But all the drugs did was diminish his muscle quality and gave him a distended belly.
Yates says that he sees a lot of guys with this look these days.
You may be interested in reading about Vanderlei de Lima.
Dorian Yates: Titles and Achievements
Dorion holds records of 15 major contest wins.
Yates has won the Mr. Olympia title six consecutive times from 1992 to 1997, making him the person with the fifth-highest wins of Mr. Olympia in history.
Yates first entered contests with Mr. Birmingham Novice in 1984 and won 1st position.
In the following year, he won World Games and two British championships.
He has 3 English Grand Prix, 2 Spanish, and German Grand Prix under his name.
Similarly, in 1990, Yates won 2nd position in Night of Champions, and in 1991, he was able to succeed in securing 1st position.
In 1991, he also won 2nd position in Mr. Olympia.
Dorian Yates: Books and Videos
Books
Dorian is also fond of writing. He published his autobiography in 1993 titled Blood and Guts.
Moreover, he co-authored A Warrior's Story, released in 1998.
Yates also published a book called A Portrait of Dorian Yates: The Life and Training philosophy of the World's Best Bodybuilder with Peter McGough in 2006.
Dorian released Green Earth Guide: Travelling to France in May 2009 and Green Earth Guide: Travelling to Spain in February 2010.
Similarly, he also wrote Green Earth Guide: Travelling to Switzerland in November 2010.
The athlete also released a book called Dorian Yates: From the Shadow: official Biography with Kaspa Hazlewood on May 5, 2020.
Videos
Yates released a video based on the same title as his autobiography "Blood and Guts" in 1996, which features his weakly training routines.
Yates also released a mass gain video trainer based on HIT theory in 2012, collaborating with bodybuilding.com.
Similarly, in 2017, the London Real feature film released a film named Dorian Yates: Inside the Shadow.
Moreover, in 2019, Dorian Yates: The Original Mass Monster was released.
Dorian Yates: Lifestyle and Net Worth
Despite retiring early, Yates was able to become one of the world's richest bodybuilders.
YATES NET WORTH IS ESTIMATED TO BE ABOUT $4 MILLION.
His sources of income are supplement company DY Nutrition, Temple gym, books & DVDs.
Moreover, Yates lives an active life spending most of his time in the gym and promoting DY Nutrition. His son Lewis Yates is the manager of the company.
Dorian Yates: Social Media
Dorian Yates has an Instagram and Twitter account with 1.2 million followers and 159k followers.
Yates is relatively more active on Instagram than on Twitter. He regularly shares his activities in the gym.
Similarly, the athlete also has a Facebook and a YouTube account.
Moreover, Yates constantly promotes DY nutrition on his social media.
Furthermore, he also shares his photos with his daughter and family showing off his bond with them.
FAQS
How many hours a day did Dorian train?
Dorian trained only for an hour a day and 4 times a week.
Why was Dorian Yates in Jail?
Dorian and his friend were trying to get a hat off the dummy, but his friend triggered the dummy to collapse. This pushed him behind bars in the youth detention center for six months.
Why did Dorian Yates quit?
In 1997, he suffered some major injuries, and because of that, he had to quit.