Calculation of the top-paid American football player can be a hectic task. It gets confusing because there are many criteria under which a player's paycheck is based on.
In addition, the NFL's deals and contracts with players are not fully guaranteed.
Each NFL players have a different unique contract and basis for the salary. Therefore, for today's listing, we will be using the average annual wage of American football (NFL) players.
Top 15 Highest Paid American Football Players
| | | | |
| --- | --- | --- | --- |
| Rank | Player | Average Annual Salary (in Million) | Team |
| 1 | Patrick Mahomes | $45 | Kansas City Chiefs |
| 2 | Josh Allen | $43 | Buffalo Bills |
| 3 | Dak Prescott | $40 | Dallas Cowboys |
| 4 | Deshaun Watson | $39 | Houston Texans |
| 5 | Russell Wilson | $35 | Seattle Seahawks |
| 6 | Aaron Rodgers | $33.50 | Green Bay Packers |
| 7 | Jared Goff | $33.50 | Detroit Lions |
| 8 | Kirk Cousins | $33 | Minnesota Vikings |
| 9 | Carson Wentz | $32 | Indianapolis Colts |
| 10 | Matt Ryan | $30 | Atlanta Falcons |
| 11 | Ryan Tannehill | $29.50 | Tennessee Titans |
| 12 | Trent Jordan Watt | $28 | Pittsburgh Steeler |
| 13 | Jimmy Garoppolo | $27.50 | San Francisco 49ers |
| 14 | DeAndre Hopkins | $27.30 | Arizona Cardinals |
| 15 | Matthew Stafford | $27 | Los Angeles Rams |
15. Matthew Stafford
John Matthew Stafford is a professional NFL quarterback for the Los Angeles Rams. He joined the Rams on March 18, 2021. Before this, he had been playing for the Detroit Lions.
Moreover, in the history of the NFL, Stafford is one of the four quarterbacks to throw for over 5000 yards in a single given season. Also, he was the fastest player to reach 40,000 yards in just 147 games.
However, signing a $135 million extension contract with the Detroit Lions, made him the highest-paid player in 2017 and NFL history.
After spending 12 years with Lions, he has been traded to the Rams in exchange for quarterback Jared Goff.
14. DeAndre Hopkins
Ranked 14 is DeAndre Hopkins, a professional wide receiver for the Arizona Cardinals. Born on June 6, 1992, he first started playing football during high school.
Later, joining Houston Texans on July 24, 2013, he began his professional career.
Moreover, in his first season for Arizona Cardinals, he received 1,407 yards with 115 catches. The five-time pro bowler is considered one of the best receivers in the NFL.
However, with an annual salary of $27.3 million, he ranks 14 on the top-paid American football player list.
Read more about the 12 Best Linebackers in NFL Today.
13. Jimmy Garoppolo
The 31-year-old Jimmy Garoppolo is a quarterback for the San Francisco 49ers. The QB started playing football when he was in high school. In 2014, he got drafted by the New England Patriots.
Garoppolo played three seasons for the Patriots and later joined the San Francisco 49ers in 2017. Currently, he plays for the 49ers.
Garappolo has helped revitalize the team, aiding in multiple wins.
However, in 2018 the talented quarterback got injured, due to which he had to take a break from the sport for a year. His fans worry if the injury he sustained would further affect his performance in the future.
12. Trent Jordan Watt
The 12th top-paid American football player Trent Jordan Watt is an excellent outside linebacker playing for the Pittsburgh Steelers. Moreover, he is the NFL's highest-paid defensive player.
Watt started his professional career after joining Pittsburgh Steelers on June 14, 2017.
Recently, Watt got an extension by the Steelers to a four-year contract worth over $112 million, making him one of the highest-paid NFL defensive players.
Similarly, Watt got invited to the NFL Combine, where the NFL analyst ranked the fourth-best outside linebacker. Also, ESPN ranked him the 44th best prospect available in the draft.
11. Ryan Tannehill
Playing as a quarterback for the Tennessee Titans, Ryan Tannehill is one of the NFL's top-paid American football players. With an annual average salary of $29.5 million, he comes at number 11 on the list.
Tannehill started his professional career after being drafted by the Miami Dolphins in 2012. Moreover, he played for the Dolphins for six seasons (2018).
After this, he joined the Tennessee Titans on March 15, 2019. Due to being a talented quarterback, Tannehill was awarded the NFL Comeback Player of the Year.
However, due to his outstanding performance and sportsmanship, he earned an annual $29.5 million contract for four years.
10. Matt Ryan
The Atlanta Falcon quarterback, Matt Ryan, comes at number ten on today's list. However, the annual salary of this talented quarterback is the highest out of all of his teammates.
The 37– year-old enjoys his $30 million annual salary alongside his prestigious trophies and titles.
Ryan started his professional carrier in the Atlanta Falcons after being drafted in 2008. This is his tenth year with the Falcons.
Most importantly, the surprising part is that he has only missed a single game in his professional career.
However, in 2016, Matt Ryan was awarded the NFL's Most Valuable Player and the Most Offensive player of the Year award.
9. Carson Wentz
Carson Wentz is a 29 year-old professional quarterback for the Indianapolis Colts. With an annual salary of $32 million, he ranks the ninth spot on the top-paid American football player list.
Similarly, Wentz started his professional career in 2016 after being drafted by the Philadelphia Eagles. Here, he played for five seasons.
At the Eagles, he was awarded the NFL's Best Bell Award 2017. Above all, 2017 became his most successful season as an Eagle.
However, on March 17, 2021, Wentz was traded to the Indianapolis Colts. During the training camp, Wentz suffered a foot injury.
As a result, he underwent surgery on August 2, 2021. However, despite the recent foot surgery, he could make it in time for the September 12 season opener against the Seattle Seahawks.
8. Kirk Cousins
Kirk Daniel Cousins is the 8th top-paid American football player in the world. Playing for the Minnesota Vikings as a professional quarterback, he joined the team on March 15, 2018.
Likewise, Cousins started his professional career when he joined the Washington Redskins in 2012.
During his time at the Redskins he set numerous records and was named to the 2017 Pro Bowl. Kirk also became the NFL completion percentage leader in the year 2015.
Above all, Kirk is ranked third in all-time completion percentage with at least 1,500 pass attempts and is ranked sixth in the NFL's all-time regular-season career passer rating.
Get to know about the 12 Best NFL Running Backs in the World Right Now.
7. Jared Goff
Seventh in today's ranking is Jared Goff. He is a professional quarterback for the Detroit Lions of the NFL. The 28 football star has an annual salary of $33.5 million.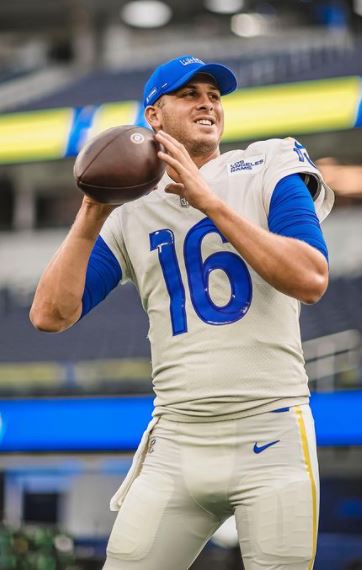 That is to say, Goff got drafted by the Los Angeles Rams in 2016. This is where he played the first season of his professional career. After that, Goff played with the Rams for 5 seasons (from 2016 to 2020).
However, on March 18, 2021, Goff was traded to the Detroit Lions in exchange for quarterback Matthew Stafford.
6. Aaron Rodgers
Aaron Charles Rodgers is a professional quarterback for the Green Bay Packers. Moreover, with an annual salary of $33.5 million, he comes at number six on today's list.
Rodgers started his professional career after getting drafted by the Packers in 2005. However, he is still playing for the Packers after all these years. A Packer to the core!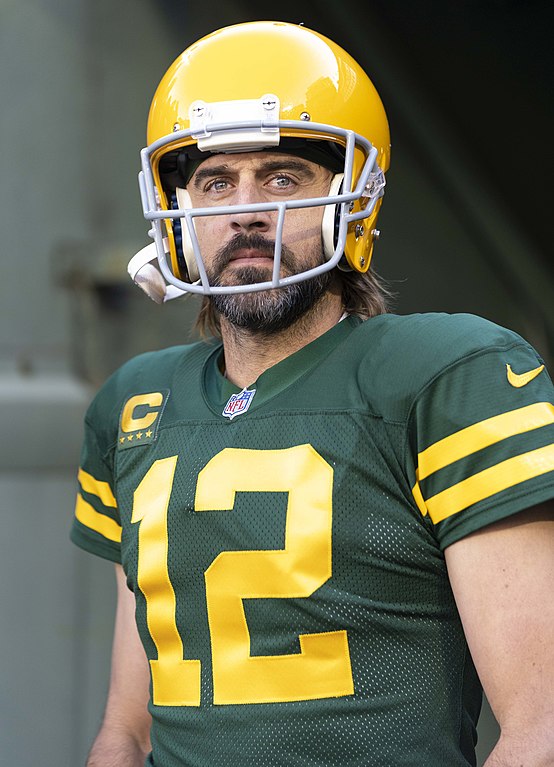 In addition, Aaron Rodgers has been awarded the Most Valuable Player Award three times (2011, 2012, 2020). Besides this, he holds multiple prestigious titles and awards. He is the one quarterback everyone wants on their team.
5. Russell Wilson
Russel Wilson's annual salary is $35 million; he is the fifth most paid NFL athlete globally. He plays for the Seattle Seahawks as a quarterback.
Joining the Seattle Seahawks on January 16, 2012, it was his first professional league team. But, just like Rodgers, Wilson has stuck to the team he began his professional career on.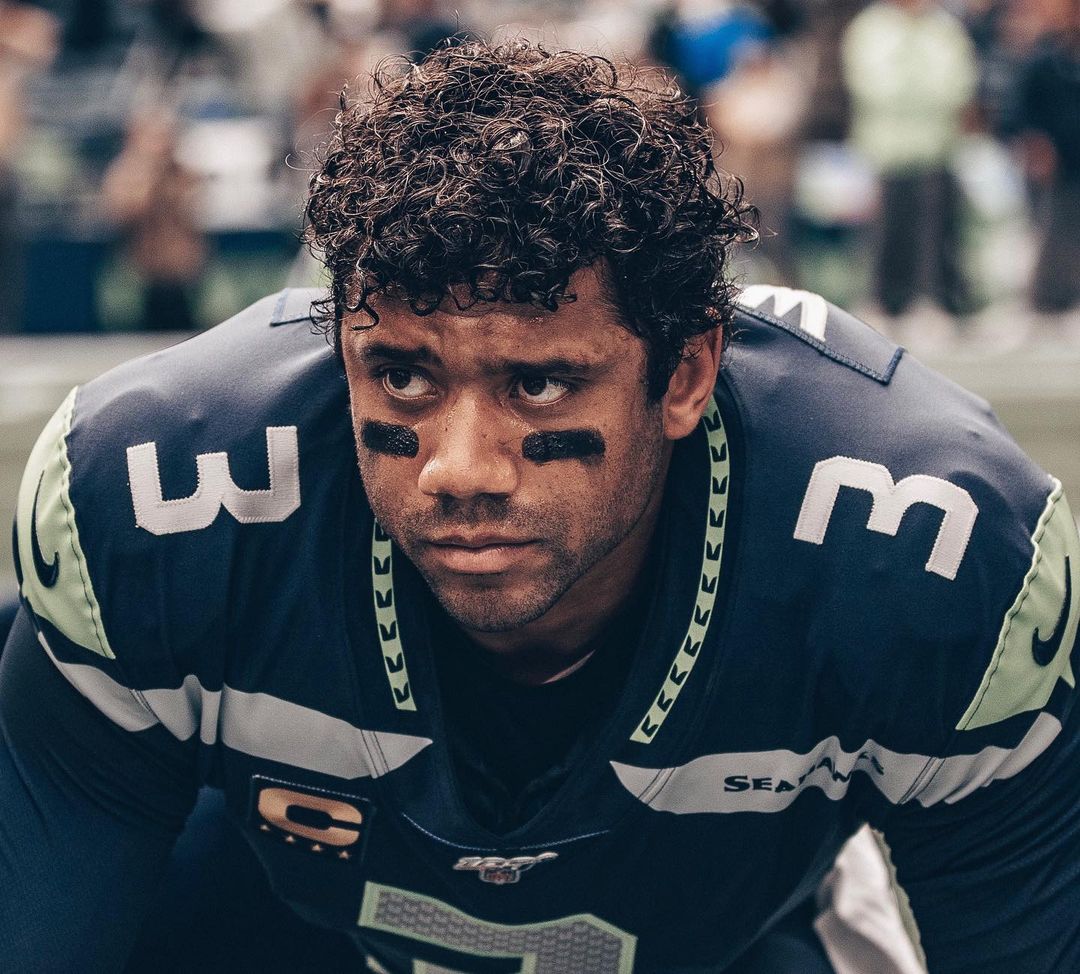 Similarly, Russell Wilson got awarded the Walter Payton NFL Man of the Year in 2020. In addition, Wilson also holds the record for the most NFL quarterback wins through nine seasons (98).
Moreover, Wilson is one of the four quarterbacks in NFL history with a career passer rating, i.e., over 100.
4. Deshaun Watson
Born on September 14, 1995, Deshaun Watson is a professional quarterback for the Houston Texans.
However, Watson comes at a high price, with his annual salary being $39 million. His premium paycheck has made him rank four on today's list.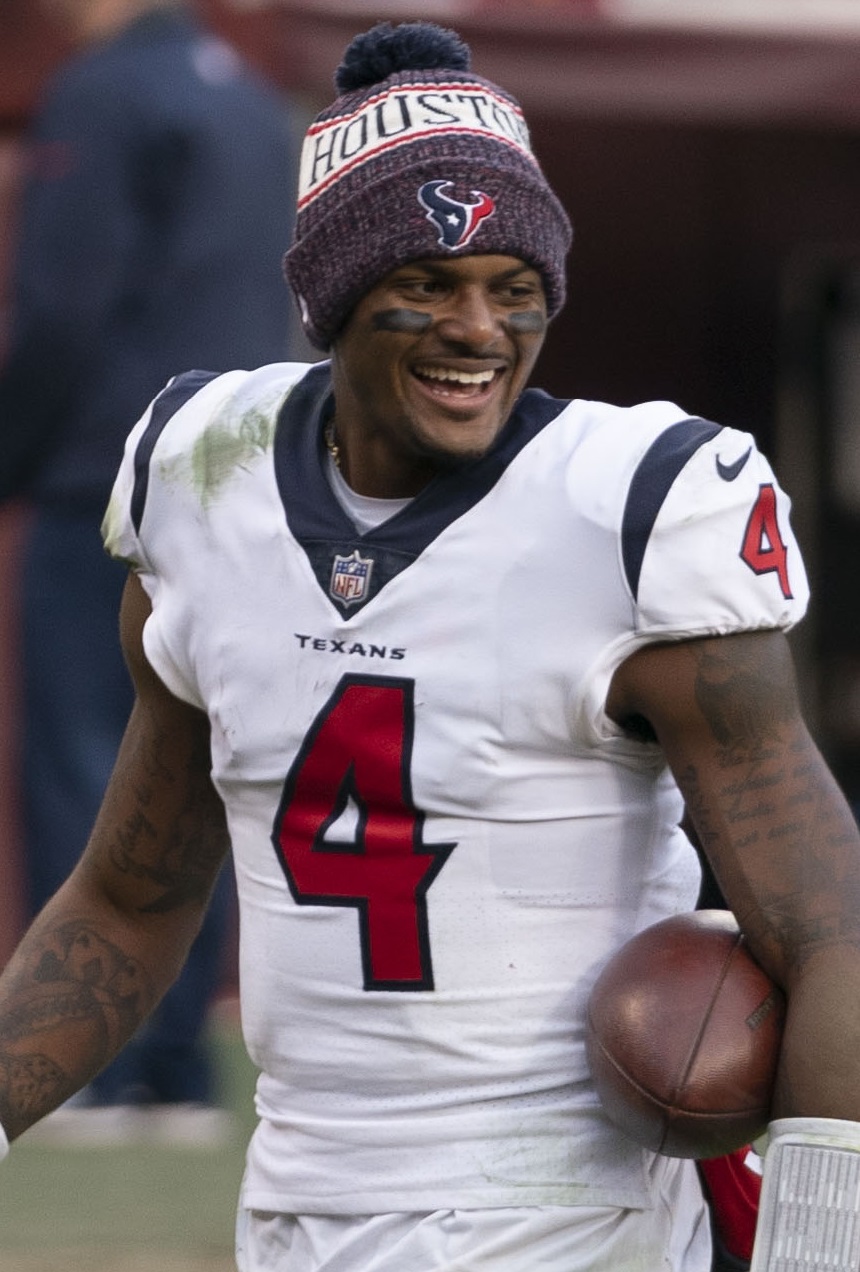 After signing with the Texans for four years, Deshaun Watson began his professional career on May 12, 2017.
However, compared to other players on the list, Watson might not have the years, but he does have skills and achievements given such a short period.
In addition, Watson holds some prestigious awards like; the award of NFL passing yards leader PFWA (2020) and the All-Rookie Team award (2017).
3. Dak Prescott
Playing for the Dallas Cowboys, Rayne Dakota Prescott is the third top-paid American football player in the NFL. He makes a fortune by earning $40 million annually.
Likewise, Prescott began his professional career after being drafted by the Dallas Cowboys in 2016. However, this will be his sixth season as a Cowboy.
Similarly, in 2016, Prescott was awarded the NFL's Offensive Rookie of the Year, followed by the Conerly Trophy two times (2014, 2015).
2. Josh Allen
Josh Allen is a quarterback for the Buffalo Bills in the NFL. The team from where he began his professional career after being drafted in 2018.
Likewise, Allen broke several NFL passing records in his third year as a starter. Most passing yards and touchdowns in a single season were one of them.
Similarly, he led Buffalo to their first divisional title and playoff win since 1995.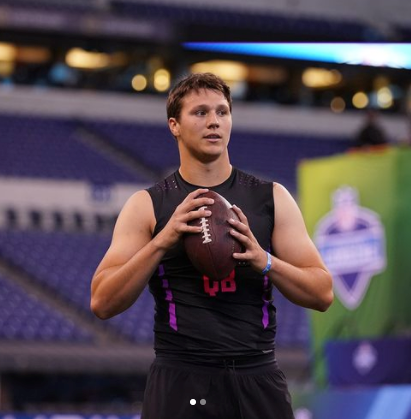 Moreover, Allen became the second top-paid American football player after signing an extension contract for another six years with the Buffalo Bills for $150 million in August of 2021.
Learn more about Josh Allen's Girlfriend: All About Brittany Morgan Williams.
1. Patrick Mahomes
Born on September 17, 1995, Patrick Mahomes tops this list of highest-paid American football player globally. He plays as a quarterback for the Kansas City Chiefs.
Moreover, after being drafted by the Chiefs on July 20, 2017, Mahomes began his professional career with a four-year contract.
Above all, within just a year of entering the professional league, he was awarded the NFL title of the Most Valuable Player and Offensive Player of the year (2018).
Similarly, he was also awarded the NFL passing touchdowns leader and the Bert Bell Award in the same year.
The multiple title holding quarterback has an annual salary of $45 million.
Conclusion
In the list, we can see that whether you joined the sport recently or years ago, your value is determined by the performance and the show you put up.
Similarly, some players joined years before the top-listed players, but they weren't valued as much as those at the top.
These players on the top spots might have joined the sport more recently than other players, but they surely built themselves worth millions.
So was your favorite player on the list? If they weren't on the list, then don't worry; we've got plenty of such listings. Maybe you could find them in the following listing?
Sanjib is an engineer and tech enthusiast at Celeb Doko. He loves to write about celebrities and players at his free times.