One of the great ones in the snooker world is John Higgins, also known as the Wizard of Wishaw.
John Higgins was born on 18th May of 1975 and is professional snooker from Scotland.
He has amassed 31 ranking titles, including four World Championships, two Masters titles, and also three UK Championships.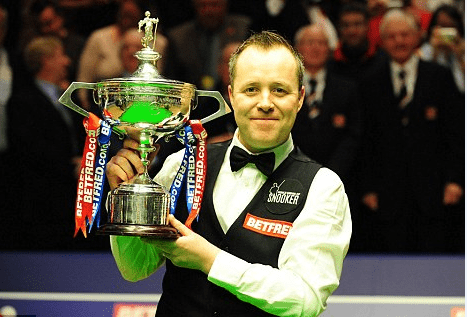 Also, he has reached the final of the World Championships seven times and is considered one of the best players to play snooker.
In this article, you will find everything that you need to know about one of the poker champions, John Higgin.
Quick Facts
Here are some quick facts about JohnHiggins:
| | |
| --- | --- |
| Full Name | John Higgins |
| Birth Date | May 18, 1975 |
| Birth Place | Wishaw, Scotland |
| Residence | Lanarkshire, Scotland |
| Religion | Christian |
| Nationality | Scottish |
| Hobbies | Poker |
| Food Habit | Non-vegetarian |
| Education | St. Aidan's High School |
| Zodiac Sign | Taurus |
| Father's Name | John Higgins Sr |
| Mother's Name | Josephine Higgins |
| Age | 47 years |
| Height | 6 feet |
| Weight | 82 kg (180 lbs) |
| Eye Color | Light Brown |
| Hair Color | Salt & Pepper (Half Bald) |
| Body type | Fit |
| Profession | Snooker Player |
| Marital Status | Married |
| Wife's Name | Denise |
| Active Years | 1992-Present |
| Children | Oliver, Pierce, and Claudia |
| Social Media | Not Available |
| Net Worth | $11.2 million |
| Merch of Snooker | Snooker App, Lunarable Drawstring Backpack |
| Last Update | February, 2023 |
John Higgins: Age, Height, Weight
Higgins was born to his father, John Higgins Sr. and his mother, Josephine Higgins.
In addition, Higgins was born in Wishaw, United Kingdom.
The snooker studied in St. Aidan's High School in Wishaw, Scotland.
He is currently 47 years old.
Moreover, he has a height of about 5 ft 8 inches and weighs about 180 lbs.
Also, read about the 12 Best Female Skateboarders in the World.
John Higgins: Career
Early Success
Higgins became a professional snooker player in 1992.
During his first season, he reached the quarter-finals stage of the British Open.
Similarly, in the 1994-95 season, he rose to 11th position from 51st, a huge achievement.
Again, he reached the 2nd position, courtesy of two ranking titles and another ranking final at the end of the following season.
He finally became the world champion in 1998, defeating the likes of Jason Ferguson, Anthony Hamilton, John Parrott, Ronnie O'Sullivan, and the defending champion Ken Doherty in the final.
He retained the World Championship in the upcoming championship as well.
Once again, in 2009, John defeated Michael Holt, Jamie Cope, Mark Selby, Mark Allen, and Shaun Murphy to become the ninth player to secure the World Champion title three or more times.
Match Fixing Scandal
John Higgins and his manager were allegedly suspected of match-fixing on the 2nd of May, 2010, confirmed by a sting operation by the News of the World.
Higgins denied being involved in match-fixing and explained that he "played along" because of his fear of safety, saying he thought "Russian Mafia" was involved.
He was banned for a total of six months and was finned £75,000.
Return of The Maestro
He returned on the 12th of November, 2010 winning his first tournament right after his return in the Ruhr Championship.
Then, he went on to win his fourth World Championship by defeating the likes of Stephen Lee, Rory McLeod, Ronnie O'Sullivan, Mark Williams, and Judd Trump.
After defeating Judd Trump in the final, Steve Davis said, "I think John Higgins is the best snooker player I've ever seen in my life."
Even after winning the World Championship, he lost the world's number one ranking to Mark Williams.
Downfall
Higgins lost his father on the 4th of February, 2011. In addition, his father was battling cancer.
He used to be present in most of John's matches. This affected John Higgins badly as he took his father as an inspiration.
After that, it was a bit of a slump in John Higgins' career. He was ranked world number five in a poor 2011-12 season.
Similarly, in 2012-13, he was in the 11th position, out of the top 10 for the first time in 17 seasons.
The 2013-14 season was even worse, as he lost miserably to Mark King by 0-4 in the last 128 of the Paul Hunter Classic.
Many more subsequent defeats followed for the four-time world champion.
You might be interested in reading about Cardi B Net Worth.
Back to Form
He slowly returned to form after the 2014-15 season.
After winning the Australian Goldfields Open at the start of the 2015-16 season, he was slowly gaining confidence.
Then, he went to win the 28th ranking title of his illustrious career after he thrashed David Gilbert by 10-5 in the final of the International Championship.
Higgins also secured the non-ranking Championship League by defeating the finalist Ryan Day by 3-0.
John reached the World Snooker Championship's final in 2018, his 7th final in the competition, although lost to Mark Williams.
John claimed his 31st ranking title, the first in three years, on the 28th of February, 2021, overpowering Ronnie O'Sullivan.
Controversies
Along with the bribe allegations, there were other controversies in his career.
In 2006, he was removed from the flight as a fellow passenger complained about him to the staff.
Higgins said, "It's perfectly reasonable for the captain to be thinking about the safety of his passengers, but I honestly thought we were fine."
Similarly, he was heckled by a spectator.
The spectator said, "How did you swallow £300,000, John? You're a disgrace to snooker." which was clearly about the bribe incident.
Still, he won the match by 17-14 over Mark Williams.
There was another incident, but this time, he was not the center of attention.
It was Gary Wilson who, after missing a simple red ball, took an illegal shot and smashed another red into the corner pocket.
Wilson apologized immediately and was later fined.
John Higgins: Personal Life
John has quite a peaceful family life.
He married Denise in 2000 and has three children, two sons and a daughter.
Oliver Higgins and Pierce Higgins are his sons, while Claudia Higgins is his daughter.
He is a huge supporter of the Celtic Football Club and enjoys the game of poker.
John Higgins: Net Worth, Salary, and Career Earnings
The net worth of John Higgins is $11.2 million as of 2023.
As for his career earnings, he has earned £5,179,749. In addition, the snooker also earns a lot from endorsement deals.
The snooker earns £50,000 to £100,000 annually from his endorsement with Negotiate Now.
At the moment, Higgins lives in Bothwell, Lanarkshire, in a luxury apartment.
The building has a double garage, a huge staircase, three massive living rooms, parking space for four cars, a giant billiard room, five bedrooms, and a games room.
You might be interested in reading about Dan Bilzerian.
John Higgins: Social Media
John doesn't seem to be active on any of the social media platforms.
Moreover, the snooker likes to keep his personal life private.
Interesting Facts
He is a huge supporter of Celtic Football Club and follows Everton Football Club in the Premier League.
He has been able to obtain the highest break of 147 for 7 times in his amazing career.
Although he was allegedly banned for 6 months for match-fixing, he was cleared of all charges later.
John was also given the title of the Member of the Order of the British Empire in 2008 for Higgins's service to the country.
FAQs
Is John Higgins divorced?
No, John Higgins is happily married to Denise Higgins. They have been married since 2000.
Was John Higgins banned?
John was banned for six months for allegedly taking bribes. However, all charges were cleared later.