Gloria Estefan Bus Accident: What Happened To Her? Family Husband And Kids
Gloria Estefan bus accident, the renowned singer sustained a cervical vertebrae fracture after a near-death accident in 1990.
Gloria Estefan is also known as the Queen of Latin pop. With her never-ending charism and hard work, she has marked her name as a renowned singer, actress, and businesswoman.
The multiple Grammy award winner has been enlisted on the Top 100 greatest artists of all Time by VH1 and Billboard. With her record sales exceeding 75 million worldwide, she became the second-best-selling female Latin artist in history.
Thirty-two years ago, her life turned upside down when the prominent musician met a life-threatening accident. Temporarily, she was unable to walk. But she recovered miraculously. Here is everything we know about Gloria Estefan's bus accident.
Gloria Estefan Bus Accident: What Happened To Her?
Gloria Estefan opened up about the horrific accident on the talk show Red Table Talk: The Estefans. On 20 March 1990, the musician was taking a nap and trying to be fresh for the night show in her tour bus. Suddenly, Gloria felt an explosion that threw her to the floor.
A semi-truck rear-ended her tour bus on a snowy Pennsylvania highway. She found herself lying on the floor, looking up at the ceiling and unable to stand up. The actress recalled her husband, Emilio, was over her wide-eyed, asking if she was OK. He was also covered in blood.
The singer's son, Nayib, was also on the same bus. When Emilio called out for him, they heard no answer. Gloria said she kept praying to God to let him be alright. Finally, they heard the answer.
Also Read: What Happened To Baby Jessica Who Fell Into An Abandoned Well Shaft Over Three Decades Ago
Estefan's son suffered a broken clavicle. On the other hand, she sustained a cervical vertebrae fracture. Simply, her back was broken. The Running out of Time hitmaker underwent emergency surgery to stabilize her cervical spine and post-surgical rehabilitation that ended after a year. Doctors told her that she would not be able to give birth to children anymore.
However, she fully recovered and released her comeback with an album, Into the Light, in March 1991. Gloria believes that the prayer of millions of people worldwide was instrumental in her miraculous healing.
Gloria Estefan's Family Explored
Gloria Estefan was born to her parents on 1 September 1957 in Havana, Cuba. Jose Fajardo and Gloria Fajardo are her Father and mother.
The singer's maternal grandparents were from Spain. Her Father was captured by his cousin for participating in the failed Bay of Pigs Invasion. After spending about two years in prison, he joined the U.S. army and fought in the Vietnam war.
The songstress's mom won an international contest as a little girl and received an offer to dub Shirley Temple's films in Spanish. Both Gloria and Jose have passed away.
Also Read Otto Kilcher's Accident 2022: Is He Still Alive? Death Hoax, Illness Update
Gloria Estefan and Emilio Estefan have been happily married since 1 September 1978. The Estefan pair dated for a few years before exchanging the wedding vow.
Gloria Estefan's husband is involved in the music industry with 19 Grammy Awards under his belt. In addition, the 69-year-old is also a talented producer. He shot up to fame as a member of the American band of Latin-influenced music, Miami Sound Machine.
Gloria Estefan's Kids With Husband Emilio Estefan
The Estefan couple is proud parents of two children, Nayib Estefan, and Emily Estefan.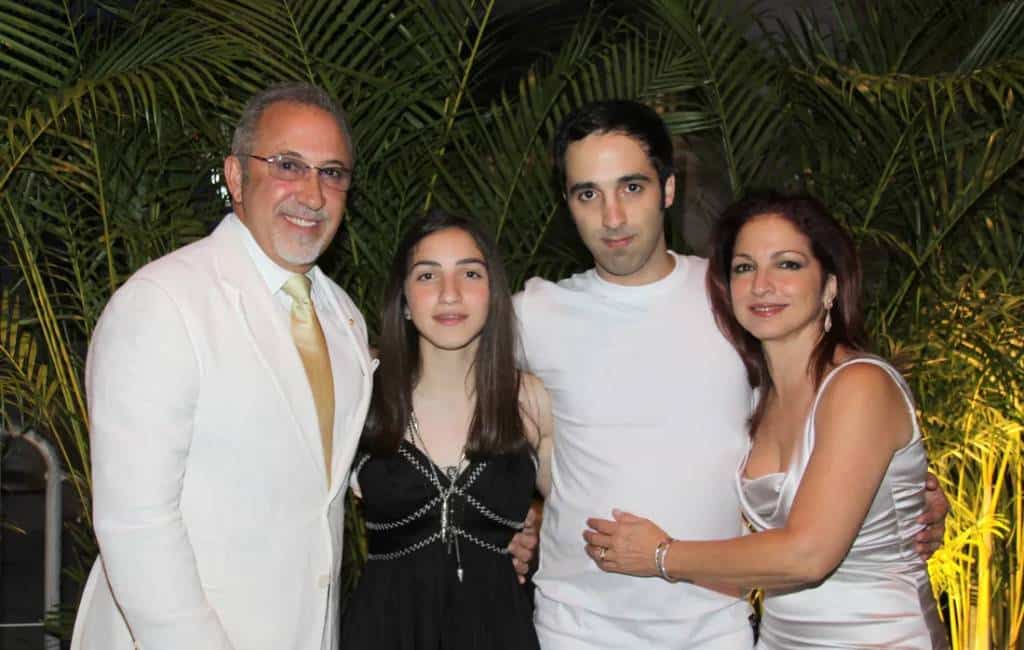 The power couple welcomed their son Nayib as their first child on 2 September 1980. Although doctors said that Gloria could not give birth anymore, the notions were proved wrong. She walked and gave birth to a lovely daughter on 5 December 1994.
The Estefan pair's children have grown up to be amazing adults. Nayib is an emerging filmmaker and owner of the Nite Owl Theater. While the Estefan couple is active LGBTQ advocates, their daughter is openly lesbian.