Jd Vance Children: Son Ewan Blaine Vance, Wife Usha Vance Nationality, Net Worth
JD Vance is the happy and proud Father of three children with his wife, Usha Chilukuri Vance. The eldest of his kids is his five year-old-son Ewan Blaine Vance.
James David Vance, also known as JD Vance, is an American venture capitalist, lawyer, author, and politician.
JD is a member of the Republican Party and a nominee in the 2022 United States Senate election in Ohio. James faces Democrat candidate Tim Ryan in the general election.
He gained fame with his 2016 memoir Hillbilly Elegy: A Memoir of a Family and Culture in Crisis and its film adaptation by Netflix.
Jd Vance Wife And Son: What Is Usha Nationality?
JD Vance is married to his college sweetheart Usha Chilukuri Vance. The two, who were law school classmates, have been husband and wife since 2014.
They have three children, the first of which is 5-year-old Ewan Blaine Vance. Ewan was born on June 4, 2017. Although their names are unknown, Ewan has a younger brother and a younger sister.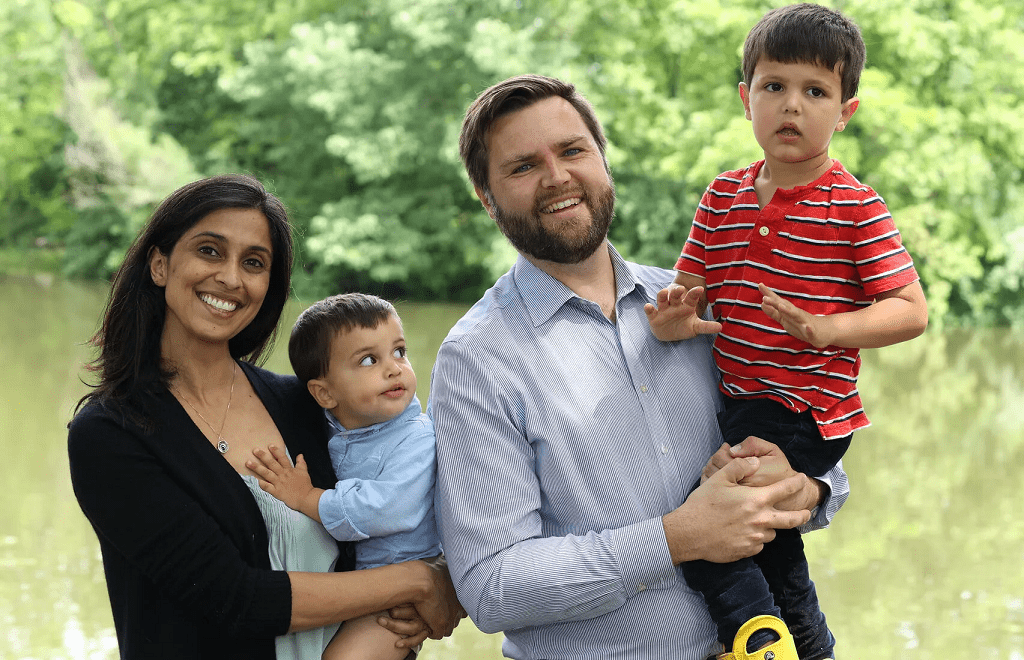 For much of his professional career, JD lived with his family in San Francisco, where they were active in community gardening.
Usha Chilukuri Vance is an associate attorney at Munger, Tolles & Olson LLP. She grew up in San Diego and is an Indian-American.
Per her official bio, she deals with complex civil litigation and appeals in other sections like local government, technology, higher education, and entertainment.
Her LinkedIn profile reveals that Usha studied at Mt. Carmel High School and earned her undergraduate degree in history from Yale University in 2007 before earning her graduate degree in philosophy in 2009 from the University of Cambridge and doing a JD from Yale Law School.
Usha worked as an analyst, law clerk, and associate for several law firms before joining Munger in January 2019.
JD Vance Family And Ethnicity Details
James David Vance was born James Donald Bowman in Middletown, Ohio. He is the son of Donald Bowman and Bev Vance. His parents divorced when he was a toddler. Shortly afterward, he was adopted by his mother's third husband.
JD and his sister, Lindsay Ratliff, were mostly raised by their grandparents, James and Bonnie Vance, whom they called "Mamaw and Papaw."
JD once went by the name, James Hamel, borrowing his stepfather's surname before adopting Vance surname in honor of his grandparents.
You May Like: Vancouver Election: Who Are Ken Sim Parents? Nationality And Ethnicity- Is He Conservative?
The author is of Scots-Irish descent. He holds American nationality.
JD was raised in a "conservative, evangelical" branch of Protestantism but converted to Catholicism in August 2109. He added that he was not actively participating in any particular religious denomination.
Later, in an interview with Rod Dreher, he said he converted because he was convinced that Catholicism was true and described the influence of Roman Catholic theology upon his political views.
What Is JD Vance Net Worth?
JD Vance has a net worth of $7 million, states Yahoo Finance. Thanks to his versatile career as a venture capitalist, lawyer, and author, he has earned such a sum.
His memoir Hillbilly Elegy and its Netflix film adaptation made him a public figure. The book, which describes his upbringing in Middletown and his family's Appalachian values, became a New York Times bestseller. It also attracted significant press attention during the 2016 United States presidential election.
Born in Middletown, Ohio, Vance was educated at Middletown High School. He later graduated summa cum laude from Ohio State University with a Bachelor of Arts degree in political science and philosophy.
After graduating from Ohio State, he obtained a Juris Doctor (JD) degree from Yale Law School. During his first year at Yale Law, his professor and mentor, Amy Chua, persuaded him to write his memoir.