12 Major Athletes in the World Right Now
Of course, skill and statistics are undoubtedly significant variables in ranking sportspeople.
However, the most renowned athlete does not necessarily have to be the best—at least not on this list.
Whether through their attitude or performance recently, these players can influence their fans in many ways.
Here we have listed our top picks for the 12 major athletes in the world right now:
Best Athletes in the World Right Now
Sport: Baseball
Country: America
The center fielder baseball player, Mike Nelson Trout (born 7th August of 1991), is number 12 on our list of top 12 major athletes in the world right now.
Nine-time MLB All-Star, Trout's excellence stems from more than just his ability to smash moonshots, make spectacular catches to steal homers, and swipe bases.
His lifetime slugging percentage is .582, on-base plus slugging is 1.000 by February 2021, second in career on-base percentage is .418, and the stolen base percentage is 84.45%.
Also, he signed a 12-year contract with the Angels for $426 million in 2019. In fact, it is the second-highest contract in North American sports history.
Trout presently plays for the Los Angeles Angels. Moreover, he is a three-time American League MVP player and eight-time Silver Slugger Award winner.
Hence, he is recognized as one of baseball's most remarkable young players and one of the greatest current players in the league.
<<12 Best Gymnasts in the World Right Now>>
11. Tiger Woods
Sport: Golf
Country: America
Tiger Woods (Born on 30th December of 1975), an American professional golfer, has a massive net worth of 800 million dollars.
Woods is the most well-known, successful, and one of the richest golfers in the world.
In fact, Woods has won 81 PGA Tours, 41 European Tours, and 5 Masters during his career.
Woods was ranked number one golfer for 545 weeks. It is the longest time any golfer has stayed on top in golf history.
Furthermore, he was inducted into the World Hall of Fame recently in 2021.
Also, he received the Presidential Medal of Freedom award from Donald Trump.
Since turning pro in 1996, he has earned over $1.5 billion and become the highest-earning golfer ever.
10. Serena Williams
Sport: Tennis
Country: America
The former world number one American professional woman tennis player, Serena Williams, earns the 10th position on the 12 major athletes in the world right now.
23 times Grand Slam singles winner, Williams, is widely considered the best female tennis player right now.
The WTA (Women's Tennis Association) has ranked her as number 1 in women's singles for a total of 319 weeks.
Moreover, she is the only woman with the most Grand Slam titles in singles(23), doubles(14), and mixed doubles(2) combined.
Also, she has won four Olympic gold medals in three women's doubles (with her sister Venus) and one in singles.
By 2021, Williams has earned massive prize money of US$ 94,518,971, which is 1st in an all-time women's earnings ranking in tennis.
9. John Cena
Sport: Wrestling
Country: America
One of the greatest professional wrestlers, John Cena (born April 23, 1977), is currently signed to WWE (World Wrestling Entertainment).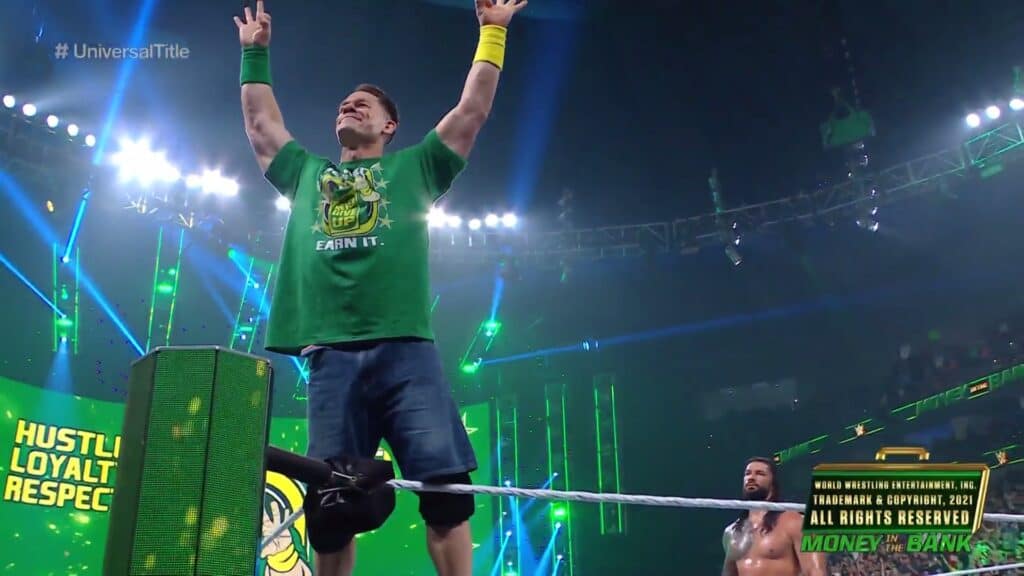 John Cena has won the world championship in wrestling 16 times since his debut.
Some of his major WWE achievements are:
WWE Championship (13 times)
World Heavyweight Championship (3 times)
WWE United States Championship (5 times)
Money in the Bank (2012)
Royal Rumble (2008, 2013)
Ten times Slammy Award winner
The wrestler has acted in movies such as Blockers, The marine, Fast & Furious 9, Bumblebee, Trainwreck, Daddy's Home 2, Dolittle, etc.
8. Conor McGregor
Sport: Mixed Martial Artist
Country: Ireland
An Irish mixed martial artist, Conor Mcgregor, is currently ranked number 9 in the UFC (Ultimate Fighting Championship) lightweight rankings as of July 19, 2021.
Conor's malleable body might be the main reason behind his high level of performance in all three divisions in the UFC.
In fact, he has won in all three divisions of UFC – featherweight, lightweight, and welterweight.
Moreover, he has 22 wins out of 28 matches record during his Professional mixed martial arts career.
His impeccable striking and willingness to fight anyone make him one of the greatest athletes right now.
Forbes named McGregor the world's highest-paid athlete in 2021, with a reported $180 million in earnings.
Hence, Conor McGregor is one of the major athletes in the world right now.
7. Tom Brady
Sport: American football
Country: America
An American football quarterback player, Tom Brady (born August 3, 1977), is number 7 on our top 12 major athletes right now.
Tom Brady currently plays from the Tampa Bay Buccaneers of the National Football League.
Moreover, he has an individual record of 10 super bowl appearances with seven victories.
Additionally, he has received the Super Bowl MVP award five times and the NFL MVP award three times.
Brady now has more Super Bowl MVP trophies than any other quarterback in the history of the game.
Hence, he is regarded as the best quarterback of all time.
6. Roger Federer
Sport: Tennis
Country: Switzerland
The former rank number 1 Swiss professional tennis player, Roger Federer (born 8 August 1981), has won 20 Grand Slam men's singles titles.
Roger Federer is a world-class athlete known for his speed, fluid style of play, and exceptional shot-making.
Also, the player is a versatile player who can play on both sides of the court.
Furthermore, he is the first player to reach Ten Grand Slam tournament finals in a row and 31 Grand Slam finals in men's singles tennis.
Likewise, Federer has won five ATP Player of the Year awards and five ITF World Championships.
Additionally, he has received the ATPWorldTour.com Fans' Favourite Award 18 times consecutively.
<<Top 12 Best Hockey Players of All Time>>
5. Virat Kohli
Sport: Cricket
Country: India
Virat Kohli (born 5 November 1988) is considered one of the best up-to-date batsmen in the world.
The naturally aggressive batsman is noted for his diverse shots, ability to pace an innings, and ability to bat under duress.
Virat is a top-order right-handed batsman. In the Indian Premier League (IPL), the cricketer has played for the Royal Challengers Bangalore since 2013.
He is one of just three Indian cricketers picked for the country's A+ contracts, ensuring a $1 million annual wage in 2020.
Moreover, Virat Kohli is one of the most successful captains from India, with 36 wins.
Also, he has played in 92 test matches with total runs of 7547.
Furthermore, he has a record of 70 centuries in nearly 13 years of international cricket.
The Indian captain has been a top-ranked ODI batsman since October 2017.
<<15 Best Volleyball Players in the World>>
3. Lionel Messi
Sport: Soccer
Country: Argentina
One of the greatest athletes in the world right now, Lionel Messi (born 24 June 1987), is a professional Argentine soccer player who currently plays as captain of the national team.
Messi is a productive goalscorer noted for his finishing, positioning, quick reactions, and expertise to make aggressive runs past defenders.
Also, because of his astounding technical skill and record-breaking list of accomplishments, this Argentine forward has gained much respect.
In fact, he has a record of 748 official senior career goals in 929 professional appearances.
Six times Ballon d'Or winner, Messi was awarded The Best FIFA Men's Player (2019), UEFA Best Player in Europe (2015, 2011, 2009), ten times Player of the Year from FC Barcelona, and many more.
Moreover, he is not only the best soccer player of all time, but he is also one of the highest-paid athletes in the world.
2. LeBron James
Sport: Basketball
Country: United States
One of the best NBA players in basketball history, LeBron James (born December 30, 1984), is a professional American basketball player.
LeBron James is a member of the National Basketball Association (NBA) 's Los Angeles Lakers.
He's also the first NBA player with over 34,000 points and over 9,000 assists and rebounds.
James also holds the record for most Playoff minutes, points, victories, and steals.
In addition, he has the most Finals triple-doubles in NBA history.
James is six feet nine inches tall. Also, his athletic and versatile playing style has made him well known.
Mostly, LeBron James plays from the small forward and power forward positions.
Furthermore, his achievements are four NBA championships, four NBA MVP awards, four NBA Finals MVP awards, and two Olympic gold medals.
In fact, the basketball player is the only player to have conquered the NBA championships with three franchises.
James has been named the All-NBA Team a record 17 times, NBA All-Defensive First Team five times, NBA All-Star Game 17 times, and All-Star MVP three times.
1. Cristiano Ronaldo
Sport: Soccer
Country: Portugal
The Portuguese national soccer team captain, Cristiano Ronaldo (born 5 February 1985), currently plays forward position from Juventus.
Ronaldo is famed for his dribbling and flair, frequently exhibiting various tricks and feints, such as the step overs and 'chops' using a ball that has become his signature.
In fact, he has a record of 783 official career goals in 1073 professional appearances.
He transferred from Real Madrid to Juventus with a transfer fee of €100 million, the most prized transfer for an Italian Club.
Additionally, it was the world record for the most expensive transfer for a player above 30 years old.
Five times Ballon d'Or winner, Ronaldo was awarded FIFA World Player of the Year (2008), Best FIFA Men's Player (2017, 2016), ten times Footballer of the Year, and many more.
Besides being a major athlete globally, Forbes named Ronaldo, the world's highest-paid athlete, in 2016 and 2017.
Also, ESPN named him the world's most famous athlete from 2016 to 2019.