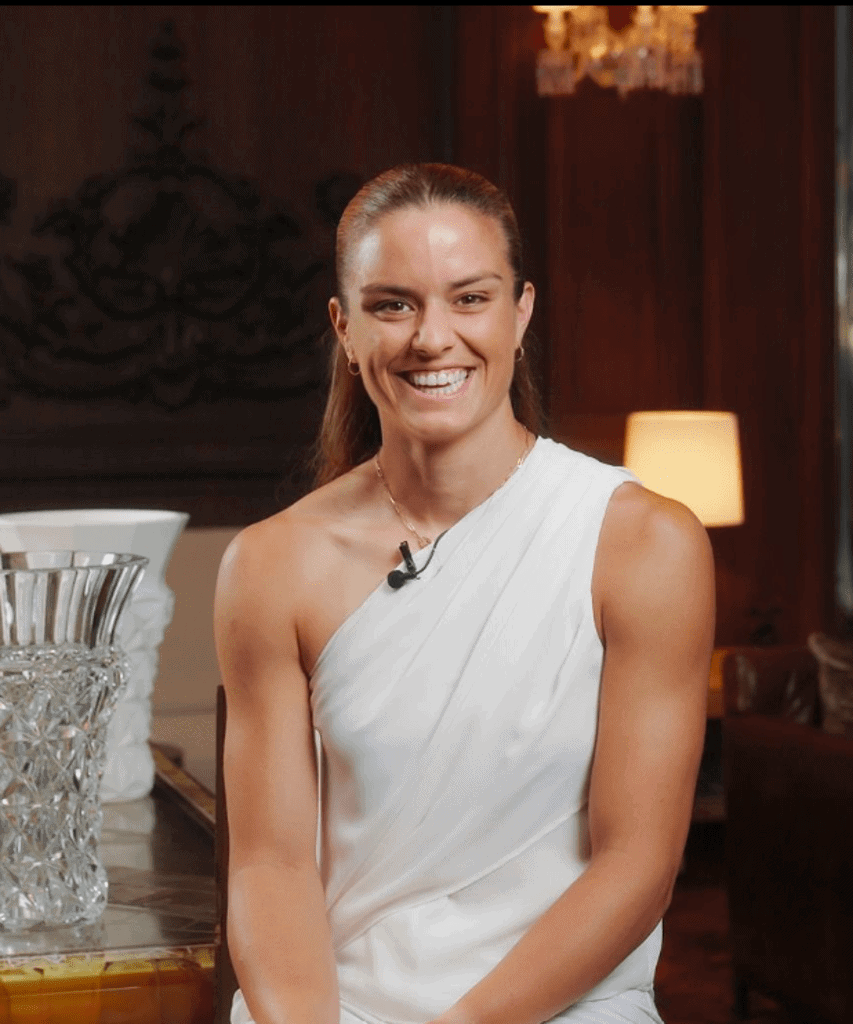 Maria Sakkari, a Greek professional tennis player, is currently ranked third in the world by the Women's Tennis Association (WTA).
On March 21, 2022, she received her first rating of third, making her the highest-ranked Greek player ever, with Stefanos Tsitsipas. She reached a career-high doubles ranking of No. 169 on September 9, 2019.
Sakkari is renowned for her ferocious serve and groundstrokes, which are the focal points of her aggressive, all-court style of play. With 144 aces in 31 matches, Sakkari had the sixth-most aces of any WTA player in 2020.
Who Is Maria Sakkari Coach Tom Hill?
Tom Hill was a junior player who did not pursue the sport professionally and instead became a coach, working alongside Maria and American star Danielle Collins.
Under Tom's tutelage, the Greek star won her maiden WTA championship. It advanced to the 2021 French Open and 2021 U.S. Open semi-finals, demonstrating significant growth throughout the three seasons they have been working.
Thomas Johannson, a former Swedish tennis player who won the 2002 Australian Open, the only Grand Slam championship ever won by a Swedish man, previously coached Maria.
Also Read: Arshad Sharif Wife Javeria Siddique: Meet His Father And Brother- Pakistani journalist Shot Dead In Kenya
His coaching tenure with Sakkari lasted only a year. Maria then worked with former British tennis player Mark Petchey for a year before joining up with Tom.
Maria Sakkari Workout And Diet Routine
Maria Sakkari of Greece has converted herself from the 168th-ranked player on the WTA Tour in 2016 to the #3 ranked player on the WTA Tour in 2022 by becoming one of the game's fittest tennis players.
Sakkari's unfathomable Tennis Crunch Workout combines quickness, agility, strength, conditioning, and willpower.
Maria posted her "Crunch Tennis Workout" on the Better Bodies Tennis Factory YouTube channel. She performs Medicine ball twist throws while going side to side, Jump lunges, and many other exercises.
You May Like: What Happened To Armie Hammer And What Did He Do? Scandal And Controversy Explained
Her fitness routine also includes broad jumps with variations over hurdles. Squats with a weighted bench press bar on a Bosu ball, Bicycle kicks while hanging on a pull-up bar, Serve return and serve drill, and many more.
Unfortunately, no information about her diet could be obtained at this time.
Maria Sakkari Career
Her parents gave her her first tennis lesson when she was six years old, and she has dedicated her entire life to accomplishing the only goal she has ever known: to be a successful tennis player.
She moved to Barcelona at 18 to begin her professional training. Her first two matches on the WTA Tour in 2015 were both losses for her. She was always prepared to confront disappointments, yet she never gave up on her dreams.
She retained a positive attitude and continued to try. Following the completion of the U.S. Open, she was ranked 185, making her debut inside the top 200.
She qualified for the Australian Open in the second half of 2016, winning a match against Wang Yafan.
The following year, she was accepted into the tournament, but Irina-Camella Begu knocked her out in the opening round.
Also Read: How Old Are Liz Truss Children? Why Did She Retire? Husband Hugh O'Leary And Family
She advanced to the semi-finals of her first WTA Tour event in 2017 by defeating Caroline Wozniacki, Elena Vesnina, and Alize Cornet.
Her accomplishments propelled her into the top 50 Women's Tennis Association rankings in October 2017.